The Moka pot has been bringing joy to kitchens all over the world for close to a century now. Its simplicity, ease of use and ability to make strong, delicious coffee directly in your kitchen has won over the hearts of the whole world.
Generally, moka pots come in a variety of different sizes, namely, 1-, 3-, 6-, 9- and 12-cup models. But what if you're a couple living together, and a 1-cup just doesn't cut it? Or what if you're living alone but you like your coffee strong? Straddling the fine line between 1- and 3-cup moka pots sits the 2-cup, and it's this sized model which we're going to be taking a look at today.
So without any more fanfare, let's delve deep into the best 2-cup stovetop espresso makers currently on the market.
---
Best 2 Cup Stovetop Espresso Maker At a Glance
Editor's Pick
If you have to have one then let it be the Bialetti Venus. Constructed of stainless steel, the Venus works on all stovetops (except induction) to produce two cups of strong, robust coffee in a matter of minutes. Having been constructed by Bialetti you can rest assured that it's of the highest quality.
Features at a glance
Rust-Proof Stainless Steel
Dishwasher-safe
Heat resistant handle
Suitable for all stovetops except induction
Non-drip spout
---
The Five Best 2-Cup Stovetop Espresso Makers: Side-By-Side Comparison
---
Factors and Criteria We Looked At When Compiling This List:
Ease of Use
The last thing you want when stumbling out of bed in the morning is a complicated coffee brewer. Because of that, when compiling this list we made ease of use one of the core deciding factors on whether or not each Moka pot made the cut. Each model on this list follows the same simple brewing process:
Unscrew the top chamber from the bottom.
Fill the bottom chamber with water up to the pressure release valve.
Insert the grinds basket, fill it up with coffee then gently tap it down.
Screw the top chamber on to the bottom, then place it on the stove.
Pro tip: you might be tempted to really tamp the grinds down the way you see baristas do it at a coffee shop. Skip that. Unless you have an espresso machine that can generate 9 bars of pressure (for comparison, moka pots generate up to 1.5 bars), all you'll be doing is clogging up your device and ensuring that your final brew is a bitter disappointment.
Consistency
If you're making coffee, you want it to be a good cup every time with no exceptions. Because of these expectations, we made sure that every 2-cup stovetop espresso maker that made this list was as consistent as possible when it comes to making delicious brew.
Build Quality
Moka pots are investments. They're not a kitchen appliance that you want to replace once a year, once every two years and maybe not even once every five years. For overall longevity, we took pains to ensure that every moka pot that made this list is constructed of quality materials and has a decent shelf life. The main material used to ensure a solid construction was either stainless steel or aluminum, both of which have their own unique benefits and drawbacks when it comes to moka pot construction (more on this below).
---
A Closer Look At The Best 2-Cup Stovetop Espresso Makers
---
The Best Overall 2-Cup Stovetop Espresso Maker: Bialetti Venus – 5/5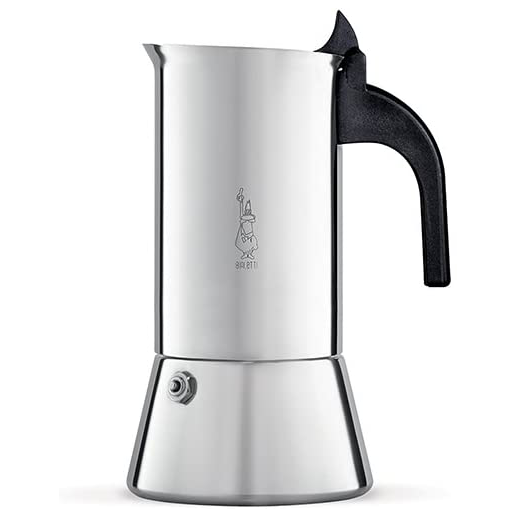 The Bialetti Venus tops the list when it comes to the best 2-cup stovetop espresso maker. Constructed from stainless steel with a heat-resistant handle, the Venus is a tough piece of kit that will work on any stovetop except induction. Capable of delivering strong, delicious brew, this little Moka pot packs a punch, even if it only weighs 300 grams. Being made by Bialetti, you know that the Venus is going to be quality straight out of the box, and it delivers in every way. They really nailed the design and ease of use to the point that you can leave the lid open and coffee won't splutter everywhere like it will with other Moka pots.
Once you're done using the Venus, cleaning it couldn't be easier. Since it's made of stainless steel, you can put it in the dishwasher. Of course, due to the stainless steel construction it doesn't conduct heat as well as aluminium models, but this, unfortunately, is the trade off you have to make when choosing Moka pots.
Pros
Made by a reputable brand
Rust-proof, stainless steel construction
Easy to clean
Cons
Doesn't conduct heat as well as aluminium models
---
The Best 2-Cup Induction Stovetop Espresso Maker: Bialetti Musa – 4/5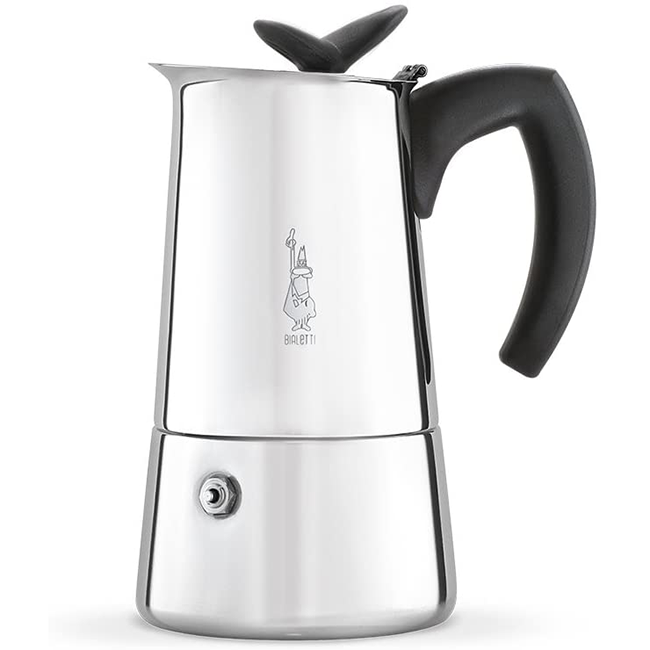 If you own an induction stovetop then your first choice of Moka pot should be the Bialetti Musa. Constructed from 18/10 stainless steel and designed by the inimitable Bialetti group, the Musa is an elegant and functional Moka pot that will elevate the look of any kitchen. It features a heat resistant handle and an ergonomic knob on the lid to aid in the pouring of coffee once it's ready. Like all Bialetti Moka pots, it also comes standard with a patented safety release valve that will ease the pressure of the device should it become too hot.

The Musa is super easy to clean and can just be placed in the dishwasher thanks to its stainless steel construction. The downside to this is that it takes a bit longer to heat up. We found when using the Musa on a gas stove that it took 4 minutes to heat the water to boiling point, as opposed to less than a minute on the aluminium version. Still, that's the price you pay for a sturdier, rust-resistant Moka pot, and if you're not in a rush to make your coffee in the morning then it shouldn't be too much of an issue.

If you find that the 2-cup isn't large enough for your purposes, the Musa is also available in 4-, 6-, and 10-cup varieties.
Pros
Made by a reputable company
Stainless steel construction for durability and longevity
Works on induction stovetops
Cons
Doesn't work so perfectly on gas stovetops
Takes a long time to heat up compared to aluminum models
---
The Best Quirky 2-Cup Stovetop Espresso Maker: Bialetti Mini Express – 4/5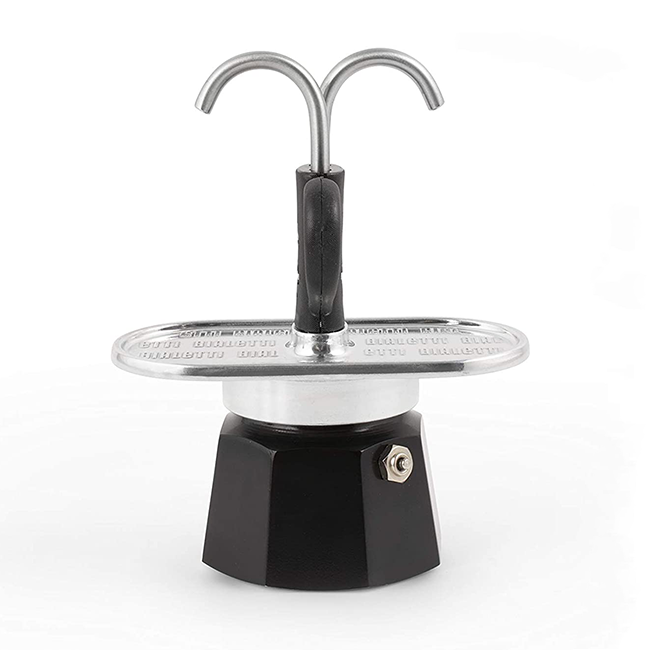 The Mini Express by Bialetti takes a slightly different approach to Moka pots. Whereas the ordinary Moka pot features a top chamber that captures the final brew, the Mini Express has two spouts that pour coffee directly into the mugs you place beneath them. In our opinion, this is a genius little device that not only saves on time, but also on clean up as you don't have to scrub the hard-to-reach corners of a traditional Moka pot. It's mostly constructed of aluminum, including the heating plate which is designed to keep your mugs warm while the coffee is being dispensed.
The spouts that the Mini Express uses could be longer. Because of this, coffee might spit out on to your counter while it's brewing. To prevent this, make sure that you use mugs or cups that are large enough to catch all of the brew. Minor hiccup aside, the Mini Express is a fun little device to use, and is a fun and interesting addition to any kitchen.


Pros
Made by a reputable brand
Unique and quirky design
Aluminium construction for quick heating
Aluminium warming plate keeps mugs and cups hot
Cons
Spouts tend to leak coffee if you don't use the right-sized mugs
Can't go in the dishwasher
---
The Best Budget 2-Cup Stovetop Espresso Maker: Home Basics Espresso Maker – 3/5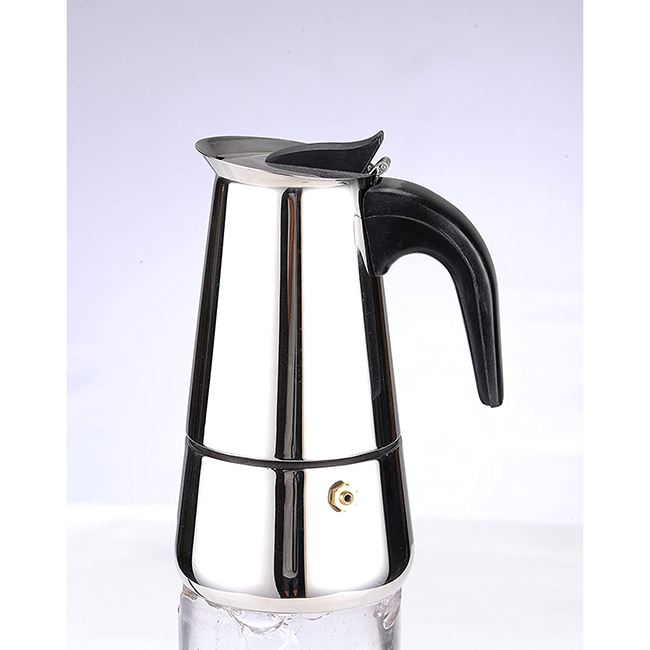 If money is tight but you still can't live without espresso in the morning, don't sweat it, the Home Basics Espresso Maker will ensure that you're still able to enjoy your favorite brew. Made from heavy duty stainless steel and featuring a heat resistant handle and pressure release valve, the Home Basics Espresso Maker has many of the same features as a Moka pot from Bialetti. The difference between the two, however, lies in the quality. While you're certainly going to pay less for the Home Basics model, you won't quite get the same feeling of a high-quality product that you would with a Bialetti Moka pot. We found that the filter was exceedingly fine, which had both an up and a downside. While it led to the filter getting clogged after several uses, it also prevented any grit from getting into the final brew.
For all its criticism, this model will certainly get the job done, it's endlessly portable and easy to clean. And it's cheap, which is by far its largest draw.
Pros
Affordable
Constructed of stainless steel
Dishwasher friendly
Cons
Not as high quality as other models on the list
Filter is slightly too fine
---
The Best 2-Cup Stovetop Espresso Maker for Delicious Crema: Bialetti New Brikka – 4/5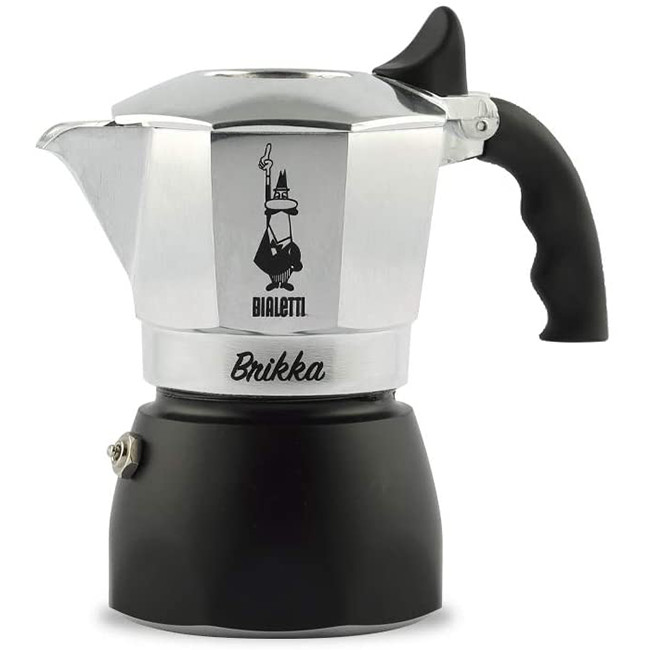 If a thick, foamy crema is important to you and the only thing standing in the way of you buying a stovetop espresso maker, then look no further than the Bialetti New Brikka. While it may look similar to the Bialetti Express, it's different in one important way. Both models use heat and pressure to force water up a central column and through the coffee grinds in order to make delicious brew. The Express simply allows the brew to gather in the top chamber. The Brikka, however, includes a pressure cap on top of the central column, which, towards the end of the brewing process, forces the remaining brew into the top chamber resulting in a thick and luxurious crema and full-bodied brew.
Constructed from aluminium, the Brikka will work on most stovetops except inductions, but is most efficient on gas stovetops. This means when you clean the Brikka, you should only use hot water and a cloth to get the job done.
Pros
Made by a reputable brand
Only Moka pot capable of producing real crema
Solid construction
Cons
---
The 2-Cup Stovetop Espresso Maker Buyer's Guide
Can you get crema using a Moka pot?
It's become somewhat emblematic of a quality cup of coffee – the crema, or layer of velvety foam which sits on top of a freshly pulled espresso shot. It's easy to achieve with a fully equipped espresso machine, but can you recreate this coffee miracle using a modest Moka pot?
It's a contentious issue. On camp states that it's impossible as any stovetop espresso maker doesn't generate enough pressure in order to produce crema. Others, however, insist that if you experiment with different grind sizes and temperature, that it is possible to achieve crema, or at least something that is close enough.
Is it compatible with your stovetop?
Moka pots, generally speaking, were made for gas stoves. Gas stoves are generally the most effective heat source for brewing delicious coffee as they allow for greater temperature control and reduce the risk of ruining your brew. However, make sure that your Moka pot is the right size for your gas stove; a small Moka pot on a large stovetop can easily result in a melted handle.
Many Moka pots also work with electric and induction stovetops. When purchasing a Moka pot, however, just make sure that it is in fact compatible with your stovetop. Many Moka pots won't work with induction stovetops, so it's best to check that it works before you put down any credit card details.
Aluminum or steel
Moka pots are generally made of two different materials: aluminium or stainless steel. Each material has its own unique benefits and drawbacks. Aluminum is lighter, cheaper, and conducts heat better, but it's also less durable, more susceptible to rust and corrosion and requires a bit more care when cleaning.
Stainless steel, on the other hand, is more durable, non-corrosive, way easier to clean (you can simply throw it in the dishwasher when you're done using it), but it is more expensive, heavier, and not as good at conducting heat as its aluminum counterpart.
Be sure to weigh up the pros and cons of both materials before you make your decision about which Moka pot is best for you.
Cup size
While this guide is all about the best 2-cup stovetop espresso makers which means you're in the market for a coffee maker on the smaller side, it's still important to discuss cup size. When it comes to Moka pot sizes, always keep in mind that these measurements are based on espresso shots and not American-style coffee cups. That means that a 2-cup espresso maker will probably only make enough coffee for a single cup. If you need more coffee than that, then we recommend upsizing to a bigger Moka pot.
Conclusion
There you have it. If 6-cup Moka pots are too big for your household, you now have a list of miniature and reliable alternatives to choose from.