Sometimes a single cup of coffee isn't enough, and sometimes even three won't satisfy. If you have a large family, live with friends, or frequently have caffeine-fueled gatherings, you're going to have to bring out the big guns – and that's where the best 12-cup French press comes in. Designed to hold 50 oz or 1.5 liters of hot, steaming coffee, the following presses are high-quantity, heavy-duty home brewing machines.
---
Best 12-Cup French Press at a Glance
Editor's Pick
Features at a glance
51-ounce brewing capacity
Chrome-plated brass, stainless steel, and borosilicate glass construction
Easy to clean and dishwasher friendly
---
The Best 12-Cup French Press: Side-By-Side Comparison
---
Factors and Criteria We Looked At When Compiling This List:
Size
Ease of use
Build quality
Cleaning
---
A Closer Look At The Best 12-Cup French Presses
The Best Stainless Steel 12-Cup French Press – NISONG 12-Cup French Press – 4.5/5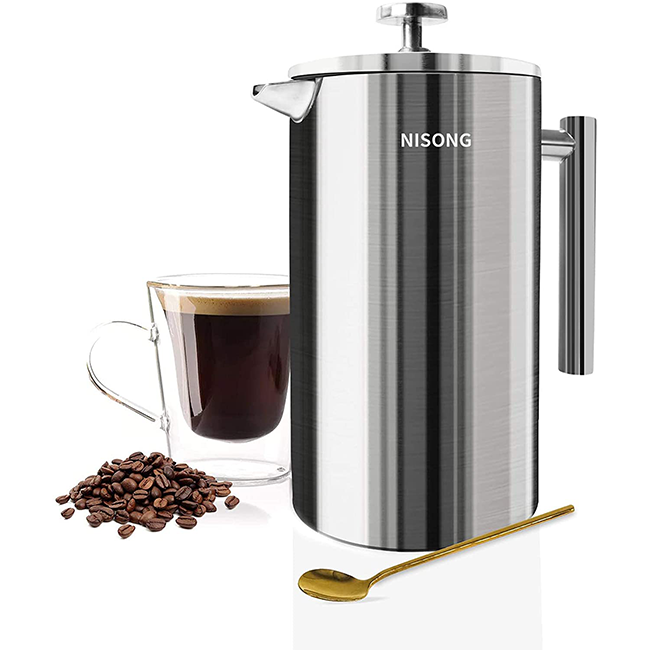 If you need a French press that not only has a large brewing capacity but will also keep your coffee hot, then look no further than the NISONG 12-Cup French press. Constructed of high-quality 18/10 stainless steel, the NISONG features a double-walled design that insulates the contents of the press incredibly well and will keep your coffee hot up to two hours after pouring. The NISONG also uses a micro-mesh filter system in order to keep sediment from seeping into your final brew. When it comes to pouring, the stainless steel handle is as sturdy as you could ever want it, although we did find that at full capacity the press tends to drip ever so slightly, so pour slowly to avoid a small mess on your kitchen counter.
Pros
18/10 stainless steel construction
Double-walled design keeps your coffee hot for up to two hours
Easy to clean and dishwasher safe
Cons
Tends to drip while pouring when at full capacity
---
The Best Premium Stainless Steel 12-Cup French Press – SterlingPro 12-Cup French Press – 4.5/5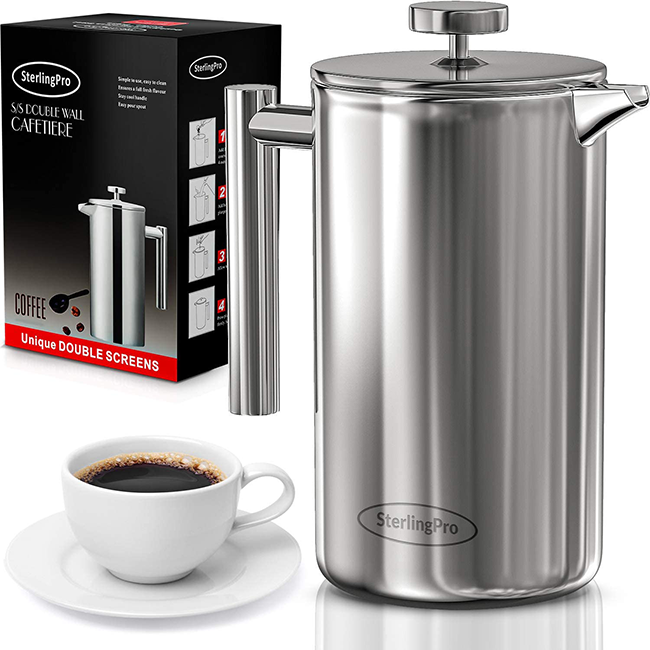 If you want a stainless steel French press that just feels more premium overall, then you'll want to consider the SterlingPro Stainless Steel French press. Like the NISONG, the SterlingPro is also constructed from 10/18 surgical stainless steel, features a double-walled design that can keep your coffee hot for a few hours and can be washed easily by hand or in the dishwasher. The double-screen filter keeps essential oils in but gritty sediment out, resulting in a delicious, strong-bodied brew every time. The SterlingPro can also be used for a variety of different uses besides coffee including making tea or cold juices that require steeping.
Pros
High quality 10/18 stainless steel construction
Double-walled design for superior insulation
Sturdy handle for easy pouring
Dishwasher-safe and easy to clean
Premium feel
Cons
More expensive than other stainless steel French presses on this list
---
The Best Overall French Press – Bodum Chambord 12-Cup French Press – 5/5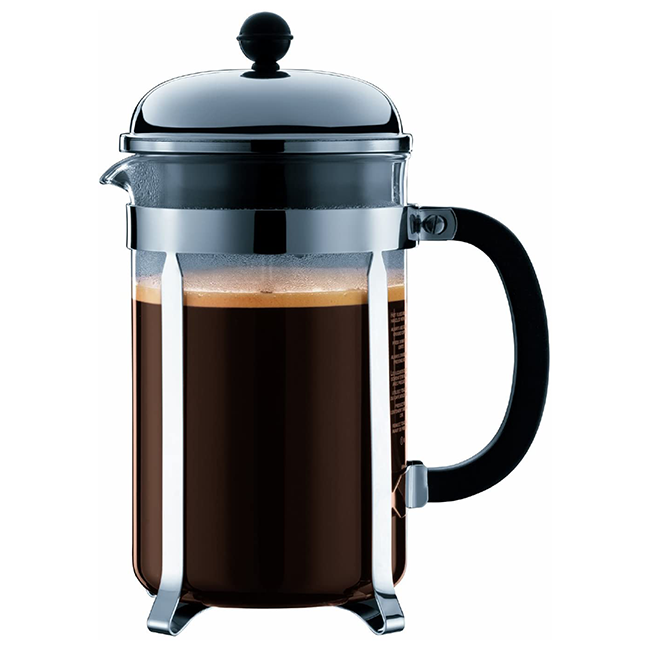 If you can only have one 12-cup French press then let it be the Bodum Chambord. Constructed of sturdy stainless steel, chrome-plated brass, and borosilicate glass, this press is designed to last you for years to come. The layered filter means you won't get any grinds or sediment in your final brew and the sturdy handle is designed to help you pour without burning your hands. A cool feature of the Chambord worth pointing out is its lid, which can be turned during the brewing process to completely seal off the carafe, something that other presses lack.
The whole thing is completely dishwasher safe which makes cleaning up a breeze. If we could fault it on anything, it would be that the glass carafe is not fixed inside the frame, and so is at risk of sliding out if you're a bit careless while cleaning it by hand.
Pros
51 oz brewing capacity
Sturdy construction of high-quality materials
Rotating lid to completely seal carafe during the brewing process
Easy to clean and dishwasher safe
Cons
The glass carafe isn't fixed and so risks falling out during cleaning
---
The Best Premium Stainless Steel 12-Cup French Press – Bialetti 12-Cup French Press – 4.5/5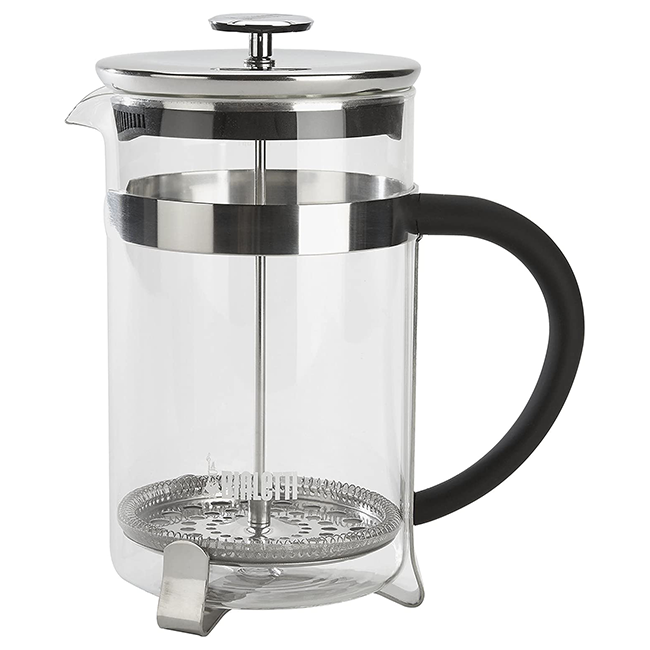 Next to Bodum, Bialetti is one of the hard-hitters when it comes to making high-quality coffee-producing equipment, and their 12-cup French press is no exception. Designed to hold 1.5 liters of piping hot coffee with ease, the Bialetti makes use of borosilicate glass and a stainless steel frame to make brewing delicious coffee a breeze. This press is also designed to be easy to disassemble and is dishwasher safe, so you don't have to dirty your hands cleaning up. After a few tests, we found that the filter, while effective, wasn't as good at keeping out all of the grounds as models like the SterlingPro. That being said, It's still a pretty effective piece of kit for the price and one that would be well suited to any kitchen.
Pros
Made by a trusted brand
High-quality construction
Easy to clean and dishwasher friendly
Cons
The steel mesh filter isn't as good at keeping out sediment as other models
---
The Best Budget 12-Cup French Press – Bodum Brazil 12-Cup French Press – 4/5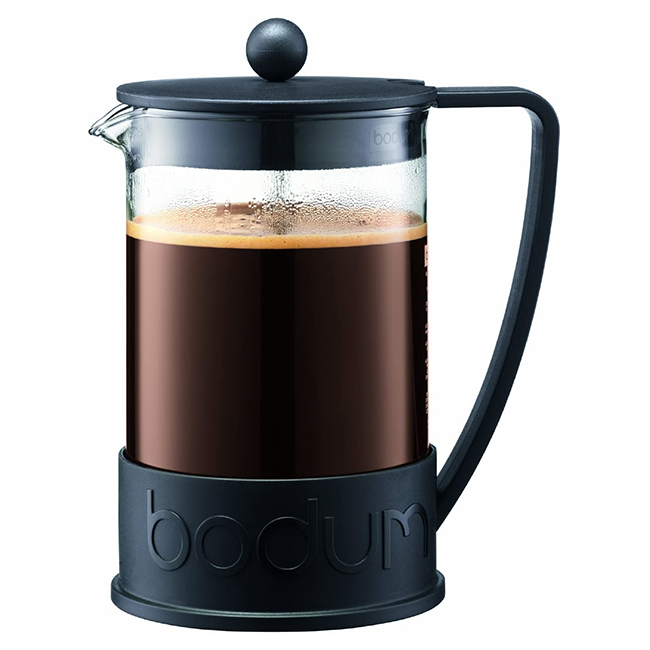 The Bodum Brazil is the baby brother to the Chambord. It's designed to do everything that Bodum's flagship model can do, but at a fraction of the price. How is it able to pull this off? Well, instead of a stainless steel and plated brass construction, most of the Brazil's body is constructed entirely from plastic. While this means it doesn't feel as premium as the Chambord, it is still able to deliver a delicious cup of brew without giving your wallet a beating. One surprising thing we found about the Brazil was that, even though the body and handle are constructed from plastic, it actually delivers a better pour than the Chambord. This has to do with the fact that the handle is larger, sturdier, and has more place for your hand.
If a premium feel is important to you then we, by all means, endorse the Chambord as the Bodum French press of choice. But if you don't mind lesser materials used in the construction of this press, it's perfectly serviceable and a greater, cheaper alternative. The downside is that it likely won't last as long as other presses on this list. If this is something of concern to you, then we recommend getting something like the NISONG, which is still affordable but has a stainless steel build that will last for years if not decades.
Pros
Affordable but makes delicious coffee
Sturdy handle
Dishwasher safe and easy to clean
Cons
Doesn't feel as premium as other presses on this list
Doesn't have the same longevity as steel presses
---
The Best Premium Stainless Steel 12-Cup French Press – Secura 12-Cup French Press – 4.5/5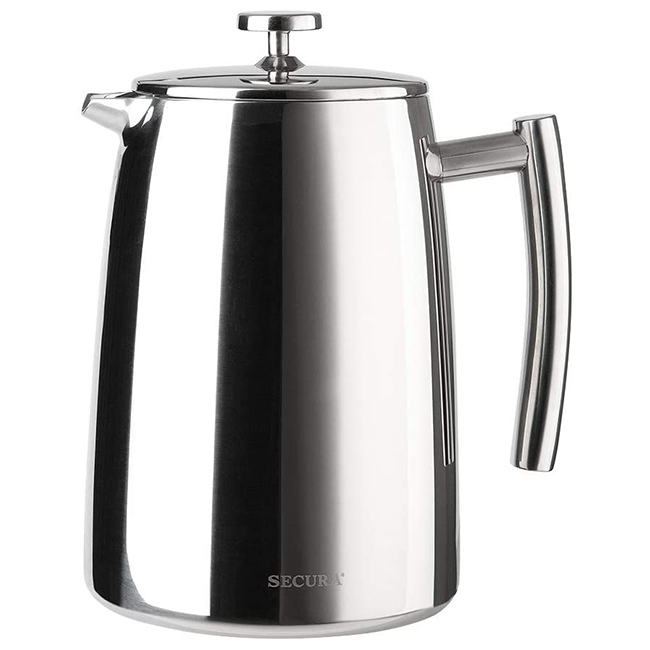 Featuring a slightly different design to other stainless steel French presses on this list, the Secura 12-cup French press is a beautiful piece of kit that performs just as well if not better than similar models. Constructed from 18/10 stainless steel and featuring a vacuum, double-walled design, the Secura, like the SterlingPro and the NISONG, can keep your coffee hot for hours after brewing. It uses a three-layered filter to keep sediment out and flavor in, and the filter is designed and folded in such a way so that it keeps a tight seal without scraping the inside of the French press.
The Secura is also extremely affordable, making it a prime contender against the likes of the SterlingPro. As mentioned above, it's a really pretty piece of equipment that will look right at home alongside any other high-quality kitchen appliances you might already have.
Pros
Stainless steel construction
Double-walled and vacuum-sealed for superior insulation
Beautiful aesthetic
Cons
Exterior gets warm to the touch quickly, indicating that it may not be as effective as insulating as other models
---
The Best Camping 12-Cup French Press – Stanley 12-Cup French Press 4.5/5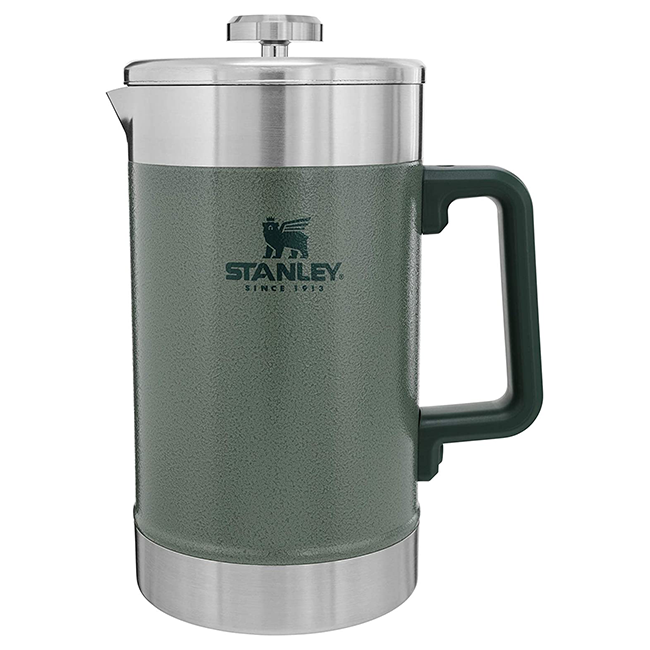 When it comes to tackling the great outdoors in style and quality, there's only one brand that you should be seeking out, and that's Stanley. Their 12-cup French press is the ultimate camping accompaniment if you're unable to leave the civilized world without bringing your favorite brew with you. Constructed of 18/8 stainless steel, the Stanley is designed to not only keep your coffee hot or your drinks cold (4 hours hot and 8 hours cold), but it's designed to be incredibly tough and able to withstand anything that mother nature might throw at it.
The Stanley is dishwasher safe which is good news because no one wants to clean their gear by hand after getting back from a trip. We found that the filter wasn't as effective as keeping out finer grounds, so we advise using courser grounds to keep your final brew sediment-free.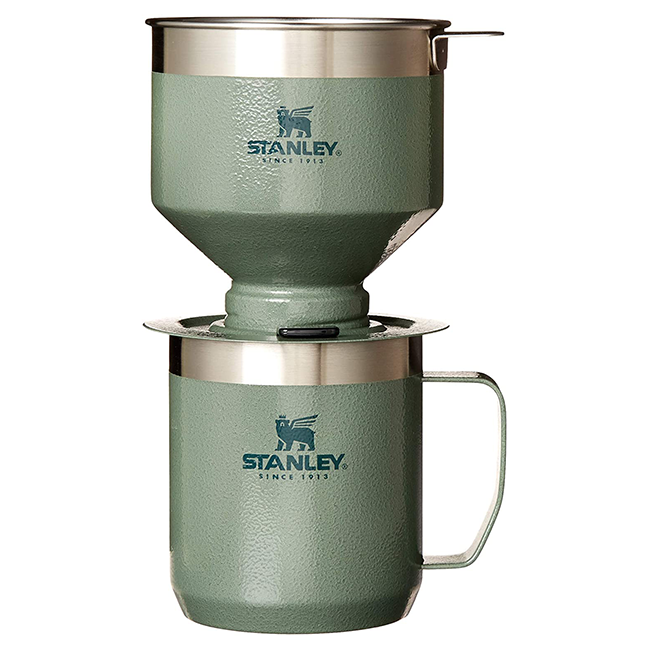 If you find that French press isn't the type of coffee you prefer while camping, then you're in luck. Stanley also has a great Camp Pour-Over Coffee set that is much more compact and lets you make a delicious pour-over no matter where you are in the great outdoors.
Pros
Made by a premium brand
Designed to be used when camping or hiking
Quality build means it can survive tough conditions
Dishwasher safe
Cons
The filter doesn't keep out finer coffee grounds from the final brew
---
The Best 12-Cup French Press Buyer's Guide
In the interest of helping you choose the best 12-cup French press, we've put together this buyer's guide which should walk you through the process while you look through various models. Below are the following things you should take into consideration before you part with your hard-earned cash:
Build Quality
Not all of the best 12-cup French presses are built equally. Depending on the brand and manufacturer, there are a variety of materials that can be used during the construction of the French press. If you're buying a French press with a glass carafe, always ensure that the maker used borosilicate glass, as this is designed specifically to withstand the high temperatures of boiling water, and is stronger than regular glass. If you want something tougher and longer-lasting, then opt for stainless steel or stoneware like the French presses from Le Creuset.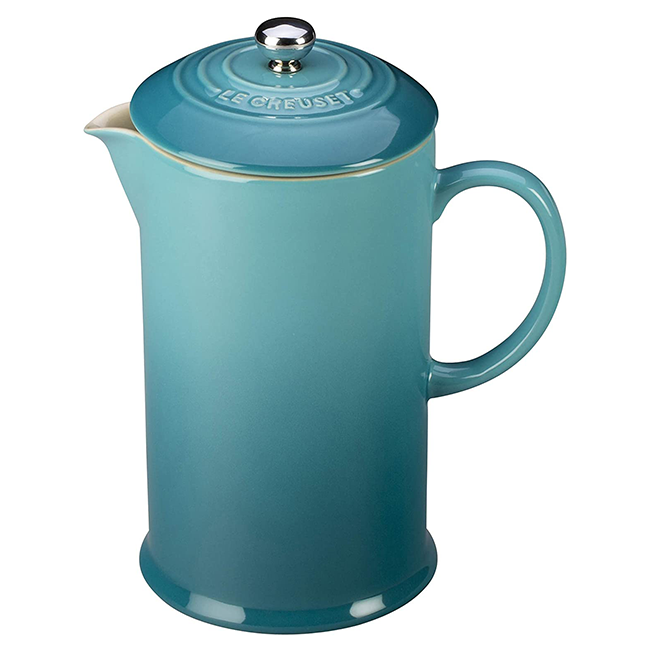 Brand
When it comes to the best 12-cup French press coffee makers, some brands do it better than others. That's not to say that just because a brand is new or unknown that it doesn't make a quality product – you can definitely find some decent French presses by relatively unknown Amazon sellers, for example – but there are definitely a few companies who have been in the game for a long time, and so have history and experience when it comes to create French presses. As a general rule of thumb, you can't go wrong with anything created by Bodum or Bialetti. And just being that, Espro and Freiling are also great producers of French presses.
Filter
Most French presses have the exact same mode of operation. Insert coffee grinds and hot water, let it steep for a few minutes, then plunge the grinds in order to halt the extraction and separate your brew from the sediment. The main component which is going to determine how effectively this last step is performed is the filter. Ideally you want to invest in a French press that has the tight-fitting filter and a double- or triple-layer construction in order to prevent as much sediment as possible from seeping into the final brew. Some of these filters will be constructed from stainless steel, which is great as its completely sustainable and reusable. Others will use cotton filters to do the job. If you can, avoid these as they're not as effective and expensive in the long run.