It's hard to believe that it's that time of the year again. Summer's dead and autumn's gone so it's time to put the light sweaters aside, dust off the old coats and get your stockings ready. Santa Claus is almost here and what better time to start browsing for some Christmas gifts for your coffee-loving friends.
But keep in mind that this isn't a generic guide meant for last minute Christmas shopping. Instead we've put a lot of thought into this list of Christmas gifts for coffee lovers who really love everything caffeinated or coffee-related.
At Caffeine Fiend we know how hectic the holiday season can be, and picking gifts is just another added stressor. That's why we did away with mundane coffee sets and novelty shirts. Instead, we put together a list of the most unique, idiosyncratic and Christmas-worthy gifts we could find.
If you know someone who can't drink a Gluhwein without an espresso on the side, then this guide is for you.
So get yourself something warm, jingle those bells, and read on below. When it comes to finding the perfect gift for the caffeine fiend in your life this year, we're going to help you sleigh.
---

13 Unique Christmas Gifts for Coffee Lovers
---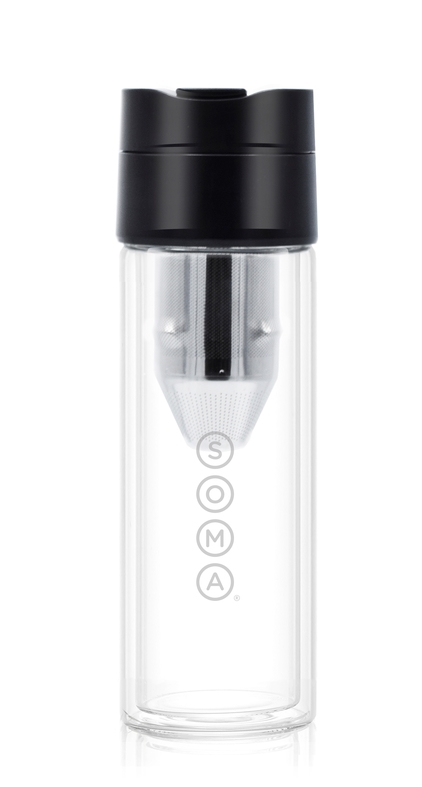 The Brew Bottle by Soma is the ultimate solution for staying hydrated and caffeinated at the same time. Equipped with a filter and a 12 oz. glass bottle, the Brew Bottle is not only highly functional, but beautiful to look at as well.
It's also incredibly easy to use. Simply add coffee grounds to the filter, pour over hot water, attach the lid, and you're now ready for the day ahead.
If you'd like to make cold brew, add the grounds and cold water before bed, and allow the mixture to steep overnight. Then simply grab the Brew Bottle first thing and go to work knowing you've got a smooth, cold and sediment-free cup of coffee to look forward to.
The Brew Bottle is made from double-wall glass which means the coffee will stay hot but your hands won't burn from holding it. At $40 it's a great gift for anyone who needs a pick me up during their morning commute.
---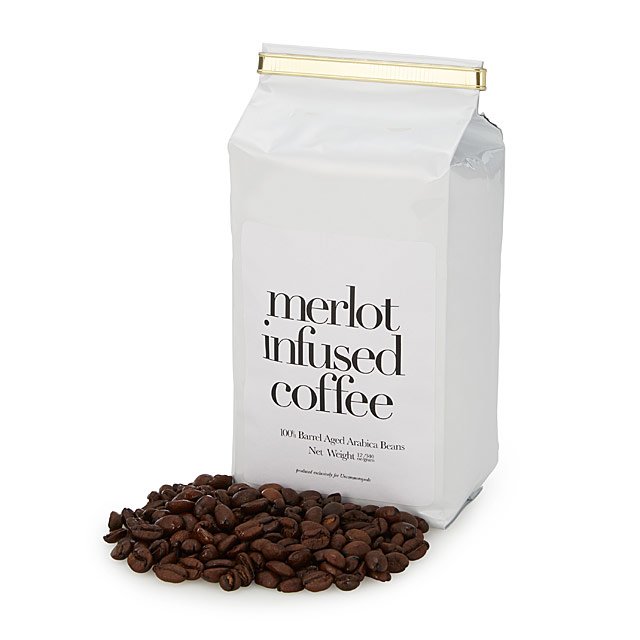 People who appreciate the finer things in life are likely to have both wine and coffee somewhere near the top of their list of indulgences. This Merlot infused coffee combines both vices in the form of Arabica beans aged in old Merlot wine barrels. The result is a delicate coffee with fresh, berry flavors with hints of currants and berries.
This gift is perfect for those who may be torn between what to drink after dinner. A glass of wine or a cup of coffee? This eliminates all dithering and indecisiveness by coming both in one great product.
If you were excited for an alcohol caffeine combination buzz, unfortunately we have to let you down. While caffeinated, these beans contain no alcohol, and are likely to keep you up rather than put you to sleep.
This is a beautifully refined and thoughtful gift that can be had for just $20.
---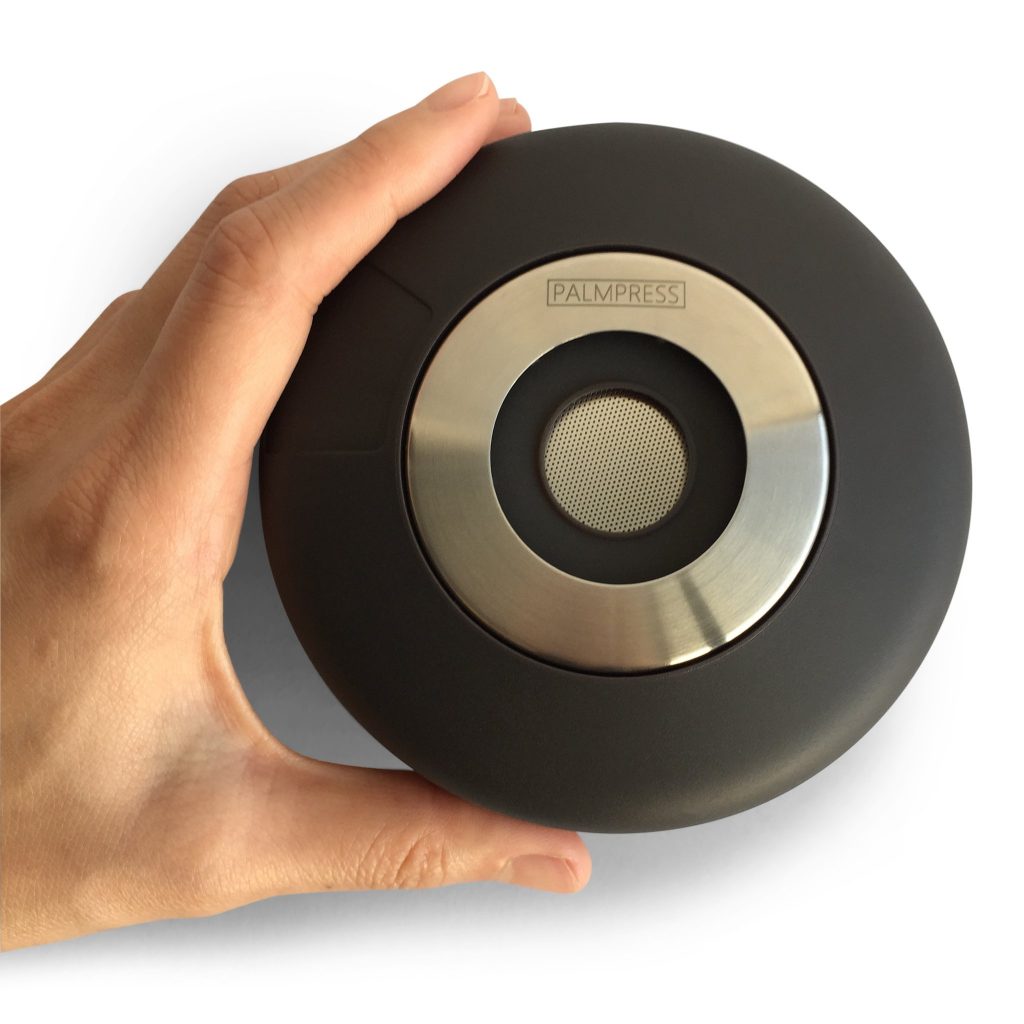 If you know someone who is always in a hurry but perpetually late because they can't leave without first fixing a cup of coffee, then this gift if their godsend. The Collapsible Coffee Press by Palmpress allows you create high quality, cafe-style coffee in a ridiculously short amount of time. You can also use it while you're travelling.
Equipped with one of these beautifully constructed devices, you'll never need pods, paper filters or any other coffee-related paraphernalia again. You won't even need a coffee machine. Owning a Palmpress means you'll literally have the means to make great coffee in the palm of your hand.
Constructed from BPA-free plastic and lined to keep its contents hot, the Palmpress weighs just 9.1 ounces, making it ideal for travelling.
Simply add coffee grounds and hot water similar to how you would in a French press and let it brew for three minutes. Then, place the Palmpress on top of a mug or container and exert some downward force. Presto – an instant cup of delicious coffee with the spent grounds stored away for later disposal.
For $39, it's an absolutely steal considered how much time it will save.
---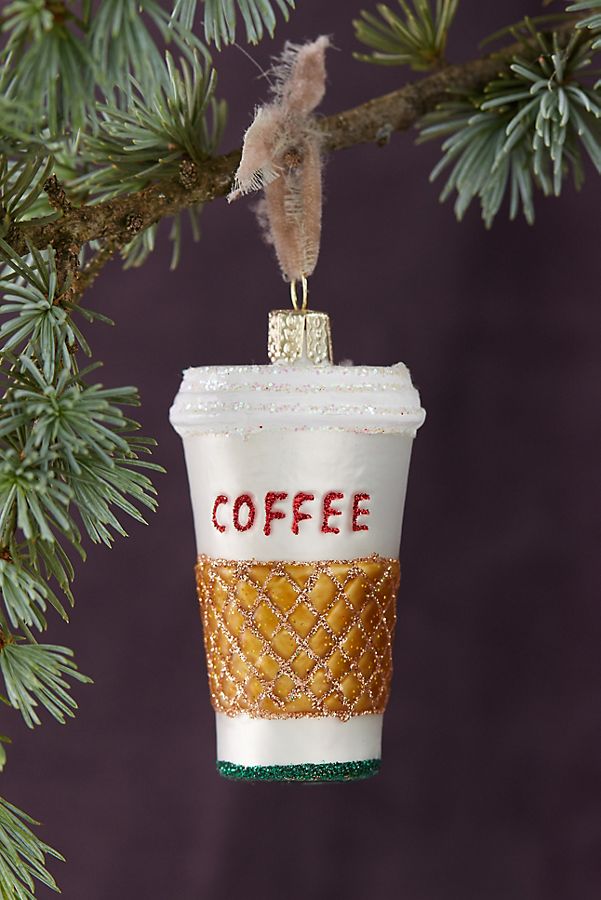 What's a Christmas tree without ornaments? Just an ordinary, boring tree – and no one wants that. Since ornaments are meant to signify the gifts we want, this little To-Go Glass Coffee Ornament is the perfect decorative signifier for a caffeine addict.
Made from soda glass, acrylic paint, and glitter, this ornament is ideal for jazzing up any Christmas tree and turning it into a work of art. While it won't take the crowning spot at the top of the tree, it'll certainly enhance the look of any bare branches.
At $18 it's advisable that you buy one than one of these little guys at a time. After all, when it comes to decorations on a Christmas tree, the more the merrier.
---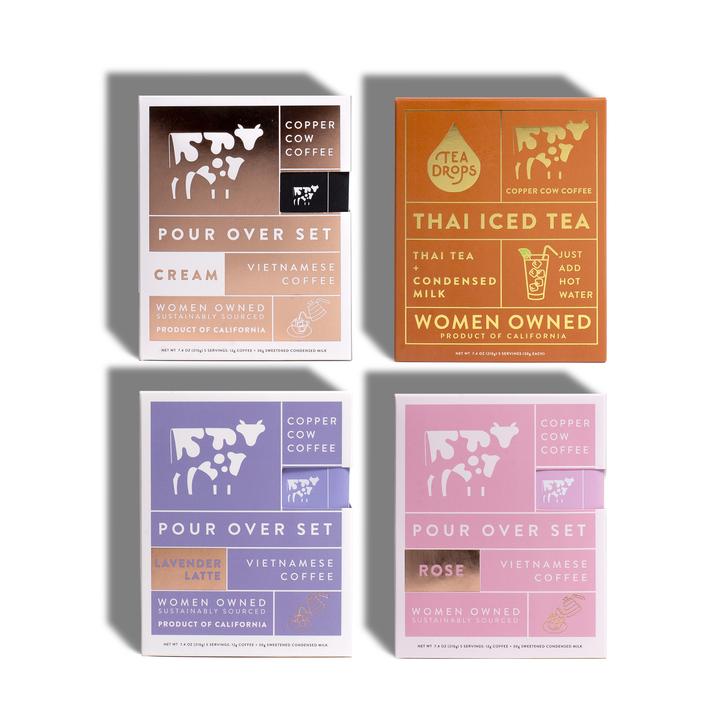 The Vietnamese have their own peculiar (at least to Westerners) methods of making coffee. While most people in the US drink intensely bitter coffee to start their day, the Vietnamese prefer their drinks to be much sweeter. While it might sound a bit different, it's actually delicious and worth trying out.
The Vietnamese Coffee Bundle from Copper Cow Coffee gives you the opportunity to sample Vietnamese coffee and tea without ever having to get on a plane. For $64, you'll get a collection of Copper Cow's best sellers – Classic Coffee, Lavender Latte, Thai Tea, and Rose Latte flavors.
This is a great coffee-and-tea sampler for someone who's not sure if they're ready to go full Vietnamese. The company is also owned entirely by women, so you can rest assured that your dollars are being well spent closing the inequality gap.
---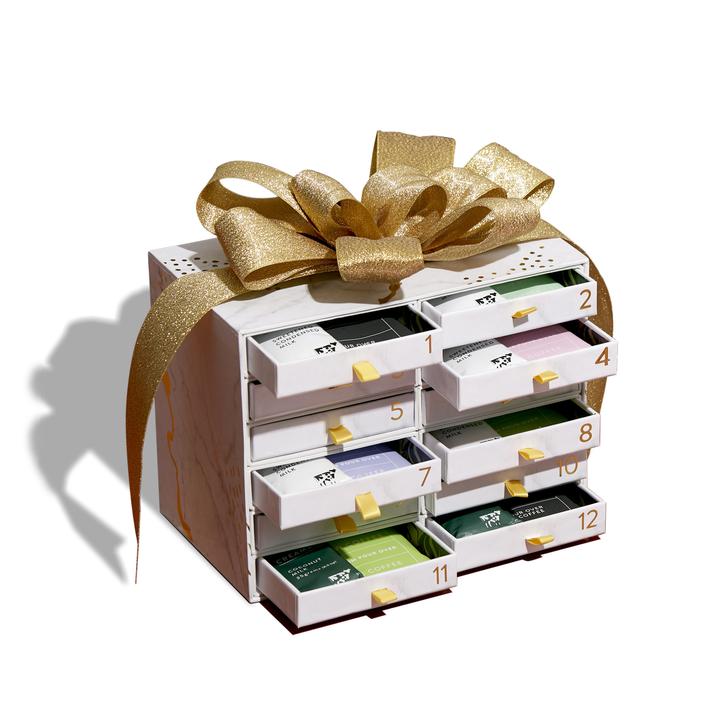 As if you celebrating the countdown to Christmas couldn't get any better – now you can do it with coffee using this Advent Calendar by Copper Cow Coffee.
Everyone knows that family gatherings can be exhausting. Well now you or your giftee can fight the fatigue by knowing that you'll have at least one cup of coffee to get you through the day. On top of that, you'll have the joy of a surprise to look forward to every day.
Beautifully presented in a miniature set of draws, this advent calendar is filled with Copper Cow's best coffees and most luxurious creamers. From Cardamom Lattes to Coconut Creamers, each day will feel like a miniature coffee Christmas in a run up to the real thing.
It's moderately priced at $69, which is a small price to pay for ever increasing exponential happiness the closer you get to Christmas day.
---
Christmas means winter, and winter means cold. Even the hottest cup of coffee will quickly lose its warmth two minutes after leaving the warmth of the house. The solution – store it in a Stanley Classic Legendary Vacuum Bottle.
The Classic bottle uses vacuum-wall double insulation to make sure your coffee stays hot. It's the ideal gift for someone who travels a lot and can't bear to be not have a hot caffeinated beverage with them. On top of that, its stainless steel BPA-free construction means even the clumsiest coffee drinker can sling it around with abandon knowing it won't get damaged.
The insulated lid also doubles as a cup, meaning you can sip your coffee like a gentleman (or lady) wherever you go. It costs $30, and if 20 ounces is too small for your liking, the Classic Vacuum Bottle is also available in sizes up to 2.5QTs.
---
Upon hearing about it, cold brew coffee may seem like it requires a hefty investment in complicated equipment in order to get started. In reality it's way simpler, and this Cold Brew Coffee Maker and Carafe exemplifies exactly how easy this process really is.
Requiring nothing more than ground coffee and water, this little device can be used by absolutely anyone. Simply add ground coffee and filtered water into the brewing chamber, and allow to steep for 12 – 18 hours at room temperature.
Once ready, press the button and the cold brew will drain into the carafe. Add milk, ice cubes and whatever other additional flavors you feel like and it's good to go.
If you know someone who loves an iced coffee even in winter, then this is definitely the gift for them. For $40 it will open them up to the wonderfully chilled and exciting world of cold brew.
---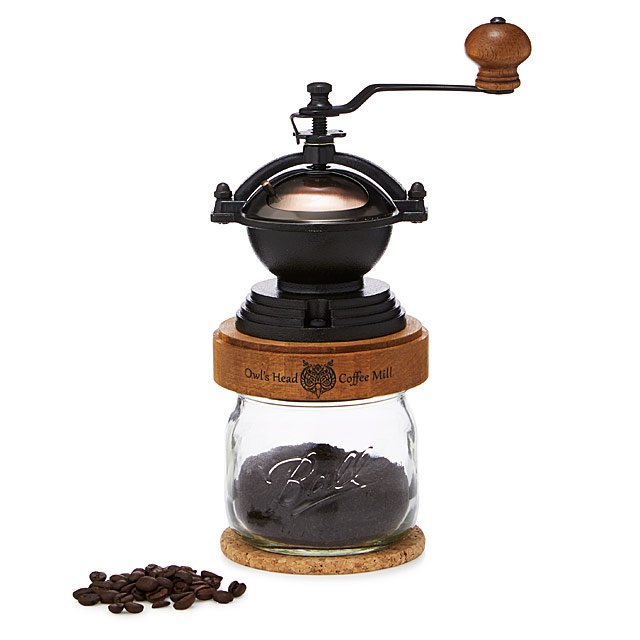 Do you know someone who loves neo-Victorian science fiction and coffee? Then this Steampunk Coffee Grinder will definitely get their gears going. Costing $65, it features a uniquely designed manual crank and accompanying jar to catch all grinds.
The grinder itself is an adjustable ceramic burr-grinder, putting it firmly in the category of the most effective and praised coffee grinders on the market. The included jar holds up to 20 tablespoons of ground coffee, and the cork coaster that comes with the grinder helps to keep the entire device stable during use.
The grinder itself can also screw on to most mason jasons. This means you can quickly and easily grind beans en masse for storage. You'll also be supporting local industries, as this little Steampunk marvel was produced in the heart of the USA in Dorset, Vermont.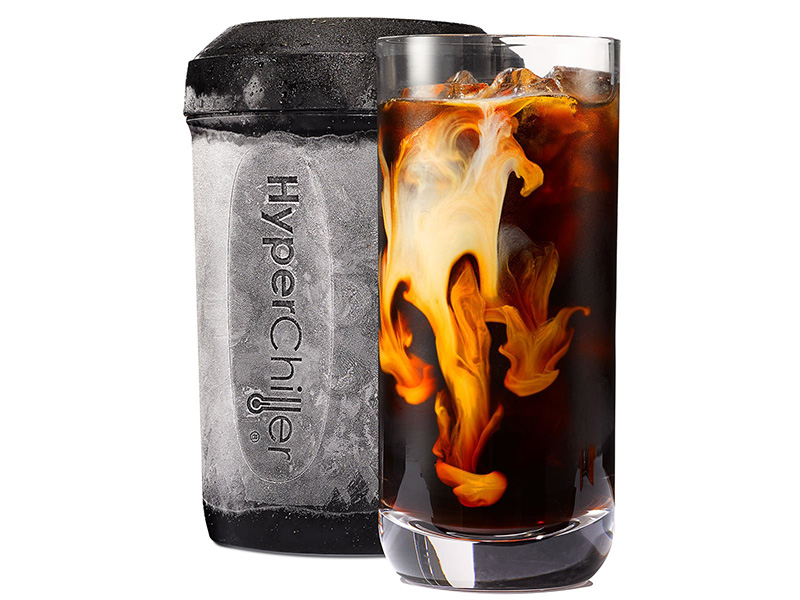 Know someone who loves a deliciously chilled iced coffee, but doesn't have the patience to wait 12 hours for some cold brew? Then the Hyperchiller Iced Coffee Maker is exactly what you should be gifting.
The Hyperchiller is an ingenious coffee cooling system that uses two chambers of ice to cool a third of coffee. Simply fill the small chamber and outer chamber with water, screw the entire device together, and put it in the freezer. Once the water has frozen, you're in business.
Brew your favorite type of coffee – French press, espresso or Americano, it doesn't matter – and pour it directly into the Hyperchiller. Even the hottest coffee will be instantly chilled (well, it takes around one minute) by up to 130 degrees. And because the devices separates coffee and ice, the coffee is able to chill without becoming diluted by the melting ice cubes.
When not in use, simply put the Hyperchiller back in the freezer and let the ice refreeze.
Make someone's iced coffee dreams come true for only $29.99.
---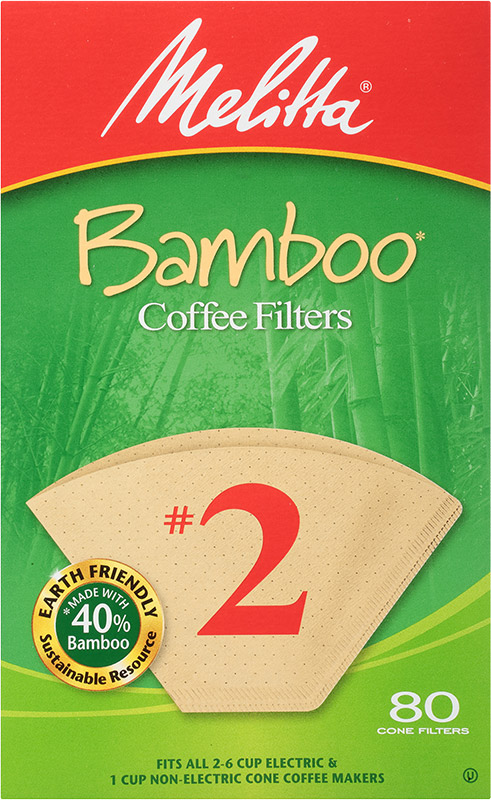 The pour over method produces some of the smoothest and most delicious coffee around. Unfortunately by consistently using disposable non biodegradable filters it also produces a lot of waste. For the eco-conscious coffee drinker, gift some sustainable bamboo coffee filters.
Bamboo is a fast growing grass that requires no fertiliser and can self-regenerate from its own roots. That makes it an ideal substitute for other, less sustainable papers and synthetic materials.
For $59.99 you can get a case of 12 boxes of 80 filters, meaning your giftee won't ever be tempted to use environmentally damaging filters for a long time.
---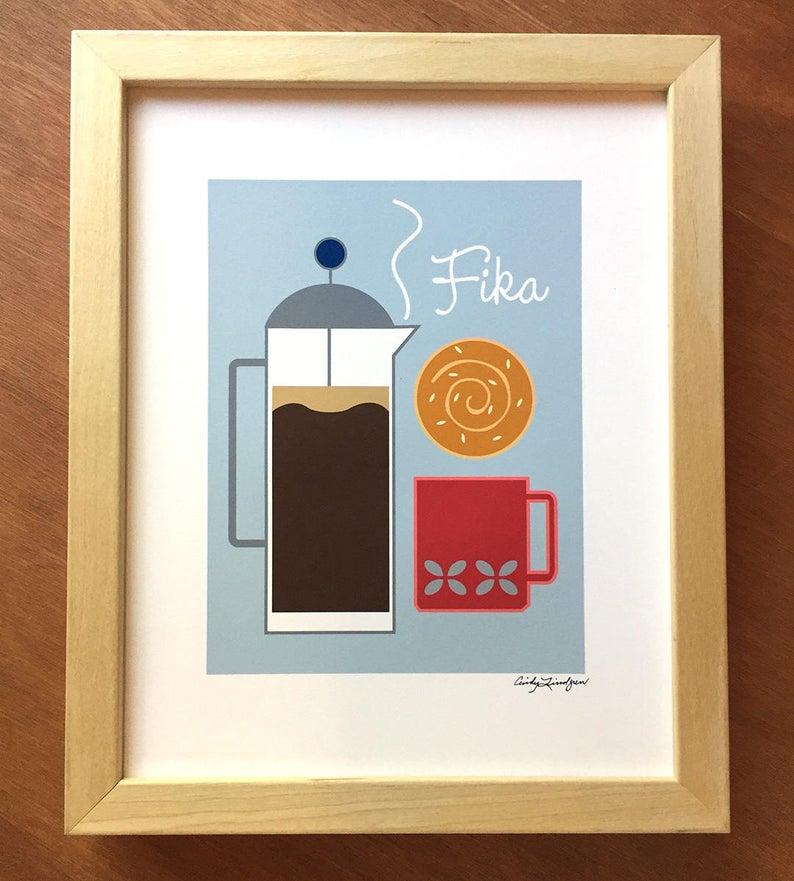 Do you know someone who embodies coffee culture to such an extent that they're willing to decorate their house with coffee art? Of course you do. That's why we've included this minimalist, Fika art print by artist Cindy Lindgren.
Fika is a Swedish concept that roughly translates to "coffee and cake". However, it's much more than that. Fika is an attitude and state of mind which has to do with making time for friends and sharing a cup of coffee and a small meal.
This print by Cindy Lindgren represents this concept beautifully. Featuring bright renditions of a French press coffee maker, a steaming mug of coffee and a Swedish Kanelbulle, this piece will look at home on the wall of anyone who considers coffee an essential part of their lifestyle.
At $33.50 it's not only a good price, but you can rest assured that your money is supporting and enabling an artist.
---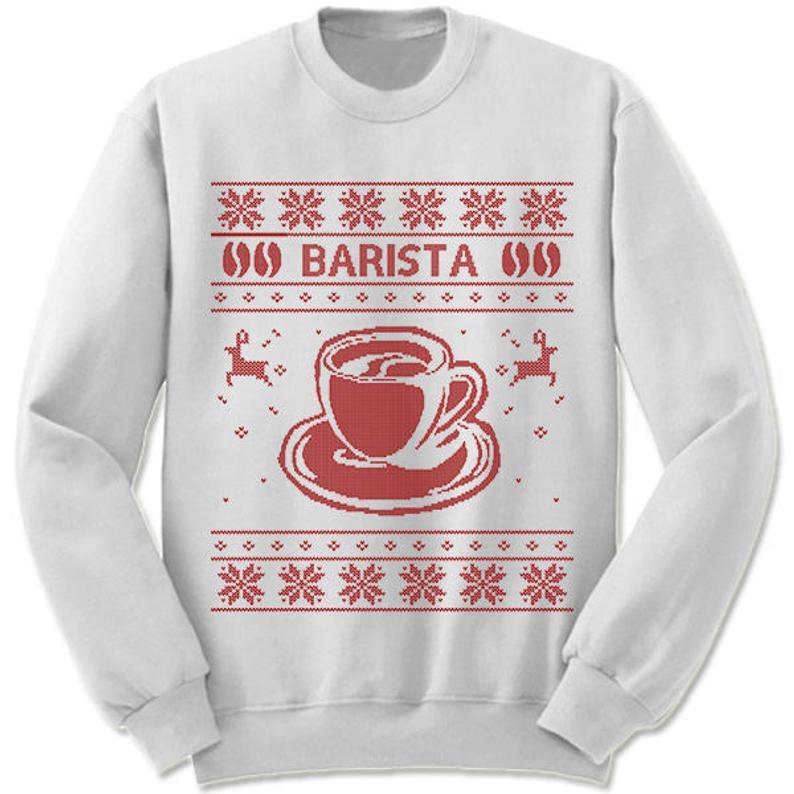 Honestly, did Christmas even happen if no ugly Christmas jerseys were worn? Didn't think so. Ensure that Christmas stays as corny and hilarious as ever by buying your coffee-loving loved one this Barista Ugly Christmas Jersey.
Made from equal parts cotton and polyester, this jersey features a classic Christmas jersey pattern accompanying the word "Barista" and a cup of coffee. It also comes in a variety of colors, including bright red and green in case you wanted to up the degree of ugliness up a notch or two.
For $29.90 you really can't go wrong. Ugly Christmas jerseys, coffee-related or not, are always a hit and a cause for hilarity. And if you get one for everyone at your Christmas gathering, just imagine how great the photos will be.
Of all 13 of our Christmas Gifts for Coffee Lovers ideas, which one did you like most?
---