Coffee lovers come in many shapes and sizes, moods and temperaments. From those who drink instant coffee, to die-hard third-wave affictionados, to sports-obsessed early risers who rely on coffee for health benefits, the list is long. With such variety it can sometimes be difficult to find suitable unique gifts for coffee lovers.
That's where we come in. We understand that the coffee lover in your life probably has all the basics and understands how to make a decent brew. That means when their birthday or Christmas comes around you can't simply buy them a French press or Moka pot since they probably have both already.
You want something special, and so we've scoured the darkest corners of the internet to bring you some of the most unique gifts for coffee lovers. If you're looking for drip filters or other basic coffee gifts, check out some of our other guides. But if you want something interesting, useful and maybe even a little bit strange, then carry on reading below.
---
What Makes a Coffee Gift Unique?
When writing this guide, we decided to not focus so much on the utilitarian value of the product so much as the uniqueness of it. It's pretty easy to find a French press for a good price that will deliver decent brew. But it's not so simple to find something handmade that you won't find in every coffee shop that you visit.
We decided to source products that ordinarily wouldn't make their way into a standard kitchen, but which are still useful to a coffee lover.
That's not to say that we didn't take quality into account. The products listed below aren't simple knick knacks that serve no other purpose other than to decorate a shelf or counter. Each one is useful and adds to the overall experience of either making or consuming coffee.
And with that in mind, let's take a look at some of the most unique gifts for coffee lovers around.
---
Unique Gifts For Coffee Lovers: Our Top 12
---
Zojirushi Stainless Steel Mug – $25.96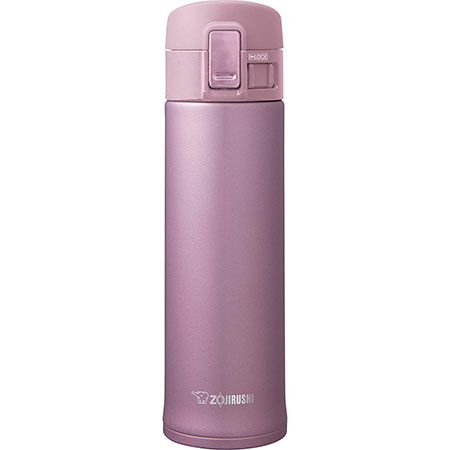 Coffee is best enjoyed at home, in your slippers with a newspaper or magazine in front of you. Many people don't have that luxury, however, and need to bolt out the door first thing in the morning to get to work. With this Stainless Steel Mug from Zojirushi, however, you might be late but you'll never go without coffee again.
Constructed from stainless steel, this travel mug is as durable as it is pretty. Two layers of steel keep coffee warm or cold (depending on your preference) for hours once the mug has been filled up. This works because the air between the two layers is removed, making it more difficult for heat to pass from one layer to the other.
This travel mug is ideal for on-the-go workers because, unlike similar models, you can drink directly from the mug without worrying about spilling. It'll set you back $25.96, but that's a small price to pay for having fresh, steaming coffee with you every morning.
Cozy Scented Warming Coaster – $15.00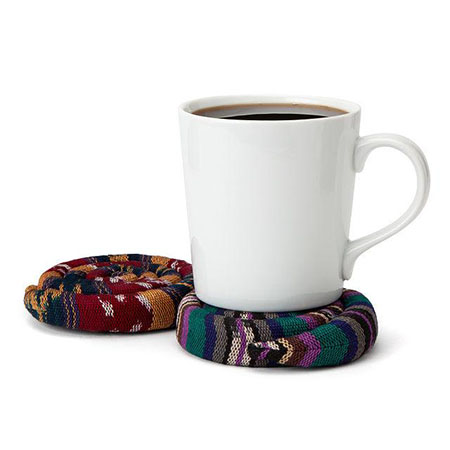 Drinking a mug of hot coffee is perhaps one of the cosiest experiences a person can have. Well now you can elevate that feeling of snugness with a Cozy Scented Warming Coaster from uncommongoods.
These coasters are made from cinnamon, coffee beans, cloves, and hand woven fabric, and are an ideal accompaniment to any coffee table or kitchen counter. And while they undoubtedly look cute, their true magic reveals itself when you place your hot drink on top of one. Once activated by the heat of your drink, a beautifully rich spice-filled aroma will begin to fill your home.
For $15.00 this coaster doesn't only make your home smell wonderful, but it insulates your mug from the surface below it. This means you can keep your drink warm for longer while you revel in the coziness of a spice-scented home.
Literary Mugs – $16.00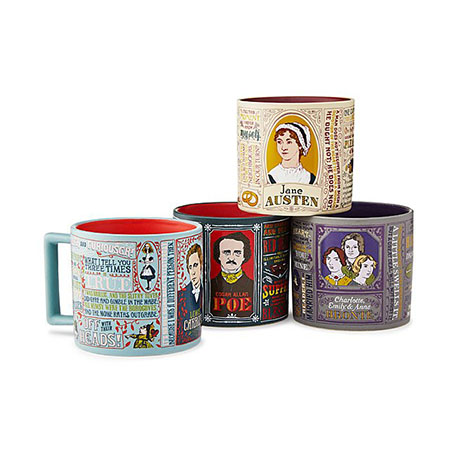 It's no secret that coffee and literature go hand-in-hand. Some of the greatest men and women of letters have relied on coffee to help them produce their prodigious works. If you know someone who's into books and coffee, then you these Literary Mugs from uncommongoods make the ideal gift.
Made from beautiful stoneware and featuring the words of three classic authors, these mugs really put you in touch with some of the world's greats.
Match the mugs to your friends personalities. Choose from Jane Austen if they have a deep interest in human connections or Lewis Carroll if they tend to be more whimsical. If they have a touch of darkness in them then Edgar Allen Poe is more than apropos.
Each mug costs $16.00 and features a portrait of the respective author as well as a few of their choice quotes.
Strong Cup of Coffee Scented Candle – $24.00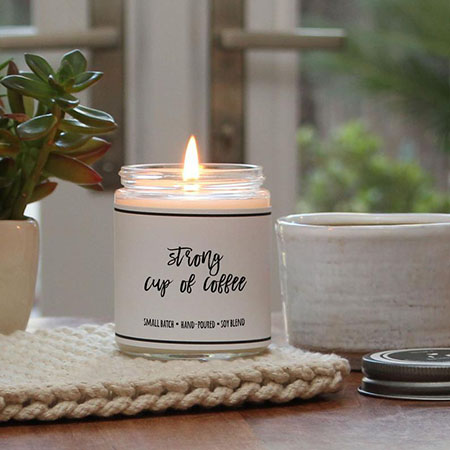 There's nothing better to wake up to than the smell of fresh coffee brewing in the kitchen. Helloyoucandles thought so too, which is why they started producing their Strong Cup of Coffee Scented Candles.
Made from eco-friendly, American grown soy wax and combined with fragrance oils, this candle captures the scent of freshly brewed strong coffee perfectly. It's an ideal gift for a coffee lover who loves taking frequent baths or just loves candlelight. The candles are hand-poured in Orange County, making them an environmentally-conscious, locally-made product.
A 9oz candle will set you back $24.00, and with that you're also able to add a personalized message for the recipient.
Collapsible Travel Cup by Stojo – $25.00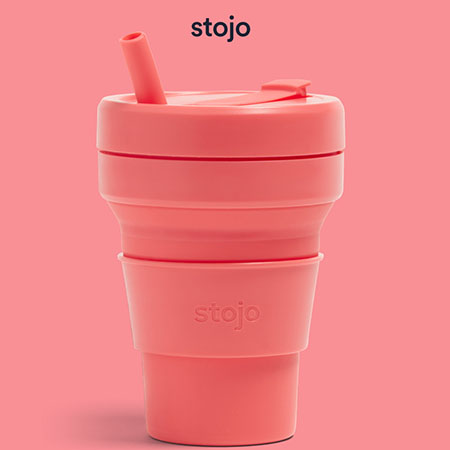 Stojo have put fun back into travel mugs with their Collapsible Travel Cup. Costing just $25, this mug is ideal for transporting any liquids and ensuring that they remain either hot or cold.
Constructed of the world's safest, LFGB certified silicone, the owner of the cup can rest assured that whatever they're drinking will remain safe and uncontaminated. It's so safe that it doesn't even contain a single glue or harmful chemical; the whole thing just fits together just like a puzzle.
The travel cup comes with a silicone holder which can be easily slipped on to protect the drinker from burning their hands. The whole thing can also be popped directly into the dishwasher without worry.
Oh, and the best part. When you're not using the travel cup, it collapses into a small, neat little puck which can easily fit in any pocket.
Solid Oak Personalized Coffee Scoop – $26.90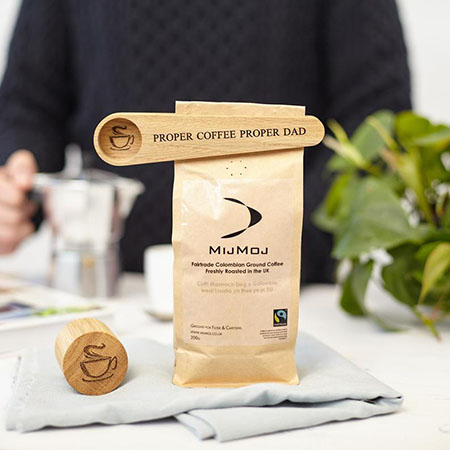 If you know a coffee lover who's into buying single origin, whole, roasted beans, then this Solid Oak Personalized Coffee Scoop is for them. For $26.90 they will get a handcrafted, multipurpose coffee scoop made from solid oak.
This coffee scoop serves a double purpose. It's ideal for measuring out coffee in exact amounts, ensuring that your cup of coffee is always the exact strength you want it. But it also functions as a clip to seal open bags of coffee and ensure that the coffee inside remains airtight and unspoiled.
As supremely functional as this gift is, it's also extremely thoughtful. You can opt to include a coffee tamper as well as a bag of coffee to be sent with the clip itself. But the real love reveals itself in the fact that you can personalize the scoop with a message for your friend or loved one.
Chorreador Handmade Portable Foldable Coffee Maker – $49.95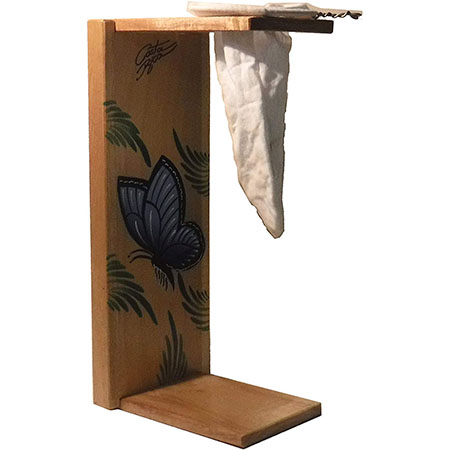 Take coffee brewing back to basics with this Chorreador Handmade Portable Foldable Coffee Maker. Costing just $49.95 this unique gift for coffee lovers is a traditional Costa Rican method of brewing coffee that requires no electricity or moving parts.
The Chorreador is constructed of light and durable Costa Rican Gmelina wood and finished with hand painted butterflies. It uses a filter made of reusable and washable cloth to hold ground coffee. To brew coffee using the Chorreador simply pour hot water through the ground coffee and filter and collect it in a container.
This is a no-frills, easy-to-use coffee maker which can be used practically anywhere. It folds up compactly making it ideal for camping and travelling as well as for storage. It's also quite versatile, making anywhere between a single cup to 10 cups of coffee per serving.
Luggage Travel Cup Holder by Freehand – $19.98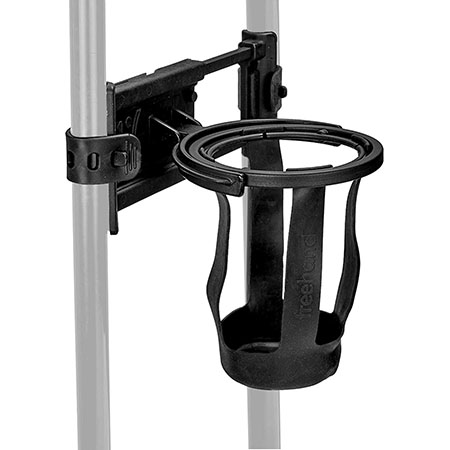 Do you have a coffee lover in your life who travels frequently and just can't go without a brew while on the move? Then this Luggage Travel Cup Holder by Freehand is going to be the most useful gift that they receive in a long time.
Made directly in the USA by a veteran-owned and operated company, the cup holder clips neatly onto the handle of any piece of hand luggage. Once attached, travellers can easily slot their drinks in, freeing up their hands for whatever travel business they're currently attending to.
The cup holder is self-levelling and holds standard 8oz – 24oz cups as well as up to one liter water bottles. It also adjusts to hit luggage handles between four and eight inches wide.
Hario V60 Drip Scale Timer – $47.23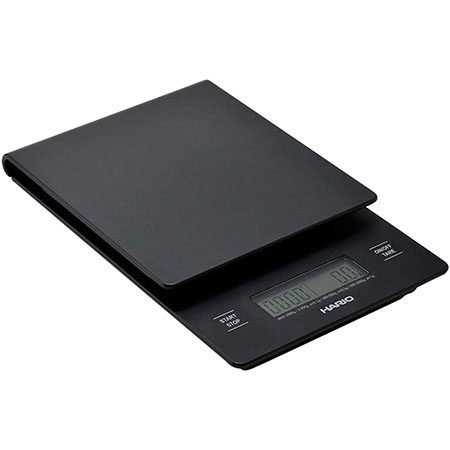 For the coffee lover who takes precision and exactitude seriously, the Hario V60 Drip Scale Timer is the gift they never knew they needed. Costing just $47.23, this scale lets brewers have total control over how much coffee they grind or how much water they boil.
This gift is a bit on the extravagant side, but for a coffee geek who wants to take their brewing to the next level, it's undeniably useful. It measures in 0.1 gram increments, offering brewers extremely high measuring precision. The scale also features an integrated timer, perfect for counting down blooming and steeping times.
Silver Coffee Bean Necklace – $25.00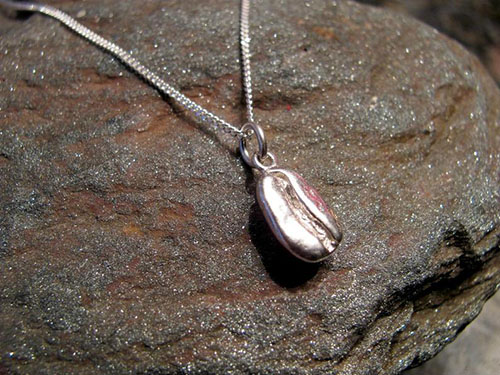 We all know people who are extremely vocal about their love of coffee. For some people, however, just talking about your love of coffee isn't enough. For a coffee lover who loves pretty things and wants everyone to know their passion, this Silver Coffee Bean Necklace is the perfect gift.
The necklace is made entirely from Sterling Silver, which makes its $25.00 price tag extremely reasonable. It also comes in a variety of lengths, ensuring that you can find the perfect size for your friend or loved one.
The World Atlas of Coffee: From Beans to Brewing – $27.20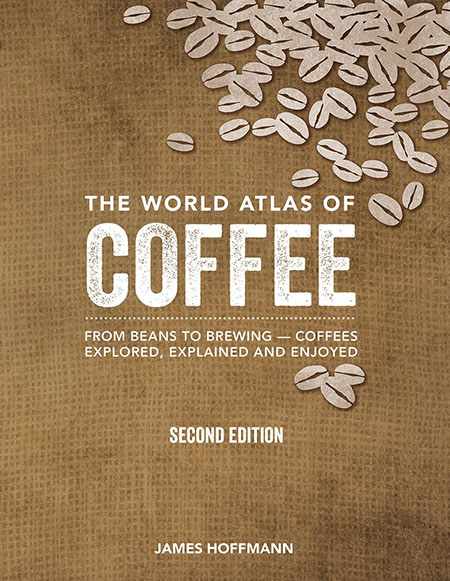 For the erudite student who not only drinks coffee but wants to learn more about it academically, you'd be hard-pressed to find a worse gift than the World Atlas of Coffee. Written by James Hoffman and available for $27.20, the book takes readers on a journey from beans to brewing, touching on everything in between.
This isn't a simple coffee table book, however. The World Atlas of Coffee examines in detail different coffee-producing countries, their methods and processes, and presents it in informative text and full-color photographs. Expect to read about growing locations and conditions, the cultures of farmers who grow it and how it affects peoples' way of life.
The book also covers how coffee is consumed worldwide, examining how modern coffee culture is experienced by different people. Readers are taken on a journey from South America to Vietnam, Thailand, the DRC and many more exotic locations. This is a unique gift for coffee lovers that combines reading and the love of coffee in one fell swoop.
Copperbull Turkish Coffee Set – $41.95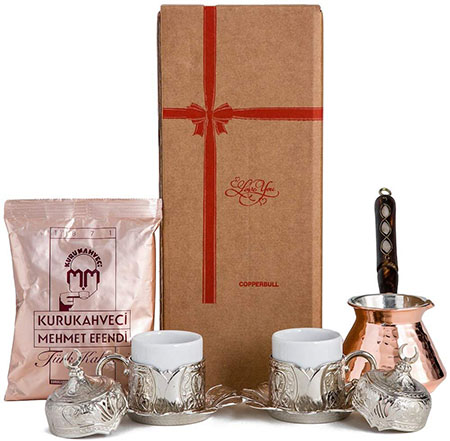 If you know someone who likes to serve coffee in unusual ways then the Copperbull Turkish Coffee Set is the ideal unique gift for coffee lovers. For $41.95 this set comes equipped with everything you need to make and serve traditional Turkish coffee.
The entire set is engraved and contains two porcelain cups, two brass cup holders, two sauces and two lids. It also comes with one hammered 8 oz copper coffee pot and a 3.3 oz packet of Mehmet Efendi Turkish Coffee. This way you can start making delicious Turkish coffee straight away.
This is an authentic and very thoughtful gift, and would make a great addition to any kitchen counter or shelf. The quality of construction is evident as each piece is handmade in Turkey. On top of that it's also dishwasher safe.
---
A Couple More Alternative Unique Gifts for Coffee Lovers
---
Now that we've listed our favorites, let's take a look at a couple of more alternative unique gifts for coffee lovers.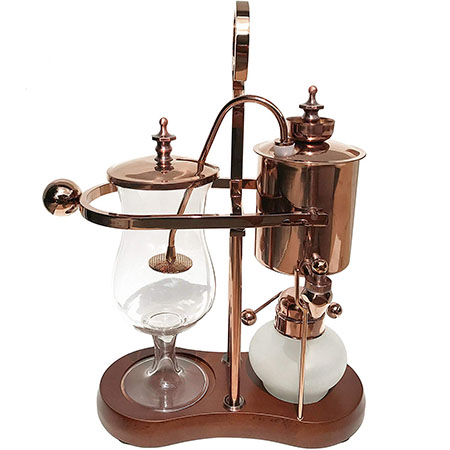 Belgian Luxury Balance Syphon Coffee Maker by Nispira – $125.99
If an ordinary coffee machine just won't cut it for the coffee lover in your life, then this Belgian Luxury Balance Syphon Coffee Maker by Nispiria is the answer. Featuring an incredibly beautiful vintage design, this vacuum coffee maker (also known as a siphon coffee maker) can produce up to 500ml of coffee at a time.
The coffee maker itself comes finished in either gold or chrome and rests on a brown wooden board base with a stainless steel water retainer. It relies on an alcohol burner to heat and brew the coffee which is then filtered into the glass carafe.
It goes without saying that this is one of the more interesting pieces of coffee equipment on this list. On top of being a functional way of brewing coffee, it's also a great decoration and conversation starter.
Camp Brewing Kit by LaColombe – $125.00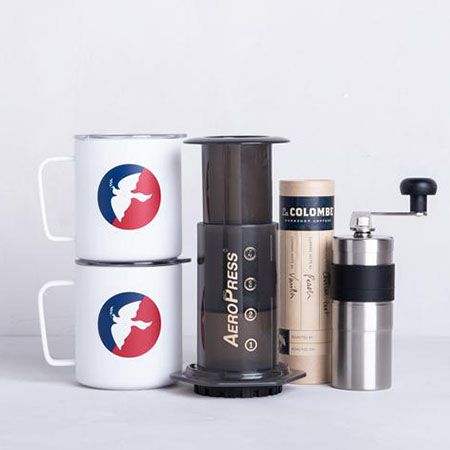 For the coffee lover who loves to travel and camp, this might be the creme de la creme of coffee-related gifts. The Camp Brewing Kit by LaColombe is an all-in-one brewing kit that ensures you can have premium, delicious, homemade coffee no matter where you are.
This gift will set you back $125.00, but for the price tag you get a fantastic bundle. Featuring an AeroPress, two MiiR insulated Camp Mugs, a Porlex Grinder and a small bag of La Colombe beans, this setup is the ideal travel kit for any adventure.
Making coffee using this brewing kit couldn't be easier. Simply grind up your beans to the desired consistency and use the AeroPress to make coffee in your favorite style. Transfer it to a mug and enjoy the taste of freshly brewed coffee in the great outdoors.
---