Whether you call it a Moka pot, Bialetti, percolator, or a stove-top espresso coffee maker when it comes to brewing espresso-style coffee, it's hard to deny that it's one of the best. If you're new to the coffee game, however, deciding on the best Moka pot can be an intimidating proposition.

Don't worry — we've got you covered. 

In this article we're going to provide a detailed breakdown of some of the best Moka pots currently on the market (quick scroll ⇊) , and help you decide which is the best choice for you.
---
The Best Moka Pot: Our Top Pick for Stovetop Espresso Maker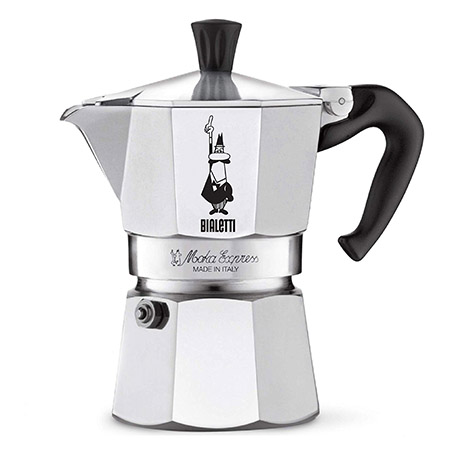 Quality: 4/5
Design: 5/5
Price: 5/5

You just can't go wrong with the original Bialetti Moka Express. Made by one of the most reputable Italian brands, this classic stovetop coffee maker comes in a variety of different sizes, produces high-quality brew, and can be purchased for a really affordable price. The only drawback is that it is an aluminum Moka pot, so it won't have the same shelf life as a stainless steel stovetop espresso maker.
---
Wait, What Exactly Is a Moka Pot?
Before we nerd out and get into a detailed analysis of some of the best Moka pots out there, let's first establish a baseline definition of exactly what a Moka pot is.

Put simply, a Moka pot is a coffee brewing device that uses pressurized steam forced through coffee grounds in order to brew coffee. The resultant brew is dark, thick, and intense, and similar in consistency and taste to espresso, allowing you to make coffee drinks such as lattes and cappuccinos without a fancy espresso machine. However, making espresso requires much greater amounts of pressure than a Moka pot can produce.
The device itself is a fairly simple piece of kit. It consists of a steel body that contains two chambers separated by a funnel-like filter. Water is added to the bottom chamber and ground coffee to the filter. The top chamber gets screwed on, added to a heat source such as a gas or induction stove, and the heat forces the water into steam and through the coffee.

The resultant brew gathers in the top chamber and boom, in a few minutes you've got hot, aromatic coffee ready to go.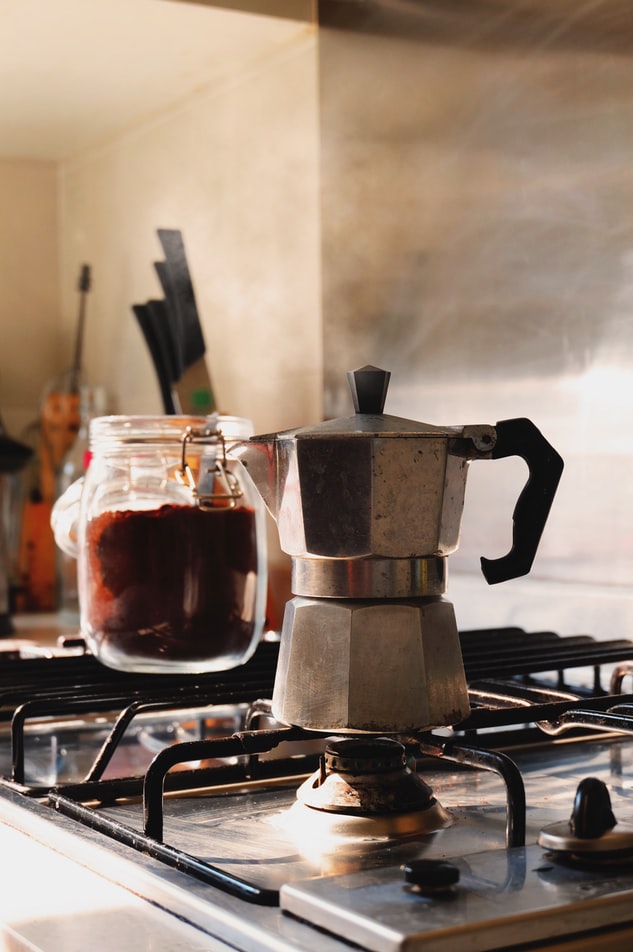 ---
How We Ranked Our Moka Pots: Criteria Breakdown
When putting together this list we looked at a number of different criteria on which to base our selection. This helped us determine which were the best Moka pots and which ones were substandard.
Capacity
When it comes to size, not all Moka pots are created equal. Each Moka pot has a different capacity for the amount of coffee it can brew at once. Some can brew enough for one person and some enough for four.
Material
In the coffee world, there's a debate about which is the best material to construct a Moka pot from. It generally falls into two camps – aluminum and stainless steel.

Stainless steel is generally considered the superior material and the best Moka pots are constructed from it. They're non-porous, non-corrosive, and extremely durable. Chances are that if you invest in a quality stainless steel Moka pot, it's going to last you for a very long time.
That being said, stainless steel is quite expensive.
The alternative is aluminum. But this material is quite a bit more temperamental than its steel counterpart. For starters, they're not dishwasher safe so they have to be hand washed and dried in order to prevent them from rusting.
While they won't last as long as stainless steel, aluminum Moka pots will still give you a good decade of use if you treat them well. Because of this shortened lifespan, a Moka pot made from aluminum will almost always be cheaper.
Design
Ever since their inception, Moka pots have always had considerable style. They're a great addition to any kitchen and look fantastic on any shelf. In fact, they look so good that their original design hasn't changed all that much from the 30s until today.

But there are variations, and we took this into account when ranking our best Moka pots. Most come in traditional silver, but it's common to find Moka pots with varying colors and patterns.

Safety
When using a Moka pot you're going to be dealing with vast amounts of heat, pressure, and steam. For that reason alone it's important that your Moka pot is as safe as possible.
Such high amounts of pressure make Moka pots ticking time bombs without essential safety features. In this case, one of the main features stopping a Moka pot from detonating is a pressure release valve (also called a safety valve), and we made sure every Moka pot we reviewed came duly equipped.

---
The 6 Best Moka Pots: Side-By-Side

Moka Pot & Price

Pros & Cons


Bialetti Moka Express



Check Latest Price

+ Available in a variety of different sizes.
+ Italian-made.
+ Classic design.
+ Trusted brand with a long history of quality designs.

– Constructed from aluminum so not as durable as its stainless steel counterparts.


Bialetti Kitty Stainless Steel Espresso Maker



Check Latest Price

+ Unique Design.
+ Durable stainless steel construction.
+ Dishwasher safe.
+ Compatible with gas and electric stoves.

– Slightly more expensive than traditional moka pots.
– Non-classic design for those who prefer the traditional-looking moka pot.


Cuisinox COF-10R Roma



Check Latest Price

+ Stainless steel construction.
+ Comes with a 25 year warranty.
+ Beautiful and eye-catching design.
+ Works with electric stovetops, induction stovetops, and gas stovetops.

– Hefty price tag that is more than double other comparable options. Not made in Italy.


Colleti Bozeman



Check Latest Price

+ Unique design featuring an attractive wooden handle.
+ Constructed to be used on an open fire, and so is perfect for outdoor use.

– Not the most ideal option for home use although can be used on a gas stove.


De'Longhi EMK6 Electric Moka Pot



Check Latest Price

+ Electric Moka Pot that can be used without a gas or electric stove.
+ Ideal if you don't have a kitchen.
+ Convenient and easy to use.
+ Warm function keeps coffee warm for up to 30 minutes after brewing.

– Made from aluminium and plastic.
– Plastic chamber may affect the taste of the coffee.


Bialetti Venus



Check Latest Price

+ Elegant construction and finish.
+ Constructed from stainless steel and suitable for both gas and electric stovetops.
+ Can also be used on campfires.
+ Fairly affordable.

– Not dishwasher safe and requires washing by hand.
---
What People Love About Moka Pots
If you're reading this guide it's likely because you've seen Moka pots or coffee percolators in restaurants, cafes, or your friends' kitchen, and you've decided you have to have one. This makes sense considering that the Moka pot is a worldwide phenomenon.
The reason for its popularity is twofold. First, it's an extremely simple yet effective device to use, and the brewing process is very straightforward. Once you have a Moka pot you need very little else other than coffee grounds, water, and a heat source in order to produce coffee that would rival that of the best third-wave joint in town.

It's also extremely cost-effective. Most Moka pots don't need to break the bank. In fact, because of their straightforward construction and robust build, they provide one of the best bangs for your buck if you're looking to get into the luxury coffee game.
Of course, like any hobby or interest, there are levels to the amount of money you can spend when pursuing the very best Moka pot. That being said, a simple, no-frills Moka pot that will produce consistently delicious coffee is not going to put you in debt.
---
How to use a Moka Pot Correctly
Unscrew the top from the bottom chamber, remove the interior filter basket, and place both bits to one side.
Fill the bottom chamber with water up until the fill line and pressure-release valve. It's a good idea not to fill above the valve, as there is a chance that the pressure inside the water chamber could get great enough to cause the whole thing to explode – we're not kidding. The amount of water you use will depend on the size of your Moka pot. For a 3-cup, we recommend about 140 grams of water.
Next, grind your coffee. Like most Moka pots, we recommend using a medium to medium-fine grind, coarser than you'd use for an espresso machine but finer than for a drip coffee maker. We found that if the grind is too fine, then you risk an uneven extraction as well as clogging up your filter.
Once you're finished grinding, fill the grinder basket up with the ground coffee. We found that about 18 grams of coffee is the perfect amount for a 3-cup Moka pot. A good tip is to heap the coffee and then just gently tap the sides until the grinds in the basket are level. You don't want to compact the grounds, just ensure that they are level in the filter basket.
Place the water chamber on the stove and let it heat up. Once you see bubbles starting to form, pop the filter basket into the chamber, being careful not to burn your hands on the hot surface.
Using a dishcloth, screw the top back onto the water chamber and wait. After a few minutes, coffee will start to flow from the bottom chamber into the top. Once you hear a gurgling sound and start to see steam, turn off the stove and move the Moka pot to a cool surface. This is important as if you leave the Moka pot on the heat, you might burn the coffee and ruin the taste.
Finally, serve and enjoy. Since coffee brewed this way is pretty strong – not quite espresso strength – we recommend diluting it with a bit of hot water unless you're really trying to get buzzed.
---

The Best Moka Pots: Reviews of Our Top Picks
---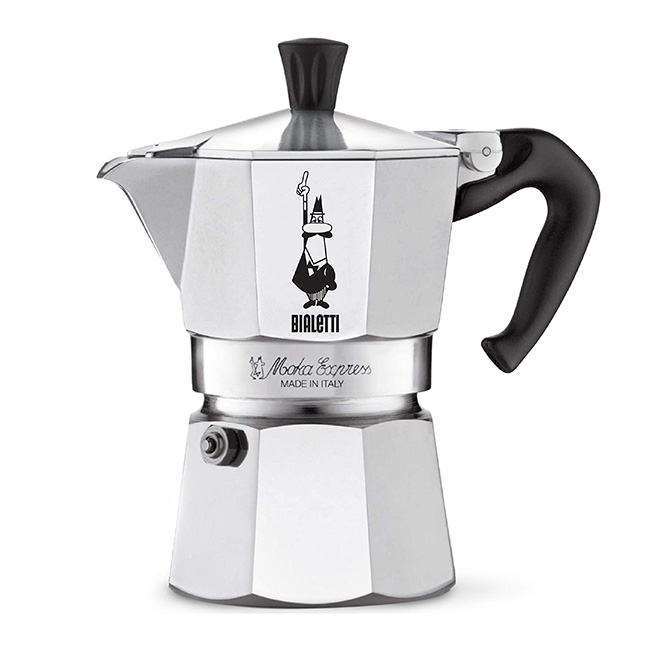 When it comes to the best Moka pots around, you can hardly go wrong with a Bialetti Moka pot. Having been around since the 1950s, they're one of the heavyweights in the industry when it comes to producing premium coffee equipment.
The Bialetti Moka 3-Cup Express is exemplary in this regard. With a classic look that is both attractive and instantly recognizable, the Moka Express sits well in any kitchen. This Italian design helps defuse heat evenly for a balanced yet strong cup of coffee. The model we linked to above is the 3-cup model which is ideal for small or single households. If you have a more voracious appetite for coffee, however, the Bialetti Moka Express is also available as a 6-cup version.
This Moka pot is compatible with most stoves. The only drawback is that it's made from aluminum, so won't have the same shelf life as a stainless steel counterpart. That being said, for the price, it's really difficult to beat the quality that it delivers.
Even though we just cautioned against the strength of the coffee, if you find that the Moka pot coffee produced by the Bialetti Moka Express is a little on the weak side, you can make it stronger by using a lower stove temperature. This causes a slower extraction process and results in stronger coffee. If you want weaker coffee, use a higher temperature in order to achieve a faster extraction process.
In terms of usage, simply follow the how-to instructions detailed above, or the video from Gadjector below.
---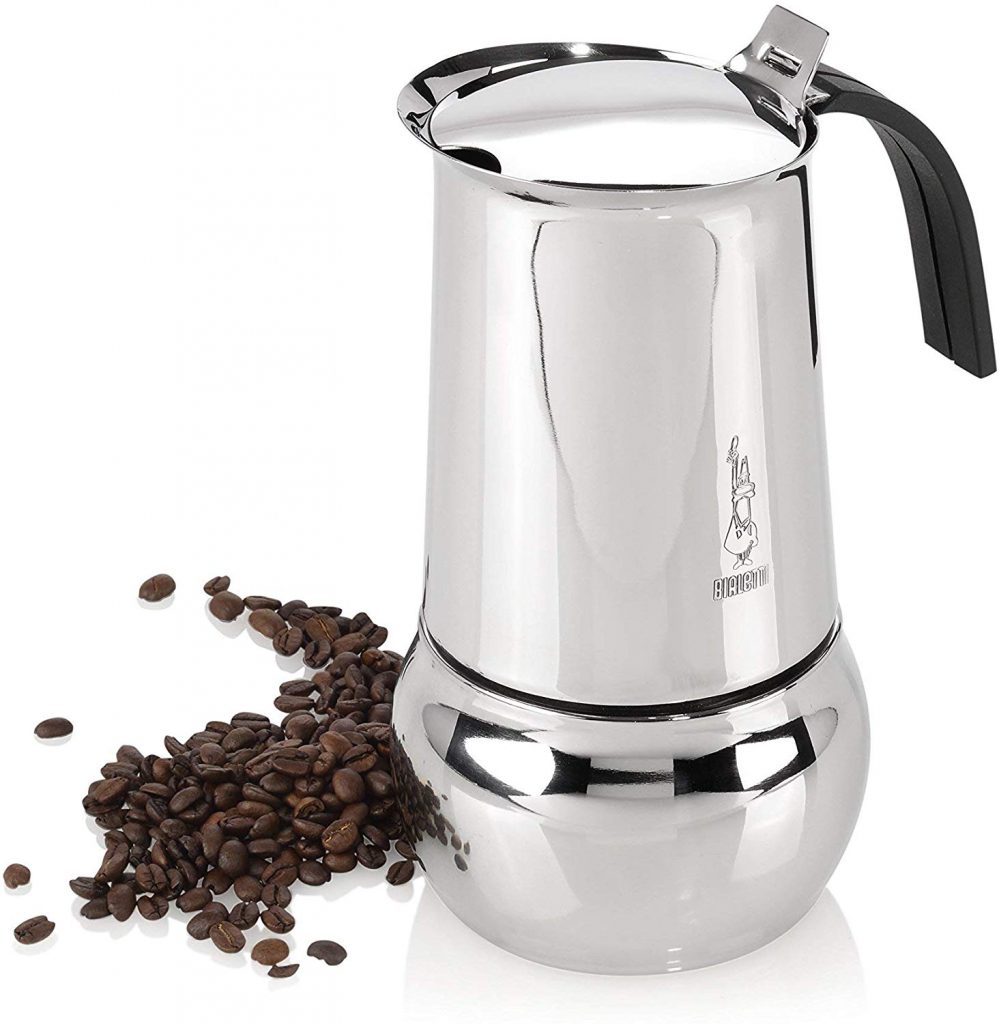 Another from the Bialetti range, the Kitty Stainless Steel Espresso Maker is an Italian coffee maker delivers what the Moka Express can't. Featuring a more modern design that's all shiny surfaces and curves, the Kitty is constructed from stainless steel, making it a durable coffee companion for years to come, and one that any barista would be happy with.
Unlike the Moka Express, the Kitty is manufactured in China instead of Italy. Don't let this put you off though; the stainless steel construction means it's dishwasher safe and can be used on all stovetops. And although the price point is a little higher, for the added longevity, it's worth it in the long run. It also works on all different stove types including induction, gas, and electrical, and features a soft-touch, heat-resistant handle that makes this Moka pot safer and easier to handle than competitors.
This review is about the 6-cup Bialetti Kitty, but it's worth knowing that it also comes in a 10-, 4- and 2-cup version. It's important to note that the 2-cup won't work for induction stoves. So if you happen to have an induction stove and are looking for a smaller stainless steel Moka pot, we recommend going with something like the LuxHaus 3-Cup Stovetop Espresso Maker.
How to use the Bialetti Kitty Stainless Steel Espresso Maker:
In terms of brewing methods, using the Bialetti Kitty Stainless Steel Espresso Maker follows the same methodology as we detailed near the top of the article.
For the 6-Cup, however, you will want to change the quantity of ingredients used.
For optimal results, use 350 grams of water.
When it comes to coffee, the Bialetti Kitty holds approximately 35 grams of beans.
---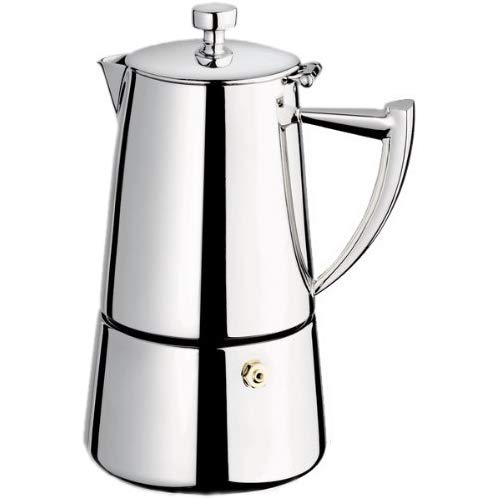 Get out your checkbooks – this one is pricey. The Roma Moka pot by Cuisinox is one of the most expensive on the market. Like the Kitty, it's constructed from stainless steel but comes at more than double the cost.
Why is it so expensive? To start with, you're paying for quality. The Roma is touted far and wide as one of the best Moka pots currently available. The stainless steel the Moka pot is constructed from is 18/10 stainless steel with an induction base. This means that it works on any and all stovetops including gas, induction, and electrical.
To put their money where their mouth is regarding the quality of the product, Cuisinox has slapped on a 25-year warranty, meaning they're confident that this thing is built to last. Hardiness aside, it's also a beautiful piece of equipment to look at and would look at home with other high-end kitchen appliances. The Cuisinox Roma Moke Pot comes in a 4-, 6- and 10-cup variety, so regardless of your situation you should be able to find a size that suits you perfectly.
It's hard to go wrong with the Roma. The only thing slightly off-putting is the high price tag, so you have to be absolutely sure that this is the Moka pot for you before committing.
How to use the Cuisinox Roma:
Follow the instructions at the top of this article with regards to using a Moka pot correctly.
The only difference when using the Roma is that it includes a stainless steel filter and silicone gasket which sit on top of the coffee basket rather than beneath it. Both have to be added and removed before and after filling up the coffee basket and screwing on the top part of the Moka pot.
The Cuisinox Roma Moka pot that we've linked to is a 10-cup, which means that it requires 670 grams of water and 45 grams of ground coffee in order to produce around 16 ounces of coffee. However, we found that it usually produced around 15 ounces, which is still enough to pour 10 slightly less than generous cups of coffee.
---
The Coletti Bozeman Review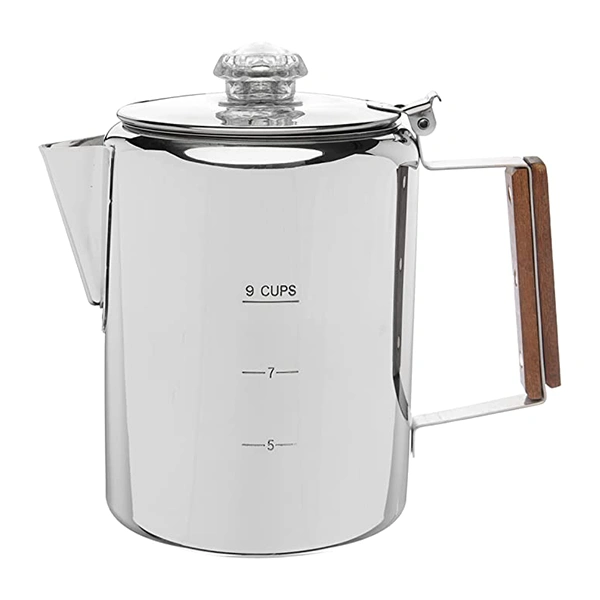 Are you a coffee addict who loves to camp? Is the thrill of the outdoors overshadowed by your anxiety of not having quality coffee first thing in the morning? If so, then the Coletti Bozeman Coffee Maker is calling your name.
Available in a variety of sizes to suit your needs, the Coletti Bozeman is constructed from stainless steel and aluminum. This tough build and design are extremely important, as you're likely going to be lugging this guy through rugged terrain and treacherous mountain paths.
The design is sleek and a pleasure to look at, which is surprising for something designed to be carried in a backpack.
If you're not an outdoorsman and the Cooleti Bozeman still appeals to you, make sure you have a gas stove at home. Unfortunately, this Moka pot isn't designed for all manner of stovetops, and won't work well on induction or electrical models.
The Coletti Bozeman functions slightly differently from other Moka pots on this list. Unlike Moka pots such as the Bialetti 3-Cup Express, the Coletti Bozeman doesn't have detachable top and bottom pieces. Instead, it uses a filter that wouldn't look out of place in a French press. Instead of having the filter basket sit in the middle of the Moka pot, this one sits on top of the percolator stem. It also uses disposable filters as opposed to a single reusable stainless steel filter, so this might affect your decision if you're someone who likes to be economically or environmentally conscious.
How to use the Coletti Bozeman:
Remove the percolator stem and filter basket from the water chamber of the Moka pot.
Fill the water chamber with about 2000 grams of water. Be sure not to fill up the water chamber above the series of internal holes near the spout and the waterline, or else you risk your coffee grounds actually sitting in the water while it brews, resulting in an early extraction and bitter coffee.
Rest the coffee basket on top of the percolator stem, then insert one of the paper filters that come with the Coletti Bozeman into the coffee basket. While you might be able to get away with not using a filter in a pinch, there's a good chance that coffee grinds will find their way into your final brew without one.
Grind your coffee to a medium to coarse grind then add it to the filter basket. For the full, 9-cup capacity, we recommend using about 9 tablespoons, or 120 grams of coffee. This works out to a ratio of one tablespoon to one cup of water. Make sure that you don't get any coffee grounds in the percolator stem, as those will fall into your water as it boils resulting in a gritty final brew.
Once the coffee has been added, give the filter basket a gentle shake to even it out, then cover it with the accompanying aluminum cover, insert the percolator stem and filter basket into the water chamber, and close the lid.
Next, place the Moka pot on your campfire or stove (medium heat), and let the water start to heat up. Once the water is hot enough and you see the water begin to bubble up through the clear knob on the lid of the Moka pot, set a timer for about seven minutes. The water will begin to flow through the percolator stem, through the ground coffee, and back into the water chamber to repeat the process.
Once seven minutes have passed, your coffee is ready to serve. We recommend letting it cool for a few minutes since the aluminum can get quite hot, but if you're dying to drink coffee that second, use a dishcloth to pour your coffee safely.
---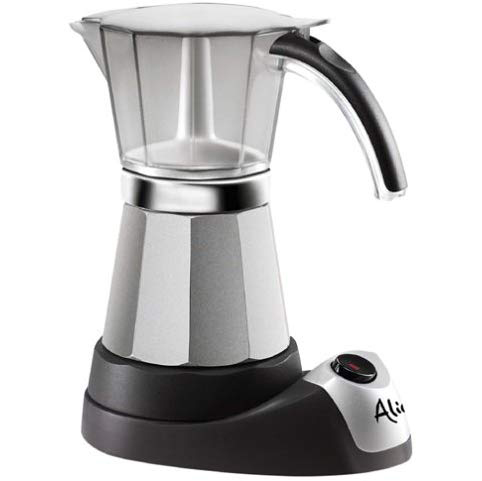 Is space tight in your apartment? Do you live in a houseshare with untrustworthy roommates who might destroy any half-decent items you leave in a communal space? Now you don't have to worry about that ever again with the nifty coffee machine that is De'Longhi's EMK6 Electric Moka Pot.
Unlike other Moka pots on this list which require an external heat source, the EMK6 is entirely electric. All you need is a plug point, a tiny bit of free space of a desk, and some quality coffee grounds and you're good to go.
The EMK6 features a number of high-tech additions that more analog versions lack. The safety automatic shutoff ensures that your coffee will never overflow and the heat function means your coffee will stay at the perfect temperature for up to thirty minutes.
For all its merits, the EMK6 also has flaws. The construction, for example, is mostly aluminum and plastic. This is problematic for some coffee connoisseurs as the plastic components have the capacity to alter the flavor of the coffee.
That being said, for the convenience and price point, this little electric Moka is perfect for someone under the right circumstances.
How to use the De'Longhi EMK6 Electric Moka Pot:
This electric Moka pot functions similarly to other Moka pots on this list, except that it uses an electric heat source instead of a stovetop or open flame.
Remove the top part of the Moka part from the bottom water chamber, then fill it up with about 280 grams of water, making sure to not fill it above the pressure release valve.
Ground your coffee, place it in the filter basket, even it out, and then insert the filter basket into the water chamber. Next, screw the top part back on.
Once everything is assembled, place the Moka pot onto the electric base and then press the button to turn it on.
What's really cool about this little machine is that it is very difficult to burn the coffee. Because it's electric, the EMK6 Moka Pot will shut off automatically once the coffee is done brewing. It will also stop brewing if you lift it from the electric base.
Once your coffee is finished brewing, pour it and enjoy!
---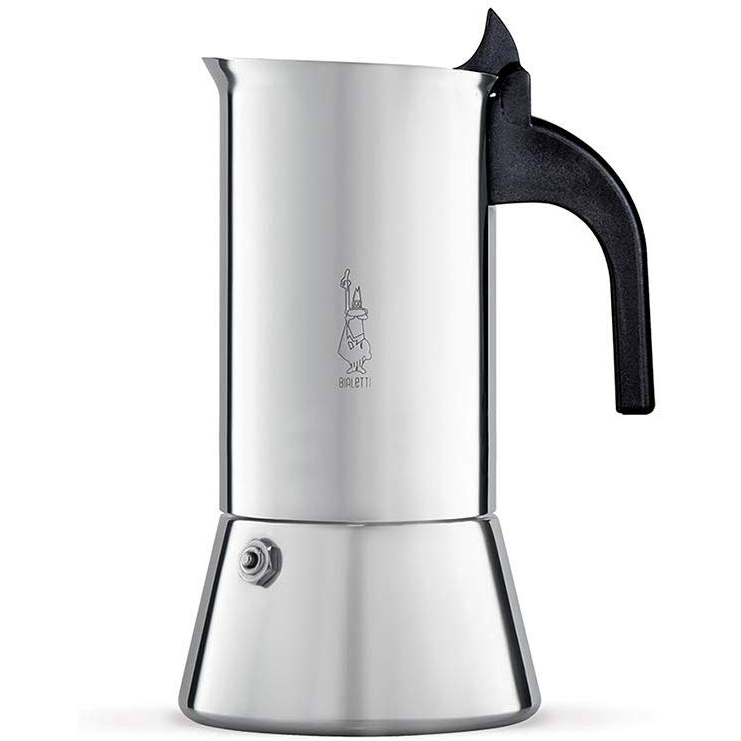 The Venus from Bialetti is as functional as it is beautiful. Featuring a svelte, easy-on-the-eye design and construction of stainless steel, this is one of the best Moka pots out there.
The Venus is constructed from stainless steel, which was an intentional design choice to improve it over Bialetti's much-loved Moka Express model. This makes it incredibly durable and able to function in a number of different environments where the Moka Express can't.
Whether it's in the kitchen on an induction stove, or in the wilderness over an open campfire, the Venus can be deployed to maximum effect with minimum effort. However, after using the Venus on a number of different stovetops, we learned that induction stoves will work way faster than gas stoves. That being said, it's always a good idea to take your time and brew slowly with Moka pots to avoid extremely fast extractions and bitter brews.
The Venus is also extremely affordable. The price point to quality ratio is absolutely off the charts, so it's worth buying if you're new to the game or just want an amazing and affordable all-rounder Moka pot.
The only thing to be wary about is the handle. Due to the plastic used in its construction, you should be careful about how you place it on an open fire just to avoid it melting off. Likewise, gas stoves with large flames should be approached with caution, just to ensure that you still have a handle to hold the next time you want to make some coffee.
In terms of use instructions, the Bialetti Venus follows the same function as those that we outlined near the top of this article. In fact, other than the design and aesthetic, it's quite similar to the Bialetti Moka Express.
---

The Ultimate Moka Pot Buyer's Guide: Here's What to Look For When Buying
In the market for a moka? Here are the things you should take into account.
Material
As we discussed earlier, the material of which a Moka pot is constructed is one of the biggest determining factors when buying. Traditionally all Moka pots were made from aluminum, which tends to be cheaper but also comes with a shorter lifespan. Stainless steel, however, will last you for years to come but is a more expensive investment.

Also worth considering is durability. While both metals are resident to oxidation and corrosion, stainless is definitely more durable than aluminum. This means you're likely to get more bang for your buck in the long run.
Size
Moka pots come in a variety of sizes, so you should choose one that best suits your lifestyle. If you're a bachelor who needs that morning pick-me-up, then a two-cup will do the job. If, however, you plan on serving guests or bigger families, then a six-cup is the way to go.

Remember that the coffee produced by a Moka pot is quite strong, so you'll likely need less coffee than you think.

Lifestyle
Think about when and where you're going to use your Moka pot, and how this can fit into your lifestyle. If, for example, you spend a lot of time at home and also have a gas stovetop, then you're going to want a Moka pot that works with gas stoves.

If you're a camper or like to spend time in the outdoors, then having a portable Moka that works well with open fires is definitely the way to go.
Price
And finally, price. Like most cookware, not all Moka pots are made equal, and this is most obviously reflected in their pricing. Take a look at your budget and determine how much you're willing to spend on the best Moka pot for you.

While you can spend upwards of $150 dollars on a single Moka pot with guaranteed quality, this might not be the wisest choice if you're just getting into the luxury coffee game. If that's the case, scale back and opt for something more affordable.

---