Sometimes it can be easy to forget just how convenient our technology has made activities like traveling and camping. Some of us can simply charge our cars the night before by plugging them into the wall; most of us have pocket-sized computers that give us quick access to maps, GPS, and our itinerary; and we all have our very own battery-operated coffee maker… right?
While those first two may be true to some degree, the fact still remains that most of us coffee lovers don't actually have a cordless coffee maker, much less a portable espresso maker, to call our own. As a result, we either have to survive on overpriced drinks from coffee shops or (and I shudder at the thought of this) we simply go without having a cup of Joe.
Surprisingly enough, battery-operated coffee makers actually aren't as commonplace as you'd think. However, we've managed to sample and take a look at some of the most prominent models on the market, just so that we could share our findings with you!
---
Editor's Pick for Best Battery Operated Coffee Maker – The Makita DCM501Z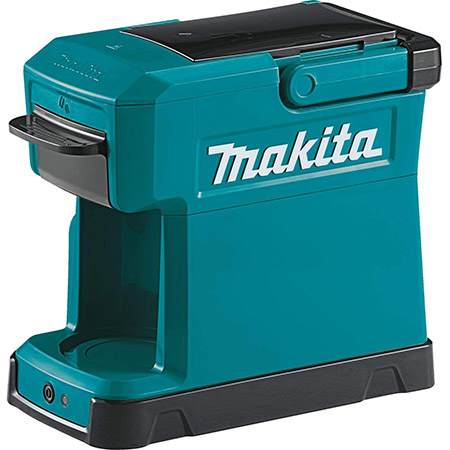 Convenience 5/5
Build Quality 4.5/5
Ease of Use 5/5
Pricing 3.5/5

Makita is a power tool manufacturer that quickly realized that handymen need coffee just like the rest of us. The DCM501Z might not be flashy but it is a durable piece of hardware that is extremely convenient – perfect if you're camping, traveling, or working on a construction site.
---
How We Ranked These Battery Operated Coffee Makers: Criteria Breakdown
When we were trying to find the best battery operated coffee maker we had specific criteria that we took into consideration.
By far, one of the most important factors that we focused on was portability. Some questions that fell under this umbrella were: Did it have a handle? Was it easy to grip? Was it lightweight?
Another factor that partnered well with this was size. Some questions that fell under this umbrella were: How small was the coffee maker? Was its shape conducive to being packed in a bag or suitcase?
Last but not least, even though we knew that coffee quality would not be on par with traditional coffee makers, this still had to be a factor that we considered.
The 9 Best Battery Operated Coffee Makers: Side-By-Side
What You Should Know about Battery Operated Coffee Makers
If you're seriously thinking about getting a battery-operated coffee maker, your reason for wanting one would most likely be because it is convenient.
Yes, the convenience of being able to brew up a cup of coffee wherever you are is the primary benefit of having a battery-operated coffee maker. However, many manufacturers have had to make compromises (understandable ones) when designing these coffee makers.
Brew Size
First and foremost, you should be aware that battery-operated coffee makers are not massive coffee pots and have relatively small water tanks and brew sizes. In fact, most of them only have the capacity to brew somewhere between 1 and 3 cups of coffee. This is understandable because remember, you're powering it with a battery and not an electrical outlet. Also, battery-operated coffee makers are meant for travel and as a result, they are usually compact and function as a one or two cup coffee maker.
Battery Capacity
Another important fact to consider is that you most likely won't be brewing coffee numerous times on a single charge. You should expect that you're only going to be able to brew 1 or 2 batches before you have to recharge or change the battery.
Coffee Quality
Last but not least, especially for the baristas reading this, it's important to temper your expectations when it comes to coffee quality. We found that the battery-operated coffee makers that we tested didn't brew up a cup that was as tasty as what an Espresso Maker or French Press could do. However, that was never the selling point of any battery-operated coffee maker, what they promise to deliver is a convenient cup of coffee.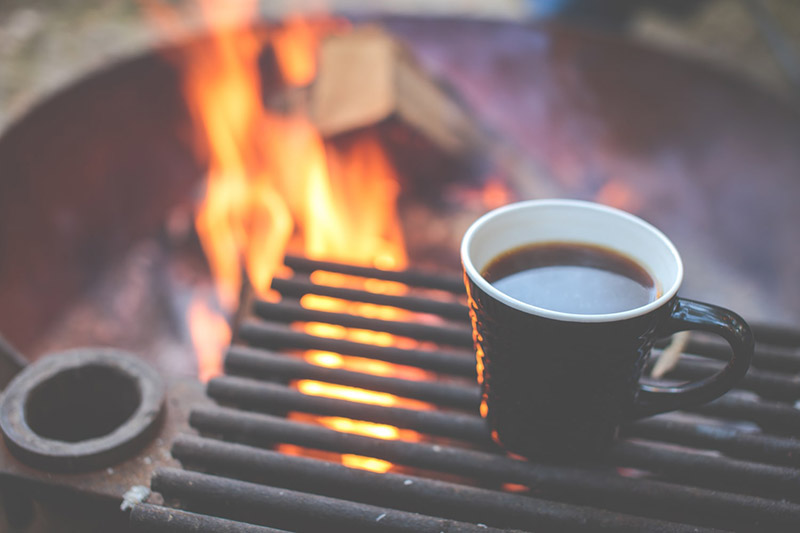 ---
The 7 Best Battery-Operated Coffee Makers
Each of these coffee makers may have its pros and cons but we definitely think that they are the best of the best when it comes to battery-operated coffee makers.
Best Overall – The Makita DCM501Z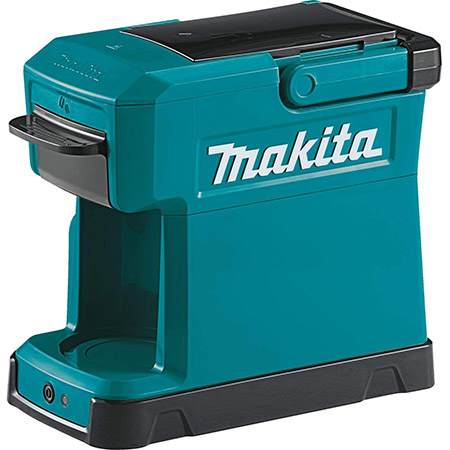 Star rating: 9/10
Stand-out features:
Large capacity (can brew three five-ounce cups of coffee on a single charge)
Powered by a large, long-lasting lithium-ion battery
Can boil water as well as brew coffee
Works with single-serve or ground coffee
Compact design – 8-9/16″ tall with a 3-1/2″ cup clearance
Pros and Cons
Pros
Is compatible with a rechargeable 18v LXT battery
Not only brews coffee but also heats up water
Uses a permanent drip filter; saves on disposable paper filters
Compact design
Cons
Battery not included; could be a pretty heft extra expense, plus, Makita encourages you to buy their branded batteries
Expensive compared to other portable coffee machines
Our In-Depth Review of the Makita DCM501Z
The Makita DCM501Z has earned our title of the best battery-operated coffee maker because it is a no-nonsense coffee brewer and drip coffee maker that is consistent and great at what it's supposed to do. It doesn't dominate in any specific category – it's not the flashiest or the fastest – it is just a truly great all-rounder that you can depend on.
A lot of the battery-operated coffee makers on the market don't actually heat the water themselves (to the chagrin of most consumers), the battery power is only used to brew the coffee. The Makita DCM501Z covers all the bases – fill it with water and it will heat it up and then brew up to 15 ounces of coffee in a few minutes.
The primary cons of the Makita DCM501Z are the cost and the fact that batteries are not included.
The machine was designed as a part of Makita's 18V LXT® system, a cordless tool system powered by fast-charging, 18V lithium-ion slide-style batteries, and made to be used on a construction or job site. If you are already a user of any of Makita's power tools, then it's likely that you already have a compatible battery. Just like a power drill, you can easily swap out spent batteries with new ones to allow you to continue brewing coffee as long as your batteries hold out. It's a pretty clever design as it offers all the flexibility of fast-charging, high-powered lithium-ion batteries, with the convenience of a portable coffee machine.
While the Makita DCM501Z promises a hot cup of coffee, we noticed that finished brews were around 176 F° or 80 C°. While this is still quite impressive for a battery-operated coffee machine, it's somewhat disappointing if you were expecting something piping hot. It gets even worse if you drink your coffee with milk, as this further lowers the temperature of an already somewhat tepid cup of coffee. It's also worth pointing out that this coffee machine works with pods and ground coffee, so bring along your best grinder so that you can enjoy the freshest possible cup of Joe.
All in all, as we said before the Makita DCM501Z is definitely our favorite – it's convenient, reliable, and built to last. Even though it is our recommended choice, we can understand why some consumers would want to forgo it; the combined cost of both the coffee maker and the battery could definitely be a turn-off.
Read our full review of the Makita 18V Coffee Maker.
Most Portable – The WACACO Nanopress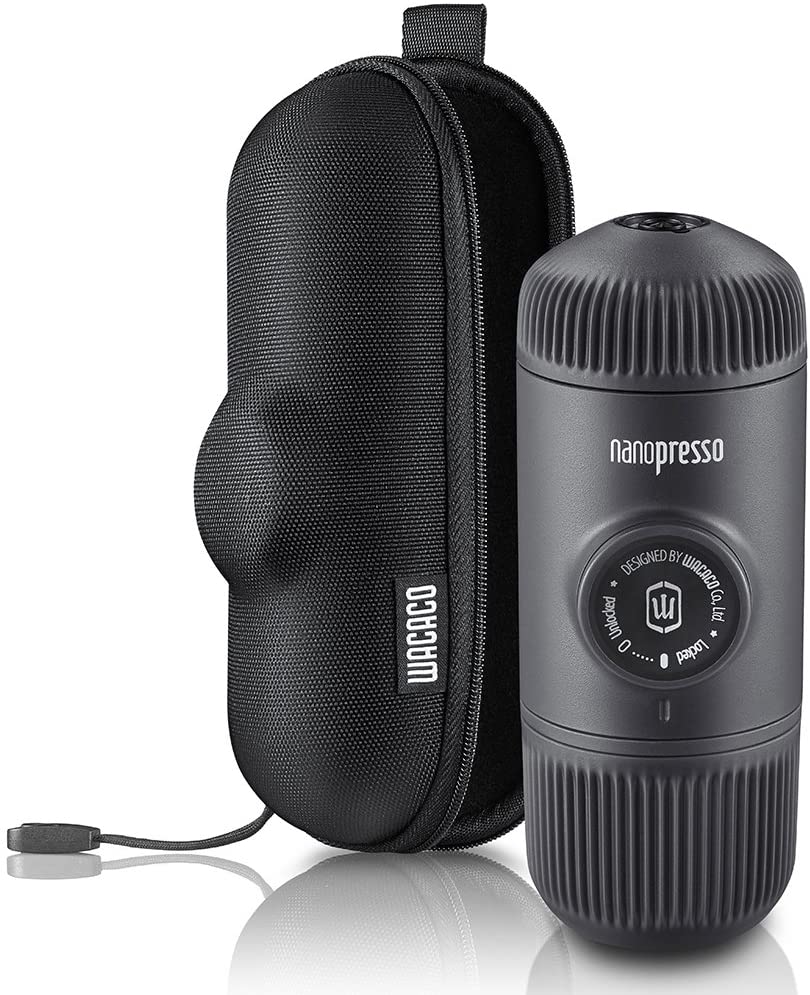 Star rating: 7/10
Stand-out features:
No batteries or electricity required
Compact and lightweight
Built-in tamper and measuring scoop
Comes with carrying case
Pros and Cons
Pros
Ultra-portable design
Easy to brew
Excellent, high-octane espresso brewed on the fly
Cons
Hand-powered, meaning you'll need to work a bit to get your coffee fix
Requires hot water; no power to heat the water
Our In-Depth Review of the WACACO Nanopress
The Wacaco Nanopress is a handheld espresso maker that is perfect for coffee lovers who are always on the go. It is easy to use, compact, and light weight, making it the perfect travel companion. Despite including it in our list of the best battery-powered coffee makers, the Nanopress requires no batteries or electricity, so you can make espresso anytime, anywhere. It comes with a built-in tamper and measuring scoop, so you can make a perfect cup of coffee every time. The Nanopress also comes with a carrying case, making it easy to take with you wherever you go. I have been using the Nanopress for several months now, and I absolutely love it. It makes great coffee, and I never have to worry about running out of batteries or having access to electricity. If you are looking for a portable espresso maker, I highly recommend the Wacaco Nanopress.
Battery-Free Alternative Portable Coffee Maker – The WACACO Pipamoka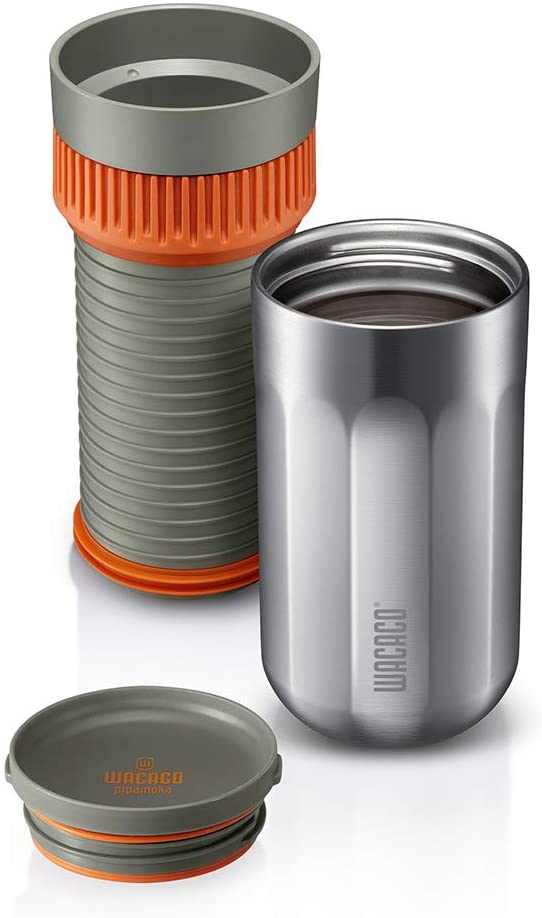 Star rating: 7/10
Stand-out features:
Portable and lightweight
Comes with a reusable filter
No battery or electricity required
Pros and Cons
Pros
Built-in cup

Easy to brew

Emulates a vacuum brewer without the fancy equipment
Cons
Hand-powered, meaning you'll need to work a bit to get your coffee fix
Requires hot water; no power to heat the water
Our In-Depth Review of the WACACO Pipamoka
The Wacaco Pipamoka is a portable coffee maker that is perfect for those who enjoy a freshly brewed cup of coffee, but don't want to deal with the hassle of a traditional coffee maker. The Pipamoka is lightweight and compact, making it easy to take with you on the go. It comes with a reusable filter, so there is no need for disposable filters or capsules.
The Pipamoka uses a manual vacuum brewing process to quickly steep and extract coffee with just a bit of human-powered effort.
Best For Nespresso Lovers – The AICOK Portable Espresso Machine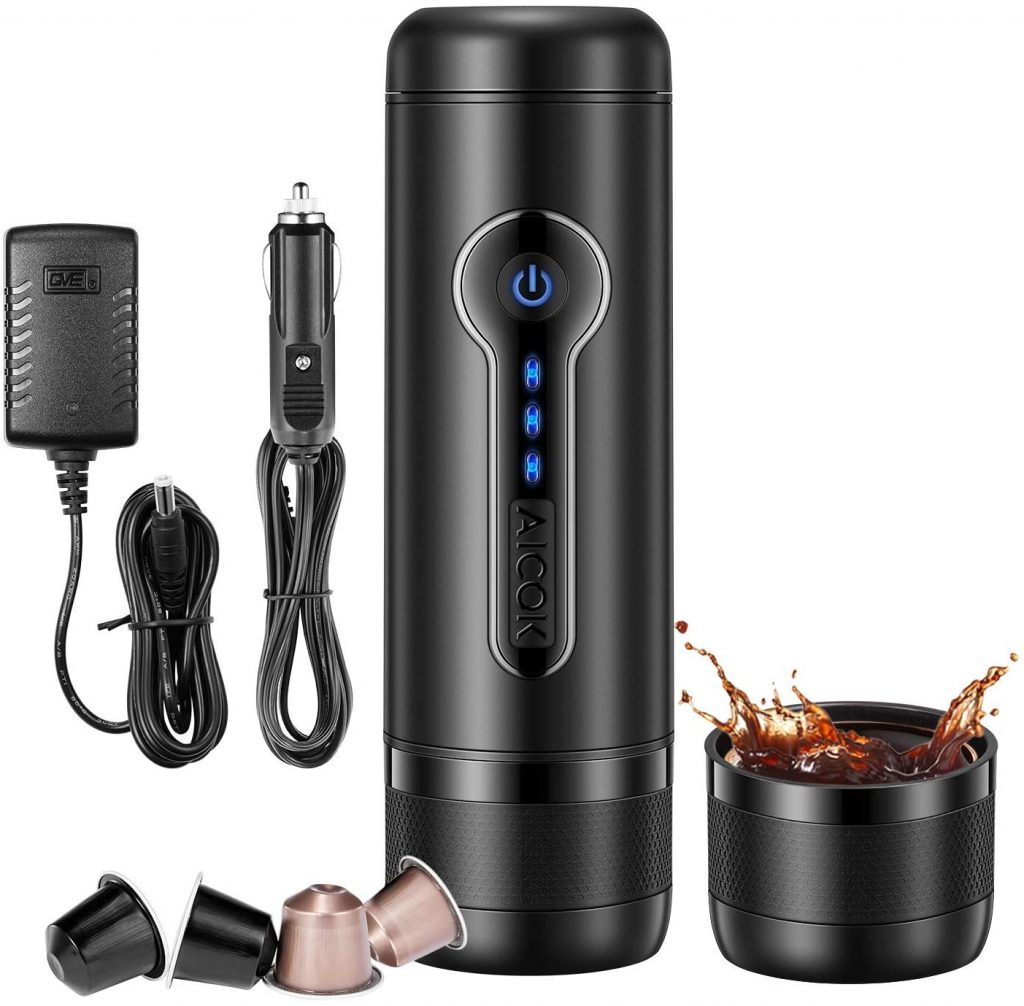 This portable coffee maker from AICOK is marketed heavily as the best espresso machine for camping or travel… and we're actually inclined to believe them.
Star rating: 8/10
Stand out features:
Extremely portable and simple to use
Easy to clean
Can heat water to boiling point
Can be charged and used by connecting to a car battery
Creates enough pressure to actually make a decent cup of espresso
Pros and Cons
Pros
Lightweight, compact and stylish
Simply functionality and intuitive use
Ideal for traveling and those on the road
Internal self-cleaning function only takes 5 seconds
Cons
Can only brew three espressos if non-boiling water is used
The espresso produced will never be as hot as in a cafe
Only works with Nespresso and L'OR capsules
Our In-Depth Review of the AICOK Portable Espresso Machine
One important fact to keep in mind is that the AICOK Portable Espresso Machine exclusively uses coffee pods, specifically Nespresso capsules, not Keurig k-cups – great if you already use Nespresso capsules but not so great if you're not a fan of them.
When it comes to design, the good folks at AICOK wanted to machine that could make espresso on the go without sacrificing quality or taste. The result is a good-looking coffee machine that is slim, lightweight, and very portable. It's almost exclusively aimed at people driving long distances or going camping, as the machine is designed to fit comfortably in car cup holders and recharge with both a wall outlet and 12-volt car charger (you'll need to use the adapter to recharge it, however). There was also a deliberate decision to allow the machine to work with only Nespresso and L'OC capsules. Whether or not this was because of some partnership with Nespresso, or simply because it was convenient is tough to say.
Something else worth mentioning is that when the AICOK is plugged into a wall outlet, you won't be able to use it to heat water, only charge the battery. And if the battery is completely flat, you might have to use the 12V car charger to initiate the charge; for some reason, the wall outlet power supply won't charge the device if it's completely empty. The machine is a bit of an upgrade to AICOK's travel coffee maker. While the two products are very similar in functionality, AICOK definitely stepped up the design on the portable espresso machine. The first felt like a prototype, while this iteration is way more svelte and feels like a more quality product.
While the brewed coffee that you get from this machine isn't up to the standard of many traditional espresso machines, you're still getting a damn good cup of coffee.
Best Design – The Gourmia GCM3250 Digital Touch Coffee Maker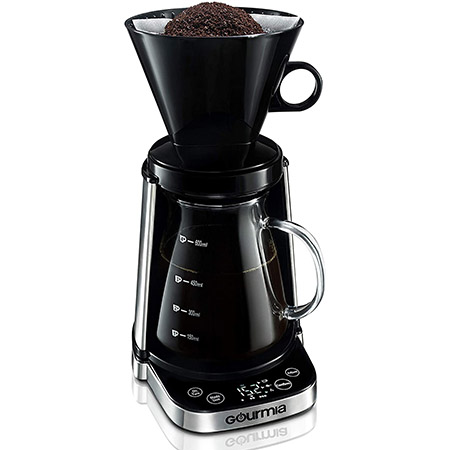 Star rating: 8/10
Stand out features:
Ideal for making the perfect pour-over
Built-in scale allows for extreme brewing precision
Ribbed walls of the filter holder allow for greater flavor extraction
Pros and Cons
Pros
Great functionality, allows for precision brewing when on the road
Has both automatic and manual mode for controlling the exact ratio of water and grinds needed
Very compact design makes it great for traveling and camping
Cons
The machine is not able to heat up water and requires you to have boiling water on hand
The battery only powers the measuring functionality of the coffee maker
Our In-Depth Review of the Gourmia GCM3250
The Gourmia GCM3250 definitely had the potential to be our top choice for the best battery-operated coffee maker. All in all, it makes a great cup of pour-over coffee but the primary thing that is holding it back is the fact that you need to have hot water on hand if you're going to use it.
Yes, the Gourmia GCM3250 doesn't actually heat up the water, it uses the battery power for its other functions. Some of these functions include its built-in scale and the automatic brewing mode that takes the hassle out of getting the perfect pour-over ratio.
The sleek and compact design is one of the primary factors that made the Gourmia GCM3250 attractive to use.
The designers clearly had coffee nerds in mind when they created this device. It was made compact enough to be easily stored and also brought with it on the road. No matter where you are, this device can be used to brew quality pour-over with a precision that you might only find in specialty coffee shops. They also made it extremely easy to use, especially for beginners who aren't confident enough to tinker with coffee metrics, by including an automatic mode that takes care of everything at the push of a button.
Campers who are already going to have a campfire to heat up water and who want a great tasting cup of pour-over coffee will definitely get a lot of mileage out of the Gourmia GCM3250. If you need a portable coffee maker for general traveling, then you should definitely consider another option.
Best For Budget Conscious Coffee Drinkers – The Cupvenient Portable Espresso Coffee Maker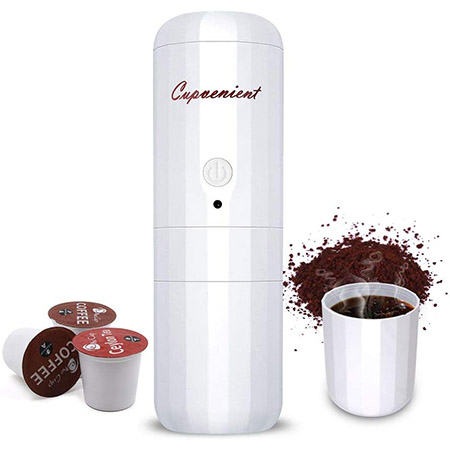 Star rating: 7/10
Stand out features:
Works with ground coffee and capsules
Powered by both batteries and a USB cable
Pros and Cons
Pros
Affordable design for budget-conscious coffee drinkers
Works with both ground coffee and capsules
Powered by replaceable batteries and USB cable
Cons
Produces mediocre coffee
Doesn't heat water; requires you to have hot water on hand
Design feels cheap
Our In-Depth Review of the Cupvenient Portable Espresso Coffee Maker
If you're looking for an affordable way to drink coffee while you're traveling, you could just fill a thermos with hot water and buy some instant coffee. It's an option – not one that we recommend but it is definitely an option.
Another affordable choice that you could go with is the Cupvenient Portable Espresso Coffee Maker. This coffee maker has a tube-like design that is definitely reminiscent of the aforementioned AICOK Portable Espresso Machine but is it just as good?
Short answer, no. Don't get us wrong, the Cupvenient Portable Espresso Coffee Maker still brews a decent cup of coffee but this is one of those prime examples of "you get what you pay for" – not surprising since it is less than half of the price of the AICOK.
The Cupvenient portable espresso coffee maker is clearly designed for those who want espresso on the go but don't have the time to make it. It's also for those who don't want to spend money on a higher quality product like the AICOK portable espresso machine or something by CONQUECO, for example. That being said, for the budget device that it is, it can still brew an okay cup of coffee, even if some budget was skipped when it came to the design of the product.
Still, this coffee maker lives up to the Cupvenient moniker. It is remarkably convenient and can be powered using a USB cable or by using batteries.
Best For True Pour Over Coffee – The Linkind Automatic Pour Over Coffee Maker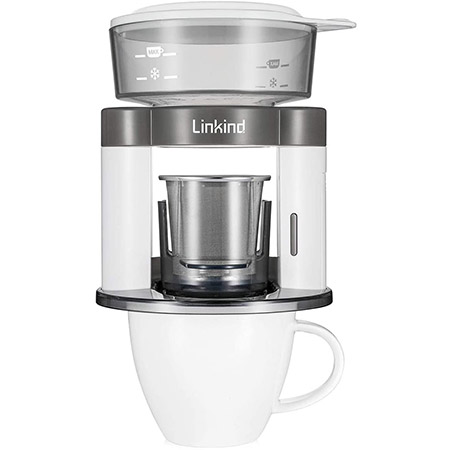 The Linkind Automatic Pour Over Coffee Maker has one main thing going for it – it makes an extremely great cup of pour-over coffee.
Star rating: 7/10
Stand out features:
Constructed of shatterproof material
Works with a reusable filter
Creates delicious pour-over coffee automatically
Pros and Cons
Pros
Very affordable and extremely portable
Made of eco-friendly, shatterproof, durable materials
Can create pour-over coffee with a high degree of precision
Takes the pain out of measuring coffee
Water carafe rotates, agitating the grounds, resulting in a perfectly even cup of coffee
Cons
Requires you to boil your own water which can be inconvenient if traveling or camping
Small capacity; the coffee maker is capable of delivering around 4 ounces of coffee with each brew
We really think that even coffee aficionados, who are capable of delivering the perfect pour, will be surprised at just how good the automatic pour over function of this coffee maker truly is.
The designers at Linkind are clearly pour-over fans, and they wanted to create a device that would allow ordinary people to get the same delicious flavors of a well-crafted cup of pour-over, but without the science and technicalities. The machine works by automating the brewing process, rotating the water reservoir, and ensuring that the coffee grinds get an even, timely amount of saturation with the correct coffee-to-water ratio. They also clearly had the environment in mind when they conceptualized this device, as everything from the body to the mesh filter is made of eco-friendly materials and designed to be reused.
You won't have to break the bank to pick up the Linkind Automatic Pour Over Coffee Maker and you're going to be getting even coffee extraction and great consistency. The biggest drawback of this machine is the noticeably small brew size. The Linkind Automatic Pour Over Coffee Maker is only capable of delivering around 4 ounces (120 ml) of coffee with each brew.
The designers advise using 10g of coffee per serving. This fills the little mesh container about halfway. You might be inclined to fill it all the way to the top, but in our experience, this is a bad idea as you then have way too much coffee for the amount of water used for each brew. Since this coffee maker was crowd-funded, there are no past or future models to compare it to. But those looking to get a bit more hands-on and technical with their pour-over coffee can always graduate to the classic Chemex.
---
Honorable Mention
This coffee maker didn't make it into the top 5, but we still think it deserves to be mentioned.
Mini Hand Coffee Machine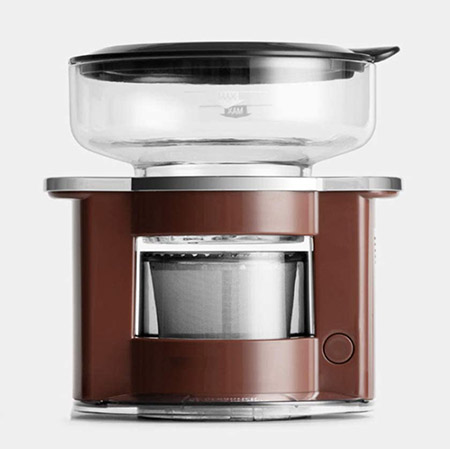 Star rating: 7/10
Stand out features:
Automatic functionality with rotating water reservoir
Environmentally-conscious design with reusable stainless steel filter
Easy to clean after brewing
Pros and Cons
Pros
Made from high-quality, environmentally conscious materials
Automatic functionality and rotating water reservoir make for evenly saturated coffee grounds
Very portable; would be ideal for someone who stays in hotels often and has access to a kettle
Cons
Expensive, especially when compared to similar models such as the Linkind automatic pour-over coffee maker.
Lacks the ability to boil water meaning if you have cold water and no means of boiling it, you'll find yourself in a pickle.
We definitely love the design of the Mini Hand Coffee Machine and it is fast and easy to use. However, it is another one of those machines that need hot water to be added before it can properly do its job.
The company that made the mini hand coffee machine, TTBF, definitely favored size, compactness, and ease of use over quality when designing this little device. While it's able to make a somewhat decent cup of coffee, it's definitely aimed at a more coffee-illiterate group of consumers. The automatic functionality is great, and making a cup of coffee is as simple as adding coffee to the filter basket, pouring in water, and pressing a button. It's also refreshing to see an environment-first approach, as this mini hand coffee machine is made of materials designed to be reused and last for quite some time.
It's an okay option for camping (like the aforementioned Gourmia GCM3250) but if you're just traveling, you should choose something else.
---

A Buyer's Guide to Battery Operated Coffee Makers: Here's What to Look For When Buying
In our opinion, we don't think that the battery-operated coffee maker market has reached its full potential. This is probably because many manufacturers don't see it as a worthwhile investment. As a result of this, there is quite a lot of trash obscuring the gems that are out there.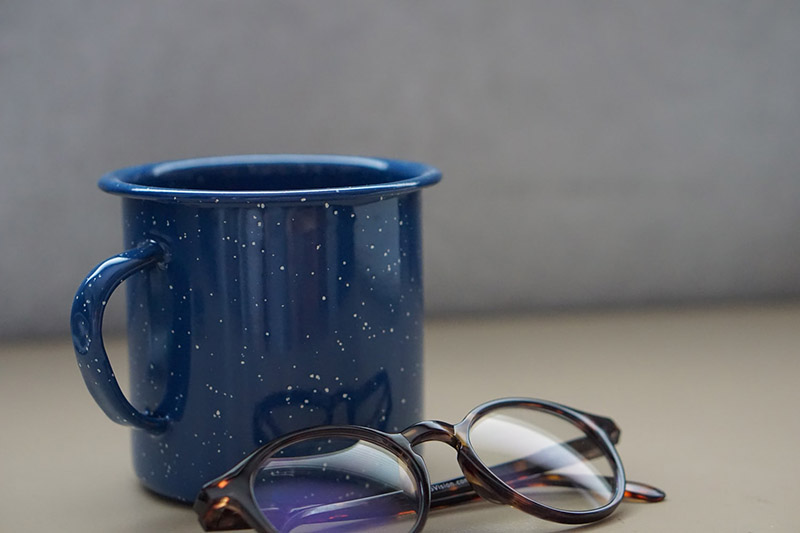 If you're not satisfied with our recommendations and want to do a bit of digging on your own, here are a few tips that can help.
Check the materials that the coffee maker is made of. A good battery-operated coffee maker is going to be made primarily from plastic. This is because it has the potential to be durable and lightweight. However, make sure that the manufacturer has used high-quality food-grade plastic that is safe for coffee brewing and can withstand high temperatures.
Pay close attention to brew sizes. If you're already planning to buy a battery-operated coffee maker, then you have already made peace with the fact that it is going to be small. However, some of these machines have incredibly small brew sizes that not everyone will be a fan of. For example, the Linkind Automatic Pour Over Coffee Maker can only deliver 4 ounces of coffee.
Is hot water required before the coffee maker can start working? This can definitely be a make-or-break factor for many buyers since they might not have easy access to hot water when they're away from home. It is safe to assume that campers will have a reliable way to heat up water. However, if you're traveling cross-country in a car, you may want to have a coffee maker that heats up the water on its own.
---
Alternative Suggestions to Battery Powered Coffee Makers
While battery-powered coffee makers offer a lot of convenience for those who are constantly on the road or who just like to enjoy a cup of quality coffee when they travel, they might not be suitable for every circumstance. Often limited by brewing capacity, battery life, and the inability to boil water, there are a number of alternative products you can try should you find yourself frustrated by one of the aforementioned limitations.
Moka Pot
The Moka Pot is a firm favorite among constant travelers. Its sleek design, easy-to-use functionality, and ability to brew intense, rich, and flavorful coffee wherever you go make it one of the best portable coffee machines. The downside is that you'll definitely need a heat source – whether that's a fire or stovetop – but for many people that shouldn't be too much of an inconvenience. Check out our in-depth analysis of the best stovetop Moka Pots here.
AeroPress
When it comes to portability and the ability to make a good cup of coffee on the go, it's hard to do better than AeroPress. This manual coffee maker fulfills most of the criteria of a battery-powered coffee maker, but all without the inconvenience of having to recharge batteries. You'll need access to boiling water as everything about this device is manual. If that's no issue, then the AeroPress is definitely a great, durable option for bringing on the road with you.
---