This is an in-depth review of one of, if not the best battery-operated coffee maker: The DCM501Z 18V Max CXT Cordless Coffee Maker from Makita.
This cordless coffee maker is powered by an 18V LXT lithium-ion rechargeable battery that's compatible with the Makita line of power tools. It also works with the smaller 12V Max CXT battery (although, you'll have diminished brewing capacity.)
By far, the biggest draw for this device is that it both heats water and brews coffee in a single device—without the need for an external power source or heat source. This makes it ideal for coffee drinkers looking to brew a cup of coffee while on the job or enjoying the great outdoors.
This coffee maker functions nearly identical to your at-home drip coffee maker.
The DCM501Z Makita Coffee Maker: Features at a Glance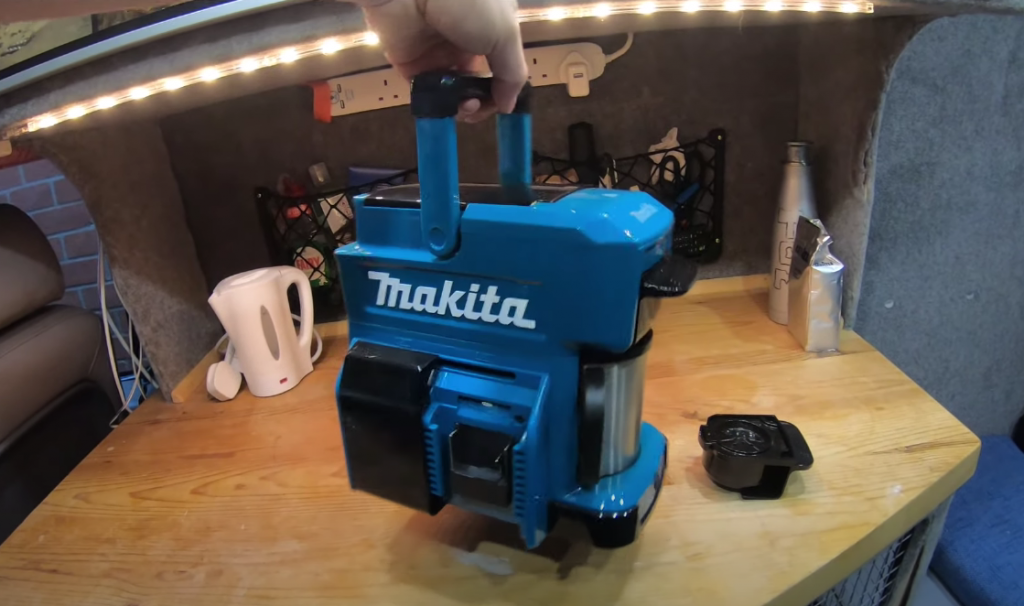 Overall Rating 4.5/5
This lithium-ion cordless coffee maker will take your finest roast and whip up a cafe-worthy cup of coffee, every time. They're pretty no-frills when it comes to design and aesthetics. But they do a good job of brewing a standard-issue cup of drip coffee when you have limited options.
This is strictly function over form—thoughtfully designed with the hazards of a construction site in mind. So if you're a coffee-loving craftsman, take a moment to get acquainted with the DCM501Z.
Construction: Hardened plastic with built-in carry handle
Battery: Makita 18V LXT or Makita 12V Max CXT Lithium-ion battery
Dimensions: 8-9/16″ tall with a 3-1/2″ cup clearance
Water tank capacity: 8 oz. (Removable water tank)
Weight (without battery): 3.31 pounds
Weight (with 18V battery): 4.8 pounds
Function: Boils water as well as brews coffee
Coffee type: coffee pods or ground filter coffee
Filter type: Permanent drip filter (no paper filters required)
Brew capacity/Battery life: Up to (3) 5-ounce cups of coffee on a single charge, depending on the battery
Additional features: Boil-dry protection shuts off the device if there isn't enough water in the tank, included coffee cup and lid, included measuring spoon
Not included: Battery packs, battery charger
If your idea of great coffee is something hot and black (and in your hand right now), then this device is more than up to the task. It's a drip coffee maker—plain and simple.
The biggest difference is that because it's cordless, it's portable. This means you can take this thing on the road with you and brew coffee in places that you probably aren't going to lug your Keurig or Braun coffee maker (or a fancy french press if that's how you brew at home.)
It's best suited for 2 primary use cases:
Let's look at both of these scenarios to see how the DCM501Z holds up.
Using the Makita Coffee Maker at the Jobsite
Few situations call for a hot cup of coffee more than the start of a long workday – especially if that workday involves drilling, sawing, or shoveling your way through a job site. The problem with job sites is they often operate mainly on battery power, which leaves little opportunity to get your hands on the fresh cup of joe you crave.
Whether you're a tradesperson by profession or simply enjoy a good ol' DIY project on the weekend, you're likely familiar with Makita power tools. The brand is one of the world's leading producers of battery-operated gadgets, so perhaps you even own a few Makita products yourself.
If already own the own the drill, impact driver, grinder, or other cordless tools that use the 18-volt CXT or 12-volt Max CXT lithium-ion battery packs, then this would probably be a welcome addition to your tool kit.
The biggest limitation for using this device on the job? Brew time and brew capacity.
This coffee machine takes 5 minutes to brew a single-serve 5oz cup using an 18V CXT battery and a single 5.0Ah battery is only good for 3 cups total. (Or, just 2 cups if you have the 18V, 3.0Ah battery.)
Needless to say, you're probably not going to keep a whole crew caffeinated unless you have a stockpile of batteries and chargers ready to keep the coffee flowing.
Taking the Makita Coffee Maker Camping
If you're an avid outdoors person—camper, hiker, fisher, RVer, or backpacker—then you might consider adding this device to your pack.
Once again, the big draw here is that it's both cordless and heats coffee.
In others words, you won't need a camp stove or even a camp fire to brew a hot cup of coffee while exploring the wilderness.
One drawback here is that although this device is certainly more portable than your at-home coffee machine, it's one of the bulkier methods to make coffee while camping.
With the battery, it weighs just under 5 pounds and it's a bit awkward to try to pack or carry long distances.
This makes it probably best suited for car camping or RVing rather than hardcore backpacking where every ounce of added pack weight makes a big difference. And you certainly wouldn't want to hike in with a pack full of extra batteries to brew enough coffee for 5 or 6 people.
Even so, it's a totally viable camping coffee maker for solo adventures or groups without a heavy coffee demand.
---
Makita Coffee Maker: A Detailed Review
Now that we've looked at the specific use cases for this device, let's dig into the details and examine each component.
Convenience
4/5
Portability
Wherever you go, rest assured you can take this device with you. Being made almost entirely of plastic, this little machine weighs in at a mere 3 pounds. The machine itself is constructed within a compact frame and has a retractable carry handle so you can lug it around the building site, and fire up whenever you feel a caffeine craving coming on.
Of course, portability is only useful if you can use the thing wherever you take it. And you can. Being battery-operated, the beauty is that you don't need a power outlet to get brewing. However, you will need a Makita battery… or a few.
Brew Size and Battery Capacity
It takes a fair amount of power to boil a cup of water. The type of battery you have on hand, either 18V or 12V, as well as the battery capacity determines how many cups you'll get out of a single charge. We took the liberty of testing it out (and yes, we also tested every single cup of coffee along the way – but more on that later!) We wanted to gauge the accuracy of the brew size estimated in the instruction manual. We used several different 18V LXT batteries and we're happy to report that the manufacturer is spot on about the number of cups you'll get out of a single charge – up to 3 cups. However, that's only if you use a battery with higher capacity.
Here were our results:
3.0Ah battery: 2 cups
4.0Ah battery: 2.5 cups
5.0Ah battery: 3 cups
So if you're looking for a single-serve coffee machine or, at most, brewing for a crew of two or three, you'll be okay with this one. That being said, for a long day's work, you'll certainly want to have a few pre-charged batteries on hand. On the other hand, if you've got an entire crew's worth of cups to fill, the Makita probably isn't the right tool for the job – especially considering you can only make a single 5 oz. cup of coffee at a time. Oh, and did we mention it takes a full five minutes to brew?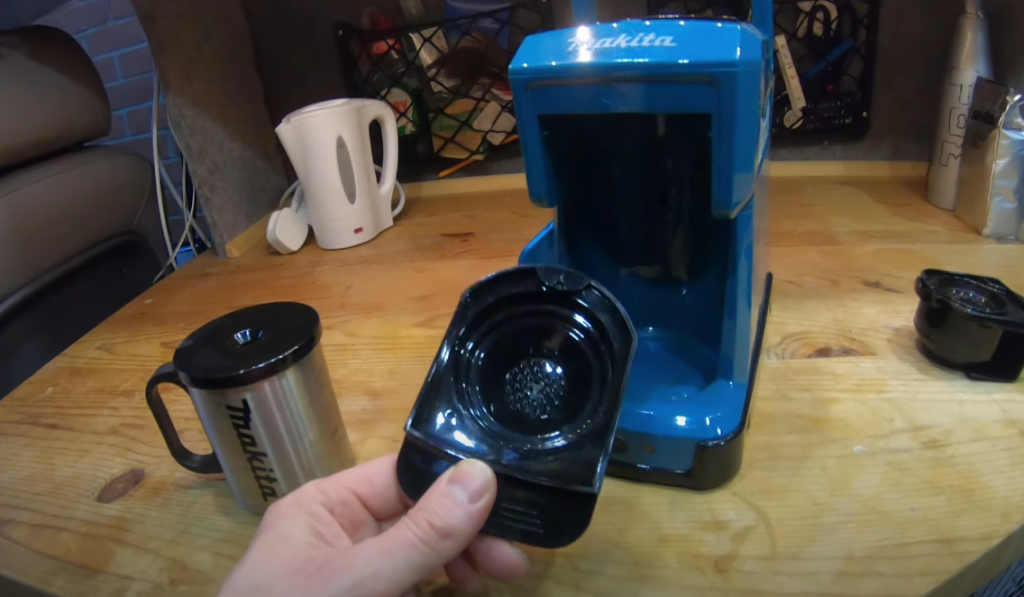 Body, Design, and Durability 4.5/5
Aesthetics
With its sturdy composition, rectangular shape, and rigid plastic build, the DCM501Z certainly fits in with any other power tool in your shed – especially with its quintessential Makita blue finish.
Practicality
Practicality comes first. It is durable, compact, and easy to carry. It can survive mud, dirt, rain, and even a few minor tumbles. It even comes with a smash-proof stainless steel mug (although ours suffered a minor dent after only a few days of use).
So if we were to judge the design with aesthetics in mind, we probably wouldn't give it a particularly high score. But because these bad boys were designed to withstand the perils of handiwork, we're perfectly willing to overlook the lack of visual appeal and accept that they're supposed to look like power tools.
Worth noting is that if the DCM501Z does prove less durable than you'd hoped, the good news is it comes with a 3-year warranty. Not bad.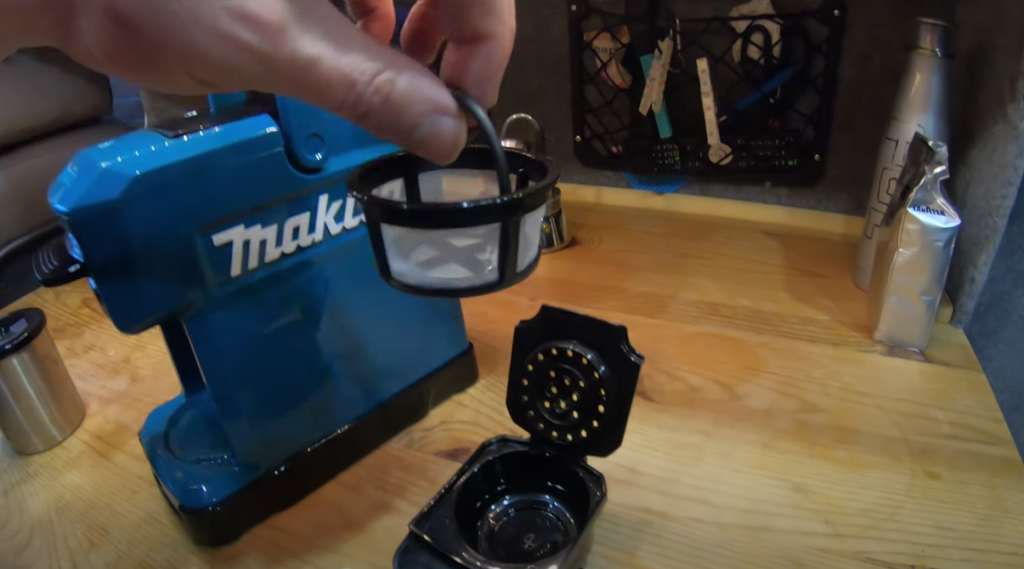 Ease of Use
5/5
You don't have time to faff when you're on the job. You want a great cup of coffee, and you want it now. Well, with a 5-minute brew time, you'll have to exercise a little patience with the Makita. Luckily, the brewing process is as simple as can be.
It even comes with a spoon for your coffee grounds. Just open the top flap beneath the handle and you'll find it tucked into its slot beneath the flap. The transparent plastic is a water tank you can fill up.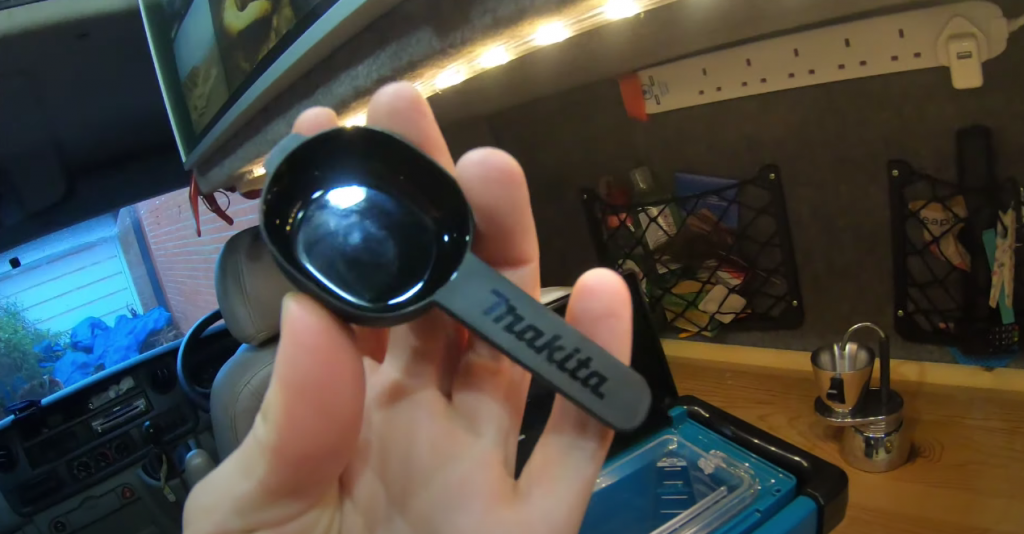 How to use the Makita Coffee Maker DCM501Z
Insert your battery. The side of the machine has 2 terminals – one for an 18V LXT battery, and the other for a 12V CXT.
Open the removable water tank at the top of the device, remove the water jug and fill it with cold water. As tempting as it may be to fill it to the brim (especially considering the lengthy brew time) we don't recommend adding more than 8 oz. as the tank fills and overflows and makes a big mess. Don't add hot water either, it will also leak.
Next, slide out the filter/coffee pod holder. There are two attachments here, one for either style of coffee. If you're opting for ground coffee, use the spoon conveniently nestled above the water tank to scoop out your grounds.
Slide the filter back in, slot the stainless steel mug in place (don't forget the lid), and hit the only button on the machine.
A red light will begin to flash. Thanks to the machine's boil-dry protection, it will turn off automatically once the water is used up. So when you see the red light go off, you know you can safely remove the mug and enjoy a well-earned cup of coffee
If you're making more than one cup, there's a recommended waiting time of 5 minutes between brews before you top her up. So while the machine may be incredibly easy to operate, the hardest part will be patiently waiting for your next cup to brew.
Cleaning and maintenance
Luckily, as long as you don't overfill the water tank and cause the machine to overflow, the only parts that really need cleaning are the reusable filter and the mug. Throw out your coffee grounds, give it a rinse and you're good to go. Just be sure to remove the batteries before you clean off your machine! Other than that, it's easy peasy.
Coffee Quality
4.5/5
If you're looking for anything other than a decent cup of filter coffee, this probably isn't the machine for you. It's a drip coffee maker, and a pretty good one at that. But it doesn't do espressos or anything else (don't even try using espresso grounds–trust us). But when you and the crew are getting your hands dirty on the job site, a no-fuss coffee is all you really need.
Temperature
One thing we really loved about the Makita model is the fact that, unlike many portable coffee makers, it not only makes coffee but heats the water too.
We noticed that finished brews were only around 176 F° or 80 C°. So pretty standard compared to other coffee makers. Other users agreed—many Amazon reviews mention their shock that the coffee does indeed come out piping hot.
That's a gold star for hot coffee.
Coffee beans and grind
Of course, the quality of your cup of coffee will ultimately come down to your roast of choice.
One of the great features of this device is that it can brew either from coffee pods or plain-jane ground coffee.
So, whether you're the type to bust out local beans and a fancy conical burr grinder or you like to make coffee with your eyes closed, this machine has you covered
You can brew with both:
Coarse coffee grounds (no filter necessary)
Don't be fooled, this machine doesn't accept Nespresso pods or K-Cups. Rather, you'll need to stock up on the type that resembles tea bags. Better still, invest in some good-quality coarse coffee grounds and make use of the built-in drip filter.
---
How Much Does a Makita Coffee Maker Cost?
We'll put it to you straight: this type of convenience, durability and quality doesn't come cheap. Compared to other portable coffee options like a french press, percolator, or pour-over, the Makita DCM501Z is relatively pricey—upward of $100 for the tool only.
Batteries and chargers are not included in the price, so you'll need to invest in a couple of those, too, if you aren't already invested in this Makita line.
But, again, keep in mind that other portable coffee makers probably don't heat water and brew coffee without an external source of heat or power. That's what you're paying for here.
---
Makita Coffee Makers: The Final Verdict
Makita Coffee Makers are made for a rather specific audience: builders, DIY enthusiasts and lovers of the outdoors. If you fall into these categories, and often find yourself without access to electricity and absolutely craving a cup of coffee, then we cannot recommend this device enough.
It's reliable, convenient, and designed to last. It's portable, light and incredibly easy to use. As far as battery-operated coffee makers, this one tops our list.
That being said, if you're on a tight budget, don't own any Makita batteries or tools, or want to prepare larger batches of coffee at a time, then you'll probably prefer one of the other coffee makers we've tested and reviewed.
Here's the final verdict on whether you should buy or not.
YES: Buy the DCM501Z Makita Coffee Maker If…
Different situations call for different portable coffee makers. Ultimately, the Makita is best for making caffeinated beverages on a job site or while car camping or RVing.
We'd recommend this cordless coffee maker if you:
Already own Makita 18V or 12V batteries or are willing to invest in a few
Often work on job sites or home renovations without access to a power socket
Enjoy drip coffee
Spend plenty of time outdoors without access to electricity
Are only preparing coffee for 1-3 people at a time.
NO: Don't Buy the DCM501Z Makita Coffee Maker
While we're happy to extoll the virtues of this cool coffee pot, it's not the right device for everyone.
So here's somethings to consider.
You may not want to choose this coffee maker if:
You're looking for an ultra-portable camping coffee maker to take on deep wilderness retreats
You have a big construction crew or you go camping with a lot of coffee drinkers
You're looking for something fancier than standard drip coffee
You want your coffee in a hurry (less than 5 minutes)
You're a diehard fan of Milwaukee, Craftsman, Dewalt, or any of the other tool lines and already invested in their hardware
The Evolution of Makita Coffee Makers
Before this model, there was the DCM500Z. Makita has since discontinued the older model, although you can still find it on some online marketplaces. It might be worth checking out the older model if you're on a tighter budget. However, the DCM501Z has a few new features you'd be missing out on if you were to opt for its predecessor.
The newer model comes complete with a stainless steel mug and lid, the old one does not.
The DCM500Z comes with a cord that can be plugged into the mains, whereas the newer model is entirely battery-operated.
The older model is slower when running on a battery, taking 7 minutes for a single cup of coffee. Of course, when plugged into the mains it's much faster – only 3 minutes to brew.
The new model takes both 18V and 12V Makita batteries, whereas the older DCM500Z only takes 18V.
The newer DCM501Z can brew using either a pod or coffee grounds. The older model only has one drip filter attachment, meaning grounds only.
The newer model is far more compact and durable.
The only real advantage of opting for the older DCM500Z is that it can run on electricity too. But if you have access to electricity, why opt for a machine designed for portability and durability?
---
Alternatives to Consider
While this coffee pot is ideal for some situations, others might call for something slightly more compact or affordable. Sadly, there are not a lot of direct replacements for this particular tool. Lots of people look for Dewalt coffee makers or Milwaukee coffee makers. But, as of the time of publishing, neither brand is offering a battery-powered coffee pot that would be a viable alternative.
Here are our top picks, based on items we've already tested and reviewed.
AICOK Portable Espresso Machine – Better for Espresso
If you'd rather have an espresso (in particular, those made with Nespresso and L'OR capsules) then we recommend trying the AICOK Portable Espresso Machine. It's extremely lightweight and you won't need to purchase Makita batteries to brew your coffee. It also heats water, which is always a big plus!
Moka Pots – Better for Camping
If you're looking for a portable coffee maker to use in the great outdoors, we think moka pots are a far superior option. They're smaller, lighter and, if it comes down to a fresh espresso in the morning or a cup of filter coffee, we know which one we'd choose! Of course, you'll need a heat source to brew your coffee, but you'll likely have a gas stove on hand while you're out in the wild.
The Gourmia GCM3250 Digital Touch Coffee Maker – Better Design
The Makita, while functional, isn't exactly easy on the eyes. If you're looking for a chicer battery-powered alternative, we suggest trying the Gourmia GCM3250. This device is best suited to the true coffee enthusiast and makes the perfect pour-over. It features a built-in scale and automatic brewing mode and is extremely light and compact. You'll have to find another way to boil your water, though.