If you're like most people, you can't start your day without a cup of coffee. And if you're like most construction workers or tradespeople, you can't do your job without having coffee on hand. That's why it's important to choose the right jobsite coffee maker. In this blog post, we will discuss the best coffee makers for the workplace and provide some tips on how to choose the right one for you.
When it comes to choosing a jobsite coffee maker, there are several different types to choose from. The most popular type is the single-serve coffee maker. These machines use pre-packaged pods or cups of coffee, which make them quick and easy to use. Another popular type is the drip coffee maker, which brews a pot of coffee using ground beans. There are also thermal coffee makers, which keep coffee hot for hours without using a heating element.
No matter what type of machine you choose, it's important to make sure that it is durable and can withstand the rigors of the jobsite. It should also be easy to clean and maintain. With so many different types of machines on the market, it can be difficult to know which one is right for you. That's why we've put together this list of the best jobsite coffee makers. We'll help you choose the right machine for your needs so that you can get your day started off right.
The Best Jobsite Coffee Makers at a Glance:
Best Electric Jobsite Coffee Maker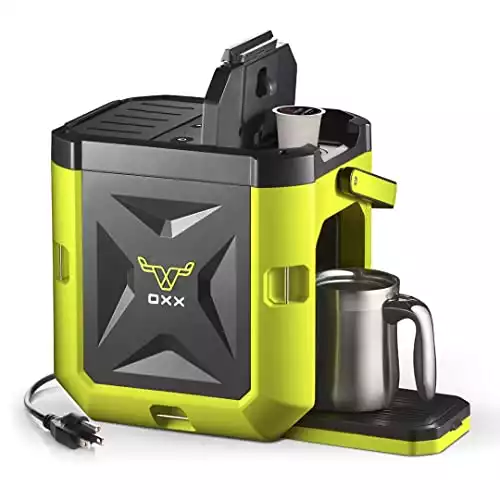 If you're looking for an electric-powered jobsite coffee maker, the Oxx Coffeeboxx is a great option. This coffee maker is designed to withstand the rigors of the jobsite, with a durable powder-coated stainless steel exterior and a water-resistant control panel. It also features a thermal carafe that keeps your coffee hot for hours, as well as a built-in water filter to ensure that your coffee tastes great.
The Coffeeboxx is a single-serve coffee machine that uses Keurig K-Cup pods or compatible coffee pods to brew a quick cup on the go.
Donned as the "World's toughest Coffee maker" (by the manufacturer), the Oxx Coffeeboxx jobsite coffee maker was specifically and intentionally designed for the worksite. This coffee brewer even comes in a hi-viz green that fits right in.
To sum it up: This a heavy-duty gadget for making coffee on the worksite with access to a plug-in power source or outlet.
Features & Specs
Integrated carry handle (rubberized)
85 oz. (2.5 L) removable water tank
3 ft. retractable power cord
120V AC
1450 watts
1-year standard manufacturer's warranty
12 lbs. (empty)
11 in. (D) x 9 in. (W) x 11.5 in. (H)
Fold-up drip tray
Pros:
Works with all K-Cup packs
Crush proof, rust proof, spill proof, dust proof
Impact resistant, water resistant
Somewhat portable (carry handle)
Built-in water heater
Cons:
12 lbs (heavy)
Requires outlet
Brews one cup at a time
Editor's Pick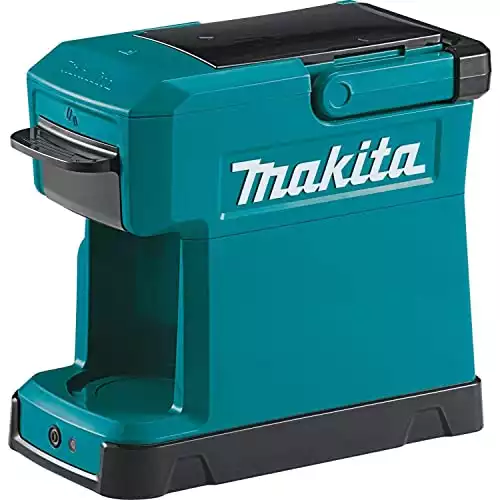 Makita DCM501Z
If you're looking for a battery-powered coffee maker that ticks all of the boxes in terms of performance, build quality, and portability, then you absolutely have to choose the Makia DCM501Z. Powered by 18V lithium-ion batteries, Makita's coffee maker brews delicious coffee from either pods or coffee grounds in a matter of minutes. Fresh, delicious coffee - no matter what terrain or where you are in the world.
Check Latest Price
Caffeinefiend is reader-supported. We may earn a commission if you make a purchase, at no additional cost to you. We research and test the best products for our readers, and we only continue to run thanks to your support.
If you need a battery-operated coffee maker, the Makita CDM501Z is a good choice. This cordless coffee maker runs on Makita's 18V LXT lithium-ion battery, so you can use it anywhere on the jobsite, even if there's no power outlet nearby. It comes with a built-in water filter to ensure that your coffee tastes great.
The Makita CDM501Z also features a swing-out filter basket for easy cleaning, as well as a built-in clock and timer.
This is a great pick, especially if you're using the Makita line of battery-operated power tools.
It weighs 11 pounds.
Features & Specs:
18-Volt LXT® Lithium-Ion
8 oz. Water tank
Durable pump system
Pros:
Ease to clean
100% cordless (no outlet required)
Rechargeable
Removable water tank
Easy to clean
Somewhat portable (11lbs)
Cons:
Only brews 2-3 cups per charge
Don't use pods (requires pre-ground coffee or beans and a grinder)
Best Manual Jobsite Coffee Maker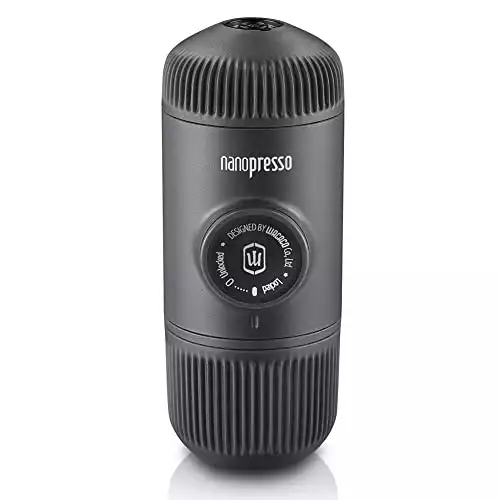 The WACACO Nanopresso is the best manual jobsite coffee maker. This espresso machine is designed for portability and durability, with a lightweight aluminum body and a built-in storage compartment for coffee capsules. It features a 15 bar high pressure pump for rich, flavorful espresso, as well as a built-in tamper and frothing wand.
The Nanopresso is a great choice for construction workers or tradespeople who want to enjoy a delicious cup of coffee or espresso without having to worry about finding a power outlet. It's also a good choice for those who want to reduce their environmental impact, as it doesn't require the use of electricity.
It's great for a hot cup on the go but won't suffice for a full crew of caffeine-deprived craftsmen.
Features & Specs:
Piston-driven brewing mechanism
Manual (hand-powered) operation
15-bar high pressure pump
Pros:
No batteries or electricity required
Compatible with Nespresso and other coffee capsules
Built-in storage for coffee capsules
Cons:
Need to supply your own hot water
Single-serving design and functionality
Choosing the Right Jobsite Coffee Maker for Your Needs
When choosing the best jobsite coffee maker for your workplace, there are many factors to consider.
How many people will be using the coffee maker at the jobsite?
The first thing to think about is how many people will be using the coffee maker. If you have a large crew, you'll need a multi-cup coffee maker. If you're the only coffee drinker in your workplace, a single-serve coffee maker will be sufficient.
Each of our picks above is technically a single-serving option.
But the Makita and Coffeeboxx both allow you to brew multiple cups in succession. The WACACO manual option is only for personal use.
Battery-Powered vs Plug-In vs Manually Operated Jobsite Coffee Makers
When choosing the best jobsite coffee maker for your workplace, one of the first decisions you'll need to make is whether you want a battery-powered, plug-in, or manually operated model.
If you'll be working in remote locations without access to power outlets, a battery-powered coffee maker is a good option. These models typically have long battery life and can brew multiple cups of coffee per charge.
Plug-in jobsite coffee makers are ideal if you have access to power outlets on your jobsite. These models are typically faster and easier to use than battery-powered or manual models.
Manually operated coffee makers don't require electricity or batteries, so they're a good choice for those who want to reduce their environmental impact. These models can be more difficult to use than battery-powered or plug-in models, but they're typically more affordable.
Closing Thoughts
Now that you know the different types of jobsite coffee makers, you can narrow down your choices by price and features.
Consider how important ease of use and maintenance are to you, and choose a coffee maker that meets your needs. Finally, think about the kind of coffee you like to drink. Do you prefer espresso or drip coffee? There are many different types of jobsite coffee makers available, so there's sure to be one that's perfect for you.