Perhaps no other method of brewing coffee gets as much global attention as the French press. It's versatile, easy to use, and has the ability to produce rich, delicious and complex brew every time. Because of this functionality, people throughout the world are looking to get their hands on the best French press coffee maker currently available.
Like everyone else in the world, we at Caffeine Fiend are quite enamored with this particular method of making coffee. So much so that we've written pretty extensively about everything there is to do with it.
Editor's Pick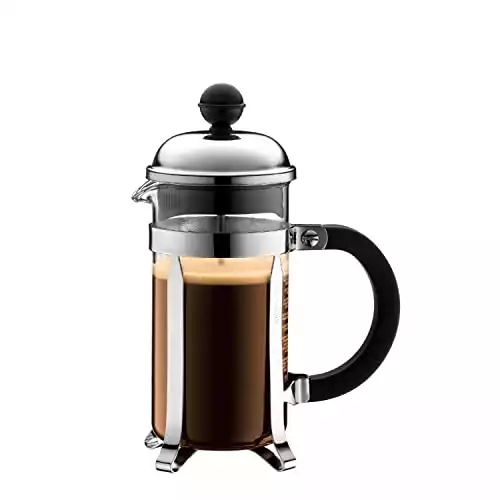 Are you curious about how the French press compares to drip coffee, or an Aeropress? Well you can certainly read what we have to say on the matter.
Not sure how to use a French press at all? Well we can definitely help you out there with our guide to using a French press.
But for all of our studious analysis of everything French press-related, we realized there was a large gap in our content. While we've waxed lyrical about the wonders of the French press, we've never actually compiled a list of the best French press coffee makers.
That all changes today. While this may seem like a straightforward affair – after all, how much can the French press design vary? – there's actually quite a lot to talk about.
There's a lot more to the French press than a first glance reveals. And below, we're going to get to the heart of it.
French Press Related Guides
But before we go any further it's worth expanding on the related French press articles we mentioned above. If you would like to read more about this wonderful device and how it functions, then use the below table as a content guide.
The Best French Press Coffee Makers: Analysis

French Press

Pros, Cons & Caffeine Fiend Award



Bodum Chambord



See Price

+

Incredible all-rounded especially for the price.


+

Produced by perhaps the most trusted brand of French press makers in the world.



–

Difficult to clean.


–

Made of glass and so is quite fragile.



⋆

Best French Press Coffee Maker Overall



Frieling Double Wall Stainless Steel French Press Coffee Maker



See Price

+

Absolutely beautiful to look at.


+

Double-walled steel construction keeps coffee warm (or cold) for long periods of time.


+

Easy to clean and dishwasher safe.



–

Quite expensive for the ordinary consumer.



⋆

Best Premium French Press Coffee Maker



Mueller French Press



See Price

+

Excellent price.


+

Sturdy design and construction.


+

Also insulated and so keeps coffee warm for longer.



–

Not ideal for travelling.



⋆

Best Steel French Press Coffee Maker



KONA French Press



See Price

+

Great functionality and design.


+

Way less fragile than other glass French presses due to its plastic frame.



–

Difficult to clean.



⋆

Most Durable Glass French Press Coffee Maker



Bodum Brazil French Press



See Price

+

Produces great coffee for a decent price.


+

Sturdy functionality and built.



–

Not really that beautiful.


–

Made of glass and so is quite fragile.



⋆

Best Budget French Press Coffee Maker



Le Creuset of America French Press



See Price

+ Constructed of stoneware and is very sturdy.


+

Beautiful design that would enhance any kitchen counter.


+

Made by an extremely trusted and reliable brand.



–

Fairly expensive.



⋆

Best Stoneware French Press Coffee Maker



Bodum Travel French Press Coffee Maker



See Price

+

Ideal for travelling or commuting.


+

Very clever design.


+

Decent price point.



–

More of a gimmick than an actual French press.



⋆

Best Travel-Friendly French Press Coffee Maker
---

The Best French Press: A Buyer's Guide
---
If you're not sure what to look for or the whole concept of shopping for a French press is a little overwhelming, we've got you covered. Use this buyer's guide as a means of navigating the oversaturated waters of ecommerce while searching for the best French press coffee maker out there.
Best brands
As with most products in life, some brands are just inherently better than others. The same is true for French press coffee makers. And since we care about quality, we want to help you identify the best.
Bodum
Bodum is perhaps one of the most iconic names when it comes not to just French press coffee makers, but coffee equipment as a whole. At the very least the one of the most historic. Founded in Denmark in 1944, Bodum has been supplying most of the world's best French presses for almost eighty years.
If you've ever seen a French Press in someone's home, the chances are higher than not that it's a Bodum.
Le Creuset
There must be something in the Seine that makes French so adept when it comes to manufacturing the best in cookware. Le Creuset is no exception. Known for their ranges of premium cookware, Le Creuset also produces a mean French press.
If you see their name attached to any sort of coffee equipment, you can rest assured that it's quality.
Coffee Gator
While the French are great at it, Coffee Gator proves that the USA also has a strong leg in the coffee game. Coffee Gator are unashamedly obsessed with coffee, and this quality is evident in all of their products, French press included.
If you're ever unsure about which French press to buy, you can't go wrong with Coffee Gator.
Red flags
Due to the relatively simple nature of a French press coffee maker's build, spotting red flags is quite easy.

The main thing to be concerned about is price and build quality. Already quite cheap to begin with, you should be overly concerned if the French press on offer is absurdly cheap. This is a good indication that inferior materials were used for the device's construction, and, while it'll save you a few bucks now, it'll cost you in the future.

If you're testing a French press in person, always make sure that the plunger fits snugly in the carafe. It should sink with gentle pressure without friction on the sides of the glass. If it doesn't plunge properly, find a new French press.
What to look for in a Good French Press
Glass Construction
French presses that use a glass carafe are definitely the most popular varieties currently on the market. Not only are they a beautiful object to look at, but they're also cheap to produce. That being said they are very fragile, so if you're looking to buy a glass French press just keep this in mind.
Stainless Steel Construction
If you're worried about destroying your French press then opting for a stainless steel model might be a better choice for you. Make sure that you choose a double-walled design as it helps keep the contents better insulated. There are different types of stainless steel used for production – 8/8 and 18/10 ratios of chromium to nickel being the most common.
Capacity
Not all French presses are made equal; some are bigger than others. This is great news for consumers, however, since you can buy a French press that suits your needs.
Are you a bachelor who just wants to drink some coffee in the morning before work? Then a smaller design is going to be better for you.
But if you're an entertainer who wants to make prodigious batches of coffee for six visitors, you'll likely opt for the bigger version.
---
The Best French Press: Detailed Reviews
---
Bodum Chambord Review – The Best Overall French Press Coffee Maker –
5/5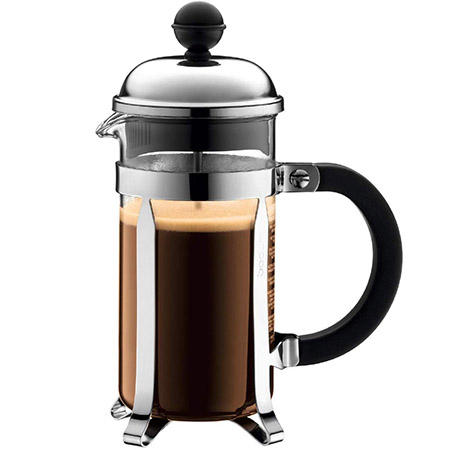 As we discussed above, it's hard to go wrong with anything that Bodum makes, and the Chambord is no different. As their flagship product and one that Bodum have become renowned for, this is the best French press overall, and a step above the rest. If you need confirmation that this French press is one of the best, look no further than Starbucks, who continue to stock the Bodum Chambord in many of their stores throughout the country.
The design is clean and classic. The carafe is constructed from heat-resistant borosilicate glass with a plastic handle and stainless steel base, making it both easy to use and clean. Both parts are also dishwasher safe, meaning you don't have to scrub it meticulously if you don't want to.
For its price you're getting high quality and peace of mind that comes from a trusted and experienced brand. If we had to point out any downsides, it would be that the mesh filter has to be cleaned by hand, and that it doesn't press all the way to the bottom, which results in some sediment making its way into the bottom of the final brew.
That being said, for the overall quality that the Chambord delivers, this is a minor annoyance at best. We tried many different French presses when writing this review – many of them by Bodum – and we can safely say that this is by far the best, especially when it comes to reliability, ease of use and cleaning. But if you're looking for something that doesn't let through any sediment at all, we'd recommend a French press with a two stage metal filter, such as the Frieling Stainless Steel French press.
Pros
Constructed of heat-resistant borosilicate glass and stainless steel, making it extremely durable for long periods of time.
This French press is built by a reputable brand, meaning it's really reliable especially if you plan to use it for many years.
Cons
The mesh filter of the Bodum French press doesn't reach all the way to the bottom, resulting in a little bit of sediment making its way into the coffee.
The handle can feel slightly awkward when pouring coffee.
---
Frieling Double Wall Stainless Steel French Press Coffee Maker Review – The Best Premium French Press Coffee Maker –
4.5/5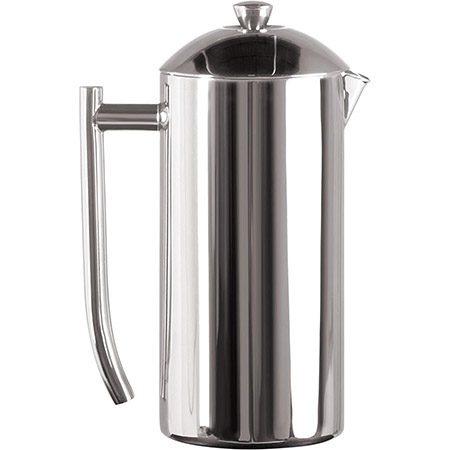 If you're looking for something a bit more robust then you can't go wrong with the Frieling Double Wall Stainless Steel French Press Coffee Maker. This is pricier than other French presses on the list, but with the higher price comes a few added extras.
To start with, the Frieling is constructed of 18/10 stainless-steel with a double-walled construction. This makes it not only strong, but ideal for keeping coffee hot or cold for long periods of time.
It features a full-length handle – which we feel is a big improvement on rickety handles such as those used on the Bodum Chambord – making pouring a breeze without ever having to worry about burning yourself. It uses a patented two-stage metal filter to strain out larger coffee particles and remove excess sediment, ensuring that your final brew is sediment free but full of as many extracted oils as possible. The result is a rich, strong-bodied taste that you won't get from normal mesh filters. The two-stage filter is also simple to disassemble. Not that you need to; when you're done you can simply pop the filter and base into the dishwasher without fear of it being damaged.
Functionality aside, this thing is just very pretty to look at, and would look great on any kitchen counter and next to any other high-end appliances.
Pros
Features a minimalistic design that is both functional and beautiful.
It's constructed of stainless steel, making it extremely durable and unlikely to break even after years of use.
The two-stage metal filter works more effectively than mesh filters in order to prevent coffee sediment from getting into the final brew.
The double-walled construction makes it ideal for keeping coffee hot even once it's finished brewing.
Cons
This French press is expensive, especially when compared to other French presses on this list.
It can be a bit of a mission to clean.
---
Mueller French Press Review – The Best Steel French Press Coffee Maker –
4/5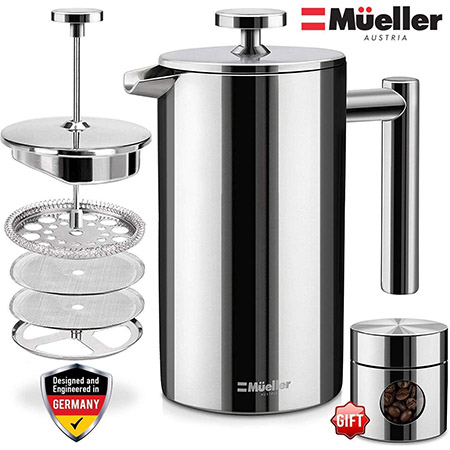 If you liked the Frieling but didn't like the hefty price tag attached to it, then you will definitely enjoy the Mueller French press a little bit more. Constructed from professional grade 304 18/10 double-layered stainless-steel and featuring a double-walled design, the Mueller delivers the same functionality, but with a lot less strain on your wallet.
Like the Frieling, the Mueller is insulated and will keep your coffee hot for up to a full hour after it's been brewed. Its mesh filter is constructed of three different layers making it extremely efficient at preventing silt and sediment ending up in your final brew, while simultaneously ensuring that the maximum amount of oils are extracted from the coffee grounds.
Constructed in Austria, this is a heavy duty piece of equipment built with Germanic robustness that not only looks good, but does everything that it says it will on the label. Did we mention that it's dishwasher safe too? It's hard to fault this one, but nothing in life is perfect. While tough and sturdy, the Mueller French press is quite bulky, meaning if you're someone who likes to travel and bring your French press with you, this might not be the most ideal candidate. Instead, you might want to pick up a small model from KONA or Bodum.
That being said, if you're just looking to brew coffee at the house then this is definitely the device for you.
Pros
Constructed in Austria and made from stainless steel, making it extremely tough and durable.
Double walled insulation keeps coffee hot for up to sixty minutes after brewing.
Cheaper than other stainless steel French presses on this list.
Triple-layered filter keeps out almost all sediment from the final brew.
Cons
Owing to its stainless steel construction, this French press is large, bulky and difficult to travel with.
---
KONA French Press Review – The Most Durable Glass French Press Coffee Maker –
4/5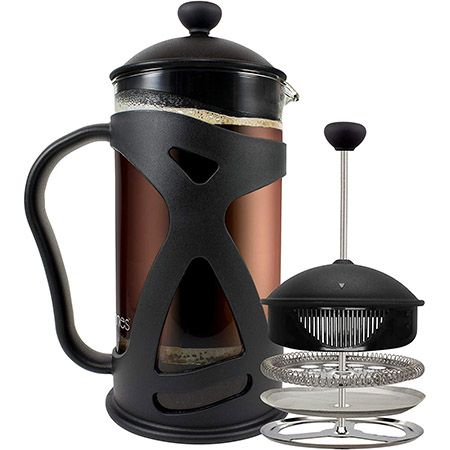 One of the greatest criticisms about French presses made from glass is their propensity to break or shatter with the slightest bump or agitation. The answer to this? The KONA French press.
Like other French presses, the KONA's main carafe is constructed from glass and it also has plastic components to it. The frame is constructed from BPA-free plastic and is designed in such a way that it wraps around and supports the carafe, giving it a robustness that protects it from harm and makes it safe to use. The KONA French press also features a large, ergonomic handle that is really comfortable to use and makes the whole act of pouring coffee feel more secure. This is a big step up from French presses like the Chambord, which can often feel flimsy and unstable during the pouring process. If you're someone who is worried about burning their hands while pouring hot coffee, then this thoughtful handle design will be especially helpful.
The KONA uses a three-piece stainless steel filter to separate the coffee grounds from the final brew. Not only does this mean that no plastic comes into contact with your brew, leaving the flavor of the coffee untarnished, but the tighter-fitting steel filter extracts more essential oils while preventing even less sediment from seeping into the final bew.
Some manufacturers may have had a hard time incorporating this design while still making it look attractive, but the KONA doesn't have this problem. On top of a sleek and timeless aesthetic, the KONA is simple to use, dishwasher safe and affordable.
While we appreciate the design of the KONA, we get it if you're not into that much plastic. If the plastic frame doesn't do it for you, we recommend taking a look at the Frieling French press instead. Not only is it more aesthetically pleasing, but it's way more resistant to damage too. If you want a similar model to the Frieling that's quite a bit cheaper, then check out the Coffee Gator French press.
A steal when you consider that you won't be having to buy another one any time soon.
Pros
Extremely good value for money and one of the cheapest French presses on this list.
Triple-mesh filter strains out way more sediment than similar French presses.
The design of this French press is really ergonomic and the handle can be used comfortably without risk of burning your hand.
The mesh filter and plunger are constructed from stainless steel rather than plastic.
Cons
At some point you may have to replace the filter and the attachments
The plastic body of the KONA can feel cheap.
---
Bodum Brazil French Press Review – The Best Budget French Press Coffee Maker –
4/5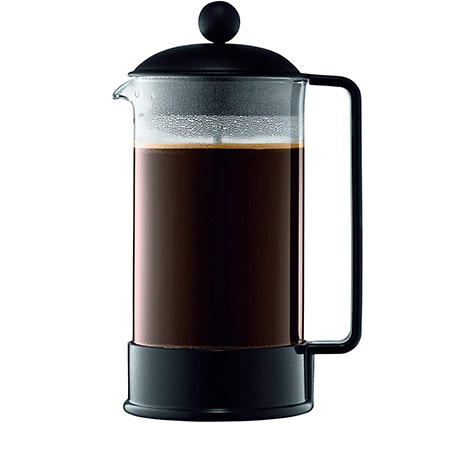 The Brazil is another quality French press coffee maker from Bodum. It's available in black and red options and is a pared-back, no-frills alternative to the Chambord.
This is reflected in the price. While the Chambord will set you back some bucks, you can pick up the Brazil for less. This means that you're going to lose a little bit when it comes to quality and functionality, however.
On top of that, the amount of plastic used (although it is BPA-free) can be a bit off-putting for some consumers. That being said it does perform admirably for the price. It's easy to use, dishwasher safe, and the glass carafe is constructed from German heat-resistant borosilicate glass. Also, the Brazil makes use of Bodum's patented three-tier stainless steel filtration system, meaning the filter sits snugly within the carafe in order to trap sediment while simultaneously extracting the delicious oils essential to a good cup of coffee.
Once you're finished brewing, you simply disassemble the filter, plunger and carafe, and pop all of them in the dishwasher without having to worry about anything breaking.
At the end of the day, the Brazil isn't the showiest French press on the market, but it's extremely good value for money, and is able to deliver a decent and delicious cup of coffee without breaking the bank.
Don't expect miracles from this one, but it still will deliver a decent and delicious cup of coffee at the end of the day.
Pros
Very affordable.
Minimal, attractive design available in a variety of different colors.
Easy to clean.
Base and handle are made from BPA-free plastic.
Cons
The French press uses a lot of plastic, which isn't the most aesthetically pleasing and may not appeal to everyone.
---
Le Creuset of America French Press Review – The Best Stoneware French Press Coffee Maker –
4/5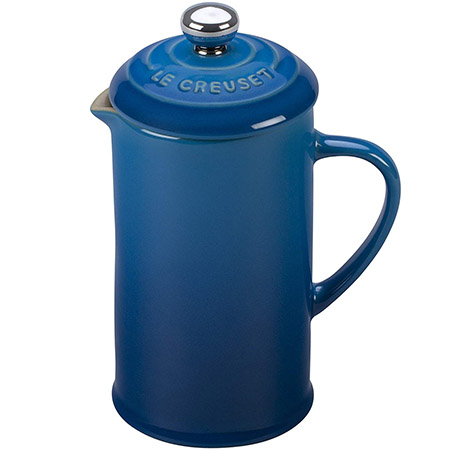 As we mentioned in our above buyer's guide, Le Creuset doesn't half ass things. Instead, all they know is quality and high manufacturing standards, and nowhere is this more evident than in their French press. This French press isn't the cheapest on the list, and for good reason.
Whereas every other contender sports a stainless steel or glass construction, Le Creuset's French press is comprised entirely of stoneware. This material is adept at insulating the French press' contents, keeping them hot for longer. The exterior enamel also blocks moisture absorption to prevent cracking and rippling.
Le Creuset's French press is available in 12 different colors, which means you'll be able to find one that matches any Le Creuset kitchen pieces that you already own. No matter what color you chose, however, you can't really go wrong. The aesthetic of this French press is beautifully quaint and traditional, and would be a welcome addition to all kitchens. While it might hurt to fork out this much money on a French press, consider it an investment. With so much faith in the enameled stoneware that they use for all of their products, Le Creuset offers a 10 year guarantee with purchase.
Pros
Constructed from high-quality stoneware with an enamel finish
10 year guarantee
Dishwasher safe
Aesthetically pleasing
Cons
Expensive
Quite a heavy and bulky French press, especially when compared to models made from glass.
---
Bodum Travel French Press Coffee Maker Review – The Best Travel Friendly French Press Coffee Maker –
3.5/4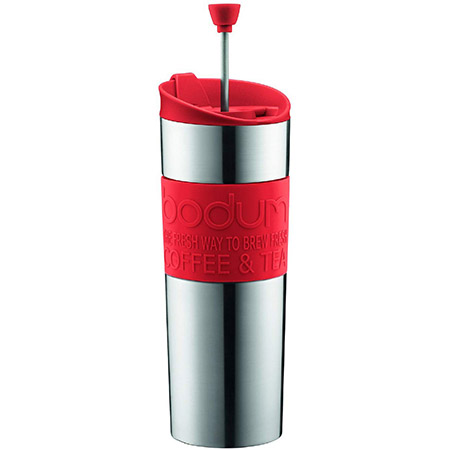 While all of the French presses listed in this article are wonderful, there's one thing they're just not good at doing: travelling. The Travel French Press Coffee Maker by Bodum fills that gap admirably, allowing coffee drinkers to make their favorite brew while on the go.
This little nifty device functions almost identically to other French presses coffee makers with one small but key difference. After brewing the coffee and pressing down the grinds, you drink the coffee directly instead of discarding the sediment first. It makes around 15 ounces of coffee and only needs ground coffee and hot water to work.
The Travel French press is constructed of stainless steel and fashioned so as to be double-walled and vacuum-sealed. This insulated design allows coffee to stay hot for longer. It also has a silicon top and sleeve to prevent spillages and allow you to keep a grip even when the contents are piping hot.
For its lower price, this is a worthwhile investment. While you're probably not going to use it everyday, it is a great little gadget to have when you're in a rush but still want a good brew. It's also good to know that the Travel French Press Coffee Maker is dishwasher safe, so you don't have to worry about cleaning it after a hard day of work.
One downside about this particular model is that the filter works a little too well. The fit is so tight that sometimes about a quarter of the capacity of the coffee gets stuck at the bottom of the coffee maker. That being said, it does keep the grinds out of your coffee, resulting in a brew that is surprisingly good for a piece of equipment designed solely for travel.
Another is that you can only make 15 ounces of coffee per serving. Since its a travel mug, you're likely only going to be able to empty the grounds and have access to hot water before leaving your home, so if you'd like more coffee you're out of luck. If having limited access to coffee bothers you, then we suggest investing in a Chambord, brewing some coffee before you leave for work, then storing it in a separate thermos to keep it warm.
Pros
Extremely portable and easy to travel with
Available in a variety of different colors
Makes fresh coffee in minutes
Dishwasher safe
Cons
The filter fits too snugly, trapping some of the coffee in the bottom of the coffee maker.
Can only make a limited amount of coffee per serving
---
How the French Press works
We've spoken at length about how the French Press functions, but it's worth repeating just to drive the point home.
At its most basic, it consists of a glass carafe, a plastic lid and a steel plunger and mesh filter used to separate spent coffee grounds from the final product.
How it works is very simple. Ground coffee is added to the carafe and then filled with hot water. The mixture is left to steep for around four minutes, after which the mesh filter is plunged to the bottom of the carafe, separating solids from liquids.
This method of fully immersing the coffee grounds and allowing them to steep is what sets the French press apart. Other methods such as pour-over and Chemex which rely on running water for extraction to occur. But the extraction method is what gives the coffee produced by the French press its intense full-bodied flavor.
This also gives the brewer full control of all brewing variables such as the coffee and water volume, water temperature and, most crucially, the steeping time. It's a delicate balance to get right; allow the coffee to steep prematurely and you get end up with watery gruel. Allow it to steep too long and you risk over extraction and an extremely bitter final product.
---