Stovetop espresso makers, Bialettis, or stovetop percolators – the Moka pot has garnered many different names since its invention and inception in 1933. Designed by Alfonso Bialetti, the Moka pot went on to take the world by storm, becoming heavily associated with Italian culture and nudging its way into kitchens in countless countries.
Its compact design, ease of use, and ability to create strong delicious coffee have contributed to its widespread use in Europe, South America, Australia, and even Africa.
Moka pots come in all different sizes, but for the purposes of this article, we're going to be taking a look at some of the best 12-cup Moka pots currently on the market. So if prodigious amounts of coffee are a must, keep reading and we'll guide you through the best 12-cup stovetop espresso makers to get the job done.
---
Editor's Pick: The Best 12-Cup Moka Pot
Editor's Pick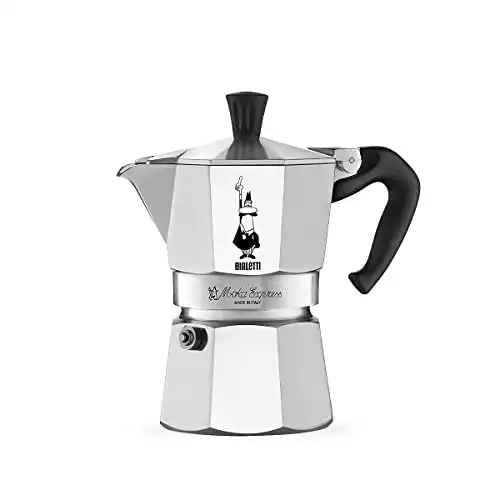 Bialetti Express 12-Cup Moka Pot
Check Current Price
Caffeinefiend is reader-supported. We may earn a commission if you make a purchase, at no additional cost to you. We research and test the best products for our readers, and we only continue to run thanks to your support.
If you can only have one then let it be the Bialetti Express. As the OG Moka pot designed by Alfonso Bialetti in 1933, the Express has been the flagship model for the company for almost a century. Its eight-sided design is instantly recognizable, and it is consistently rated the best Moka Pot in the world. 
---
The Five Best 12-Cup Moka Pots: Side-By-Side Comparison
---
Factors and Criteria We Looked At When Compiling This List:
Ease of Use
We made sure that each Moka pot that made this list was intuitive to set up and easy to use. What we didn't want were Moka pots that stuck, making them impossible to unthread after coffee had been brewed. We noticed that the threading on the aluminum models was a little more forgiving than the threading on the stainless steel ones. Other than that, they're all pretty straightforward in terms of usage.
Consistency
We tested all of the Moka pots on this list for their ability to consistently brew a good cup of coffee. We made sure to exclude any hit-or-missers here; we wanted results every time. For some models, this was easier than others, due to the thickness of the steel or aluminum used in the construction. Overall, every Moka pot that made this list made a delicious, aromatic brew again and again.
Build Quality
There are several different build components that affect the overall build quality of the Moka pots that we chose for this article. We made sure that each Moka pot was either constructed from either aluminum or stainless steel, as both of these materials are rated highly for longevity and durability. We also looked at the gaskets used to separate the two chambers of the Moka Pot, preferring silicone gaskets to rubber ones because of their long-lastingness and ability to create a tighter seal.
---
A Closer Look At The Best 12-Cup Stovetop Espresso Makers
---
The Best 12-Cup Moka Pot for Value for Money: Bialetti Express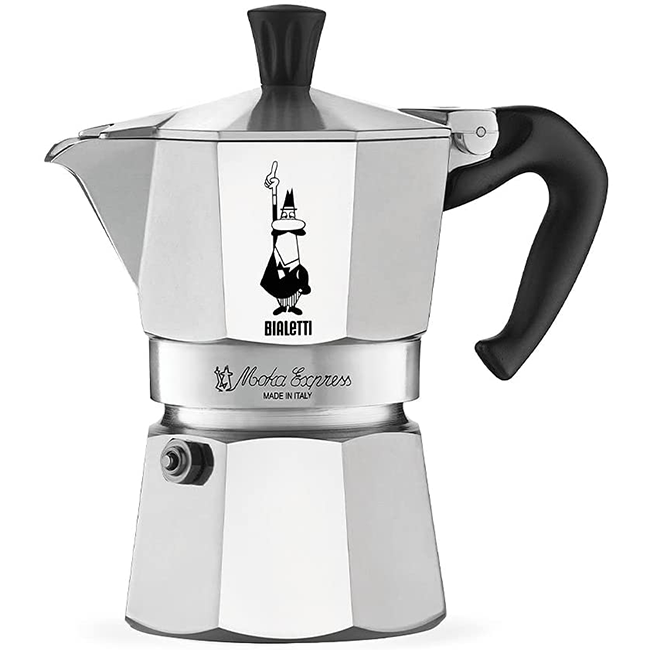 Pros
Striking design
High-quality build
Designed in Italy
Cons
Doesn't work with induction stovetops
Can't be used in a dishwasher
If you're looking for the intersection of quality and value for money, then it has to be the Bialetti Express. This 12 cup stovetop espresso maker is by far the best and most popular Moka pot currently on the market. Thanks to its long history and unchanging design, it still currently occupies the number one spot, at least according to thousands of customer reviews. Constructed from aluminum, and with two separate chambers and a grinds basket, making coffee with the Bialetti Express is a breeze and can be done in as little as five minutes.
Once you're done making coffee, the clean-up couldn't be easier. Simply unscrew the device, empty out the grinds, give it a quick wash and wipe it down with a microfiber cloth or something similar. If you don't have a brush on hand to clean the grinds basket, a good tip is to hold the basket above a bin and simply blow sharply out of the narrow end. That will clear most of the grinds. The rest you can get rid of by rinsing the basket under warm water.
If you want something smaller, the Bialetti Express also comes in 1, 3, 6, and 9 cup options, so you can easily find something to fit your needs.
---
The Best 12-Cup Moka Pot for Aesthetic Kitchens: Bellemain Stovetop Espresso Maker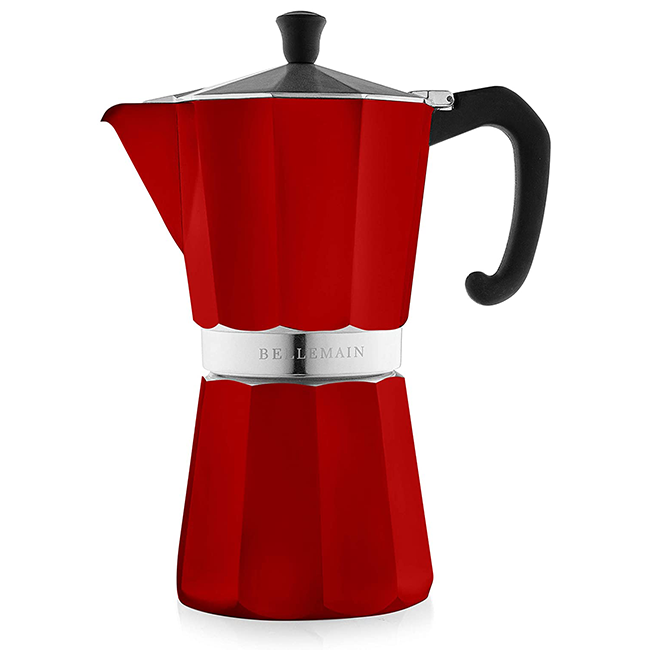 Pros
High-quality aluminum construction
Available in a variety of colors
2-year warranty
Cons
Doesn't work with induction stovetops
Not dishwasher friendly
The Bellemain Stovetop Espresso Maker is very similar to the Bialetti Express. It features an eight-sided design with a plastic handle, two chambers and a grinds basket, and even the same pressure valve to prevent the device from overheating. It's also constructed from aluminum, meaning that during operation heat is distributed evenly, and the final brew is extracted smoothly.
The main difference between the Bellemain and the Bialetti is the color. While you can get a standard silver option, the Bellemain also comes in a few different colors, namely white, black, and cherry red. If you're someone who cares about your kitchen aesthetic then you'll love that you have different color options to match it to your other appliances.
While this 12 cup stovetop espresso maker is great for larger gatherings and households, Bellemain also has the same device in 3, 6, and 9 cup versions, offering even more versatility when it comes to choosing the perfect Moka pot for your kitchen. Bellemain also offers a 2-year warranty on their products, so you can have extra peace of mind that your Moka pot will last for years to come.
---
The Best 12-Cup Moka Pot for Induction Stovetops: FCUS Stovetop Espresso Maker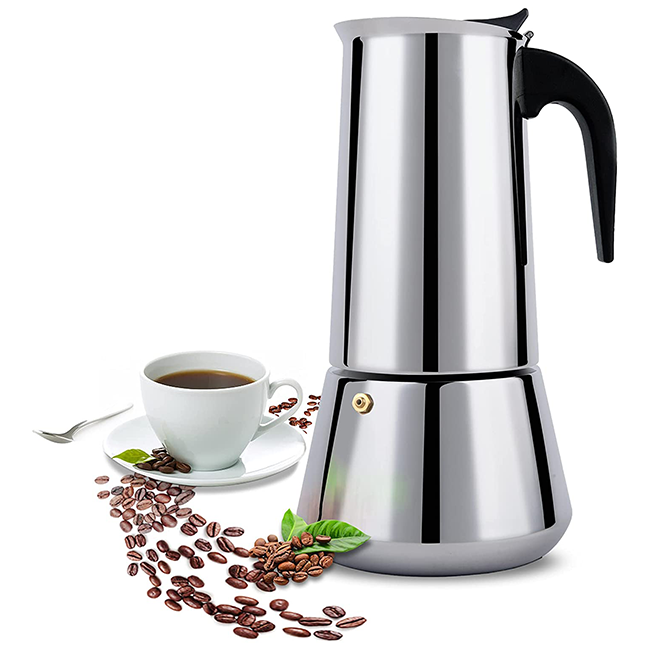 Pros
Dishwasher friendly
Works with a variety of stovetops
Cons
Not the highest quality construction
Constructed in China
If you have an induction stove and are looking for a 12 cup stovetop espresso maker, look no further than FCUS. Constructed on stainless steel, the FCUS stovetop espresso maker is capable of making delicious, silky coffee every time. If have a different type of stove and just love the FCUS design, you're also in luck. The FCUS stovetop espresso maker works with a variety of stoves including induction, electric, ceramic, and gas stove.
The actual build of this Moka pot could be better. We found that the lid was a little bit flimsy and overall it just wasn't as sturdy as other models like the Bialetti Express. It also comes with an additional filter that actually goes on top of the grinds basket. This ensures that the grinds stay together, but it does add an extra component when it comes to cleaning and getting the Moka pot ready for brewing. That being said, the FCUS does have a solid handle that is positioned well away from the device meaning you won't burn your hand during operation.
Since it's made of stainless steel, cleaning it couldn't be easier. Once you're done using it, just pop it in the dishwasher.
---
The Best 12-Cup Moka Pot for Tight Budgets: Primulua Aluminium Stovetop Espresso Maker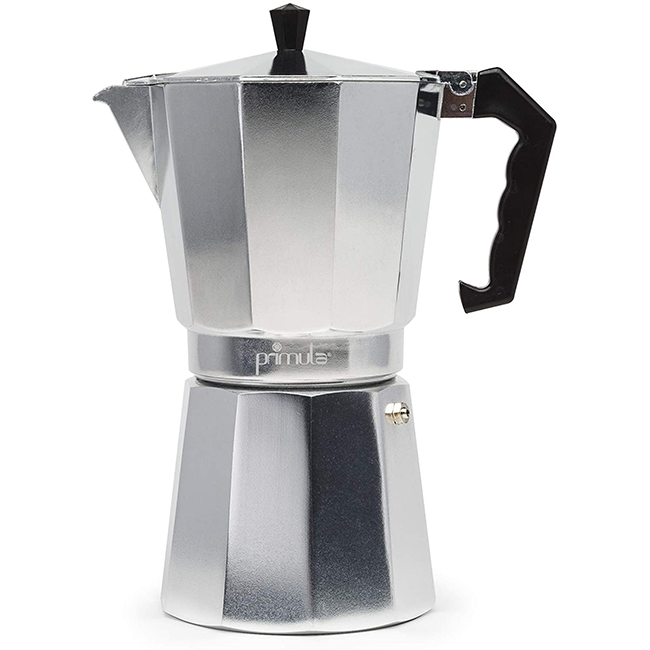 Pros
Aluminum construction
Compatible with all stovetops
Ideal for camping
Cons
Not as high quality as other Moka pots on this list
Not dishwasher friendly
Like the Moka Pot from Bellemain, the Primulua Aluminium 12-Cup Stovetop Espresso Maker cops its design heavily from the Bialetti Express. Constructed from aluminum for the purposes of distributing heat evenly during brewing for consistent extraction, and featuring the same dual-chamber fabrication, the Primulua looks much like other Moka pots on this list. The difference lies in quality and price. Whereas the Bialetti Express is manufactured in Italy, the Primulua is made in China. While this results in a much lower purchasing price, it also means that the quality of the product suffers. We found, for example, that the handle was pretty flimsy, and after a few uses, it actually started to come loose.
Still, if you're planning on either not using a Moka pot too often or are exceedingly careful and want something that won't destroy your budget, then the Primulua is a good bet. Like other aluminum Moka pots, it's really easy to clean (although not as easy as stainless steel models). A quick rinse with some warm water and a rub down with a cloth and you're ready to start brewing again.
---
The Best 12-Cup Moka Pot for The Outdoorsman: Tops Rapid Brew Stovetop Coffee Percolator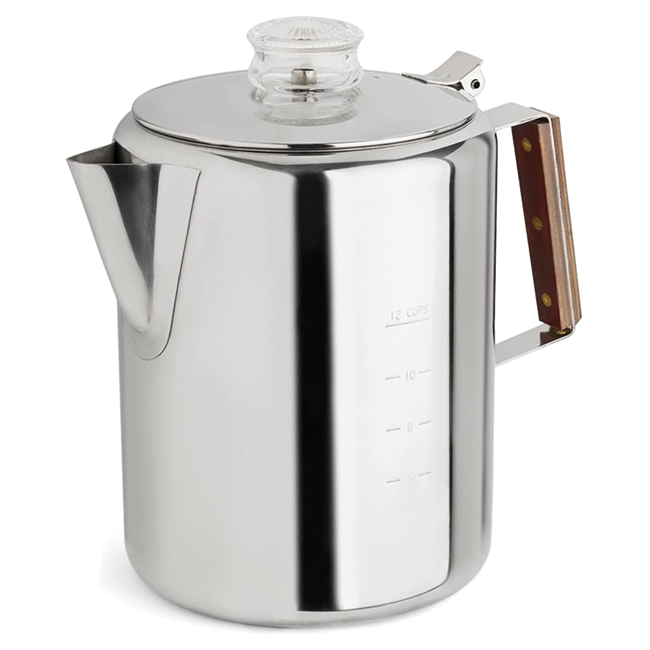 Pros
Constructed of heavy gauge 18/8 stainless steel
Ideal for camping
Dishwasher friendly
Cons
Not strictly a Moka pot by definition
Quite different to other Moka pots on the list
While the Tops Rapid Brew Stovetop Coffee Percolator is more of a percolator than a Moka pot, we're still adding it to the list. The reason? It's a suburb piece of kit to take with you if you enjoy brewing coffee while traveling or while being outdoors, and the process of making coffee with it is more or less the same as a traditional Moka pot. While the Tops can handle brewing for 12 people, we found that the coffee turned out better and smoother when we brewed at half capacity (6 cups).
Because the entire coffee maker is made of steel – including the handle – you have to be very careful when handling it after it has finished brewing. Always use an oven mitt or thick cloth to ensure that you don't burn your hand while removing it from or adding it to the fire or heat source.
---
The 12-Cup Stovetop Espresso Maker Buyer's Guide
Where Is It Made?
Considering that the original Moka pot is an Italian invention, it's reasonable to assume that most Moka pots on the market today are made in Italy. This is only half true. Many Moka pots, especially those by institutions like Bialetti, are designed in Italy, but they will have had their construction shipped off to cheaper countries – mainly China. While Moka pots constructed in Italy are generally judged to be of better quality, they come at a premium. So if you'd like one that's Italian-made, prepare to pay a little more. That being said, greater quality generally means greater longevity. So although you might pay a little more initially, your investment will pay itself off in the years to come.
Is It Compatible With Your Stovetop?
One question that's crucial to ask before you purchase your 12-cup stovetop espresso maker is: will this device work on my stovetop? Because while all Moka pots can be used on a gas stove, not all of them work with electric or induction stovetop models. Induction stovetops are particularly specific as the Moka pots designed to work on them contain an activating magnet. If you own an induction stove and accidentally purchase the wrong stovetop espresso maker, you simply won't be able to use it.
Aluminum or Steel
Moka pots are constructed of one or two materials: aluminum or steel. Each metal has its own advantages and disadvantages when it comes to making coffee.
Aluminum has traditionally been the go-to material for constructing Moka pots because of its even heat-conducting properties. While this results in a strong cup of coffee, it also causes higher oxidation levels which leaves a lot of marks inside the Moka pot. One way to get around this is to clean it without soap and only with hot water and a cloth. This will remove most marks while ensuring the coffee's oils remain on the aluminum.
Steel, on the other hand, doesn't conduct heat as well and can lead to unequal heat distribution and therefore an uneven extraction of the bean. That being said, it's easy to clean and can even be thrown in the dishwasher if you're too lazy to wash it by hand.
Cleaning
Cleaning a Moka pot can be a bit of a pain. With a top chamber, bottom chamber, and coffee basket, not to mention the pressure gasket, there are four different components that need to be cleaned in order to maintain consistently great performance.
If you don't have the right technique then cleaning a Moka pot can be tedious work. When it comes to cleaning the coffee basket, having a brush on hand helps. If you don't have one, try blowing out the narrow end to expel the puck of spent coffee above a bin or other container. You'll still need to rinse it to get every last little grain, but it will get out most of the grinds. As we mentioned above, if you're cleaning an aluminum Moka pot, simply rinse it under hot water and dry it with a cloth. If you're using a stainless steel Moka pot, either use soapy water or just toss all separate parts into the dishwasher.