Fleeing the city and escaping to the great outdoors is one of life's great joys. Whether it's hiking through a forest or camping out next to a stream, it's hard to argue that basking in nature is good for the body and soul.
There's only one thing that can potentially elevate the experience – you guessed it, coffee. Just because you're leaving the conveniences of modern living doesn't mean you have to forgo the pleasure of a freshly brewed cup of coffee. In fact, many coffee makers you would use in your home can actually be used in your camp site. Perhaps no device is better suited for this purpose than the Moka pot.
Lightweight, hardy and capable of producing delicious brew every time, the Moka pot is a must-have camping companion. With that in mind, we're going to take a look in detail at the best Moka pots for camping, and how to use one in the wild.
---
The Best Moka Pot for Camping At a Glance
Editor's Pick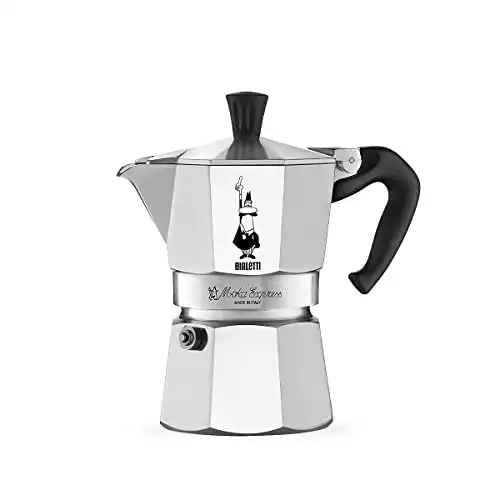 Bialetti Express 6-Cup Moka Pot
Check Current Price
Caffeinefiend is reader-supported. We may earn a commission if you make a purchase, at no additional cost to you. We research and test the best products for our readers, and we only continue to run thanks to your support.
The king of home Moka pots turns out to also be the best Moka pot for camping. The Bialetti Express is unrivaled when it comes to brew quality, build quality and value for money. If you can only have one, make sure the Express is in your backpack on your next camping trip.
Features at a glance
Constructed from aluminium
Made by reputable company Bialetti
Weighs 1.54 pounds
Can also be used in the home when not camping
Minimum lifespan of 10 years
How to Use The Best Moka Pot for Camping
Using a Moka pot while camping is a very similar process to using it in the home. The main difference is that instead of an induction or electric stove, you'll be using an open fire or small gas cooker to boil your water and brew your coffee.
Start by filling up the bottom reservoir with water. Fill it up to just below the pressure release valve.
Next, add your coffee to the grinds basket. If you brought a manual grinder with you and want to grind your own beans, that's great, but we think that bringing pre-ground coffee is perfectly fine considering you'll be carrying much of your kit on your back.
Tamp down the grinds (you could use the back of a flashlight if you have nothing else on hand), place the basket into the lower chamber, then screw on the top.
At this point, you should have your fire burning or your gas stove ready to go. If you're using a fire, either place a grill and then the Moka pot above the open flames, or find a relatively flat, stable spot to place the Moka pot. If your Moka pot has a plastic handle, then make sure that it isn't within range of the fire, or it will probably melt.
Now you wait. It should take between 5 – 9 minutes depending on how hot your fire is or how high you've set your gas stove. Once your hear your Moka pot make a gurgling sound, then your coffee is ready and you can take the Moka pot off the heat.
Finally, pour and enjoy!
---
The Five Best Moka Pots for Camping: Side-By-Side Comparison
---
A Closer Look At The Best Moka Pots for Camping
The Overall Best Moka Pot for Camping: Bialetti Express – 5/5
The Bialetti Express is a much-loved and the most well-revered Moka pot in the world – and for good reason. Invented by Alfonso Bialetti, the man who would go on to found the Bialetti company, in 1933, the Express was the very first Moka pot, and one that revolutionized the home coffee brewing industry. Today, the Express is still used in homes all over the world, and features the same design and construction as the original model. Constructed from aluminium and featuring the patented pressure release valve invented by Bialetti, the Express works on any camp fire or portable gas stove to make delicious, strong-bodied coffee in matter of minutes. Weighing up 1.54 pounds, the Express' light weight also makes it the ideal for travelling or popping it in a rucksack before heading off for a hike.
Because the Express is made from aluminium, it means that cleaning it while outdoors is also a breeze. The reason is that aluminium Moka pots shouldn't be cleaned using dishwashing liquid or any other sort of detergent, so a rinse with water and cloth is more than enough to get it ready for another brew.
Pros
Aluminium construction
Light weight
Durable
Easy to clean
Constructed in Italy
Cons
Aluminum can become discolored after many uses
Coffee can potentially spill if poured too quickly
---
The Best Budget Moka Pot for Camping: Grosche Milano Stovetop Espresso Maker – 4/5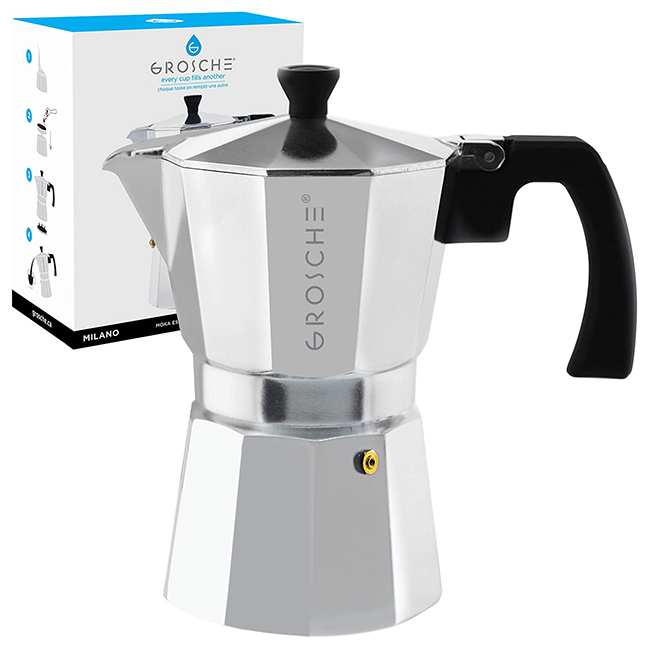 If you want all the functionality of a Bialetti Express but without the price tag, look no further than the Milano Stovetop Espresso Maker by Grosche. Featuring a very octagonal similar design to the Express, the Milano is a great accompaniment on any camping adventure. Its aluminium construction means that it's light enough to throw in any backpack, and its integrated safety valve means that you don't risk the whole thing exploding if you leave it on the campfire for slightly too long. The long handle and burn guard on the Milano is also ideal for camping, protecting your hand when moving it to and from the fire.
The Milano is also available in a variety of sizes from 1-cup to 12-cups, so you'll always be able to find a Moka pot to match the size of you're adventure. Like the Express, the Milano is also easy to clean, especially since you won't have to bring additional dishwashing liquid with you to keep it fresh. If, after you've returned home from camping you'd like to use the Milano to make coffee at home, you can do so easily unless you have an induction stovetop.
Pros
Lightweight aluminium construction
Durable
Available in a number of different sizes
Easy to clean
Made by a reputable brand
Cons
Can't be cleaned in a dishwasher
Aluminium will get discolored after many uses
---
The Stainless Steel Camping Coffee Maker: Tops Stainless Steel Percolater – 3.5/5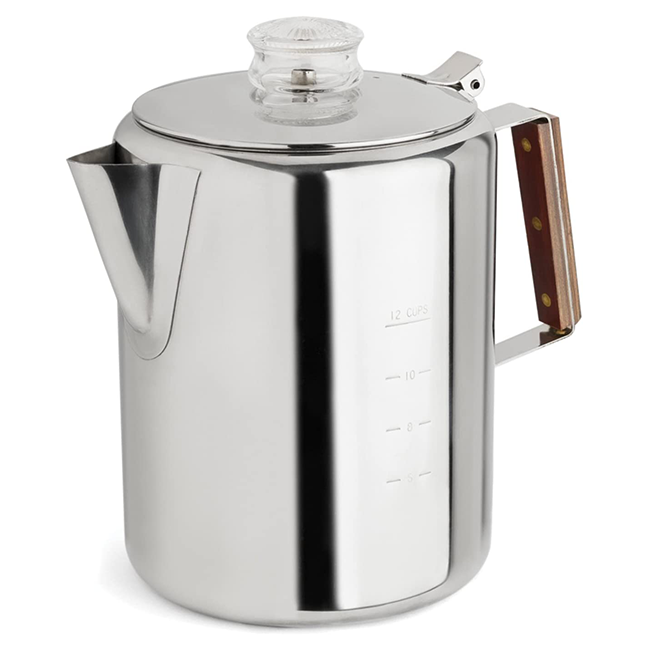 The Tops Stainless Steel Percolater isn't strictly a Moka pot, but we put it on this list anyway because it makes for a great camping companion coffee maker and utilizes a very similar brewing process to traditional Moka pots. Constructed of heavy guage 18/8 stainless steel, the Tops Percolater is designed to withstand even the toughest outdoor conditions, which makes it ideal for taking on that five day hike without worrying about dents and scratches.
It's available in 6-, 9- and 12-cup models, but tops out at a maximum weight of 1 pound. A glass cover knob will let you see the inner workings of the brewing process, and alert you to when the coffee is finished brewing, and the permawood handle means you can easily move the percolator in and out of the fire without worrying about burning your hand (even so, we recommend using an oven glove or similar to afford yourself maximum protection during use).
The major downside with using the Tops Percolater is the cleaning process. Because it's made from stainless steel, you'll need to carry some liquid soap in order to clean it thoroughly. While you can just chuck it in the dishwasher at home, out in the wild you'll likely to carry a few supplies in order to clean it thoroughly.
Pros
Heavy gauge 18/8 stainless steel construction
Variable brewing capacity
Glass cover knob, Permawood handle, & cup markings for easy measuring
Ideally for open fires
Cons
Not strictly a Moka pot
Requires extra cleaning supplies when camping in the wild
---
The Best Space-Saving Moka Pot for Camping: GSI Outdoor Moka Pot – 4/5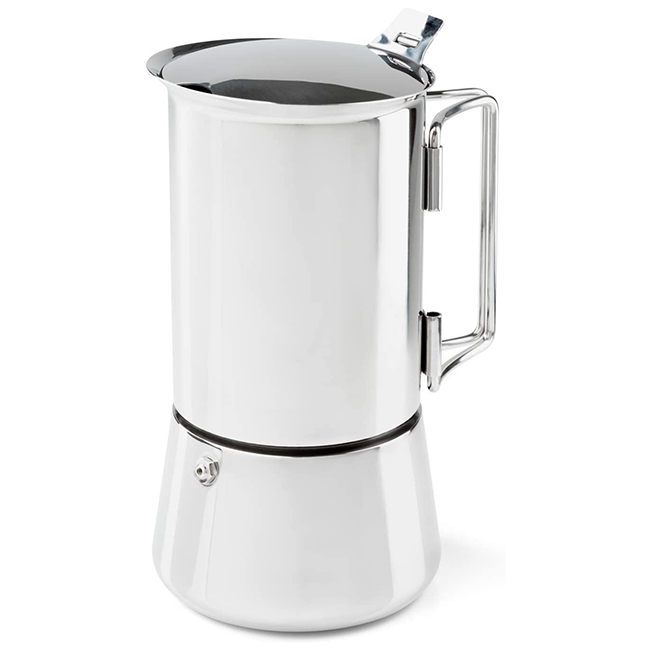 If you're planning a long hike and can't go without a cup of coffee, then look no further than the GSI Outdoor Moka Pot. Constructed from Glacier stainless steel, the GSI Outdoor Moka Pot is rust-proof, fire-proof and, unlike some other Moka pots, won't become discolored after multiple uses. It features a unique, collapsible design that sets it apart from competitors.
Other Moka pots use a fixed, rigid handle that protrudes from the body whether or not its in use. The GSI Outdoor Moka Pot's handles fold flat when not in use and extend outwards when brewing coffee so that you can easily move it to and from an open fire. This makes it ideal for brewing coffee in the morning and stowing it in your rucksack when it's time to get back on the road.
Capable of producing 6 cups of brew and weighing just 1.9 pounds, this Moka pot has an excellent brew-to-weight ratio, especially for larger hiking groups. Like other stainless steel Moka pots, cleaning up requires some dish soap and some elbow grease, and it's as straightforward as aluminium models.
Pros
Excellent collapsible and space-saving design
Rust- and fire-proof
Lightweight
30 year warranty
Cons
More expensive than other Moka pots
---
The Best Camping Moka Pot for Hiking: nCamp Portable Camping Coffee Maker – 4.5/5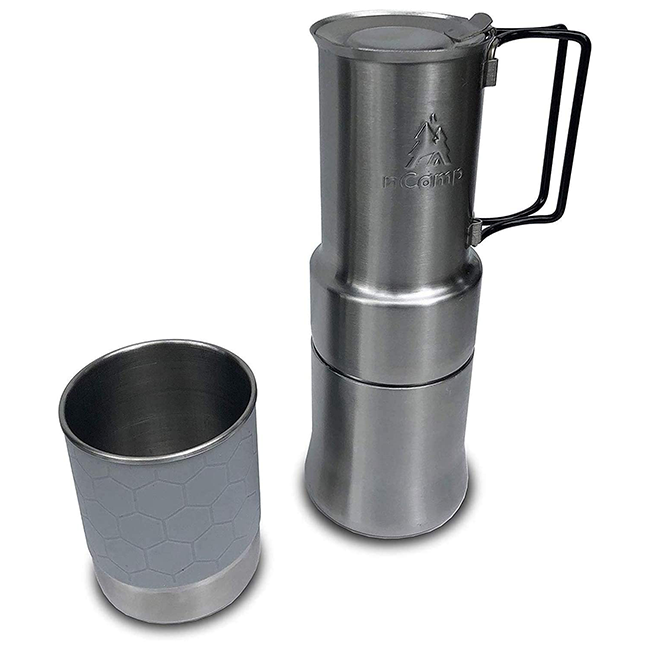 If you're looking for an all-in-one coffee making solution for hiking or camping, then the nCamp Portable Camping Coffee Maker should definitely be near the top of your list. Made from 304 stainless steel and featuring a modular design that can fold up into the size of a water bottle for easy transportation, the nCamp is designed to be used outdoors and often. It comes with an accompanying cup that can be used to drink the brew once it's ready and folding rubber coated handles to ensure that you don't burn your hands during operation. Since it was inspired by the classic Bialetti Express, the nCamp works in the same manner as a Moka pot, and is capable of making four 90ml cups of coffee. It also works seamless with other nCamp products such as nCamp Kitchen to Go and the nCamp Stove Plus.
The only downside to the nCamp is that you need a gas cylinder. While this may be a boon for some people, others who like to brew their coffee over an open fire or just like to not carry so much equipment with them on their hikes might prefer something like the Bialetti Express.
Pros
Constructed from 304 stainless steel
Ideal for long hikes
Works perfectly with other nCamp products
Makes up to four, 90ml cups of coffee
Cons
Needs a gas stove for operation
Can't be used over an open fire
---
The Best Moka Pot for Camping Buyer's Guide
Size
When buying the best moka pot for camping, size is going to be one of your biggest determining factors. You have to take into consideration the size of the group you'll be camping with, so you can accurately assess how much coffee you'll need to brew everyday. Is it just you? Then a 2-cup Moka pot is probably more than enough. If you're going with a group of friends, consider upgrading to 6- or 12-cup model depending on the number of people in your party.
Material
Closely related to size is material. Since you're going to be roughing it, sometimes in less than hospitable considitions, it's imperative that your Moka pot be made of sturdy materials that can last. Stainless steel and aluminium are two common materials used in the construction of Moka pots, and we recommend always making sure that the Moka pot you buy is constructed either of these.
Portability
Perhaps the most important factor for any sort of camping gear, whether it's a tent or a coffee maker, is portability. If you can't easily carry, move or set up your moka pot, then it's probably not the right piece of equipment for you (unless, of course, you have a car and you're not planning on moving once you set up camp). In this sense, it might be better to pack a smaller Moka pot that can be used multiple times, rather than a large Moka pot that can serve everyone simultaneously, but it bulky and difficult to carry around.
Price
The best moka pots for camping vary wildly when it comes to price, so before you buy one you should consider how often you intend to use it, and how long you intend to keep it for. You can definitely pick up a Moka pot at the cheaper end of the price spectrum, but if you're planning on camping for years to come, it makes more sense to invest in something that costs a little bit more, but is way more durable in the long run.
Conclusion
There we have it. If you're planning a camping trip, a lengthy hike or any other kind of outdoor excursion and can't bear to be without a nice cup of brew, then we hope that you'll find the above information useful. Any one of the best Moka pots for camping that we reviewed should be more than adequate for ensuring that you and your fellow campers remain caffeinated no matter where in the wild world you are.