Siphon coffee makers, also called vacuum coffee brewers, look like something you would find in the lab of a chemist rather than in the kitchen of a dedicated barista. These devices are surprisingly common, and are gaining traction on the coffee scene as a way of not only brewing delicious coffee, but to have fun while doing so. But are vacuum coffee makers really a revolutionary way of extracting flavor from your favorite beans, or are they just a gimmick designed to impress guests with much fanfare but little function? 
To answer this question, we're doing a deep dive of Bodum Vacuum Coffee Makers. As a brand well-known for making coffee equipment and accessories, they've set the standard when it comes to vacuum coffee makers. We'll be reviewing their products in detail to find out if a vacuum coffee maker should really be used for morning brew, or be repurposed as a measuring beaker instead.
---
Bodum Vacuum Coffee Makers at a Glance
The Bodum PEBO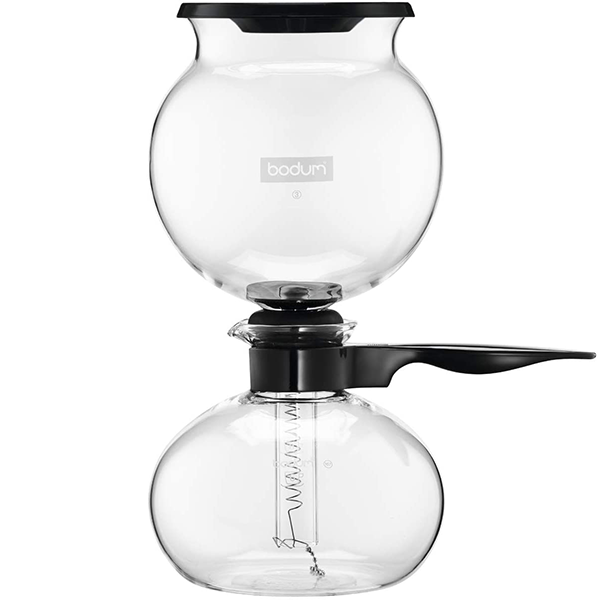 Overall rating:

4/5
The flagship model of the Bodum Vacuum Coffee Maker range, the PEBO is an exceptional device that extracts all of the coveted oils and flavors from your favorite beans effortlessly. It features a clean and classic design, excellent build quality, and is also great value for money – characteristics which define the rest of Bodum's Vacuum Coffee Maker catalogue.
Features at a glance
Decent brewing capacity. Available in 0.5l and 1.0l models.
Easy to clean.
Exceptional build quality. Bodum uses borosilicate glass.
Uses a plastic filter.
But what makes the Bodum Vacuum Coffee Maker so coveted, especially among a sea of competitors? To answer this question, we measured these siphon coffee makers with their counterparts and explored in detail the features that make them so effective.
Ease of Use – 4/5
It's worth knowing that vacuum coffee makers in general are more complicated to use than other coffee makers like a French press or moka pot. That being said, as far as vacuum coffee makers go, Bodum's range is pretty straight forward, and successfully brewing coffee is quite a rewarding process.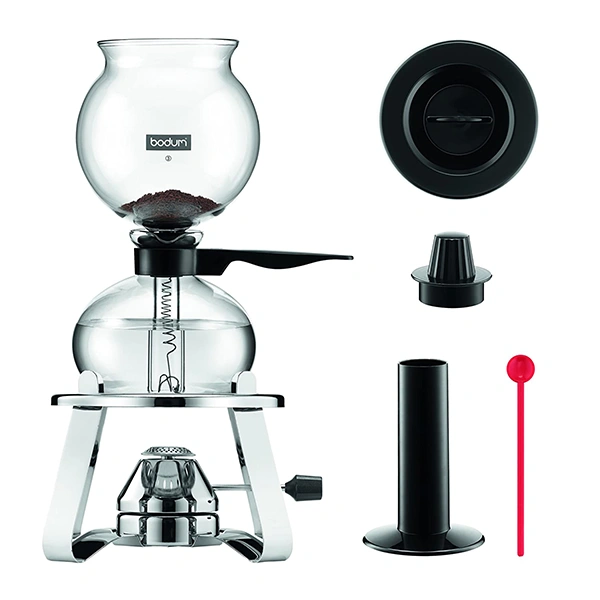 All vacuum coffee makers require a heat source, and Bodum's models are no different. However, you do have a choice of which one you'd like to use. The PEBO, for example, is a stovetop model and will work perfectly well with a gas, electric and induction stoves. It also works with a butane burner and is available with the whole kit if you prefer not using a stove.
When making coffee using the PEBO, it's important to stress that you should under no circumstances use a high heat. Let's just say that in doing our research we ended up with one too many broker coffee makers because of our eagerness to drink a cup of coffee. Instead, make sure that you use a medium heat. Once the coffee maker is ready to be taken off the heat, make sure that you don't place it on a cold or wet surface. This can also cause the glass to shatter.
The Bodum ePEBO (Electric PEBO) Variant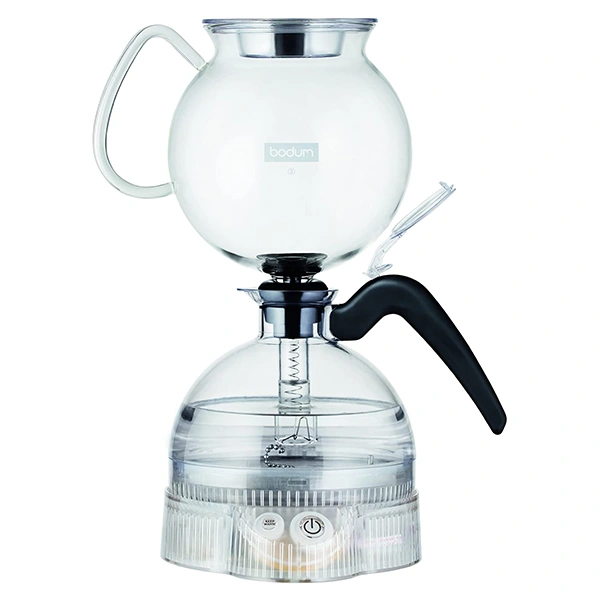 Overall Rating:
4.3/5
Bodum also offers their ePEBO model, which is essentially the same device, except that it's electric. It doesn't quite offer the same spectacle as the original, but it is convenient and coffee can be made quickly and easily.
Once you've chosen your heat source, the process of making coffee using a Bodum Vacuum Coffee Maker looks something like this:
Add water to the lower chamber – about 120ml of water for every cup of coffee you want to make.
Measure out your coffee. Use about 7g of grinds per cup of coffee that you intend to make.
Attach the top chamber and secure it, being careful not to burn your hands. Then add the coffee grinds.
As water boils in the lower chamber, it creates pressure that forces the water into the top chamber to mix with the coffee grounds.
When all the water has entered the top chamber, take it off the heat source. As the glass cools, vacuum pressure draws the brewed coffee down through the filter into the lower chamber.
The reason why Bodum's range didn't get 5/5 for this section is that it's not ideal for all scenarios. If you're making coffee for a small group or perhaps after a dinner party, it's perfect. However, if you're living alone or with your partner and you want a quick cup of coffee in the morning, then you really shouldn't be relying on a Bodum Vacuum Coffee Maker as your primary brewer.
Brew Capacity – 4/5
The PEBO and the ePEBO both come in 0.5l and 1l models. The 0.5l is able to brew around 4 cups of coffee, whereas the 1l version can brew 8. For larger households you'll definitely want the 1l version, and although it says it can brew 8 cups of coffee, they measure a cup as 125ml, so you'll probably only get around 6 when brewing to capacity.
Build Quality – 4/5
The build quality of Bodum's products is one of the strong selling points. The bulk of all Bodum Vacuum Coffee Makers, and some of their other products such as their French press, are constructed from borosilicate glass. This ensures that the whole device is lightweight and heat resistant. However, that being said, we've found that the glass construction means that the coffee maker is also somewhat fragile, and even the smallest of wrong steps will leave it in pieces.
While the bulk of Bodum's coffee makers are glass, this doesn't extend to the filter. Instead of a glass or cloth filter, Bodum opted to use a plastic one instead. Coffee purists might never want their brew to touch plastic as they fear it might change the taste, but we found that the plastic filter works really well, and it's also easy to clean.
The handles of both the PEBO and ePEBO are very well placed and well designed. Because they're made from plastic, they don't conduct very well, so you can easily handle the device without fear of burning your hands. The handles are also quite long, allowing you a lot of room to maneuver the device when moving it to and from your heat source.
Cleaning and Maintenance – 5/5
The borosilicate glass that comprises these coffeemakers is not only light and beautiful, it's also really easy to clean. Both chambers of the Bodum vacuum coffee makers are dishwasher safe, and the plastic filter catches every errant grind – more so than a cloth filter does – making the clean up process a dream.
---
The Pricing of Bodum Vacuum Coffee Makers
Bodum's range of vacuum coffee makers are arguably the best on the market. Given the high quality materials that the coffee makers are built from, their beautiful aesthetics, and the delicious final brew that they deliver, it's easy to believe that the cost of the PEBO or the ePEBO would be through the roof. But we're happy to report that both models are actually very reasonably priced, and are fantastic value for money on the whole. And since they're Bodum products, if something ever goes wrong you have access to their fantastic customer service, adding even more value to the purchase.
---
Who The Bodum Vacuum Coffee Maker Is (and Isn't) For
The Bodum PEBO is Best for Making Coffee For Small Groups
If you're having a dinner party and would like to impress your friends with a novel and somewhat showy way of making coffee, then the Bodum PEBO is definitely the coffee maker you should be using. Not only does it make delicious brew, but the process of making it is a spectacle in and of itself.
Bodum's other vacuum coffee maker, the ePEBO, doesn't quite have the same charm and appeal. It's better suited to small households, and is ideal if you want a more hands off and automated approach to siphon coffee making.
Reasons to

Avoid

The Bodum Vacuum Coffee Makers
While both the PEBO and ePEBO are wonderful devices, they're not for everyone. If you're clumsy and destroy anything delicate that comes within your orbit, we'd suggest steering clear of the Bodum's vacuum coffee makers.
If you have a small kitchen or limited countertop space, we'd also recommend going with a different coffee maker. Part of the appeal of siphon coffee makers in general is their aesthetic. However, if you don't have the space to have it on display, or it has to live in a cupboard in between brews, it would be easier just to invest in something smaller and equally effective like a Moka pot.
And finally, if you prefer a simple, more straightforward method of brewing coffee, then using a vacuum coffee maker is probably not for you. While not terribly complicated, it does require a lot of attention and supervision. If you like not having to think about brewing your coffee, you might be better off investing in an espresso machine or something similar.
---
Vacuum Coffee Makers We Liked A Little More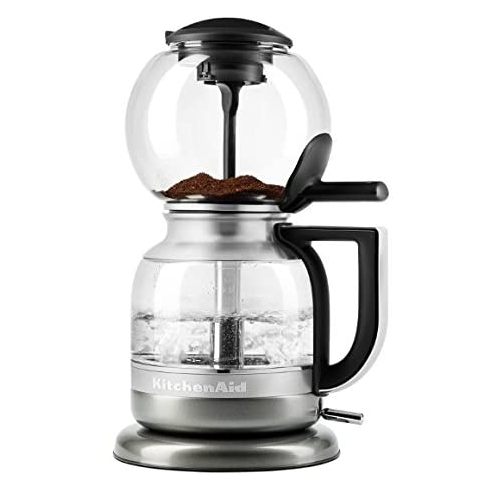 While Bodum's ePEBO is a great product in its own right, it's not our favorite electric vacuum coffee maker. We found that the siphon coffee brewer by KitchenAid outperformed it in several metrics. The construction of this machine is incredibly solid but this doesn't take away from its functionality, which is equally excellent. It is able to make up to 8 cups of coffee, and also uses either a reusable stainless steel filter, or a cloth filter to give you more precise control over the strength of the final brew that you want.
It's also extremely simple to use. It makes use of a one-touch switch to start and stop the brewing process. Once started, you'll have delicious coffee in under 7 minutes.
---
Vacuum Coffee Makers We Liked A Little Less
The Hario Technica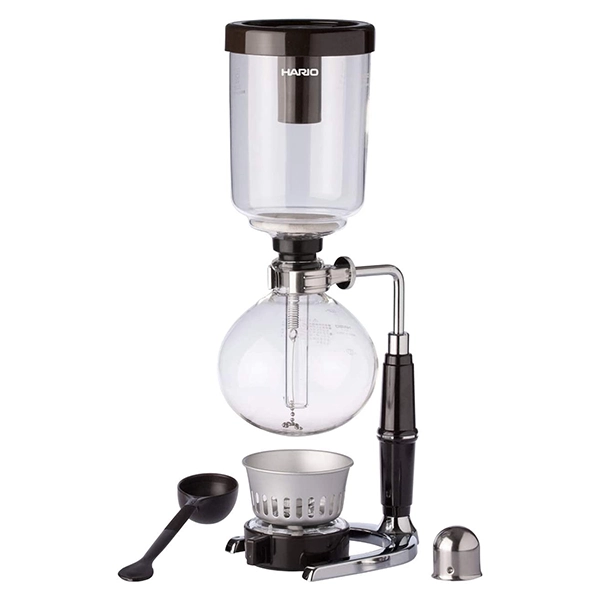 Hario's Technica Siphon Coffee Maker is a countertop vacuum coffee maker that is generally seen as a rival to the models on offer from Bodum – but we don't like it as much. To start with, Hario's coffee maker is a countertop model, which means it exclusively uses an alcohol burner for a heat source. This doesn't make it a terrible vacuum coffee maker by any stretch of the imagination. In fact, it makes delicious coffee and is great if you want to perform a bit of theater for your friends while you brew. But we don't like that you can't use a gas, electrical or induction stove and have to rely solely on alcohol as a fuel source, which can be slow, uneven and just inconvenient. Hario's model is also a bit more expensive than the PEBO.
The NISPIRA Balance Syphon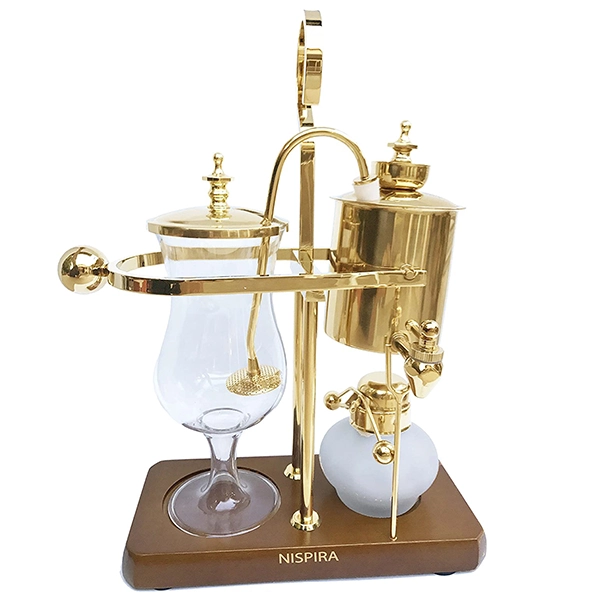 The NISPIRA Balance Syphon is another vacuum coffee maker that doesn't quite outperform either Bodum's PEBO or ePEBO, but comes quite close. Like the Hario Technica, it works using an alcohol burner, and so suffers from the same drawbacks that come with depending on a burner as fuel source. That being said, it's a beautiful piece of equipment, one that seems like it comes straight out of a Lawrence of Arabia tale. You pay for it, however, with the NISPIRA costing around double the price of Bodum's PEBO. Still, if you value aesthetic over functionality (no judgement, may people do), then the NISPIRA might be a good option.
---
Bodum Vacuum Coffee Makers: The Final Verdict
Bodum is a company known for their high quality, elegant glassware and kitchen appliances, and their range of vacuum coffee makers exemplify this perfectly. Both the PEBO and ePEBO are beautiful and functional devices, and great additions to any kitchen. The use of a plastic filter might throw some caffeine fiends off, but if you can get past this little hurdle, they're great products and great value for money.