There's no better feeling than putting the city in your rearview mirror and escaping to the great outdoors for a backpacking adventure… except maybe bringing your favorite coffee beans with you, grinding them at the door to your tent, and enjoying the freshest possible cup of coffee while lost in the depths of nature.
To make this dream possible, however, you'll need not only your favorite coffee beans but a portable, cordless grinder that can help you achieve the desired grind effectively and consistently – which brings us to this article. Below we'll be taking a detailed look at the best cordless and ultra-portable camping coffee grinders on the market, why you need them, and how they can elevate your coffee and camping game to the next level.
These devices are the perfect compliment to a portable coffee maker or a battery-operated brewer, both of which are perfect for making coffee no matter where you find yourself in the world.
---
Editor's Pick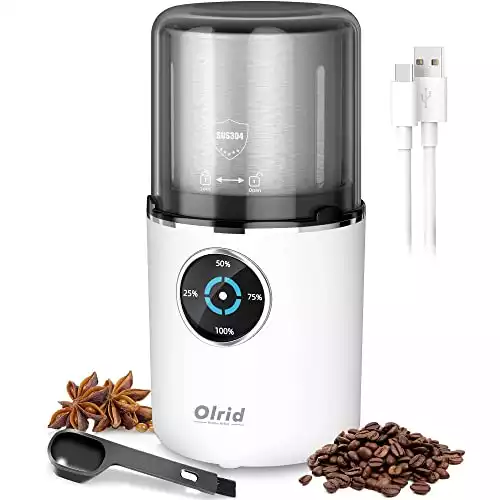 Olrid Cordless Coffee Grinder
If you can only have one, then it has to be the Oldrid Cordless Coffee Grinder. Capable of reducing whole beans from a coarse chuck all the way to an ultrafine powder at the touch of a button, and with a capacity of up to 12 cups of coffee's worth of beans, the Olrid is the perfect battery-powered coffee grinder for any camping trip.
Buy Now
Caffeinefiend is reader-supported. We may earn a commission if you make a purchase, at no additional cost to you. We research and test the best products for our readers, and we only continue to run thanks to your support.
---
The Best 7 Camping Coffee Grinders at a Glance
Oldrid Cordless Coffee Grinder
Best Overall Camping Coffee Grinder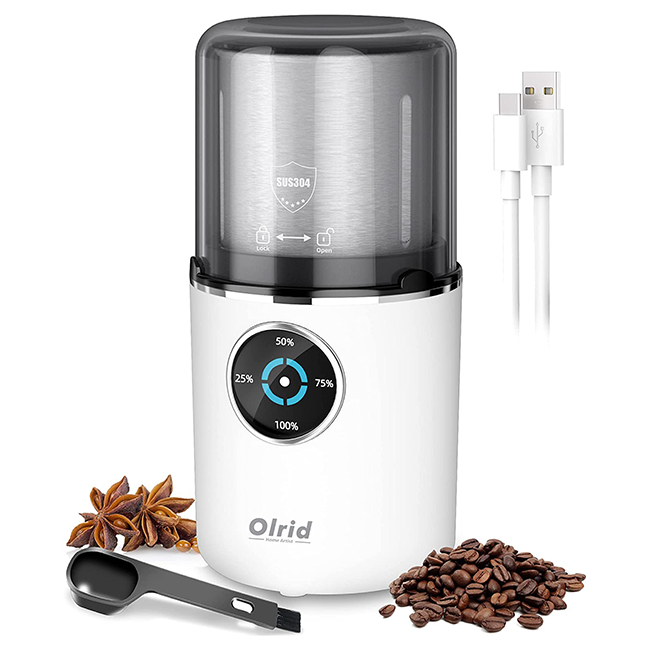 See Price
Easy Grinder
Best Compact Battery-Powered Camping Coffee Grinder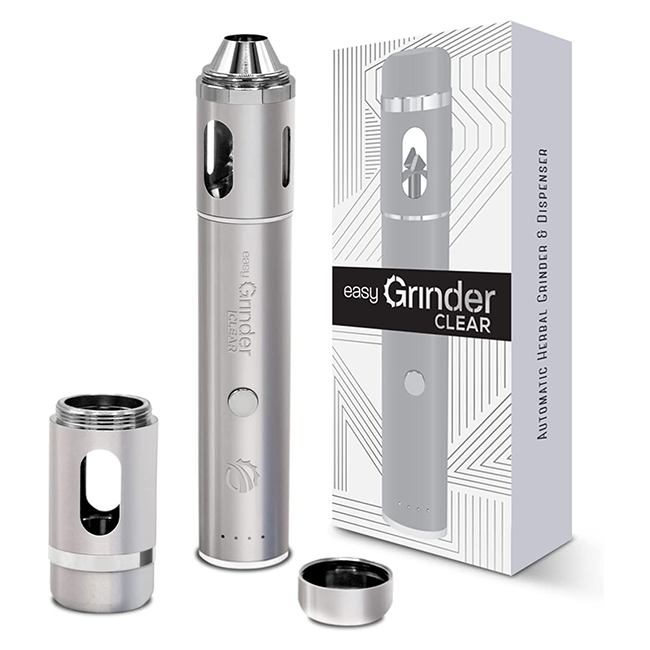 See Price
GARDOM Cordless Coffee Grinder
Best Minimalist Camping Coffee Grinder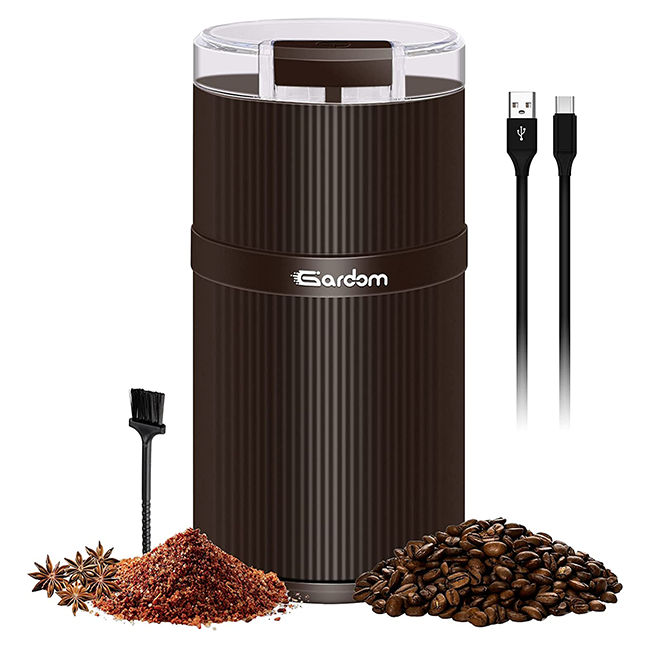 See Price
DmofwHi Cordless Coffee Grinder Electric
Best Amazon Camping Coffee Grinder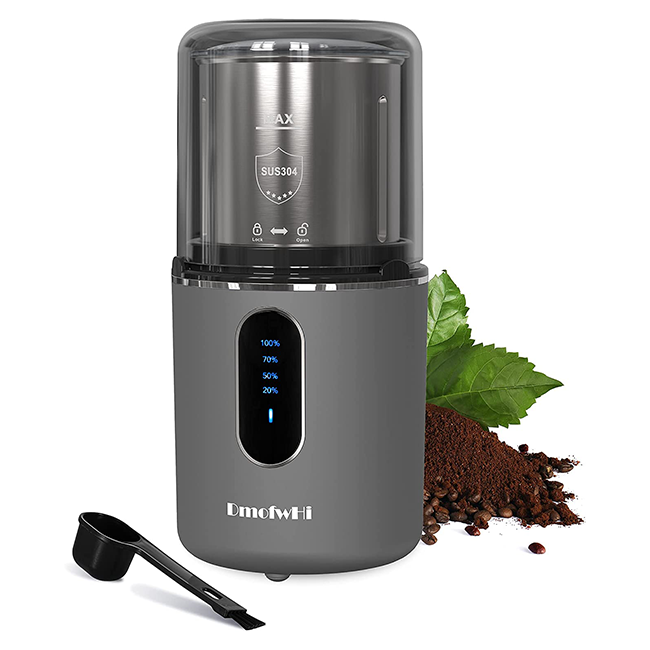 See Price
JavaPresse Manual Coffee Bean Grinder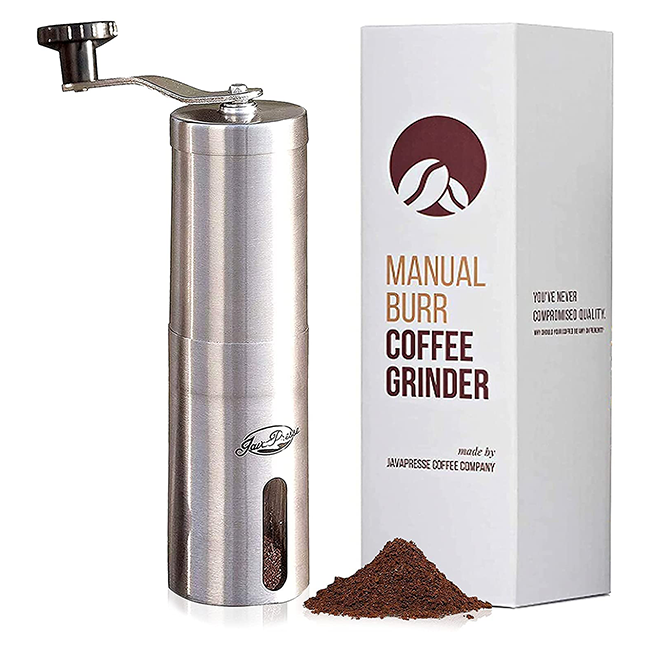 See Price
Hario "Skerton Plus" Ceramic Manual Coffee Grinder
Best Basic Manual Camping Coffee Grinder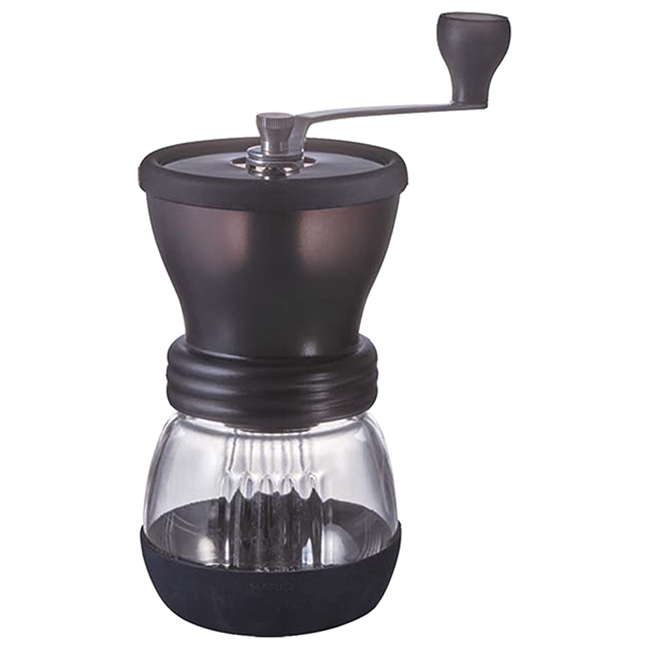 See Price
TIMEMORE C2 MAX Manual Coffee Grinder
Best Premium Manual Coffee Grinder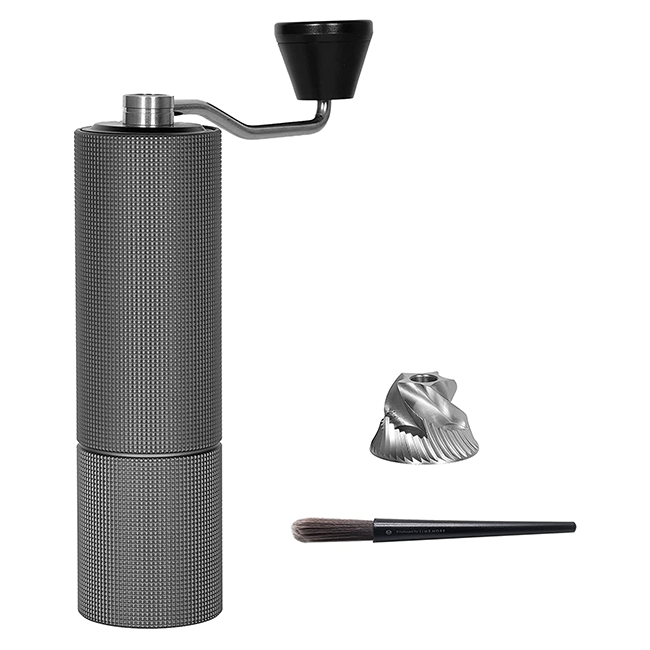 See Price
---
Why Do I Need a Camping Coffee Grinder?
If you're on the fence about purchasing a camping coffee grinder, you might ask yourself – why do I need one in the first place? You don't really. And by that we mean, it's not an essential piece of equipment if all you want is a standard cup of coffee. If you want great coffee, however, then it's a different story.
But having a portable hand coffee grinder or electric coffee grinder will enhance your morning or evening cup of joe to whole new levels of flavor and fragrance, not to mention freshness. Because coffee beans start to oxidize the moment they are ground, a lot of essential flavor oils and aromas are lost. Because of this, the quicker that the beans are ground and brewed, the stronger and more flavorsome the resulting cup of coffee will be. You could grind your beans at home before you leave, seal them in an air-tight container and crack them open once you're ready to brew. The problem with this scenario is that you'll only be able to enjoy one fresh cup of coffee the day you crack open the seal. By the third day of your camping trip, the grounds will have taken on oxygen and will pale in comparison to the first.
Having a portable coffee grinder means you can grind your beans as and when you need them, ensuring that every cup of coffee is as fresh as the first one. And since the coffee grinders on this list are ultra-portable, you can simply pop them in your rucksack with the rest of your gear without a second thought.
---
In-Depth Review of Our Top 7 Camping Coffee Grinders
---
The Best Overall Camping Coffee Grinder: Oldrid Cordless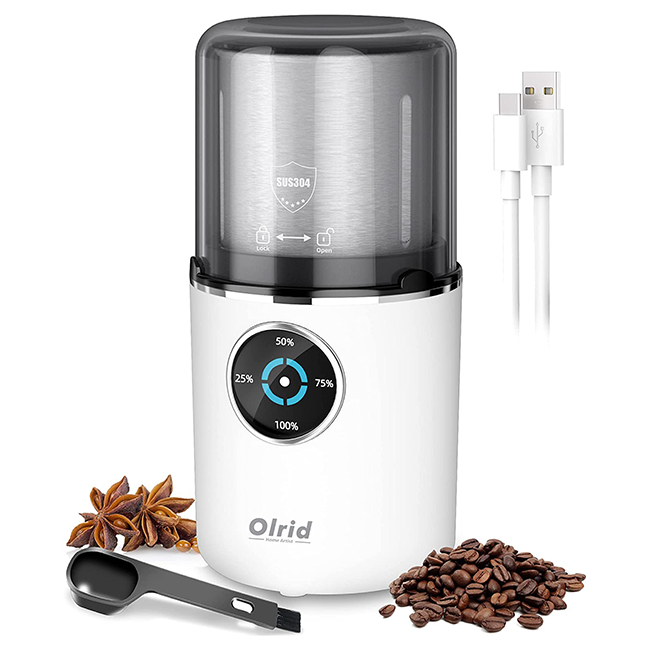 The Olrid Cordless Coffee Grinder is an all-rounder that ticks all of the boxes for anyone in the market for a camping coffee grinder. Firstly, it's battery-powered and rechargeable, which means you don't have to break a sweat grinding your beans, and can recharge the battery directly from your car or power bank. When fully charged, we got about three hours of use from it, enough to grind your beans about 25 times. If you're someone who suffers from charge anxiety (like many Tesla users, for instance), you can see how much power is left by looking at the display on the front of the grinder, and rest assured that you will still have enough juice for grinding when the morning comes and coffee is needed.
In terms of grind size, there are no predetermined settings, and you can select and determine it simply by operating the grinder for a longer or shorter period of time. Just press the top lid to start the motor and loosen it to stop. 6 seconds will give you a coarse grind, 10 will give you medium, and 15 will give you fine. The 304 stainless steel blades make short work on any beans up to 170 grams, which is the maximum capacity of the grinder. Most of the device is modular and detachable, making it extremely easy to clean once you're finished grinding.
And while we really like most of the features of this grinder, we did find one fault that turned us off slightly – you can't use the grinder while it's charging, so you have to wait until it's fully charged to grind your beans. If you're a stoic or a devout follower of some other sect impervious to suffering and hardship, then this shouldn't be a problem. If you're a grumpy human mortal who can't wait an hour to grind their beans and brew their coffee, this might anger you.
Pros
Rechargeable lithium-ion battery
Three hours of use per charge
Front display shows how much battery life is left
Easy to take apart and clean
Cons
Can't use the grinder while it's charging
---
Best Compact, Battery-Powered Choice: Easy Grinder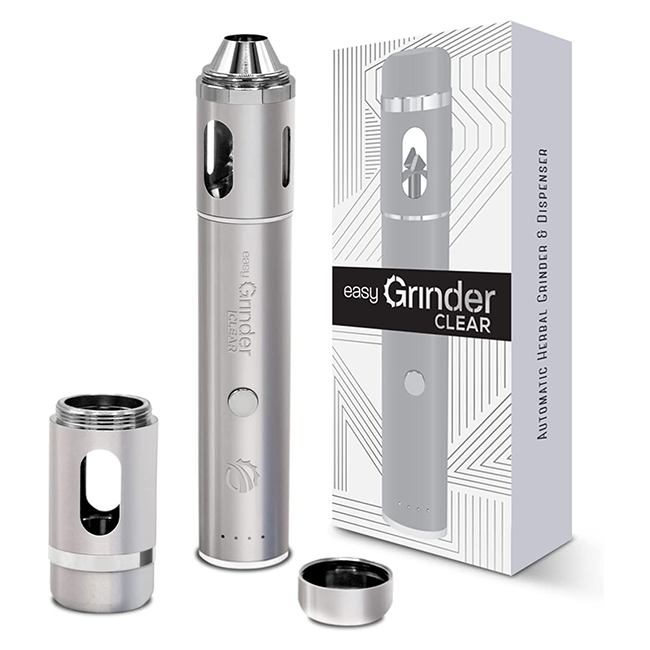 If you're looking for an ultra-portable electric coffee grinder for small batches of beans, then the Easy Grinder is for you. Unlike models such as Olrid, which can handle much larger quantities, the Easy Grinder is built to handle small quantities of beans – and even herbs and spices – for single brews. Operating the Easy Grinder couldn't be simpler; just unscrew the top of the device, pop your beans in, reattach the lid, then press and hold the button to engage the motor and the blades. Like other cordless grinders on this list, there are no predetermined grind settings, and you can achieve a finer grind size simply by grinding the beans for a longer period of time.
A neat little feature of the Easy Grinder is that you can actually watch the magic happen through a little glass window. Once you're happy with the consistency of your beans, simply unscrew the top lid of the grinder then empty out your grounds. As we mentioned earlier, this grinder doesn't exactly have the largest capacity in the world, so if you're looking to brew prodigious amounts of coffee while you're out camping, this might not be the device for you.
Pros
Extremely lightweight and ultra-portable
Intuitive to use
Long-lasting, rechargeable battery
Cons
Very small grinding volume
---
Best Minimalist Choice: The GARDOM Cordless Coffee Grinder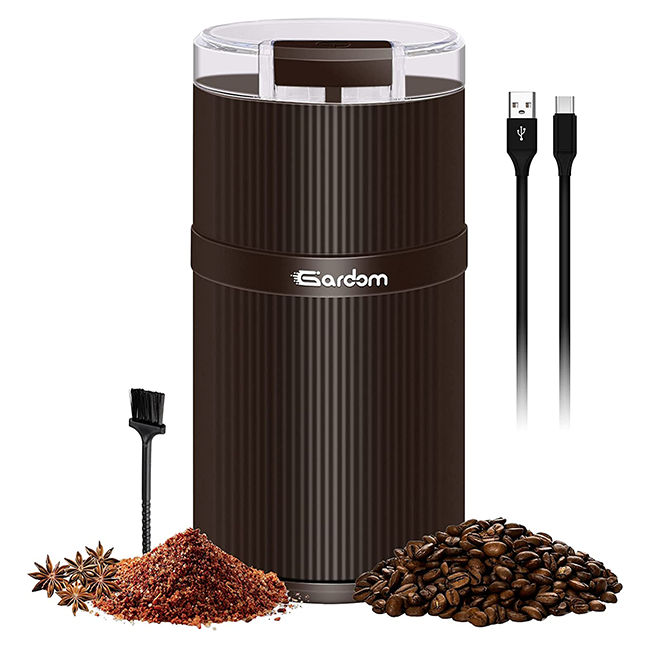 If you're looking for a portable, no-frills battery-powered camping coffee grinder that does precisely the job it's designed to do without any extra bells and whistles, then look no further than the GARDOM Cordless Coffee Grinder. Equipped with a high-quality stainless steel blade and a 1600mah lithium-ion battery, the GARDOM can effortlessly grind any beans to the desired consistency. Operating the grinder couldn't be simpler or more intuitive; rotate the dial to the desired setting, then push on the lid-activated switch. The lid is transparent, so you can keep an eye on the consistency of your beans as the grinder works and see once it reaches your desired grind size.

The battery works with a USB-C port, so you can easily charge the grinder using a power bank or car battery, although since you'll need to run through a couple of hundred charges to deplete the battery, it's unlikely you'll need to recharge on a single camping trip. While the GARDOM is a good all-rounder, the steel blade will always fall short of grinders that use burrs and struggle to achieve the same consistency and repeatability.
Pros
Simple, minimalist design and operation
USB-C port means the battery can be recharged with a power bank
Transparent lid lets you keep an eye on the grind size of your beans during operation
Cons
Steel blade is not as precise as burr grinder
---
Best Camping Coffee Grinder on Amazon: DmofwHi Cordless Coffee Grinder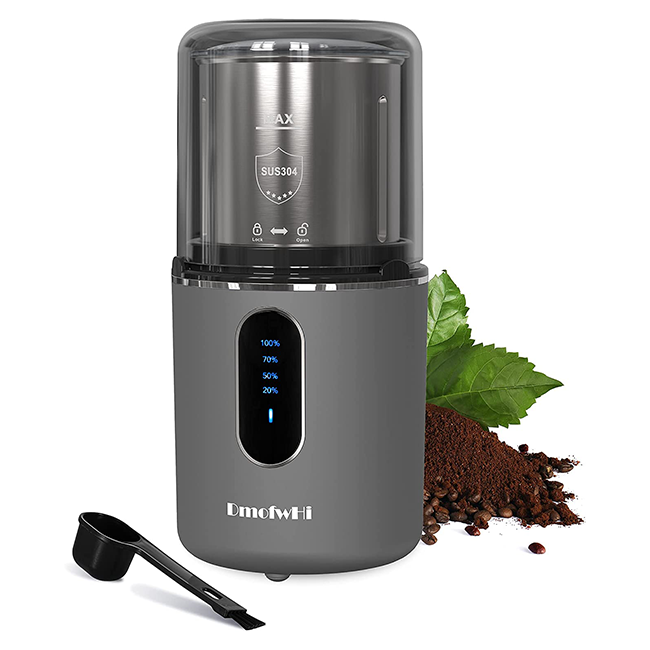 As far as Amazon products go, the DmofwHi Cordless Coffee is one of the better blade grinders currently on the market. While the brand might be a bit difficult to pronounce, the build quality is pretty great and it does exactly what it says on the tin. It features a 2000mAh battery, which means you're going to get a significant amount of use out of it before you need to recharge, and you'll know how much charge is left in the battery thanks to a display on the front of the grinder. In terms of capacity, you can grind up to 170g of beans per use – enough to make 12 cups of coffee. There are no predetermined grind settings; the longer you operate the grinder for, the finer the end product. We found that 5 seconds was perfect for a coarse grind, 10 seconds for medium, and 20 seconds for fine.
The blade the grinder uses is made from 304 stainless steel, hard and durable enough to grind coffee beans, herbs, and spices for years to come. Once you're finished using it, you can disassemble the entire grinder for easy, hassle-free cleaning.
Pros
Large battery capacity
Large capacity – up to 170g or 12 cups of coffee
304 stainless steel blade
Cons
Stainless steel blades aren't as good as conical burrs
---
Best Manual Camping Coffee Grinder: JavaPresse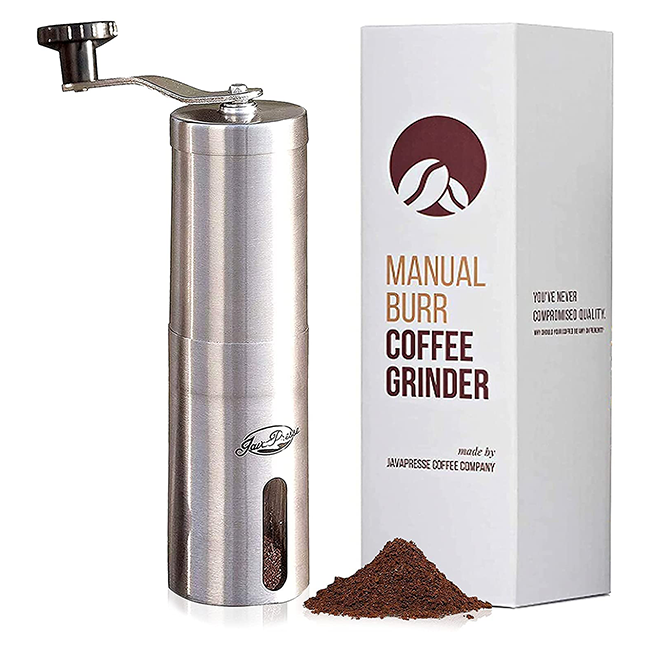 The JavaPresse Manual Coffee is the ideal burr mill for campers and coffee drinkers who don't want to bother with batteries but who also don't want to spend a fortune on a manual hand grinder. Featuring a sleek, stainless steel design, the JavaPresse coffee mill is a no-frills manual grinder that makes use of ceramic burrs in order to efficiently and effectively grind any beans it comes into contact with into your desired coarseness. It has 18 different grind settings so you can fine-tune your grind size to precisely match how you like to brew your coffee. To adjust the grind setting, simply disassemble the grinder then turn the dial located directly on the ceramic burr, then simply start the coffee grinding process.
While it might require a bit of elbow grease to get going, the benefits of a manual coffee grinder are pretty myriad. You won't ever have to worry about running out of charge when you're in the middle of nature, or waking up your significant other every time you have to grind coffee in the morning. The only issue we have with the JavaPresse is that, like many other hand grinders on the market, the end result isn't always fully consistent. If this is something that bothers you, then it might be worth investing in an electric grinder like the Olrid, or a really high-end manual grinder like the Comandante C40 MK3.
Pros
Lightweight
Durable
Uses conical burrs with 18 different grind settings
Silent
Cons
Doesn't always grind consistently
Takes up to two minutes to process
---
Best Basic Choice: Hario "Skerton Plus" Ceramic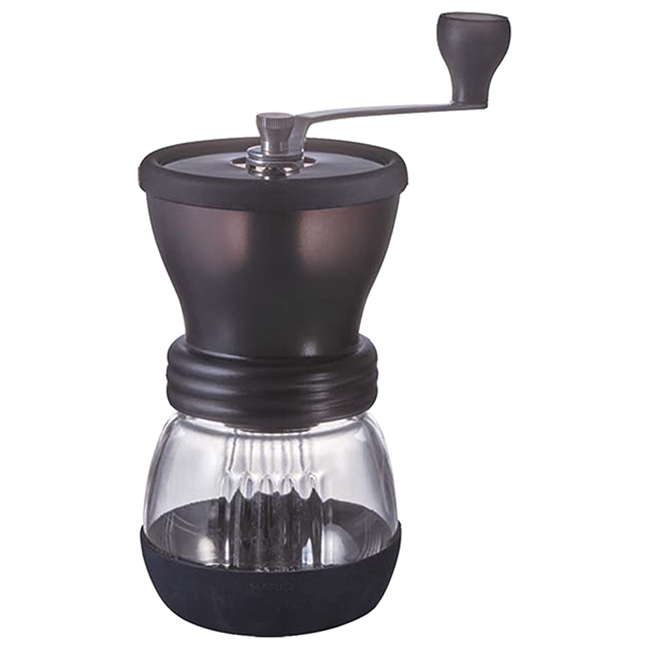 The Hario "Skerton Plus" is a ceramic burr coffee grinder that has a reputation for being one of the best and most reliable on the market. It's the evolution of one of Hario's previous models, this time with a stronger grind shaft and burr stabilization plate, both of which deliver a more uniform grind than previous models. It uses conical burrs to grind the beans, which many people feel is a step up over steel blades used on other models. Another cool feature is the non-slip silicone base, which ensures that the grinder stays stable during operation.
In terms of size, the Skeron Plus can hold up to 100g of beans at a time. It has a number of different grind settings which can be adjusted by removing the handle and lid and then turning the stepped adjustment dial beneath. While we like that it has a variety of different grind sizes, we found that having to remove the handle to adjust it was quite finicky and time-consuming.
Pros
Lightweight and portable
Ceramic burrs
Reliable brand
Cons
Changing grind sizes is a bit difficult
---
Best Premium Manual Coffee Grinder: TIMEMORE C2 MAX Manual Coffee Grinder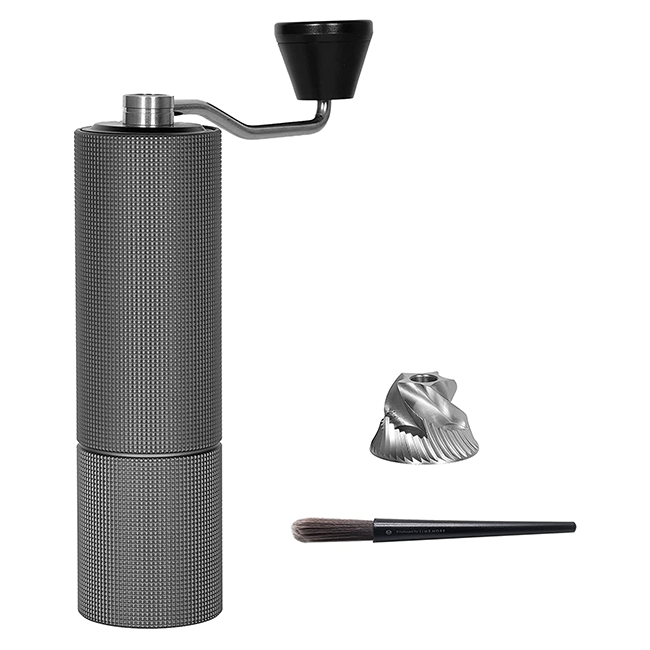 If you're looking for a manual coffee grinder that is a bit more premium then the TIMEMORE C2 Max should definitely be on your radar. Built from stainless steel with stainless steel burrs and weighing less than a pound, the C2 Max delivers the ultimate combination of functionality and portability. Unlike cheaper manual coffee grinders, the C2 Max delivers a consistency that is hard to replicate.
The settings are also very easy to adjust. Simply unscrew the device and turn the interior dial to set your grind size, listening for clicks as you do so. We found that between 10 and 14 clicks were perfect for espresso, between 18 and 24 was great for pour-over, and 25 to 27 delivered the ideal consistency for French press.
To use the C2 Max, simply disassemble the grinder and set your desired grind size. Next, reassemble the grinder, then pop the lid and handle off of the top. Insert your beans – the C2 Max can hold around 30 grams – then put the lid back on and crank the handle until your beans reach the desired grind size.
Thanks to the airtight design of the C2 Max, cleaning is ridiculously easy. You don't have to worry about soap and water, and instead can clean it using just a brush, which is ideal if you're camping without access to warm, freshwater.
Pros
High-quality build
Stainless steel burrs
Lightweight
Easy to use
Cons