For many people making espresso sounds like an otherworldly pursuit best attempted only by professional baristas with ungodly amounts of expensive equipment. Luckily for coffee lovers all over the world, access to good, homemade espresso is easier than ever. The best cheap espresso machines on the market make it possible to make delicious, affordable espresso in your kitchen–any time!
And really it's not that much of a miracle. When it comes down to it, making espresso is a straightforward process that involves simply forcing hot, pressurized water through ground coffee. Achieving adequate heat and pressure, however, requires the help of an espresso machine.
Historically these machines have always been quite intricate and expensive. But like most things in the world, innovation and mass production has slimmed down both production complexity and the cost to consumers. Today it's possible to get your hands on a machine that will make you decent espresso for less than $200.
And with that in mind, let's take a look at some of the best cheap espresso machines of 2020.
Editor's Pick for Best Cheap Espresso Machine — Café Barista by Mr.Coffee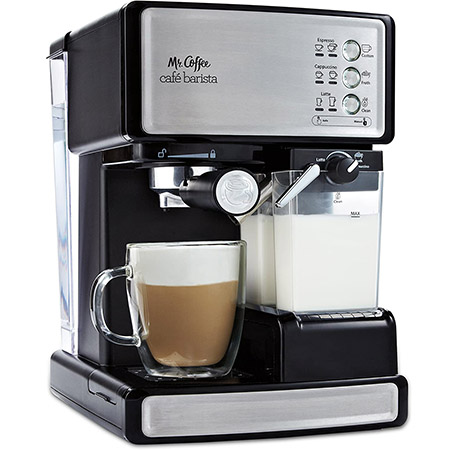 Price: 4.5/5
Quality: 4.5/5
Build: 4.5/5
The Mr. Coffee Cafe Barista can easily make lattes, cappuccinos and, of course, espressos. It can produce up to 15 bars of pressure, and it comes with a milk reservoir and automatic milk frother.
---
Cheap Espresso Machines: A Comparison of our Favorites in 2020
---
The 10 Best Cheap Espresso Machines: Reviews
---
Mr. Coffee Cafe Barista Espresso And Cappuccino Maker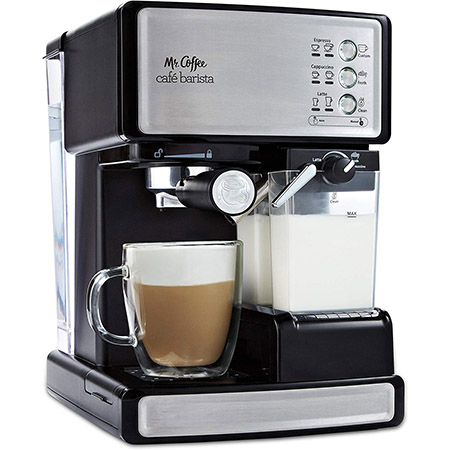 If you're looking for something that won't break the bank but will still pull a decent cup of coffee, then the Mr. Coffee Cafe Barista Espresso and Cappuccino Maker is the answer. This machine will produce most styles of coffee effortlessly and will even top it off with foamy cream.
The Mr. Coffee Cafe Barista can easily make lattes, cappuccinos and, of course, espressos. It can produce up to 15 bars of pressure, meaning you won't have to worry about generating enough force for a decent brew. It also comes with a milk reservoir that can be easily removed and stored in the fridge to preserve whatever leftover milk it contains.
Unfortunately it's not all smiles and rainbows. While the Mr. Coffee Cafe Barista automates much of the coffee-making process, it's not always uniform in its execution. It sometimes struggles to achieve consistent temperatures and can even get clogged if very finely ground coffee is used.
| Pros | Cons |
| --- | --- |
| Affordable price and solid build quality. | Inconsistent temperature during use. |
| Automates much of the coffee-making process. | Can get clogged quite easily. |
De'Longhi BAR32 Retro 15 BAR Pump Espresso and Cappuccino Maker
At first glance, the De'Longhi BAR32 Retro 15 BAR Pump Espresso and Cappuccino Maker looks as though it might have been salvaged from your grandmother's house. With its rotary dials in lieu of a digital display and its somewhat twee design, this espresso machine feels as though it comes from another era.
But the BAR32 is anything but old fashioned. Designed to look retro and hip, this cheap espresso machine has all the inner workings of a modern appliance.
As evidence of this, the BAR32 takes pods as well as ground coffee. Its steam wands can make lattes and cappuccinos by the dozens, and the 35oz water tank holds enough liquid for five shots of espresso. And unlike an authentically vintage coffee maker which requires a fair amount of elbow grease for operation, the BAR32 primes itself.
Designed to be easily cleaned, this machine is just slightly more expensive than other espresso machines on this list.
| Pros | Cons |
| --- | --- |
| Cool retro design. | Making a double espresso as opposed to a single can be a challenge. |
| Great pressure and ease of use. | Steam wand has the tendency to leak. |
Espresso Machine 3.5 Bar 4 Cup Espresso Maker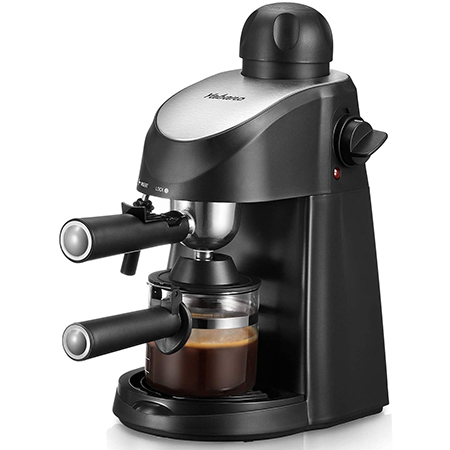 You might be mistaken for thinking that the more affordable Yabano's Espresso Machine can't throw down with the rest of the contenders on this list. But like the proverbial dynamite in a modest parcel, Sowtech proves you don't have to be big to deliver results.
At the core of its operation, Yabano's cheap espresso machine relies on simplicity. With just a single knob for all your espresso requirements, operating this espresso maker is child's play. It's design is likewise stripped back yet elegant, and overall it has no trouble delivering a tasty, rich shot of espresso.
However, it's not perfect. The steam wand struggles to heat milk consistently, and this may be enough to raise a number of eyebrows among consumers. However, for the price on offer it's understandable that it's unlikely to be a perfect machine.
| Pros | Cons |
| --- | --- |
| Extremely affordable. | Lacks certain features due to its simplicity. |
| Very easy to use. | Doesn't always heat milk consistently. |
Nespresso by De'Longhi EN85B Nespresso Essenza Mini Espresso Machine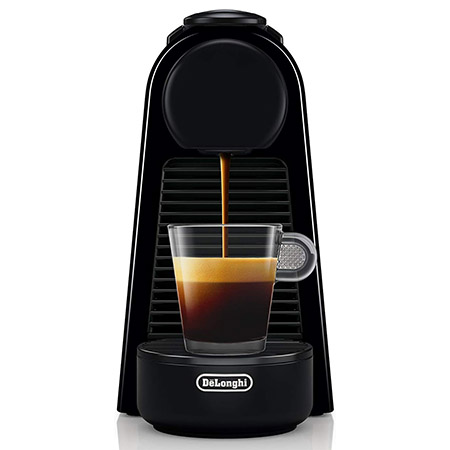 If having enough space in your kitchen has been the factor keeping you from buying a cheap espresso machine, then you no longer have an excuse. The Nespresso Essenza Mini Espresso Machine is the ideal piece of equipment for tiny kitchens. It's surprisingly affordable too.
Nespresso has a long history of making quality coffee equipment, and the Essenza Mini is no exception. With a beautiful, sleek design, this cheap espresso maker is not only functional but would look great on any kitchen counter.
It's also very easy to use thanks to its one-touch programmable button. After selecting your option you can expect it to heat up and deliver an espresso in less than a minute.
The machine does have its drawbacks, however. It relies solely on Nespresso pods, meaning you're beholden to Nespresso's products for your morning brew. The Essenza Mini also only makes one style of coffee, so if you're in the mood for something other than espresso, you're out of luck.
| Pros | Cons |
| --- | --- |
| Small economical design; fits in any kitchen. | Only makes espresso. |
| Quite affordable. | Relies entirely on Nespresso pods for coffee. |
Capresso 303.01 Espresso Maker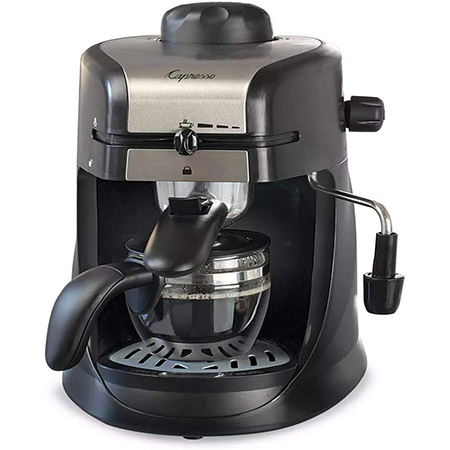 Another mini espresso maker that won't break the bank, the 303.01 Espresso Maker by Capresso weighs just 7lbs. It has a low price compared to other machines here, but the price doesn't mean low quality, however, as the 303.01 hits where the other espresso machines miss.
The 303.01 gives you an impressive amount of control over the type of brew you're making. It not only makes shots of espressos, but can crank out cappuccinos just as easily. It also features an adjustable steam wand which makes frothing milk a breeze.
For all its merits, however, the 303.01 also suffers from a few drawbacks. The machine itself requires quite a lot of attention while in use, and so isn't as effortless as others on this list. A few consumers have also commented that the milk wand isn't as consistent as it should be.
| Pros | Cons |
| --- | --- |
| Makes both cappuccinos and espressos. | Steam wand is inconsistent. |
| Extremely affordable. | Requires a lot of attention during the brewing process. |
Premium EspressoMaker PEM350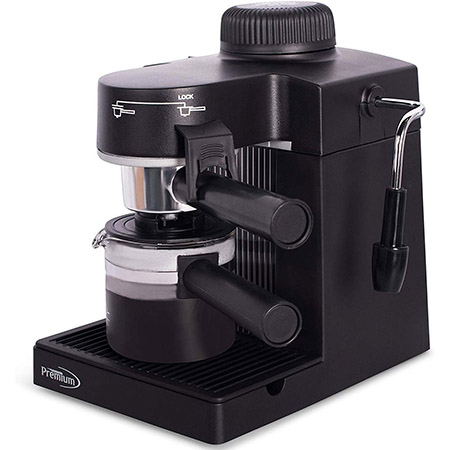 If you're really trying to save money then you probably can't do much better than the Premium Espresso Maker PEM350. This is the cheapest espresso machine on our list, so don't expect any miracles.
The PEM350 will do exactly what it says on the box – that is, make a shot of espresso – but it won't do much else. It is singularly designed to do one thing, and it executes that function pretty well.
But for this price there will always be drawbacks. To start with, it's not the prettiest machine in the world. But if you value strong coffee and looks are of secondary concern to you then this shouldn't disappoint you too much.
On top of that the steam wand isn't the most effective milk frothing tool in the world, and tends to clog up pretty easily. The machine itself can also be quite tricky to use at times. That being said, this is a list of the best cheap espresso makers, so it's understandable that this machine is not Michelin quality.
| Pros | Cons |
| --- | --- |
| A very cheap espresso machine. | Steam wand is not very effective. |
| Makes a decent shot of espresso. | Can be quite tricky to use. |
Barsetto Espresso Machine 15 Bar Coffee Machine, Stainless Steel Coffee Brewer with Milk Frother Wand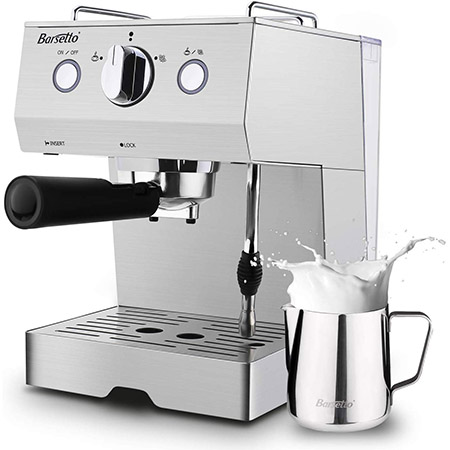 If you're looking for an all-rounder that stands out in terms of price, performance and aesthetics, then it has to be the Barsetto Espresso Machine. Not only does this beautiful piece of equipment make a delicious espresso, but it's also amazingly simple to use. This functionality and ease of use is available for the very reasonable price point.
Let's talk about features. The Barsetto Espresso machine does more than simple espresso shots; it also has the ability to make creamy and luxurious lattes and cappuccinos. Its 15 bar pressure system means that the shots of espressos it does make are of the highest quality.
It also features a double-spout espresso system for making two shots of espresso simultaneously.
The stainless steel construction of the Barsetto Espresso Machine not only makes for an aesthetically-pleasing appliance, but also means it's durable and easy to clean. Overall, a suburb all-rounder and very worthy of the price that it commands.
| Pros | Cons |
| --- | --- |
| The best all-rounder budget espresso machine. | Tends to leak if too much coffee is used. |
| Makes a variety of different coffee styles. | Steam wand sometimes leaks. |
Mueller Espresso Machine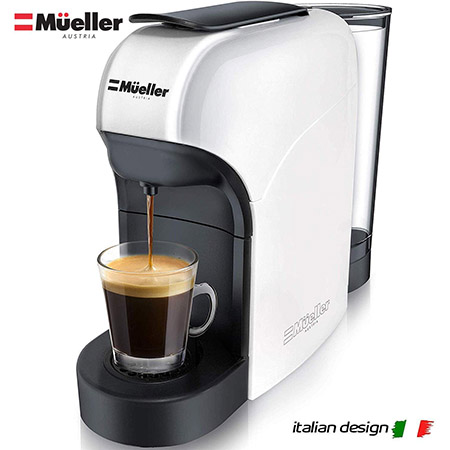 If ground coffee isn't your thing and you prefer the ease and convenience of coffee pods, then the Mueller Espresso Machine is the piece of equipment your kitchen needs. Capable of producing up to 20 bars of pressure, this smart and robust espresso machine delivers creamy espresso with intense aromas every time.
Functionality aside, the Mueller Espresso Machine is also a delight to look at. With sleek, clean surfaces and a compact frame, this is Italian engineering at its finest. It's small stature means it will fit in even the most economical of kitchens.
It's also very easy to use. The whole machine is controlled with a one-touch button that lets you choose between two different serving sizes. The only downside to the whole contraption is that it tends to be a bit on the noisy side.
| Pros | Cons |
| --- | --- |
| Svelte Italian design. | Very loud during operation. |
| Able to produce 20 bars of pressure for intense espresso. | Reliant on pods. |
STARESSO Manual Espresso Maker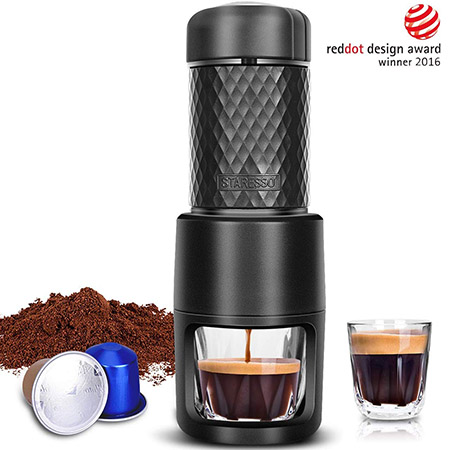 Up until now we've only spoken about the traditional best cheap espresso machines, that is, ones that run on electricity. But the STARESSO Manual Espresso Maker flips the conventional espresso machine narrative on its head and operates entirely using manually-generated pressure.
The way it works is quite ingenious. The top of the STARESSO is a manual pump that you can prime with up to 20 bars of pressure. This pressure is then applied to either ground coffee or pods, forcing water through the coffee to produce an espresso shot complete with crema.
The whole device weighs less than a pound and is small enough to take it with you on any sort of travel. It's modular design also makes it very easy to clean. It's not too expensive and worth it for a fun and cool piece of equipment. However, just keep in mind that you're not going to be drinking cafe-style espresso.
| Pros | Cons |
| --- | --- |
| Extremely portable design. | Requires quite a lot of effort to produce an espresso. |
| Doesn't rely on electricity for operation. | |
Hamilton Beach Budget Espresso Maker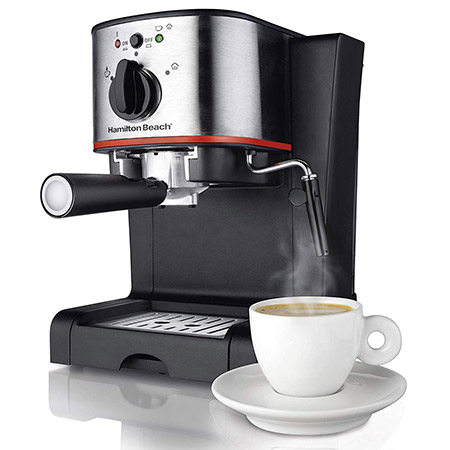 The Hamilton Beach Budget Espresso Maker is proof that true Italian quality doesn't necessarily have to break the bank. With the ability to produce up to 15 bars of pressure, the Hamilton is capable of serving up delicious espressos, lattes and cappuccinos.
The Hamilton is built compactly so as to fit on any kitchen counter, and its snap-and-lock portafilter system is designed for easy and fast usage. It comes with a built-in cup warmer that will keep your mug warm until serving time, and can also be easily cleaned.
| Pros | Cons |
| --- | --- |
| Quality espresso machine for the price. | Makes limited servings of espresso. |
| Removable parts making cleaning the machine easy. | |
Honorable Mention: The Handpresso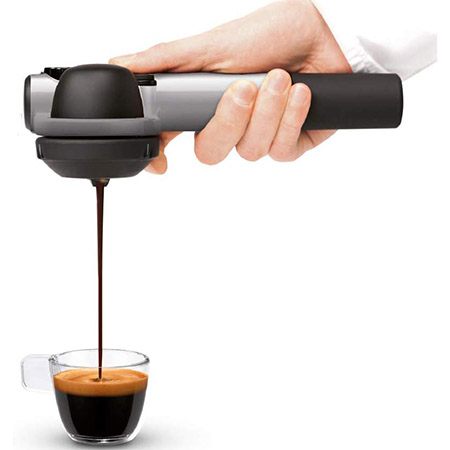 Like the STARESSO the Handpresso doesn't require any power to produce a shot of espresso. It looks and functions like a bicycle pump, and so requires a bit of elbow grease to build up to up to 16 bars of pressure. Once the pressure has been built up, simply press the infusion button to force hot water though the coffee grounds.
The Handpresso is definitely not made for serving large groups of people. It takes a lot of effort and a couple of minutes to produce one shot of espresso. That shot is also going to be smaller than one produced by conventional espresso machines.
The quality of that shot is also questionable. A traditional espresso machine is undoubtedly going to produce a richer and creamer shot. That being, the Handpresso's main draw is its portability.
It may not produce the most intense coffee in the world, but it will produce it – anywhere you go. However its hefty price tag might not be enough incentive for some people.
| Pros | Cons |
| --- | --- |
| Extremely portable. | Expensive. |
| Can produce quite a large amount of pressure. | Espresso isn't as strong as traditional espresso. |
---
Criteria for Choosing the Best Cheap Espresso Machine
Espresso machines come in a variety of different shapes, sizes and build qualities. It's therefore important to be clued up about what you're buying before you make the decision to part with your money. Let's take a look at some of the most important things that make the best cheap espresso machine.
Design
Espresso machines deal with a lot of heat and pressure. Because of this, a machine designed poorly or with inferior materials could become dangerous. Always ensure that the espresso machine you're buying is solidly built and made of quality materials.
If it's too cheap, or looks extremely cheap, it probably is and is worth avoiding.
Ease of Use
Espresso machines in a coffee shop contain numerous valves, buttons, portafilters and dials – they're complicated. Because you're going to be buying a more budget espresso maker, you're not going to want something even remotely complex. When it comes to cheap espresso machines, simple and easier to use is always better.
Price
The name of this article is "Cheap Espresso Machines" and that means that price is going to be a large determining factor is the espresso machine you choose. That doesn't mean you should go for the cheapest option you can find. Remember, price is often indicative of quality, and just because you see a bargain doesn't always mean it's the best option.
How Easy it Is to Clean
Something that not many people take into account when buying an espresso machine is the ease with which a person can clean it. Having an easily-cleanable espresso machine will make a world of difference when you constantly have to break it apart and unclog it. It's advisable that you keep this in mind when determining what espresso machine you want in your kitchen.
---