While there's certainly a lot to be said about grinding beans manually and brewing coffee with an artisan's touch, sometimes an all-in-one solution is required. Rather than buying individual grinders, milk frothers, bean hoppers and carafes, coffee makers with attached grinders are the whole package. With that in mind we've put together a list of the best coffee makers with grinders currently on the market.
These machines take the guesswork and effort out of making coffee, delivering delicious brew at the touch of button.
Simply decide what style of coffee you want, make the selection and in a couple of seconds you'll be in caffeinated heaven. The only thing you have to worry about is making sure that your hopper is topped up with beans.
That being said, not all coffee makers with grinders are made the same. We've done the investigative dirty work and put together this guide of the best coffee makers on the block. If you're unsure about which coffee maker with grinder to buy, you've come to the right place.
---
Design 5 / 5
Versatility 4.5 / 5
Consistency 4.5 / 5
Ease of use 4.5 / 5
The DeLonghi Super Automatic Espresso Machine takes first place as a machine that makes a wide variety of drinks while retaining user-friendliness. As well as grinding beans consistently, the machine has a range of setting customizations, and can easily be broken down for cleaning.
---
Coffee Makers with Grinders: Our Shortlist
---
Reviews of Our 5 Favorite Coffee Makers With Grinders
Cuisinart DGB-550BKP1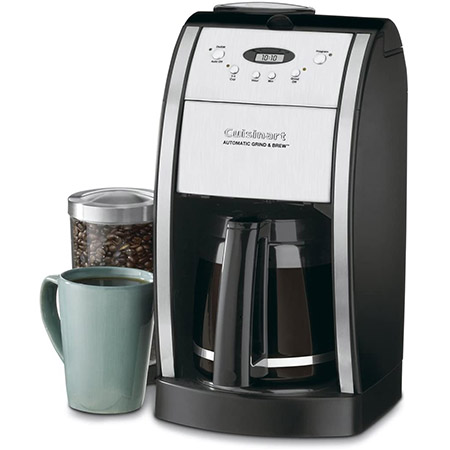 Cuisinart is a company that knows a thing or two about coffee makers, and the Cuisinart Grind and Brew Automatic Coffee Maker is proof of this. The machine is equipped with a 12-cup carafe so that you never have to worry about not having enough brew in the morning. It grinds beans directly before brewing so that every cup of coffee can be enjoyed as freshly as possible.
And speaking of fresh, the 24-hour programmability of the Grind and Brew let's you decide well in advance when you'd like your coffee to be made. This means you can time it to brew according to your work schedule so that hot coffee is always available.
Cuisinart DCC3200-P1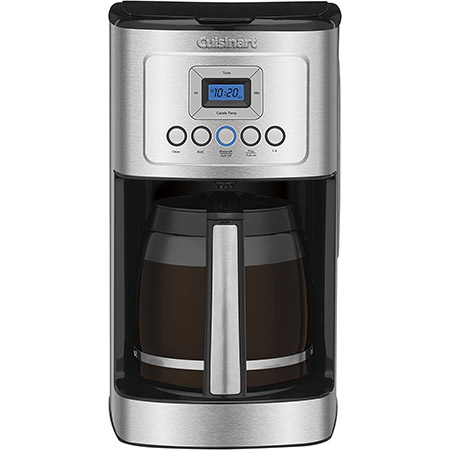 If you're looking for a great all rounder that won't break the bank while still grinding beans consistently, then the DCC3200 by Cuisiniart is the way to go. Brewing at the recommended brewing temperature of between 195 to 205 degrees, the DCC3200 can brew up to 14 cups at once.
It comes with a built-in hot plate and programmable settings allowing you to keep your coffee at the exact desired temperature. It's also easily programmable so that you can decide well in advance when you would like your coffee to automatically start brewing. Its auto-off feature means you don't have to worry about deactivating the machine; simply grab your coffee and go.
Chefman Grind & Brew Coffee Maker with Grinder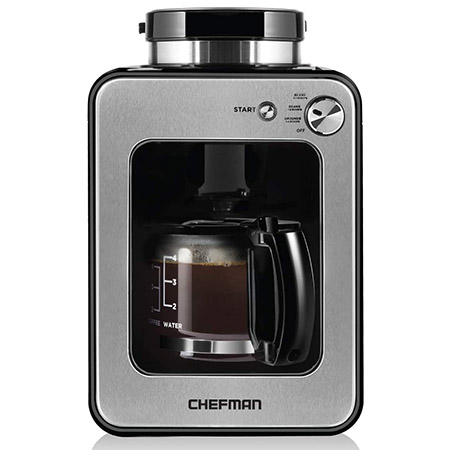 If space is on the short side and you don't have room for a behemoth coffee maker and grinder, consider Chefman's Grind & Brew Coffee Maker and Grinder. This compact machine makes a decent cup of freshly ground joe and will fit on almost any countertop with ease. It also has the added dual functionality of working with pre-ground coffee as well as whole beans if you happen to have both on hand.
The design of Chefman's machine is also noteworthy. Unlike other grinders, this coffee maker with grinder is as cute as a button, emanating retro-futuristic charm. It would look at home in most kitchens and add to any style or aesthetic.
But just because it's good looking doesn't mean it's mediocre. Chefman's model throws down with the best of them, brewing up to four cups of coffee at a time with a one-button operating system. It's also programmable and keeps coffee warm for extended periods of time after brewing.
Barista Express Espresso Machine by Breville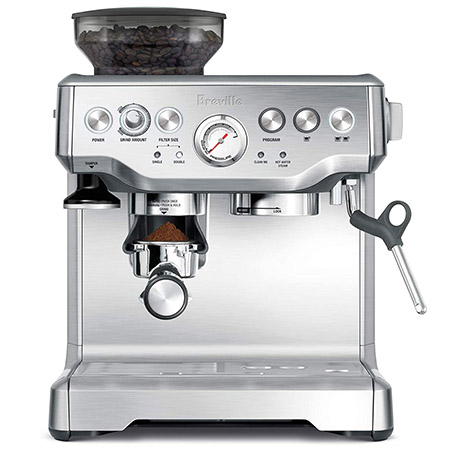 If money is no option and you truly want the finest espressos available then the Barista Express Espresso Machine by Breville is the machine for you. Not only is it able to produce coffee as delicious as that found in a cafe, but it's stainless steel design is also beautiful to look at. And for all its versatility, it's also extremely easy to clean.
This machine might have enough dials and values to make it look as complicated as a barista's, but it's actually comparatively easy to use. As a semi-automatic machine, most of the heavy lifting is done for you. Simply add the beans, grind them up and tamp them into the portafilter.
From there you have quite a bit of customization at your fingertips. Decide on the filter size, grind amount, coffee amount and filter size before you pull your shots of espresso. The Barista Express also comes equipped with a steam wand and hot water spigot to help you make various different styles of coffee.
DeLonghi Super Automatic Espresso Machine
The creme de la creme of coffee makers and grinders, the DeLonghi Super Automatic Espresso Machine is a dream come true for home brewers. This machine not only grinds up coffee consistently, but gives you the ultimate freedom to create any type of coffee drink you desire.
And while the machine might be considered entry level, it's features are anything but. A cup warmer on the top of the machine will keep coffee warm for hours. While the adjustable auto shutoff feature means you won't run your electricity bill through the roof.
When it comes to grinding, the machine's stainless steel conical burr grinders make short work of any beans. The machine has seven different grind settings and can hold up to 8.8oz of coffee beans. Its patented "Direct to Brew" system makes creating delicious coffee an almost instant and effortless affair.
---

A Buyer's Guide for Grind & Brew Coffee Machines
Unsure of what to look for when buying a coffee maker with a grinder? Don't worry, we've put together this below buyer's guide to lay to rest any uncertainties you might have.
Best Brands
When it comes to buying a coffee maker with grinder combo, it helps to know which brands make high quality and consistently good equipment. As you might have been able to tell from our above review, we're big fans of most things made by Cuisinart.
Other reputable brands that make good equipment include Breville, KRUPS and DeLonghi
Heating
All machines feature some sort of heating in order to keep the carafe and coffee inside it hot. Some machines use a hot plate situated directly beneath the carafe while others use carafes with double-walled thermal insulation. Depending on when and how you intend to drink your coffee this may be important.
If you'd like to serve coffee warm to guests then it may be a better option to go for a heat-insulated carafe. However, if you're simply going to grab coffee and go throughout the day, a hot plate might be a better option.
Design
Coffee makers with grinders come in many different styles and designs. If you're someone who has a meticulously styled kitchen, then you may want a coffee makers with grinders that adds to the overall aesthetic. In that case, something made from steel or chrome is likely to appeal to you.
However, if you the quality of the coffee comes first and design comes second, then this may not be a concern to you.
Features
Take into consideration exactly what you hope to do with your coffee maker and grinder. Do you simply want to make espressos and Americanos? If so, then a machine that can pull espresso and hot water is pretty much all you'll need form the feature department.
If you want to perform more complex functions then you're going to want a machine that allows for customization. The more feature-heavy a machine gets, the better you're able to control variables such as grind size and other brew settings.
---

FAQs
Should I Opt for a Blade or Burr Grinder?
When it comes to coffee makers with grinders, they're either going to come equipped with a blade or burr grinder. A blade grinder is definitely the cheaper or the two and uses blades in order to chop up coffee beans into ever smaller particles. Burr grinders, on the other hand, crush beans together for a more consistent grind.
If money is an option and you're not worried about the consistency of your grind, then a blade grinder will work in a pinch. However, if you have the resources and are looking for more consistent, quality grinds, always opt for a burr grinder.
How Long Do Coffee Makers Last?
A quality coffee maker should last you between 5 and 10 years. But like all products, it depends how you treat it. Because a coffee machine is under a lot of stress due to high pressure and temperatures, it's going to need some maintenance from time to time.
The more you clean and service your machine, the better mileage you'll get out of it, and the more likely it is to last longer. If something does break, don't replace the entire machine straight away. It's likely that you'll be able to find spare parts and keep it going.
---