This one is for all of the van-lifers and coffee drinkers out there. You've carefully selected your vehicle or motorhome, mapped out the interior, built an ingenious space-saving bed, some cabinetry, a kitchen, and maybe even a bathroom, and stocked it with all of the modern conveniences of your house or apartment. Essentially, you've built yourself a little home on wheels, and if you've found your way to this page then we're guessing you're searching for that final element – a coffee maker that is going to make waking up in the mornings that much sweeter and more bearable.
There are a lot of options on the market.
From space-saving versions of at-home brewers to ultra-portable (and easy-to-store) brewing options. You could even go fully cordless and opt for a battery-powered coffee maker if you'll be off the grid and need a cuppa in the backcountry.
Luckily, we know a thing or two about coffee makers, and one or two more about RVs, and have put together this list of space-saving RV coffee makers that deliver delicious brew without skimping on quality. Let's take a more detailed look below.
---
Editor's Pick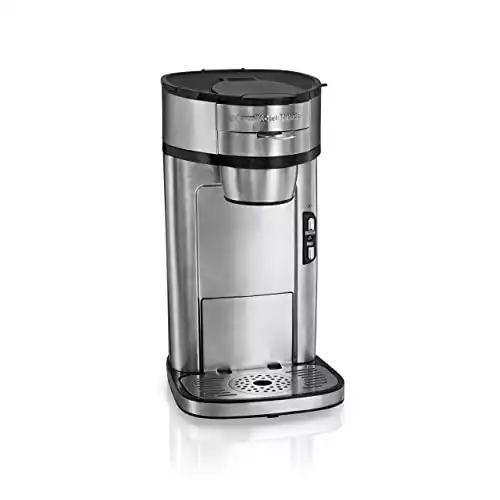 Hamilton Beach Scoop Single Serve Coffee Maker
The Hamilton Beach Scoop Single Serve Coffee Maker tops the best coffee maker for RVs list for a number of different reasons - not only does it have an economical footprint, but it's quick and easy to use, and even more simple to clean up. Simply add a scoop of coffee, lock it in place, then get ready to enjoy 8 ounces of brew in under 90 seconds.
Buy Now
Caffeinefiend is reader-supported. We may earn a commission if you make a purchase, at no additional cost to you. We research and test the best products for our readers, and we only continue to run thanks to your support.
---
The 7 Best RV Coffee Makers at a Glance
Hamilton Beach Scoop Single Serve Coffee Maker

Best Overall Coffee Maker for RVs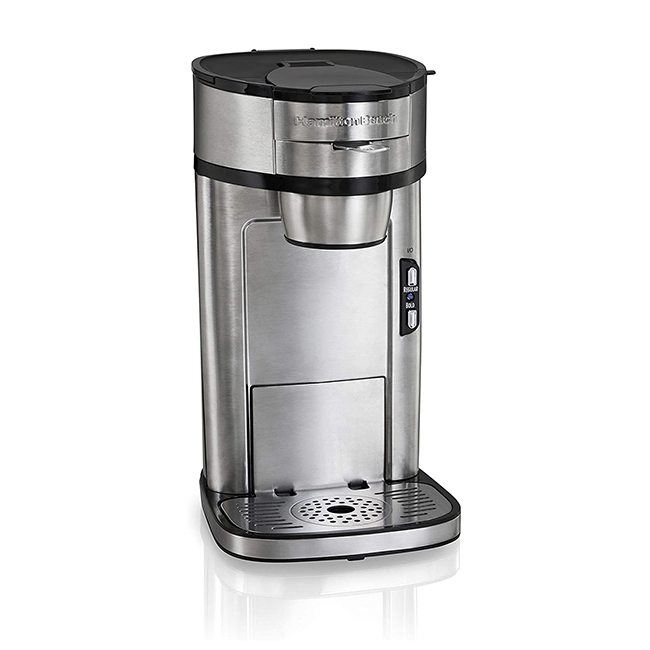 See Price
AeroPress Go Travel Coffee Maker

Best Portable Coffee Maker for RVs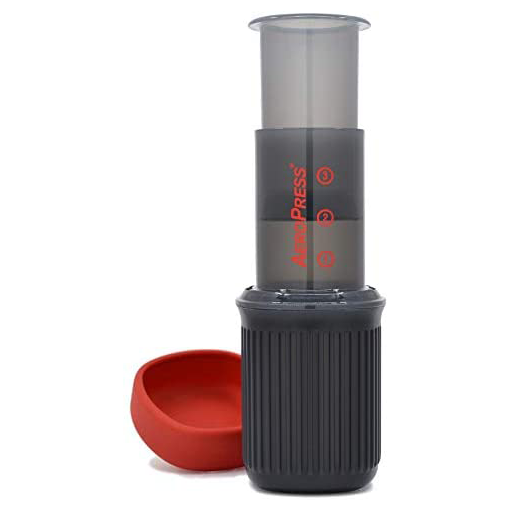 See Price
Ninja CE251 Programmable Brewer

Best Runner Up Coffee Maker for RVs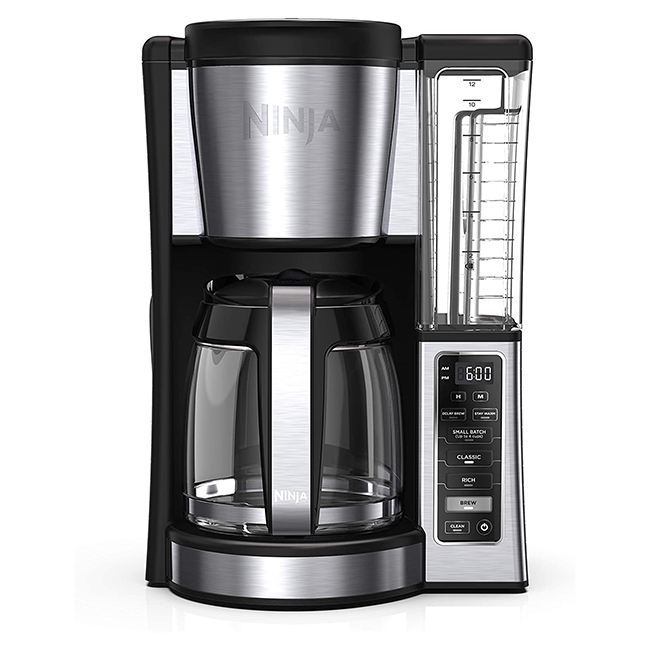 See Price
Secura French Press Coffee Maker

Best French Press Coffee Maker for RVs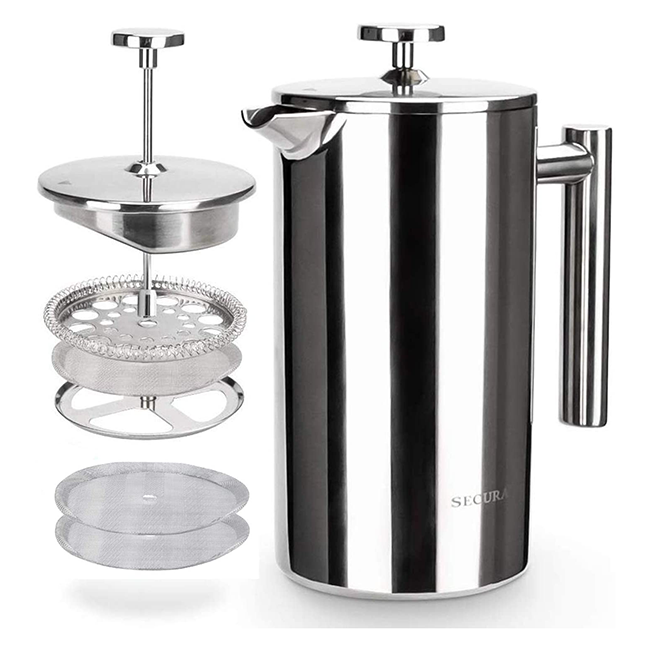 See Price
Hario V60

Best Pour-Over Coffee Maker for RVs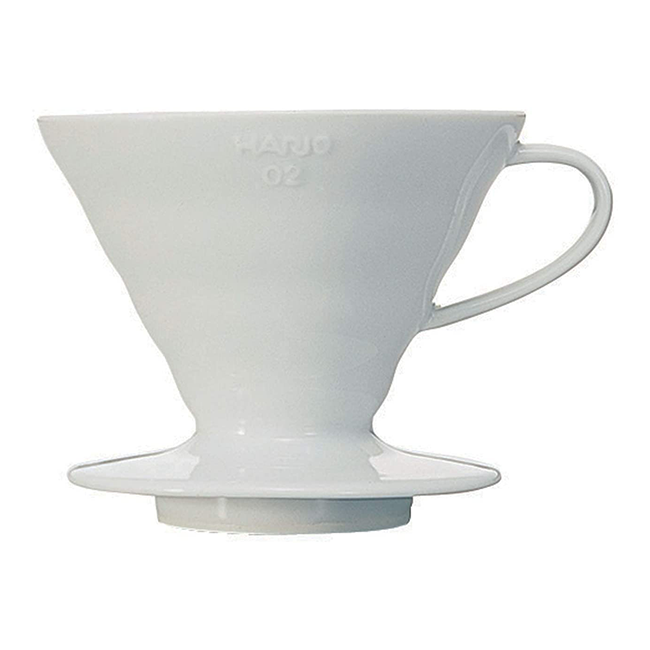 See Price
Keurig K-Mini Plus Coffee Maker

Best Pod Coffee Maker for RVs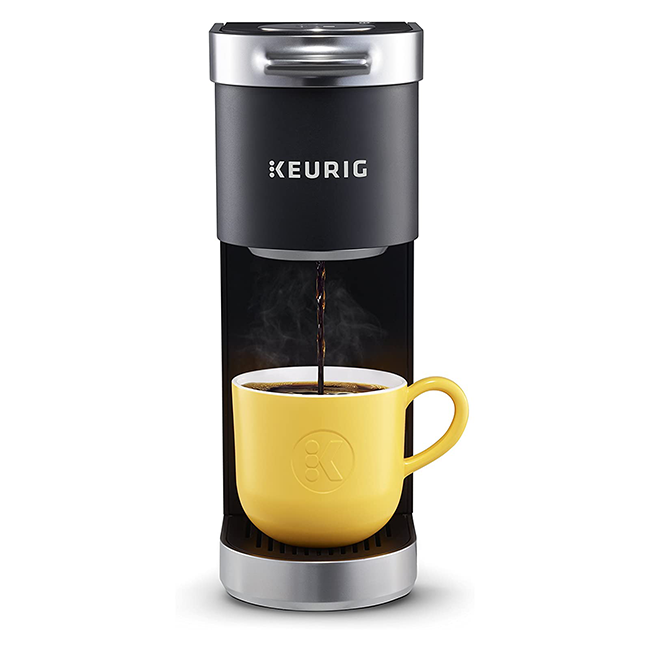 See Price
BLACK+DECKER Single-Serve Coffeemaker

Best Pod Coffee Maker for RVs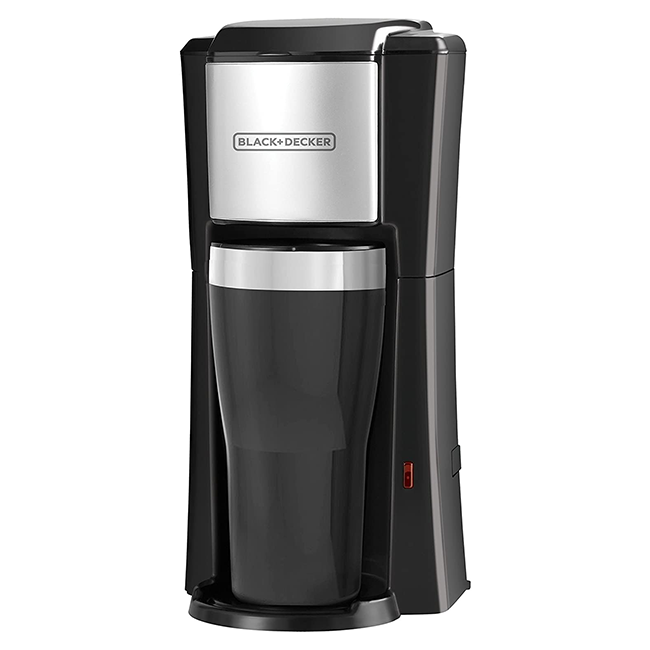 See Price
---
Things to Keep In Mind When Buying a Coffee Maker For an RV
The approach to finding the best coffee maker for your RV is going to be slightly different than the one you would use when sourcing one for your kitchen. While you might want to shell out hundreds (or even thousands) or dollars on the best coffee equipment for your kitchen, the limitations of an RV mean you probably won't be spending that much. You'll need to ask yourself a few key questions about both your RV and the coffee maker you want to buy, the answers to which will guide you through the rest of the buying process.
How big is the RV?
When it comes to anything RVs and camper vans, space is one of the most important things you will have to consider. While vans come in all shapes and sizes, unless you're investing in a school bus, then the available square-footage that you can devote to luxury items such as a coffee maker is going to be extremely limited. Smaller coffee machines are no doubt going to be favored over larger, heavier ones that not only take up more counter space, but are more of a pain to move and store. The DeLonghi espresso machine might work perfectly well at home, but in your Sprinter van, it would be an electricity-hungry monster that would take up half of your available counter space. Plan accordingly.
Cleaning up
Since your RV kitchen won't even come close to being the size of your kitchen at home, and because you won't have access to the same amount of running water, cleaning your coffee machine is going to be that much more difficult. So in addition to the space needed to store and operate the coffee machine, you should also consider how easy it will be to clean. French press and pour-over coffee makers for example, are fairly simple to clean, whereas an espresso machine that requires decalking or a run-through with a specialized cleaning agent will be much more difficult.
How easy is it to store?
At the risk of beating a dead horse, when it comes to RV living, space is tight. While you might be tempted to keep your coffee maker permanently anchored on the counter, it's likely that you're going to have to store it at some point just so you can use that space for other work and activities, or so you can stop it from tumbling about when you're on the road. You'll also have to consider the materials that your coffee maker is built from. A glass French press is likely not going to last more than a few hundred kilometers if it's not expertly stored, while something made from steel or aluminum will be able to take a beating without any issues.
Does it need electricity, and if so, what voltage?
Many coffee makers require electricity to function (in some cases, quite a lot), while some don't. While both RVs and campervans can generate electricity with their batteries, some might have some extra juice built in. If this is the case with your van, then you'll be able to power a more demanding coffee maker. If you aren't able to have access to so much power, then it would be better to stick with a coffee maker that is more economical, or one that uses another form of heat or power production. We've included a good mix of coffee makers fueled by different power sources to make sure that you can find one that fits your needs.
---
The Best Coffee Makers for RVs: a More Detailed Analysis
---
Best Overall Coffee Maker for RVs: Hamilton Beach Scoop Single Serve Coffee Maker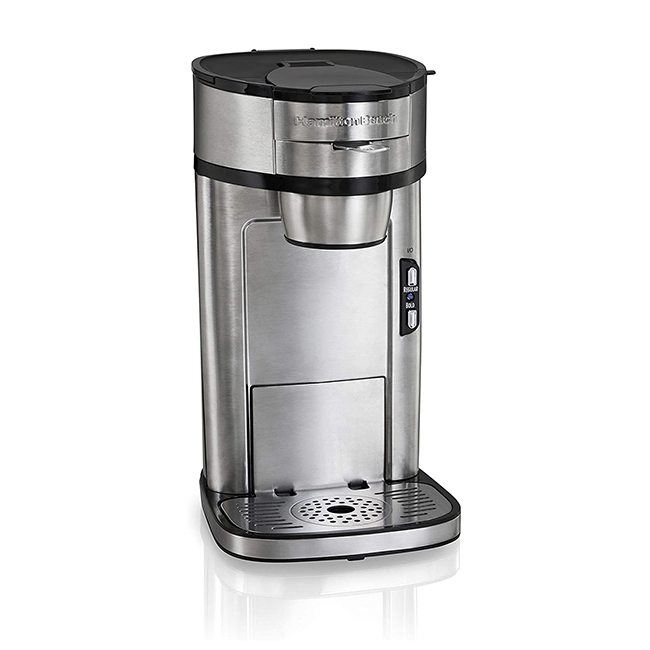 If you're looking for a coffee maker that was absolutely made for RVs and campervans, then look no further than the Hamilton Beach Scoop Single Serve Coffee Maker. With very modest build dimensions (9.8" x 7.6" for the base, 13.5" for the height) and a weight of less than 6 pounds, the Hamilton is perfectly sized to fit even the smallest of RVs.
But just because it's small doesn't mean it's ineffective. In fact, the Hamilton is quick, convenient and powerful, with a brewing time of less than 90 seconds. This is evident in the three step brewing process – scoop, place and brew. Instead of scooping coffee into a portafilter and tamping it down as you would with a traditional espresso machine, the Hamilton has an integrated scoop that doubles as a portafilter. Simply pop the top of the machine, remove the scoop and fill it with coffee grounds, reinsert it into the coffee machine, then wait for a delicious cup of hot, brewed coffee.
It's an excellent alternative to a Keurig machine if you're someone who doesn't like using K-cups or coffee pods. It gives you the benefits of quick, single serving coffee but with the freshness and flavor from ground coffee.
As many happy Amazon customers will attest to, the Hamilton is also very durable. Constructed of stainless steel, it can be stored safely in your RV while you hit the road without fear of it getting damaged. Another cool feature is worth mentioning is the flip-down tray which can hold and fill smaller mugs, or be flipped back up for larger receptacles.
Pros
Brews coffee quite quickly
Single serve is very convenient
Small footprint
Cons
Not ideal for larger servings
Doesn't come with an integrated grinder
---
Best Portable Coffee Maker for RVs: AeroPress Go Travel Coffee Maker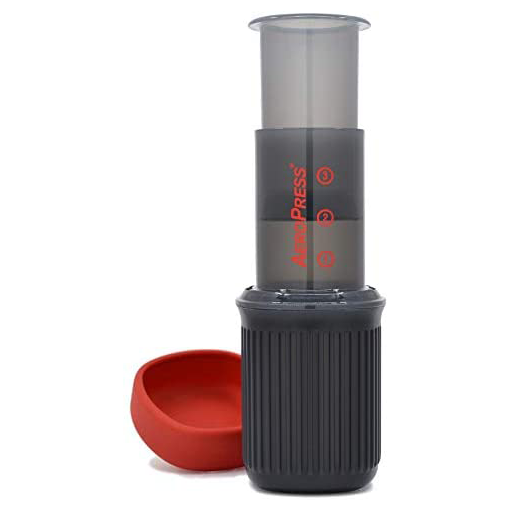 The original AeroPress took the world by storm with its ingenious design, combining portability, durability and the ability to brew delicious coffee. The AeroPress Go is the second iteration of the classic design, putting a greater emphasis on the "travel anywhere and have great coffee" concept. Whereas the original AeroPress was only a coffee maker, the AeroPress Go is also a 15 ounce (444ml) mug, so you can brew and drink your coffee from the same device. When you're done brewing your coffee, it packs up into a tiny, easily storable configuration. What's great about this compact coffee maker is that it only needs ground coffee and a water source to use, so if your RV or campervan doesn't have huge banks of power to draw from, you can still very easily brew quality coffee whenever you need to. This is also great if you plan to do some hiking or camping, as you can just toss the AeroPress Go in your backpack, heat up water at your campsite, and enjoy delicious coffee no matter where you are.
The only downsides that we've observed have to do with the fact that the AeroPress Go uses a disposable filter that has to be replaced every now and again. You can remedy this by buying a steel reusable filter that is as easy to clean as the rest of the device.
Pros
Extremely portable, compact, and durable
Affordable
Makes up to three cups of brew
Easy to use and clean
Doesn't require electricity
Cons
Doesn't make true espresso
Comes with disposable filters that need to be replaced
---
Best Runner Up Coffee Maker for RVs: Ninja CE251 Programmable Brewer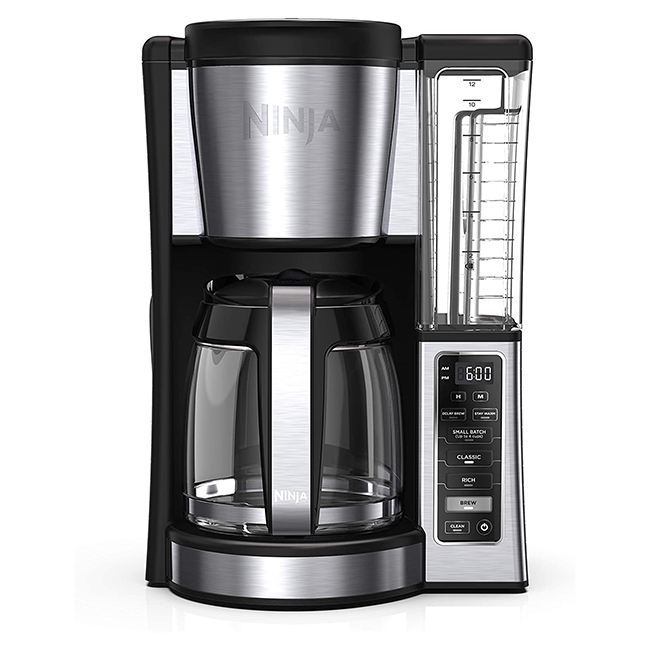 If you have an RV that can support a drip coffee maker then we certainly recommend the Ninja CE251 Programmable Brewer. This drip coffee maker comes with a 60-ounce removable water tank and coffee pot, allowing you to brew coffee for everyone in the van and your camping buddies. It's fully programmable though, so in addition to being able to set it up to have coffee ready for a specific time up to 24 hours in advance, you can also brew one or two cups of coffee at a time. It also comes with an advanced broiling system and hot plate, which will help your coffee stay hot for up to four hours after brewing.
What's nice about the CE251 is that it gives you a lot of control over the flavor and strength of your brew. Choose between classic strength, a lighter flavor that drip coffee lovers favor, and rich brew, which tends to be stronger, more aromatic, and more intense.
The only downside of this particular coffee maker is that it's cumbersome. Larger RV owners won't have too much trouble using and storing the CE251, but if your RV is smaller and space is at a premium, then it might not be the best option for you.
Pros
Brews between 1 and 12 cups of coffee per serving
Can stay hot for four hours
Fully programmable
Beautiful stainless steel design
Cons
Large, heavy and takes up a lot of counter space
---
Best French Press Coffee Maker for RVs: Secura French Press Coffee Maker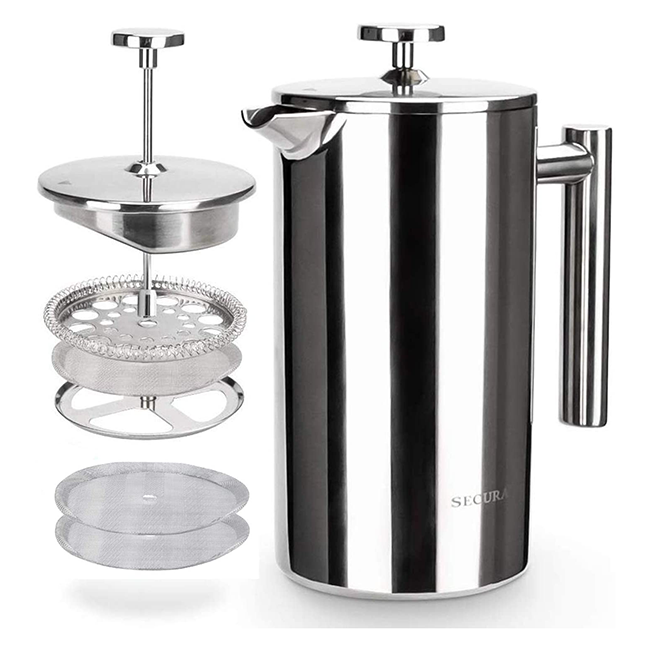 Let's leave the drip coffee makers alone for a bit and turn our focus to something classic, tried and tested. The Secura French Press is not only one of the most convenient and easy-to-execute brewing devices, it's also one of the most robust. For the purposes of brewing in a RV or campervan, you're going to have to leave the glass models from the likes of Bialetti behind, and instead opt for something like the Secura.
Available in both 34 oz and 50 oz options, this coffee maker has enough capacity to brew a delicious cup of joe for everyone in the RV and then some. But for all its coffee making potential, it still only uses a fraction of the countertop space that a drip coffee would; with the smaller model measuring just 6.7" x 6.1" x 9.8", this spacemaker perfect for packing away in even the smallest cabinet or storage space when you're not using it. Another benefit of using the Secura French Press is that it doesn't require electricity, and instead can work with campfires, most stove tops, as well as gas stoves like those from Coleman.
Pros
Makes delicious brew
Very convenient; doesn't need electricity
Affordable
Durable and great for travel
Dishwasher safe
Cons
Requires a kettle or some other source of hot water for operation
---
Best Pour-Over Coffee Maker for RVs: Hario V-60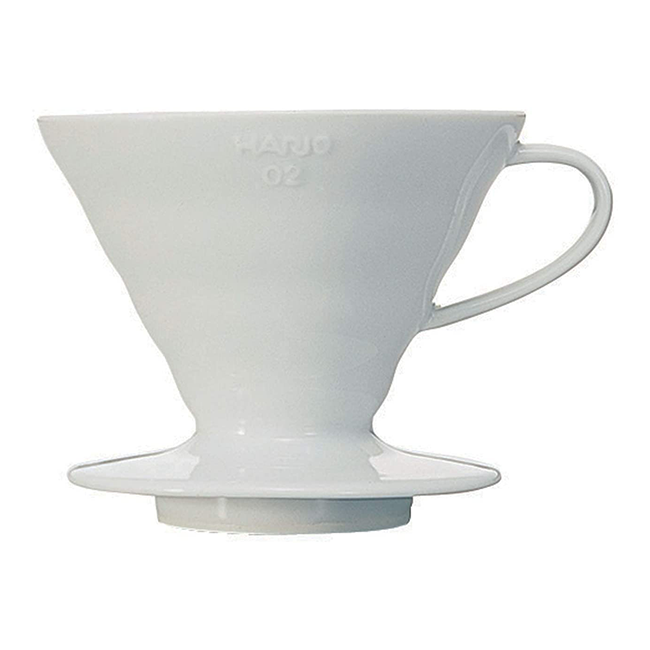 The Hario V-60 is proof that you don't need to bring that fancy Chemex with you in order to enjoy delicious pour-over. There's not too much to say about this mini coffee maker. Available in three different sizes (all of which are minuscule compared to other coffee brewers on this list), and weighing less than 11oz, the V-60 is extremely portable and easy to store when you're not using it. It's also really affordable upfront, but you'll still need to invest in a bunch of disposable paper filters that the V-60 needs to brew – which does add up over time. And while the V-60 is easy to store, it is made from ceramic, so you're going to have to make sure that you store it in a location where it won't rattle or bounce about.
Pros
Very convenient and compact
Affordable
Easy to clean
Cons
Needs additional equipment like water kettle, filters, and coffee grinder
Built from ceramic and so prone to breakage
---
Best Pod Coffee Maker for RVs: Keurig K-Mini Plus Coffee Maker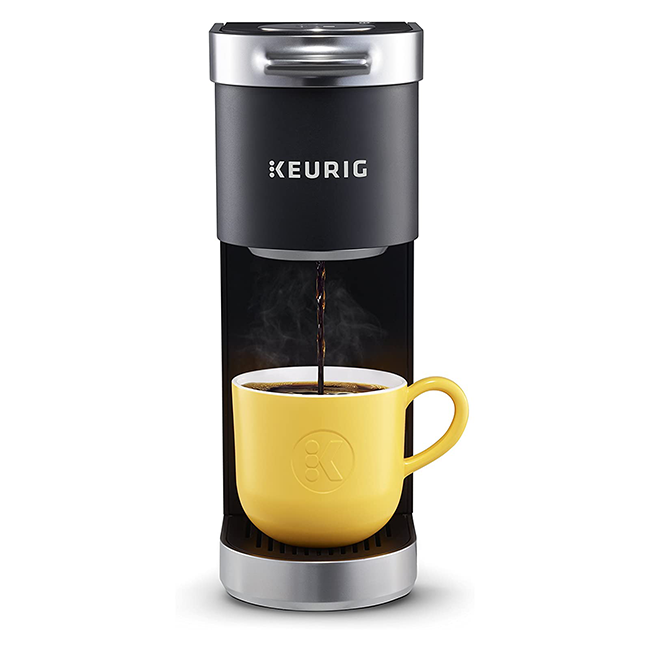 If convenience is the metric you care about most when it comes to brewing coffee, then the Keurig K-Mini Plus Coffee Maker won't let you down. With the entire process boiled down to three easy steps – filling the water reservoir, inserting a K-cup, then pressing the on button – operation couldn't be simpler. In terms of space usage, the Keurig is also a winner. At just 12-inches high and 4.5-inches wide, it doesn't take up much counter space and can also be stored away easily when not in use.
If the idea of using K-cup pods turns you off a bit, you can also invest in a couple of reusable K-cups, which are not only environmentally friendly and hassle free, but also allow you to use your own ground coffee.
Our main criticism with this machine is that the water reservoir just isn't that large. While it's an ideal coffee maker for solo travelers, it's not so well suited to larger groups or families. The water reservoir only holds enough water for one serving, so it needs to constantly be refilled every time you want another cup of coffee.
Pros
Extremely convenient
Easy to use
Brew strength can be adjusted
Compact footprint
Easy to store
Cons
Can only brew one cup of coffee at a time
---
Best Single-Serving Coffee Maker for RVs: BLACK+DECKER Single-Serve Coffeemaker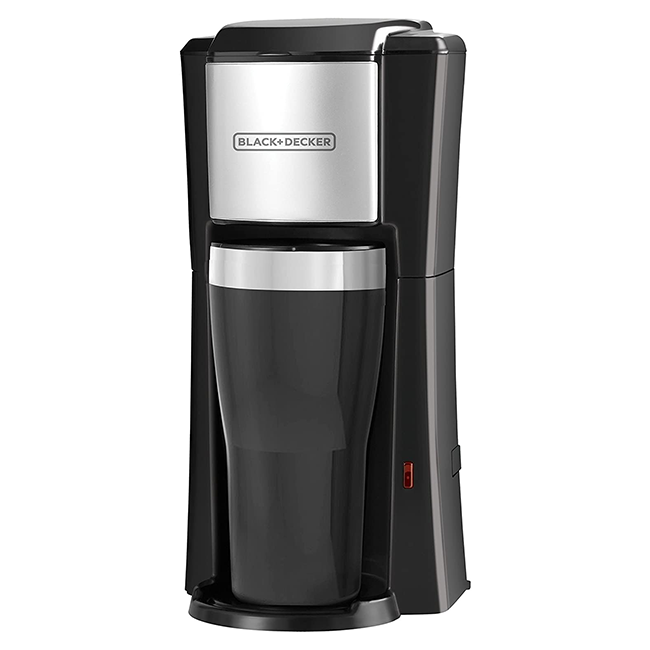 The BLACK+DECKER Single-Serve Coffeemaker is a great option and space saver if you live an on-the-go lifestyle and want a quick cup of coffee when you wake up. Compatible with both ground coffee and pre-packed coffee pods, this machine brews coffee directly into a 16oz thermal carafe and travel mug that will keep your coffee warm and which you can take with you wherever you need to go. Unlike the V-60, you don't have to worry about buying disposable filters as this machine comes with a permanent, easy to clean coffee filter. The brewing process couldn't be more convenient thanks to the one-touch operation and the automatic-shutoff. Most of the parts are also dishwasher-safe, so if once you're home you don't feel like washing it by hand, you can let your dishwasher do all the heavy lifting for you.
Pros
Works with pods and ground coffee
Convenient one-touch operation
Permanent filter minimizes wastage
Brews directly into a 16oz thermal mug
Small footprint
Cons
More expensive than other single-serve coffee makers on this list