Waking up on a workday morning is understandably difficult, and the last thing that you want while stumbling into the kitchen is to be presented with a cup of sub-standard coffee, or have to wait for ages simply to have a decent espresso brewed. If that first sentence resonated with you, then we have the solution. Today we're doing a deep dive into the best coffee makers with frothers attached. Not only do they pull an incredible shot of espresso, but the attached milk frother lets you create your favorite styles of coffee that you would usually only be able to get at a cafe or coffee shop.
In the interests of putting together the most comprehensive list, we put together a broad list of potential best coffee makers with frothers attached, narrowed it down based on positive reviews, then tested each one to determine if it really lived up to the hype. The following article contains our findings, and we hope you'll be able to use it to make the most informed purchasing decision. So without any further ado, let's take a look at the best coffee maker with attached frother.
---
Editor's Pick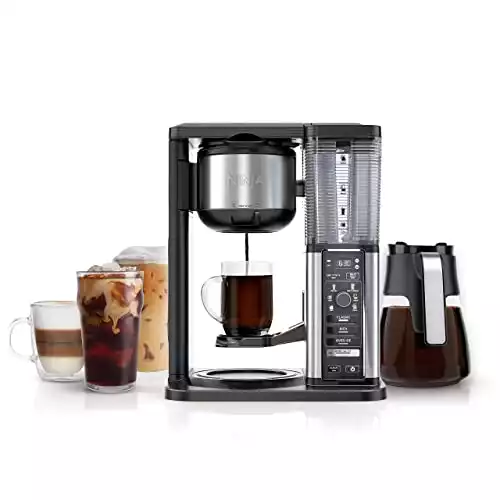 Ninja Specialty Coffee Maker
Buy Now
Caffeinefiend is reader-supported. We may earn a commission if you make a purchase, at no additional cost to you. We research and test the best products for our readers, and we only continue to run thanks to your support.
Features:
Six different brew sizes
Amazing ease of use
10 cup capacity
Iced coffee capabilities
Fold away frother
Programmable and customizable
---
Best Coffee Maker With Frother at a Glance
Mr. Coffee One-Touch CoffeeHouse
Best Runner Up Coffee Maker with Frother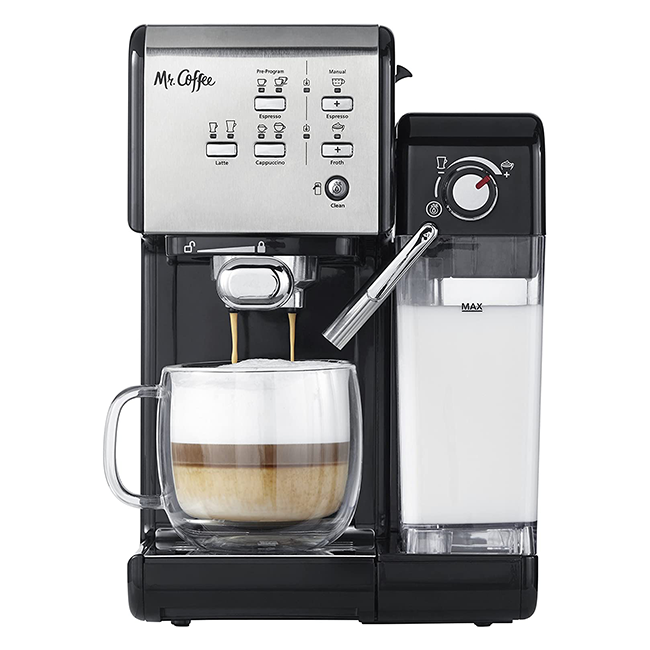 See Price
Delonghi Delonghi All-in-One Coffee and Espresso Maker
Best Dual Coffee Maker with Frother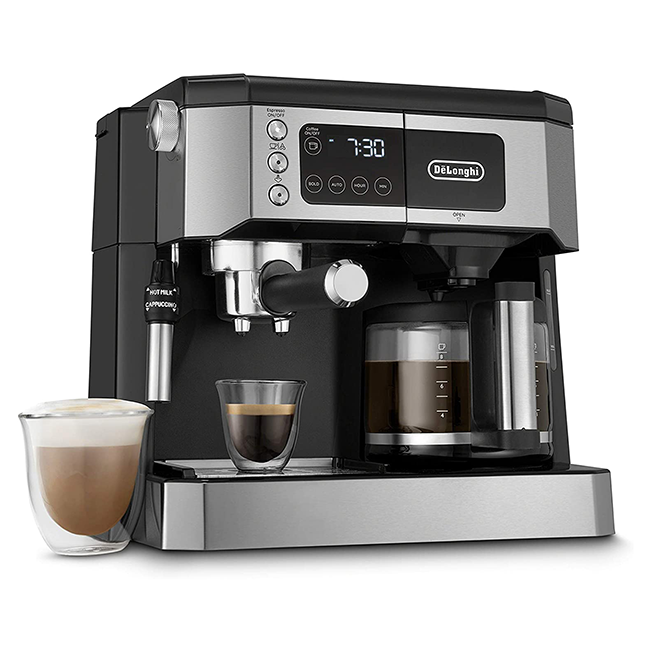 See Price
Ninja Specialty Coffee Maker
Best Overall Coffee Maker with Frother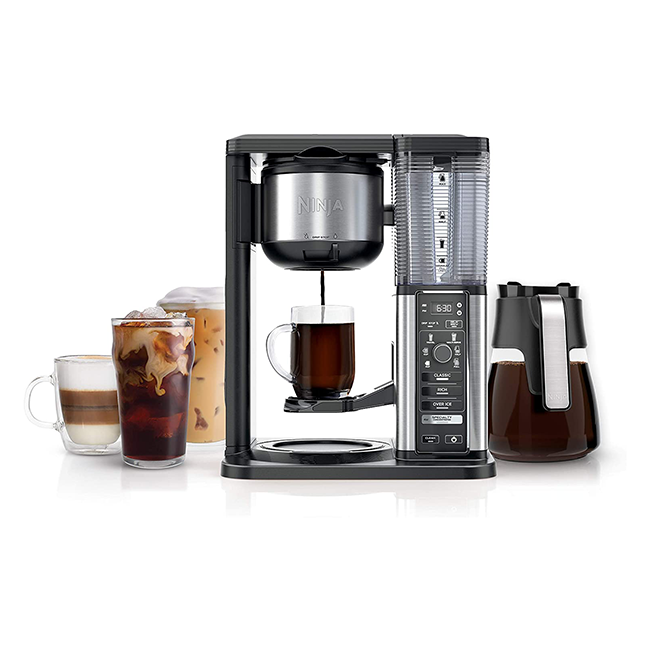 See Price
De'Longhi EC155
Best Budget Coffee Maker with Frother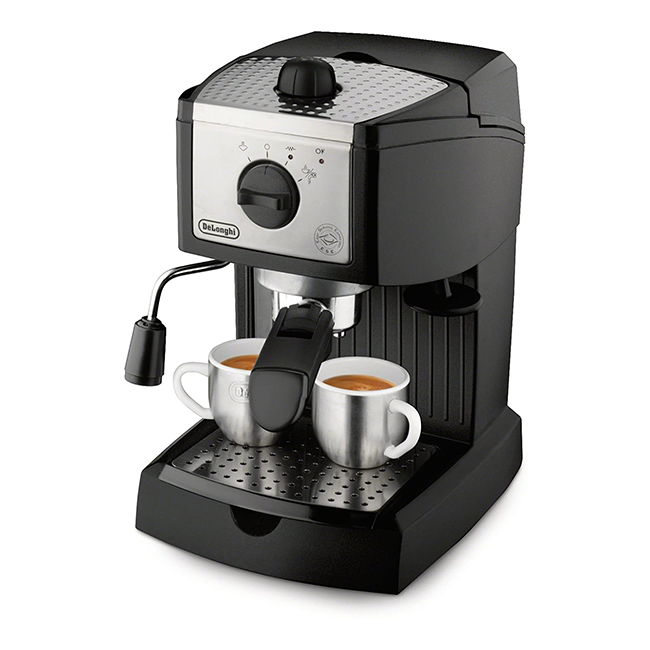 See Price
Nespresso Vertuo Plus
Best Capsule Coffee Maker with Frother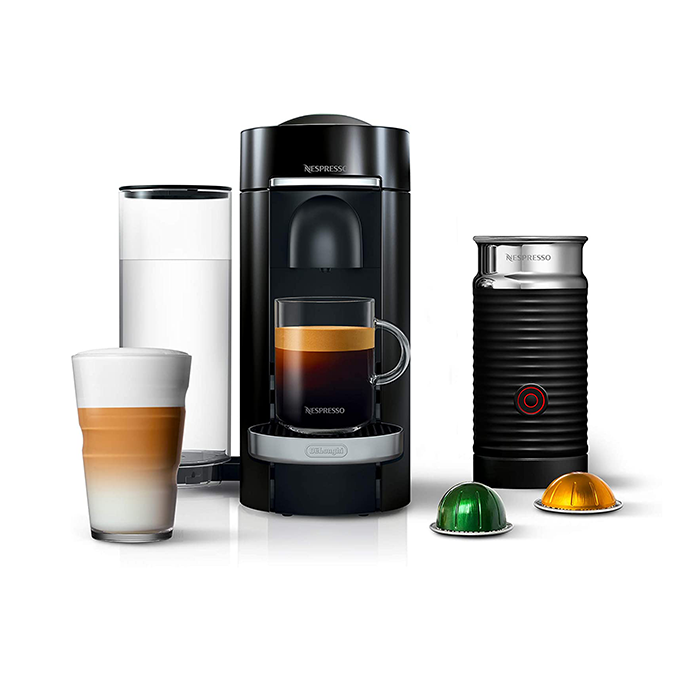 See Price
Breville Barista Pro
Best Premium Coffee Maker with Frother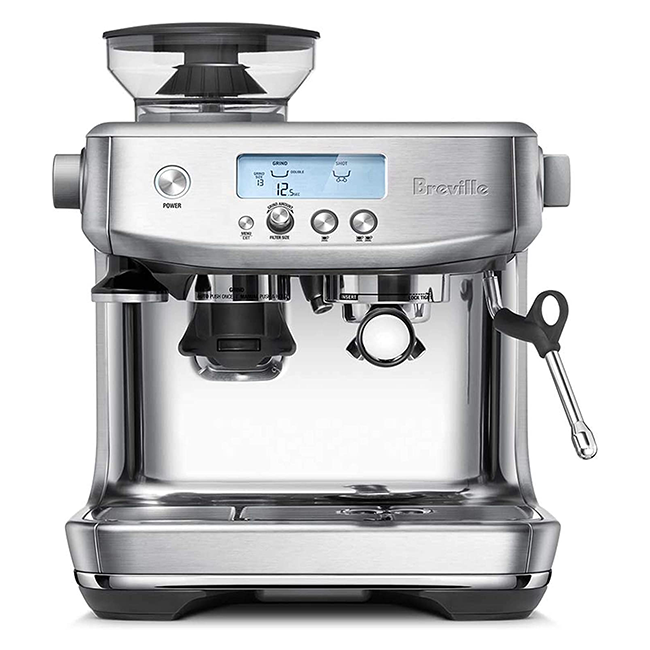 See Price
---
Best Coffee Maker with Frother: A Detailed Analysis
---
Best Runner Up Coffee Maker with Frother – Mr. Coffee One-Touch CoffeeHouse – 4.6/5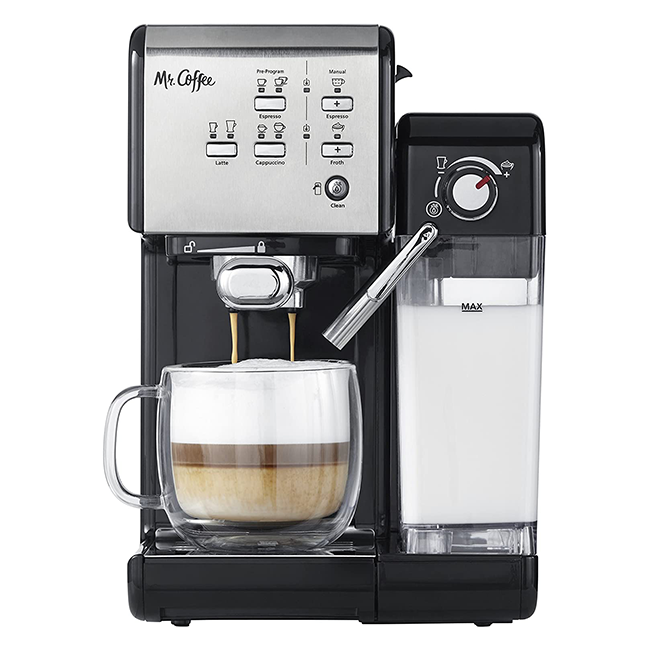 While the Mr. Coffee One-Touch CoffeeHouse didn't take first place, it definitely would have if the Ninja's model hadn't already been on top of the podium. A firm Amazon favorite, the CoffeeHouse is a remarkable piece of equipment in its own right. Capable of producing 19 bars of pressure, this machine consistently pulls intense, delicious, and robust espresso. It's a semi-automatic coffee maker with frother attached, meaning you can do everything at the push of a button (it's not called the One-Touch for nothing). You'll still have to tamp your grounds into the single included portafilter, but after that, you can simply select the number of espresso shots you want, the size of your mug, and the strength of your coffee, and the CoffeeHouse will take it from there.
The CoffeeHouse also features an automatic milk frothing system that jumps into action after the type of espresso you want is chosen. A simple dial lets you choose exactly how much you'd like your milk frothed and the machine does the rest. The milk reservoir is easy to fill, and if there's milk leftover after brewing you can simply remove it and store it in your fridge until the next use.
Something else worth mentioning that we loved is the thermo-couple heating system. It ensures that every cup is heated in a uniform way, ensuring consistency of flavor and temperature across the board. The CoffeeHouse also features an adjustable cup setting so you can brew coffee in whatever receptacle you happen to have in your kitchen cupboard. Like most of its other features, the machine can be cleaned simply by pressing a button.
Pros
Convenient and simple to use
19 bars of pressure
Makes consistently delicious and hot coffee
Easy to clean
Cons
Might be a bit too basic for some users
---
Best Dual Coffee Maker with Frother – Delonghi All-in-One Coffee and Espresso Maker – 4/5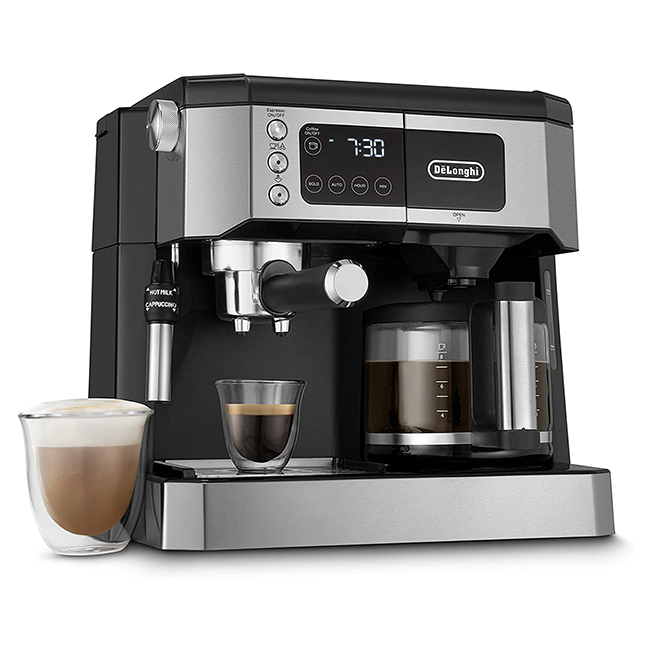 If you're a beginner to the whole barista experience or want something that can produce more than simply espresso, then the Delonghi All-in-One Coffee and Espresso Maker is right up your alley. Designed with the best of both worlds in mind and an Amazon Choice product, the All-in-One features a 15-bar espresso machine on the left and a 10-cup drip coffee maker on the right. This makes it ideal for brewing a latte before work in the morning, or for getting a full pot of coffee ready for guests. This machine also comes standard with a pretty versatile milk frother, so if you are looking to learn how to make more complex styles of coffee, you'll have no trouble doing it here.
The All-in-One is exceedingly simple to use. It has a removable water reservoir on the espresso side which makes refilling and cleaning a breeze, and a front-loading reservoir on the coffee side. The milk frother is clearly labeled according to the type of coffee you intend to me (it will adjust the steam intensity accordingly), so you'll never end up with a latte when you actually wanted a cappuccino. What's more, you can actually brew using both sides simultaneously (a feature we loved, especially if you're catering for a lot of people).
While the machine does well at producing various different types of coffee, we found that it sacrificed strength when it came to pulling espresso. If this is something that bothers you, then we'd suggest going for an espresso-only machine like the CoffeeHouse by Mr. Coffee. If you like the versatility of having multiple brewing methods available in one machine, however, then look no further.
Pros
Pulls espresso but also makes delicious drip coffee
Easy to use
Large capacity
Great aesthetic
Cons
Espresso could be stronger
Not the quietest machine
---
Best Overall Coffee Maker with Frother – Ninja Specialty Coffee Maker – 5/5 (Editor's Pick)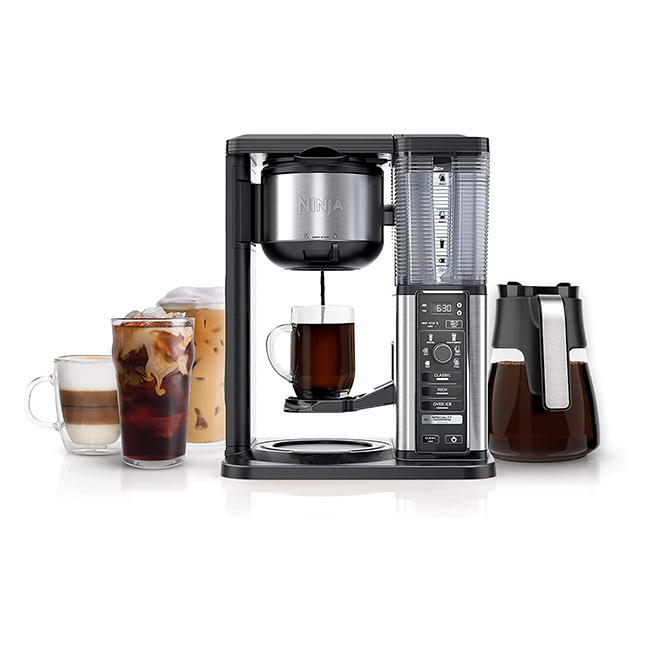 If you want a high quality coffee machine that not only performs amazingly but also looks like it comes straight from the future, then look no further than the Ninja Specialty Coffee Maker. While testing this machine we were immediately impressed by its versatility and the number of different coffee options available. It's no wonder that it has an almost flawless Amazon rating.
From the start, you can choose between stronger drinks like a latte or your standard cup of drip coffee. If something cold is more your style, there's also an option for iced coffee drinks. You also have a lot of choices when it comes to size, so whether you need a single cup or a full pot of coffee, Ninja has you covered. Something to keep in mind is that this machine doesn't make espresso in the authentic sense of the word, but rather produces a strong, delicious coffee concentrate that can still be used for cappuccinos, macchiatos, and other specialty coffee drinks.
Using the Specialty Coffee Maker is also intuitive. Simply full the water carafe, add coffee grounds using the integrated scoop, and then press a button at the front of the machine to select what coffee you want and how large you want it.
If we had to fault this machine we would comment on its size. While other machines on this list, such as the Mr. Coffee One-Touch CoffeeHouse, have a tiny footprint, Ninja's machine is quite bulky and so needs a bit more counter space for operation. Also, there's no warming function so you'll need to make a fresh beverage every time instead of bulk-brewing.
Pros
Able to brew a wide variety of coffee styles and sizes
Able to make iced coffee drinks
Excellent frother
Attractive design
Cons
Bulky and takes up a lot of counter space
No warming function
Makes concentrate instead of authentic espresso
---
Best Budget Coffee Maker with Frother – DeLonghi EC155 – 4/5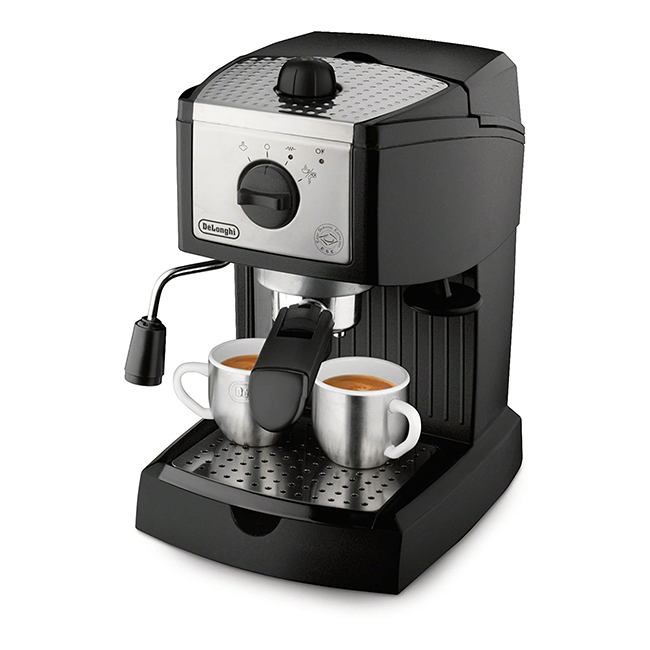 Low on funds but still don't want to sacrifice on good quality coffee? Then check out the EC155 by DeLonghi. With the ability to create 15 bars of pressure, the EC155 is capable of producing espresso, lattes, cappuccinos, and any other specialty coffee styles you might be in the mood for. While it only has one portafilter with the capacity to brew up to three shots of espresso at once, this machine utilizes a temperature control system that keeps it hot between servings, so that it's always at the ready. It also has a self-priming system that ensures a smooth start-up without you having to worry about priming the machine manually, meaning that brewing a delicious cup of coffee is literally as simple as pressing a button.
The portafilter of the EC155 is designed to hold not only coffee grounds but also pods. So if you're someone who doesn't own a coffee grinder or you just prefer the convenience of pods, then this machine is for you.
In terms of downsides, we found that the steam wand on this model wasn't the most powerful. While it was able to heat the milk and produce a gentle foam, it wasn't near as luxurious as we would have liked. So while this isn't the best espresso machine on the market, for the price, it's hard to beat. It's also an Amazon Choice, meaning it has a good reputation among consumers.
Pros
Affordable
Very compact
Makes up to three shots of espresso per serving
Works with coffee grounds and pods
Cons
The foam produced isn't as thick as we would have liked
---
Best Capsule Coffee Maker with Frother – Nespresso Vertuo Plus – 4/5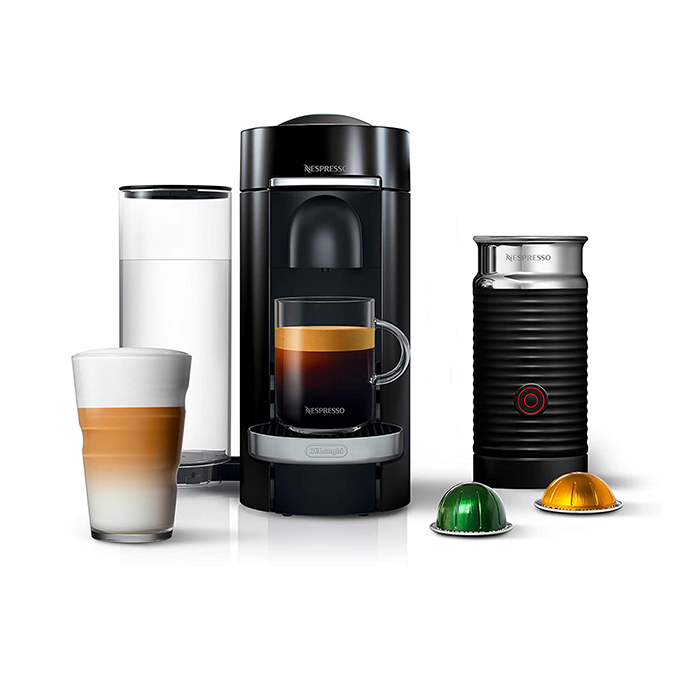 Not into grinding coffee but still want a big boost of caffeine? Then check out the VertuoPlus from Nespresso. Whereas ordinary coffee pods (also called K-cups) contain around 4 grams of coffee, the single-serve capsules used in the VertuoPlus contain a whopping 7 – enough to send you into caffeinated heaven. It's not just about size, however, as the whole VertuoPlus machine is designed to provide a wide range of coffee styles. It's packed into a svelte casing, one that doesn't take up much space but would enhance the aesthetic of any kitchen.
Using the VertuoPlus couldn't be easier. Water is added into the 60oz removable water tank, capsules are inserted by opening up the head of the machine (it requires a gentle lift and then a hidden lever automatically takes care of the rest), and the entire operation is controlled by a single button on top. The type of coffee you want is determined by the type of capsule that you use with the VertuoPlus.
The capsule range consists of three different sizes capable of producing five different types of coffee. These include espresso, double espresso, gran lungo, mug, and alto. In terms of coffee volume, this equates to 40ml, 80ml, 150ml, 230ml, and 414ml respectively.
Unlike other machines on this list, the milk frother isn't actually integrated into the coffee maker. It's a stand-alone device that lets you froth milk independently of the coffee machine. It's not a wand, however, so you won't be able to get the really creamy foam needed for a cappuccino or latte.
Each pod is designed to deliver an excellent cup of coffee, complete with a beautiful crema and everything in between. And once it's finished brewing, it automatically ejects the capsule into a hidden container to save you from burning your fingers on the spent casing.
Pros
Incredibly easy to use
Produces delicious, full-bodied coffee with thick crema
Offers a range of different coffees depending on the capsule used
Cons
Capsules can be expensive
Not the most environmentally friendly
---
Best Premium Coffee Maker with Frother – Breville Barista Pro – 4/5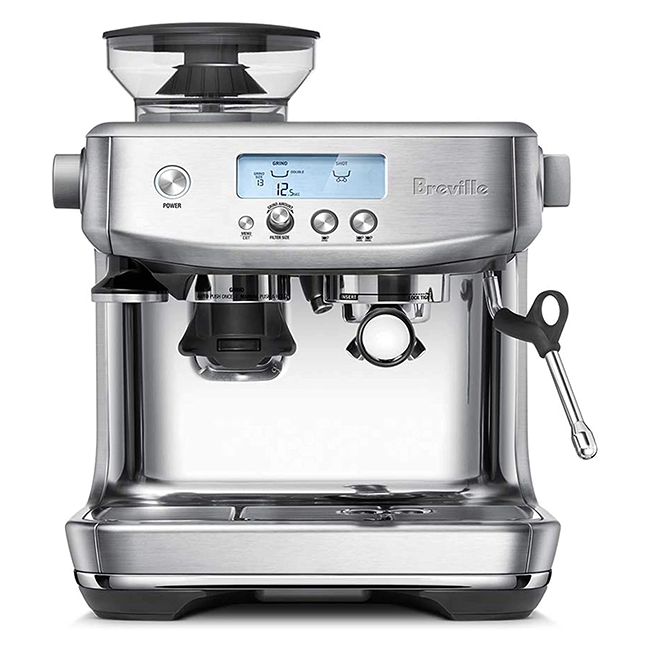 If you have the cash to spend and want the best of the best, then look no further than the Breville Barista Pro. An upgrade to the Breville Barista Express, the Pro is faster, quieter, and more digitized than its little brother. It comes equipped with the Smart Grinder Pro, an integrated conical burr grinder – with over 30 different grind settings – that lets you grind your coffee beans to your desired consistency perfectly every time. It also comes with a stainless steel tamper that fits tidily into a slot beside the grinder.
This machine is also smart. It uses low-pressure pre-infusion to saturate all of the grinds just before the brewing process starts for optimal flavor extraction. It also uses its ThermoJet heating system to achieve the optimum extraction temperature in as little as three seconds, resulting in a near-instantaneous brewing process.
In terms of steam wands, the Barista Pro is one of the most powerful on this list and lets you easily create the creamiest lattes, cappuccinos, and macchiatos. Everything is contained in a beautiful stainless steel housing, and the whole operation is controlled from an LCD interface that gives you an overview of the whole process at a glance.
Lastly, the portafilters deserve a brief mention. The Barista Pro comes with two portafilters and the capacity to make up to three shots of espresso during each serving – pretty impressive. If you've got the money, there's probably not a better home espresso machine your money can buy.
Pros
All-in-one espresso machine with incredible grinder
Powerful steam wand
LCD interface
Beautiful stainless steel finish
Cons
---
Things to Consider When Purchasing a Best Coffee Maker with Frother
Coffee machines are intricate devices, and there's a lot to consider when buying one. To make this process a little easier, we've put together this buyer's guide to highlight some of the prominent things you should be considering before you part with your hard earned cash.
Coffee style
Do you prefer an americano, a latte, a cappuccino or an espresso? There are many different styles of coffee, so it's important to know which one you prefer so that you can choose a coffee machine that can make it. While some, like the Breville Barista Pro, will be able to make just about any style of coffee you through at it, others won't have the same range and versatility. So choose accordingly.
How much coffee do you drink?
If you're someone who needs a cup of coffee every hour, then you're going to want to find a coffee maker that has a large capacity – maybe between 10 and 12 cups. If you're someone who is satisfied with one or two cups of coffee per day, then something like the Nespresso VertuoPlus, which makes one drink at a time, should be perfect.
Automatic or hands-on?
Many brewers love getting very technical when they make coffee; they like to have complete control over all brewing variables so that they can tinker and adjust the flavor profile of their final brew. Others prefer simply pushing a button and receiving coffee out the other end. Between these two extremes lie a whole host of different coffee machines. Whatever your preference, a good tip to keep in mind is that automated coffee makers tend to faster and more expensive – but you won't be able to customize the final flavor of your brew as much.
Pod, capsule or ground coffee?
Coffee makers generally use three different sources for brewing coffee – single-serve pods (also called K-cups), capsules or ground coffee. Pods and capsules simply slot into the coffee maker and the machine does the rest. They're extremely convenient, fast and don't need to be cleaned up. However, they are wasteful and don't offer much customization if you're someone who likes to tinker with their brew. If you use ground coffee, you'll have a much wider range of coffee flavors to choose from, but you'll have a much messier clean up process once you're done.
Self-cleaning
If you're someone who hates cleaning, you'll be happy to know that there are many models on the market that can self clean with a little bit of water and cleaning solution. These are generally more expensive than the models you have to clean by hand, but it does save a lot of time and hassle.