There's no doubt that the French press is one of the world's favorite styles of coffee, and one that you can find in pretty much any coffee shop you visit. Loved by baristas, coffee connoisseurs, and amateur brewers alike, you'll find the French press in coffee shops, bistros, and homes worldwide. While bulky espresso machines certainly have their place (we would never bash an excellent double espresso), the French press wins with its overall simplicity, especially when it comes to making delicious, full-bodied brew. With nothing more than a coffee grinder, coffee grounds of your desired consistency, boiling water, and the French press itself, you can make some of the tastiest, highest quality coffee around. This brewing method is also a handy backup should your espresso machine or drip machine fail for whatever reason, as all you need to make a tasty brew is some ground coffee (a coarse grind works best), hot water, and a few minutes of steeping time. You don't even need paper filters or coffee filters!
And so with that in mind, we've put together this list of the best commercial French presses currently on the market.
---
Editor's Pick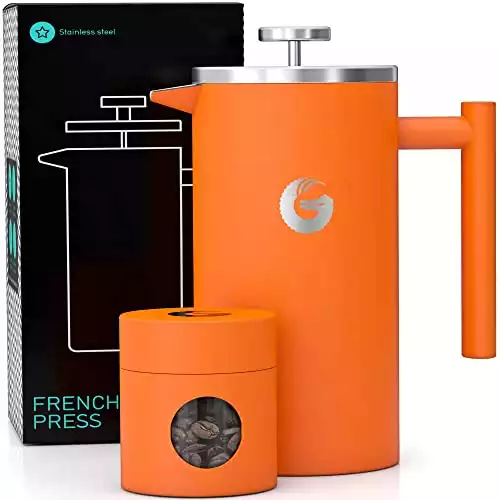 Coffee Gator French Press
Buy Now
Caffeinefiend is reader-supported. We may earn a commission if you make a purchase, at no additional cost to you. We research and test the best products for our readers, and we only continue to run thanks to your support.
Features at a glance
Premium, double-walled stainless steel insulation
Spring-loaded, double-screen filter to keep out sediment
Durable and rust-proof
Cool-touch handle
Stays hot up to 60 minutes longer than glass French presses
---
Top 7 Commercial French Presses: At A Glance
---
Top 7 Commercial French Presses: Detailed Reviews
---
Belwares French Press: Has the Best Filtration System For a Commercial French Press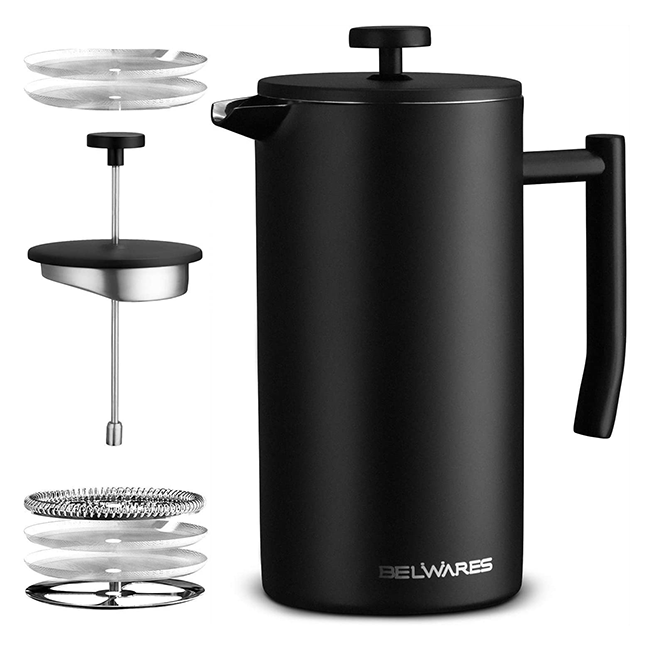 Overall rating – 4/5
Belwares is a company that knows a thing or two about kitchen equipment and, consequently, brewing coffee. Their beautiful products have been gracing and enhancing kitchens and tabletops for some time now, and their French press is just another extension of the good work they've been doing. Constructed of premium stainless steel and coated with a beautiful matte finish, Belwares' French press is not only durable and high-performing but beautiful too. Like other presses on this list, it uses double-walled, vacuum-sealed technology in order to keep coffee hot for extended periods. It's available in 34oz and 50oz models and has beneficial interior measuring markings to help you know exactly how much water you're adding and coffee you're brewing.
Where this press really shines is its filtration system. The Belwares stainless steel French press uses a four-tiered filter that is excellent at keeping even the smallest sediment and particles out while locking essential flavor in. The only downside is that, while the filter can be broken down and disassembled fairly easily, it's not dishwasher friendly and so has to be washed by hand.
Pros
Beautiful matte finish
Stainless steel construction
Excellent filtration capabilities
Measurement markings for more exact measuring
Cons
Filter is not dishwasher friendly and has to be washed by hand
---
Magicafe French Press: Best Small Volume Commercial French Press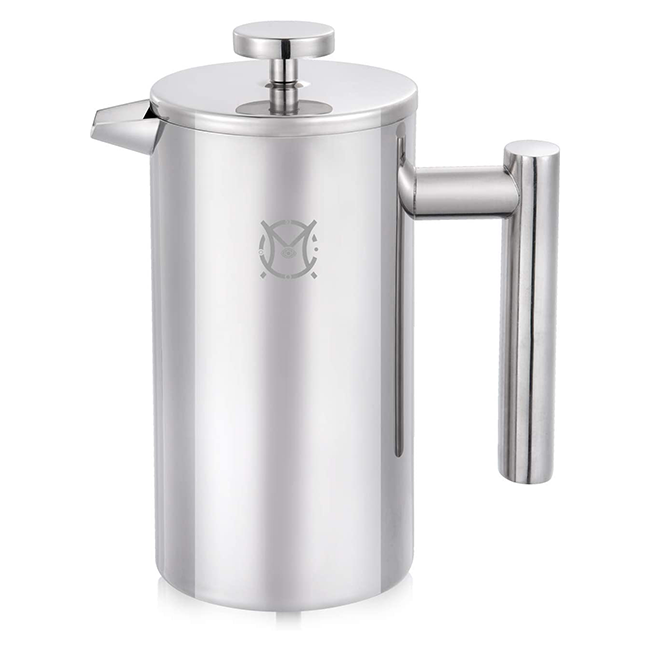 Overall rating – 4/5
If you're looking for a smaller "in-between" French press for when you don't need to brew for five people but don't need a single cup either, then the Magicafe French press is a great option. Available in 12oz and 24oz, these little dispensers brew French presses that are just as good as their bigger counterparts. Like other presses such as Coffee Gator, the Magicafe is built from premium stainless steel and features a double-walled, vacuum-sealed design in order to keep the contents hot after brewing. After testing this device we really loved how tight the seal was between the filter and the interior of the carafe. The result was no sediment finding its way into the final brew but still making a very delicious cup of coffee.
Pros
Premium stainless steel construction
Great heat insulation
Tight seal on the filter
Rust-resistant and dishwasher safe
Cons
---
Bayka French Press: Best Large Capacity Commercial French Press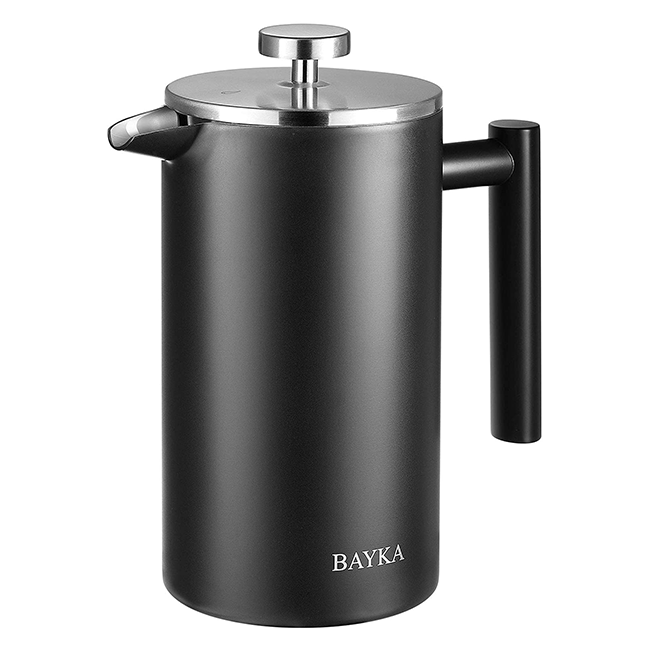 If you look up Bayka online you'll see that they make two types of products really well. The first is shelves and the second is French presses. We're not sure what those two products have to do with each other, but we're happy about it anyway because Bayka's commercial French press is a tank that needs to be praised. Made from 304 stainless steel, the Bayka can be dropped, shoved, nudged, and punted without fear of it being destroyed. Like other French presses on this list, it is double-walled and vacuum-sealed meaning it has excellent heat retention and can keep your cafe's coffee hot long after brewing.
The Bayka also has a few standout features which put it ahead of its competition. While its sturdy handle will help you pour steadily and prevent you from burning your hands, it's the spout that deserves some praise. It features a longer design than the standard norm, which means there's less chance of hot coffee spilling all over your counter as you pour. This particular model comes in three different sizes, so you can always find something to fit your French press needs. It's also dishwasher friendly, which is great news if you're in a hurry to clean up at the end of a busy workday.
Pros
Quality stainless steel build
Dishwasher friendly and easy to clean
Available in a variety of different sizes
Long spout reduces mess and spills while pouring
Excellent heat retention
Very affordable
Cons
---
Coffee Gator French Press: Best Overall Commercial French Press – 5/5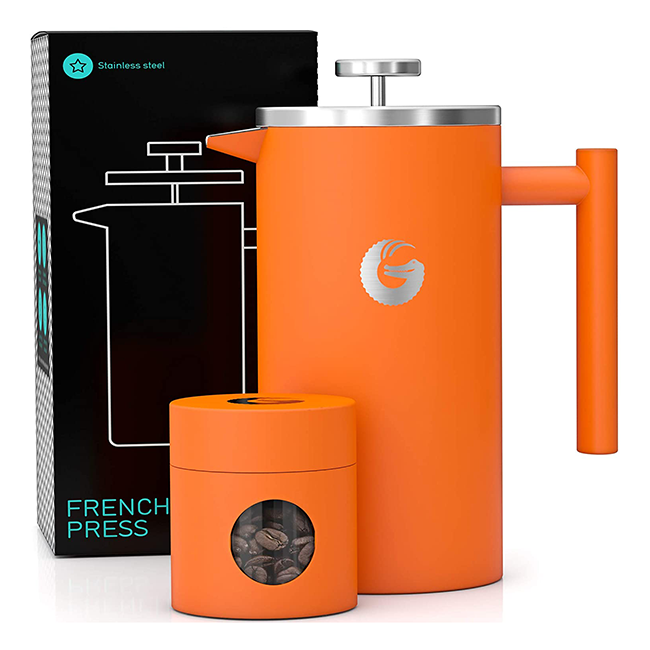 If you're looking for the best commercial French press that does it all then look no further than Coffee Gator's French press. Coffee Gator is one of the best in the business when it comes to all things coffee-related, and their French press is no different. Constructed from 304 stainless steel, this French press is a veritable tank. Its double-walled vacuum-sealed design keeps coffee hot for longer, allowing you to pour a cup of coffee a full hour after brewing and still have it steaming hot. A cool-touch handle prevents you from burning your skin during pouring and at the same time stabilizes the entire press so that hot spills are kept to a minimum.
If you're working in a cafe or coffee shop, you'll be happy to know that the Coffee Gator French press is extremely durable, and can handle the fast-paced action of a commercial establishment. It's also rust-proof, so you don't have to worry about it deteriorating within a year of purchase.
In terms of performance, we found that the Coffee Gator is pretty hard to beat, even when compared to industry leaders like Bodum. Coffee Gator uses a much denser filter than other presses, which means that a lot more sediment gets filtered out without losing any of the aromatic oils that contribute to all of the flavors. Since it's rustproof, you can just pop this French press in the dishwasher and save yourself some cleanup time at the end of the day.
Pros
Extremely durable
Rust-proof
Very effective filter
Keeps coffee hot for an hour after brewing
Affordable especially for the quality
Cons
Its design means it's a little bit heavier than other models
---
Polivar French Press: Most Beautiful Commercial French Press – 3.7/5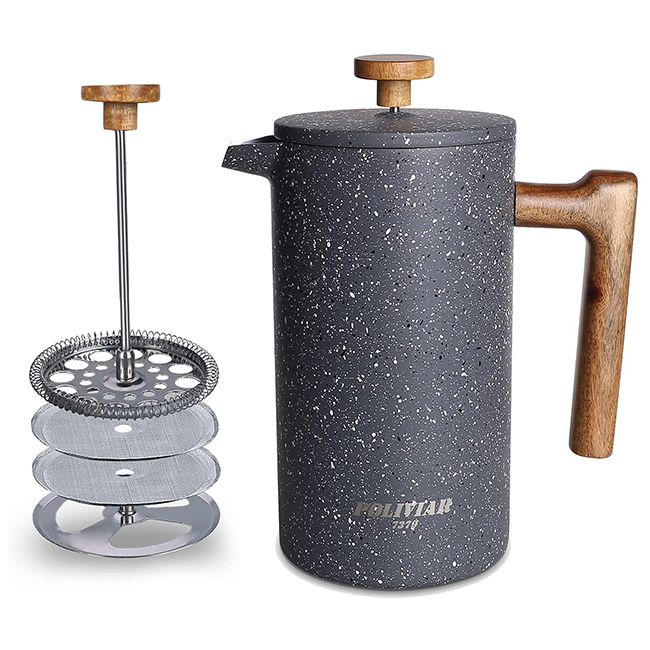 If you're looking for a French press that only performs well but also matches your cafe or workplace aesthetic, then look no further than Polivar. Constructed from stainless steel, this beauty is finished with a patterned powder coating and features a German teak wood ergonomic handle and plunger knob. The impression is a French press that is easy on the eyes but still delivers a delicious and full-bodied cup of coffee. Like the other best commercial French presses reviewed here, the Polivar is double-walled and vacuum-sealed and uses a double-layered filter to ensure that the minimal amount of sediment makes its way into your final brew.
If you need a medium-sized French press then we recommend the Polivar. With a maximum volume of 34oz, it's the perfect middle ground between two-cup and ten-cup presses. It also comes with a handy series of measuring lines on the interior of the carafe so if you need to make a smaller batch of brew you can do so with precision.
The biggest criticism we have with the Polivar is the fact that it's not dishwasher-friendly. You can disassemble all of the parts fairly easily, but you'll have to get rid of all of the spent grounds manually and clean the entire device by hand.
Pros
Beautiful, powder-coated finish
German teak handle and plunger knob
Double-layered and vacuum sealed
Cons
---
Lafeeca French Press: Most Feature-Heavy Commercial French Press – 4.5/5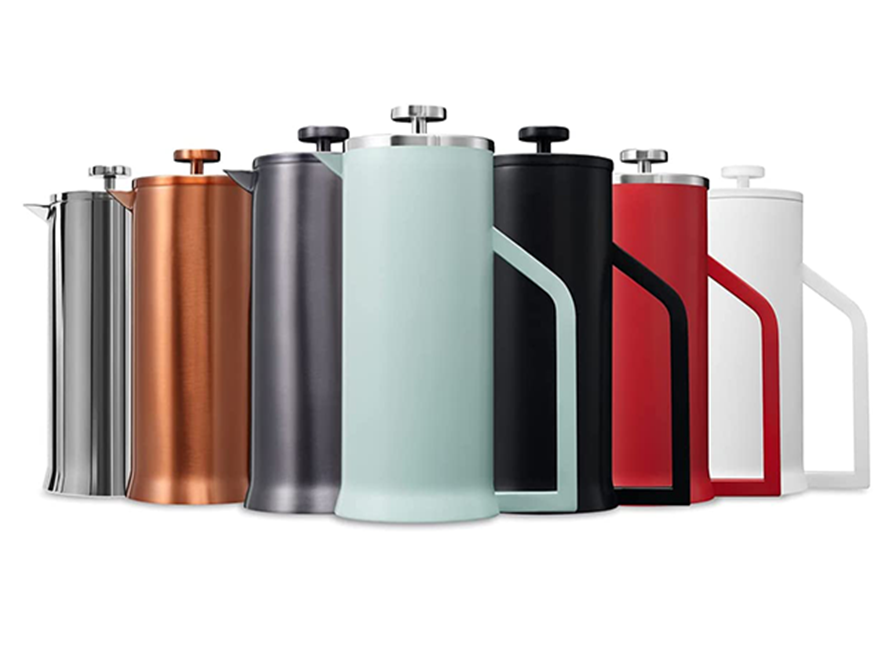 If you're looking for a heavy tank of a French press that won't let you down even under the most arduous situations, then look no further than the French press from Lafeeca. Designed for commercial settings, this French press is constructed from non-corrosive, rust-proof 304 stainless steel and can brew up to one liter of coffee per serving. Like other commercial French presses, its design is both double-walled and vacuum-sealed, but unlike other models, the Lafeeca boasts 100% thicker walls, resulting in even more effective heat insulation. Other great features include the four-layer filtration system which keeps out as much sediment as possible and an anti-slip silicone base which is ideal for fast-paced environments like coffee shops where you might not be the most careful when putting down your French press.
While not the cheapest French press on this list, the Lafeecca is extremely well made and comes in a variety of different colors so that you can always find the right French press to match your establishment.
Pros
High quality, non-corrosive rustproof construction
Non-slip silicone base
Available in a variety of colors
Extra-thick walls for more effective heat insulation
Cons
Not the cheapest French press on the list
---
Secura French Press: Best Budget Commercial French Press – 4.5/5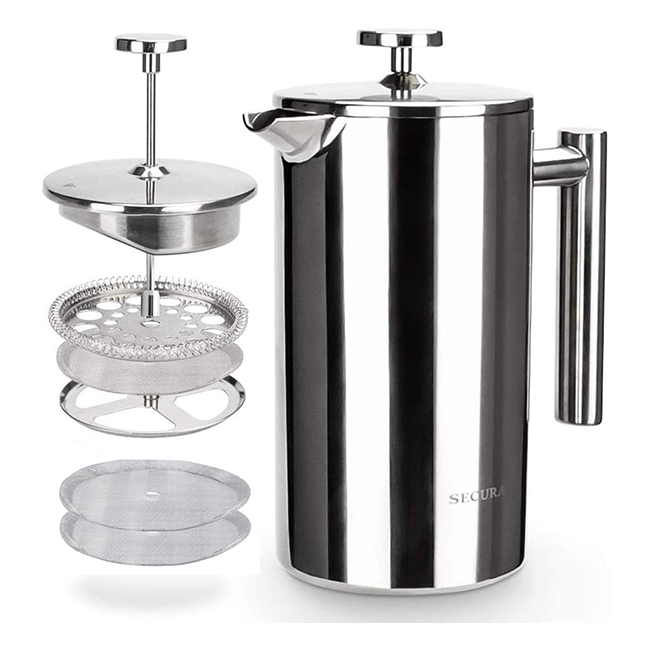 If money is tight but you still want the best French press for your buck, you'd be hard-pressed to do worse than Secura's French press. A trusted brand when it comes to kitchen equipment and appliances, Secura has managed to design a French press that performs well, looks great but won't break your bank at the same time. The device is constructed from polished stainless steel and includes a cool-touch handle that won't burn your hand no matter how hot the contents of the press are. It comes in four different sizes – 12oz, 17oz, 34oz, and 50oz – and is dishwasher safe, so cleaning up after successful brewing is a breeze.
The Secura is also one of the highest-rated commercial French presses on Amazon, so the customer satisfaction for this product is high. After using it, however, we found that the triple filter wasn't as tight or secure as other presses on this list, and would have liked to have seen an extra layer just to prevent more grit from making its way into the final brew.
Pros
Affordable
Solid stainless steel construction
Rated very highly among consumers
Cons
Filter isn't as tight as similar presses
---
Commercial French Press Buying Guide
Durability
Since you're going to be using these French presses at work, it makes sense that you're going to want something that can withstand the rigors of constant use and cleaning. Cafes and other catering establishments can be hectic environments too, so if you're using a French press as part of your restaurant equipment, it's likely that at some point or another it is going to be knocked over or take a beating. Because of this, you want a French press that is made of tough, durable materials, and preferably one that doesn't rust. Don't even think about going near borosilicate glass; stainless steel should be the bare minimum when it comes to building materials.
Size
If you're looking for the best commercial French press then it's a given that you're going to be brewing pretty large amounts of coffee. French presses come in all different sizes, so depending on the size of your establishment and the amount of coffee you foresee yourself brewing, your French press should be anywhere from 8 cups to 12 cups in size. The "cup measurement" used for French presses is deceiving, however, and doesn't actually equate to that amount of coffee. If you want to measure exactly how much coffee your French press will brew, use this ratio:
3 cup press = 1 cup of brew
8 cup press = 3.4 cups of brew
12 cup press = 5.3 cups of brew
Heat retention
In a commercial situation, it pays to be able to keep your coffee piping hot for the next caffeine-deprived customer who demands a cup of coffee. For that reason, it's important that your best commercial French press is able to retain heat effectively. Most French presses designed with this kind of heat retention in mind are double-walled and vacuum-sealed. This means that the carafe of the press is constructed with two thin walls, and between those walls, the air has been removed, making it much harder for heat to transfer from the hot contents of the carafe to the colder air on the outer surface. If you're using your French press to make something like cold brew, however, then this won't be high on your list of concerns.
---
Not sure if a commercial French press is right for you?
If, after reading this review, you're not sure that a commercial French press is exactly the type of product that you're after, then maybe one of the following will suit your needs better.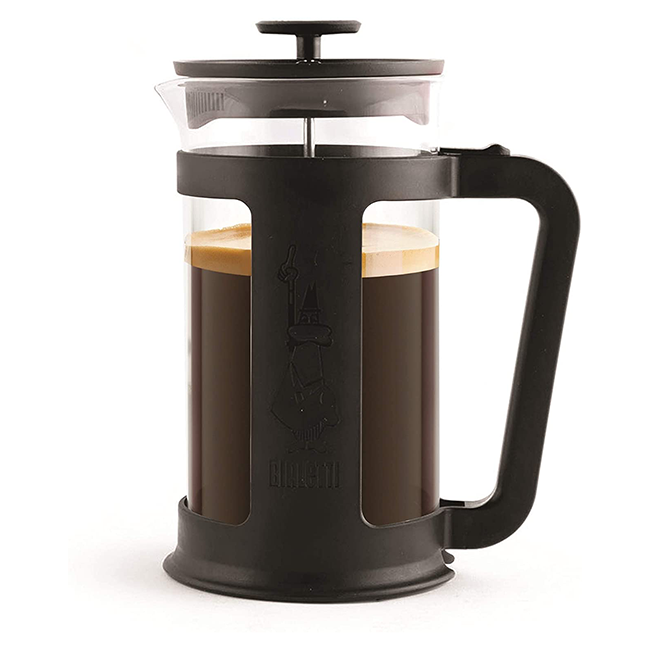 Cheap, effective, and produced by a trusted brand, the French press by Bialetti is a firm favorite among coffee professionals and homebrewers alike. It's used in many cafés, conferences, coffee houses, and restaurants, and consistently produces delicious aromatic coffee. You'll find this coffee pot on cafe and kitchen countertops throughout the world. It's also extremely cost-effective owing to the plastic construction of its frame and handles. The main downside is that the carafe is made of borosilicate glass with a steel frame, so if you're working in a fast-paced environment, you run the risk of accidentally knocking this device over and having it shatter on the floor. If you don't like Bialetti's products, it's worth checking out the Chambord French press by Bodum.