Siphon coffee makers, also called vacuum coffee brewers, are specialized brewing devices that use the same techniques and processes to brew coffee as they did 200 years ago. While the technology hasn't changed much, the designs have, and today's models are much stronger, robust and long-lasting than those used in the past.
In a previous article we looked at Bodum's range of vacuum coffee makers, but this piece will focus on it's counterpart, the Hario Siphon Technica coffee maker. (Image of the Hario Siphon Technica being heated above by Tolga Soytekin)
Unlike Bodum's flagship model, the Pebo, the Hario Siphon Technica is a countertop model, which means you can use it anywhere that you have a flat surface. However, the additional portability comes with its downsides. Below, we'll go into detail about what makes this coffee maker special, what could make it better, and other products we think you might enjoy.
---
Hario Siphon Technica At a Glance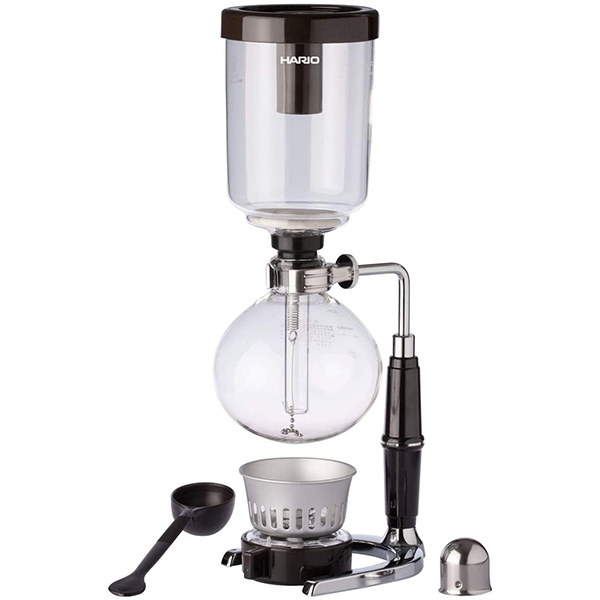 Overall rating:

3.8/5
The Hario Siphon Technica is an elegant piece of coffee-making equipment that has the potential to make delicious coffee with just the right amount of intensity. With the right scale, grinder, and burner, you can really elevate the coffee-making experience to a higher level.
Features at a glance
Extremely well-built.
Beautiful design.
Uses an alcohol or butane burner as a fuel source.
Extremely portable.
---
Hario Siphon Technica Review Breakdown
Ease of Use –
3/5
While the Hario Coffee Siphon Technica is undoubtedly a beautiful machine, and one that still oozes all of the charm and beauty of the era in which it was designed, it's not inherently practical. It will look fantastic sitting on your kitchen counter, but actually using it can be a drawn-out process. Because it relies on an external fuel source – usually denatured alcohol – making a cup of coffee means filling up the burner every time. You have to do this carefully. If you overfill the burner, you risk spilling the propellant, which can be devastating to certain kitchen counters especially if they're made of wood.
If you're not a fan of alcohol, the Hario Siphon Technica also works with other types of fuel sources. Butane burners, like this one from Yama, which use compressed butane gas as a fuel source, are one option. They're slightly more expensive than alcohol, but give you the benefit of being able to control the temperature and intensity of the flame.
Another option is to use a halogen lamp heater like this one from Yuchengtech. While it's more of an upfront investment, halogen lamp heaters offer greater temperature control and mean that you're not dependent on always having to refill your burner. Also, they add an extra layer of aesthetic charm to the whole siphon brewing operation.
Brew Capacity –
4/5
The Hario Siphon Technica comes in three sizes: 2-cup, 3-cup, and 5-cup. A cup by Hario's definition is 120ml or 4oz, although different manufacturers have different measurements. Even though Hario makes their vacuum coffee makers on the smaller side compared to competitors, it's actually the perfect size. This means that a 2-cup version is more than adequate for, you guessed it, two people.
The reason that the coffee maker didn't get all five stars in this category is that other vacuum coffee makers such as the Pebo have a greater brew capacity than the Technica. While this might not bother some, others may appreciate being able to brew as much coffee as humanly possible in one go.
Build Quality –
4.5/5
Hario knocked it out of the park when it came to the design and build of their siphon coffee maker. Manufactured in Japan, most components of the Hario Siphon Technica are constructed of borosilicate glass. This type of glass is used in restaurants, laboratories, and wineries, due to its durability and ability to withstand temperature changes.
The stand and filter holder are both constructed of stainless steel for added longevity and durability. This puts it one foot ahead of other vacuum coffee makers, like the Pebo from Bodum, which use plastic for the same components. The Hario Siphon also uses a cloth filter (in comparison to the plastic ones used by Bodum), which, in our opinion, is ideal for maintaining the body of your bean and ensuring a very smooth final brew.
If you're someone who really dislikes cloth filters, you'll be happy to know that the Hario Siphon Technica also works with stainless steel filters such as this one from Diguo.
Cleaning –
3/5
Where the Hario Siphon Technica suffers is cleaning and maintenance. Cleaning the glass components isn't too much of a challenge – borosilicate glass is dishwasher safe so you can just pop the carafes in the dishwasher – but the cloth filter is a bit more particular. After cleaning the cloth filter, Hario actually recommends storing it in a glass of water in the refrigerator. Ensuring that the filter is never dry will, according to them, ensure that unwanted particulates, tastes and smells don't make their way into your next cup of coffee.
If you're using a burner, cleaning it can also be somewhat tricky sometimes. Soot and carbon buildup can occur when using denatured alcohol and butane burners. While this won't affect the taste of the process of your coffee per se, many brewers dislike the way it looks, and so prefer to remove the buildup as it occurs.
---
Hario Siphon Technica Pricing
The Hario Siphon Technica is a beautiful piece of equipment that manages to straddle the line between aesthetic and functionality quite nicely. Just as it does with the duality of function and beauty, it also manages to straddle the line between cheap and expensive.
Purchasing this vacuum coffee maker won't break your bank, but it isn't something you would just casually buy without consideration either.
Compared to competitors, it's not the best bang for the buck out there. Bodum's Pebo, for example, can make an equally delicious cup of coffee, has a slightly larger brewing capacity, and is cheaper by a fair degree. That being said, if you value the performance of the Hario Siphon or are a brand loyalist (they do make consistently great products), it's worth the investment.
---
Reasons to Buy the Hario Siphon Technica:
You appreciate looks, charm, and aesthetics. For fear of beating a dead horse, the Hario Siphon Technica is a pretty piece of kit. If you're the type of person who takes kitchen aesthetics seriously, and you feel that it's a prerequisite that all of your kitchen appliances should be visually appealing, then this coffee maker is for you.
You enjoy hosting and making coffee for friends. As well as being beautiful, making coffee with the Hario Siphon Technica is also a spectacle, which makes it ideal for gatherings and dinner parties. Rather than pressing a button on an espresso machine or waiting for a French press to finish steeping, brewing coffee using a vacuum coffee maker like Hario's is a theatrical performance.
---
Reasons to Avoid the Hario Siphon Technica:
You want to brew coffee quickly. Make no bones about it, brewing coffee using the Hario Siphon is not a speedy process. Because this is not a stovetop brewer and relies on an external fuel source, it will almost always take longer to heat. If you need something that you can operate bleary-eyed after just waking up and hopefully produce a halfway-decent cup of coffee, then this is not for you. Something simpler and faster, like a French press or Moka pot, will be more your speed.
You prefer stovetop brewers. Having to constantly refill your burner with denatured alcohol or butane can be annoying, and is another variable you have to factor in when making coffee. If this is something you do or will potentially find off putting, then we advise you to look into stovetop vacuum coffee makers such as the Bodum Pebo instead. Alternatively, you could also look into an electronic vacuum coffee maker, but more on that below.
You want a more straightforward way of brewing coffee. Making coffee using the Hario Siphon Technica isn't exactly as simple as pushing a button; it requires a fair amount of preparation, setup time, and cleaning up. We understand that this can be off putting to a lot of people who don't want their morning coffee to be at the end of a maze of weighing, measuring, filling, pouring, heating and cleaning. If you find yourself firmly in this camp, then you might want to think about investing in an automatic espresso machine.
---
Vacuum Coffee Makers We Liked A Little More
Although we love the Hario Siphon Technica and think that's definitely a worthwhile piece of equipment, there are still a few other vacuum coffee makers on the market that we think outperformed it in several categories.
The Pebo by Bodum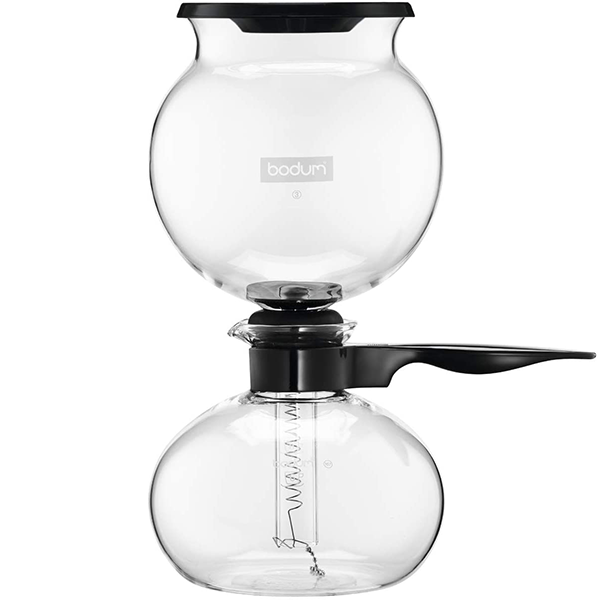 In terms of value for money, it's hard to beat the Pebo by Bodum. Not only does the Pebo making coffee just as rich, heavily-bodied, and delicious as the Hario Siphon Technica, it does so with a large brewing capacity. Just like the Technica, the Pebo is made with borosilicate glass, meaning it's just as durable and resistant to high temperatures. Yet somehow, it's a fair bit cheaper than the Technica.
The Yama Glass Stovetop Coffee Siphon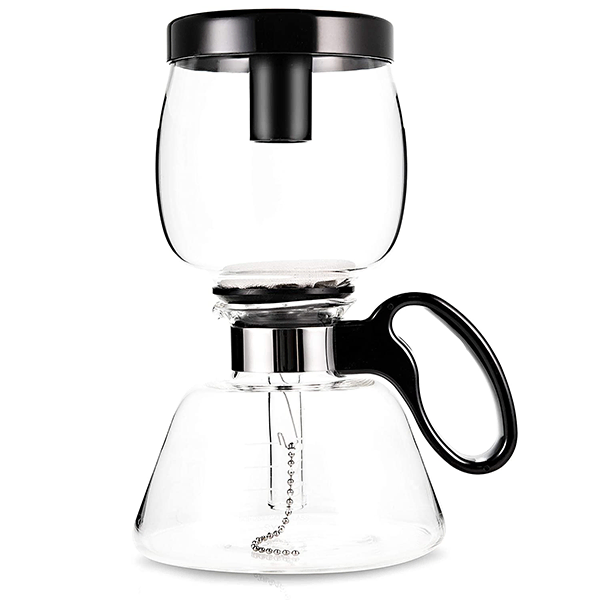 In terms of a time-effective vacuum coffee maker, the Yama Glass Stovetop Coffee Siphon blows the Hario Siphon Technica out of the water. While it may not be as attractive as the Technica, we feel that being able to simply brew your coffee directly on a stove without having to worry about making sure that your burner is filled more than makes up for it. On top of that, the added control over heat and intensity means you can really dial in the process and control for all brewing variables.
Kitchenaid Siphon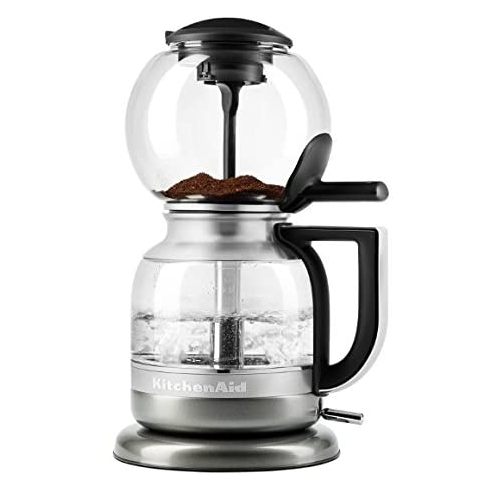 If you'd like to do away with stovetops and burners altogether, then the electric Kitchenaid Siphon is a great option. While it does away with some of the pageantry and theatrics that characterize the Hario Siphon Technica and other vacuum coffee makers, we feel that the convenience of being able to heat your coffee directly from a power outlet is a worthwhile trade-off.
We also just generally like the Kitchenaid Siphon because of its gorgeous design, premium build quality, and ability to make a delicious brew. That being said, you definitely pay for it as the Kitchenaid Siphon does not come cheap.
---
Vacuum Coffee Makers We Liked A Little Less
NISPIRA Belgian Balance Siphon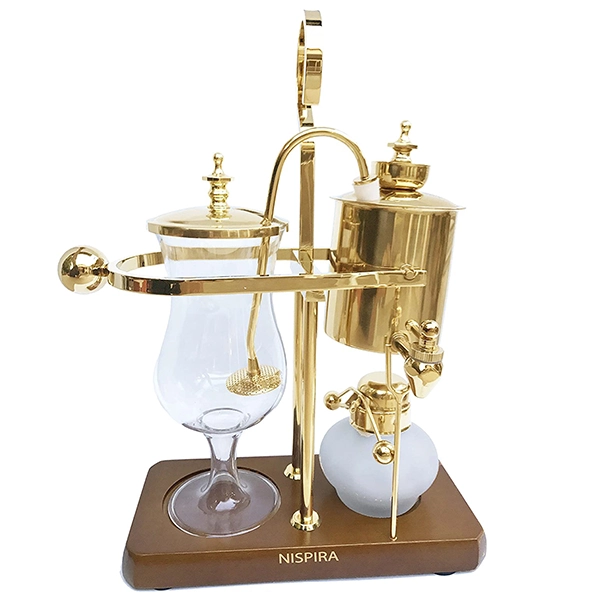 If aesthetic means more to you than functionality does, then we recommend looking into the NISPIRA Belgian Balance Siphon.
With its wooden base and golden finish, the NISPIRA feels like something straight out of a Lawrence of Arabia tale.
While the tales of T. E. Lawrence might be legendary, however, the functionality of the NISPIRA is not. It relies on external fuel sources such as denatured alcohol and butane just like the Technica, but the way it's designed means that the use of halogen lights isn't an option. And while the coffee that it makes isn't terrible by any stretch of the imagination, we feel that the price and hassle it takes to fire up and use the NISPRA doesn't really justify the final brew.
---
Hario Siphon Technica: The Final Verdict
To cap it off, the Hario Siphon Technica is a beautiful coffee making device, capable of delivering excellent brew alongside all of the flair that comes with the siphon coffee method.
With its components constructed of borosilicate glass and stainless steel, it's certainly a tough and durable coffee maker that should last you for a long time if you look after it. Price wise, it's a pretty decent deal for the quality that you're getting.
The only thing we would change is to either engineer it to work on stoves, or to make a stovetop version for those who prefer not to use a slow, uncontrollable external fuel source. Slight criticisms aside, it's still a really great vacuum coffee maker, and well worth the investment.