If you're a true coffee lover then you likely go through the motion of grinding your own beans at home. You've also no doubt invested in all sorts of coffee paraphernalia ranging from French presses to pour over coffee makers and everything in between. But to take it one step further and become a true coffee geek, you need to roast your own beans using a home coffee roaster.
But that begs the question, why? It's already easy enough to buy a bag of quality roasted beans from a supermarket or cafe, so why do it at home?
---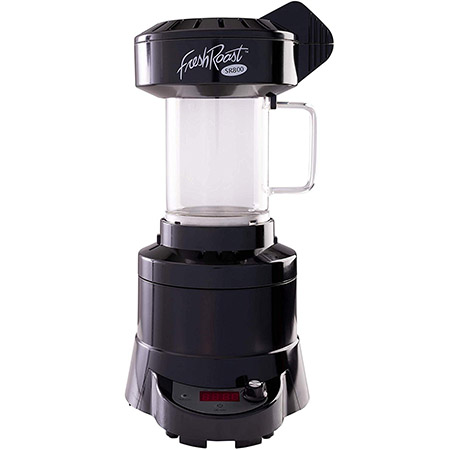 Quality 4.5/5
Pricing 3.5/5
Features 5/5
Consistency 5/5
Intuitive, compact, easy to use, consistent and powerful enough for roasters of all levels, the Fresh Roast SR800 takes the crown as the best home roaster.
---
Why Roast Coffee Beans at Home?
It all comes down to freshness. One of the main perks of having your own home coffee roaster is being able to roast your green coffee beans only when you need them. This allows you to consume them the very second that they come out the roaster, offering unparalleled freshness. It also gives you full control of the roasting process, meaning you can precisely dial in exactly how you'd like your beans roasted.
On top of that, it's also a great way of delving deeper into the roasting process and understanding exactly how coffee is made. It's a learning exercise that allows you to take your coffee-related knowledge to the next level.
Of course there's nothing wrong with buying whole roasted beans from the supermarket. But many coffee aficionados want to understand the coffee making process from bean to cup, and so learning how to roast is undoubtedly appealing.
And with that in mind, we've put together a list of some of the best home coffee roasters currently on the market. We want to equip you with the tools and knowledge to help you, no matter what stage of the roasting journey you're currently on. Whether you're an amateur, expert, or somewhere in the middle, you'll find a roaster for you on this list.
---
Rock and Roast: Our Ranking Factors for The Best Home Coffee Roaster
When compiling this list, we took into account a number of different determining factors which helped us narrow down the selection.
Roaster Type
Coffee roasters generally fall into two broad categories:
Air Roaster
An air roaster heats and roasts the beans using indirect heat. It's very similar in design and functionality as a convection oven, which uses fans to move heated air around an enclosed space.
Drum Roaster
Drum roasters use direct heat in order to heat and roast the beans. A source of heat is applied to a single spot on a cylindrical drum, which then rotates in order to evenly roast the beans inside. T
Unlike an air roaster, it doesn't rely on fans and air currents to distribute the heat. It's also slower than an air roaster, taking between 14 and 20 minutes to complete a roast. That being said, its stately speed of operation produces a very even roast.
---
Top 7 Home Coffee Roasters at a Glance
Now that you're aware of how we chose our home coffee roasters, let's take a look at their specifications.
*Price at the time of writing this article
---
Our Favorite Home Coffee Roasters, Ranked and Reviewed.
Still hungry for more detail? Below we delve into the nitty-gritty of what makes each home coffee roaster special, as well as features you should be aware of.
Fresh Roast SR540 – Best Allrounder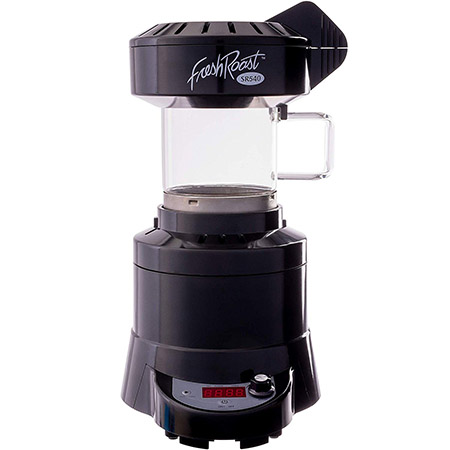 If you're just starting out and not sure how far you want to take your roasting hobby, then the Fresh Roast SR540 is the perfect tool to dip your toes. It's the perfect combination of functionality, controllability and portability, and it won't break the bank either.
The SR540 is also very simple to use. It comes with 9 different temperature settings, a dial for adjusting the fan as well as a customizable timer. This gives you some space to play around with different roast profiles without overwhelming you with limitless choice.
It also uses convection heat to get the job done. This isn't a drawback per se, but it does mean that you won't be able to roast quantities bigger than about 4 oz, or 120 grams. However, it will complete a roast in less than 9 minutes, so you can always roast multiple batches without too much trouble.
Nuvo Eco Handy Ceramic Coffee Bean Roaster – Most Eco-Friendly Roaster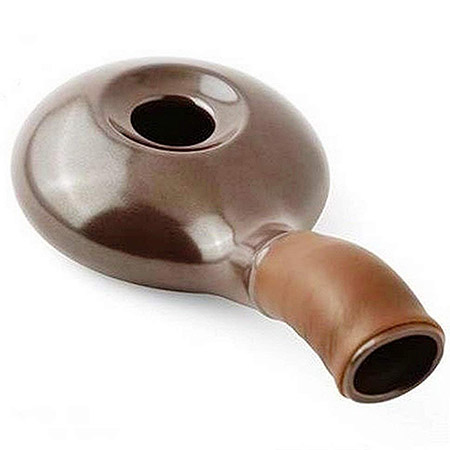 If you want a simple roaster that you can take with you on a camping trip, then consider the Nuvo Eco Handy Ceramic Coffee Bean Roaster. Constructed of ceramic, this roaster no frills minimalist, and needs nothing but a stovetop or open fire to roast your beans to the desired level.
Operation couldn't be easier. Simply fill the chamber with raw coffee beans – you'll be able to fit around 70g (3oz) or so – then place it over your heat source. Since there are no sensors to measure the progress of your roast you'll have to keep an ear out for the first and second cracks.
This is definitely one of the cheaper roasters on the list, but it's also very hands on. Roasts should take up to 10 minutes, so keep a keen eye (and ear) on it the entire time to ensure your beans don't burn. Oh, and please use gloves or oven mitts when transferring it to and from the heat source; this roaster gets hot.
Nesco CR 1010 Professional – Best Smokeless Roaster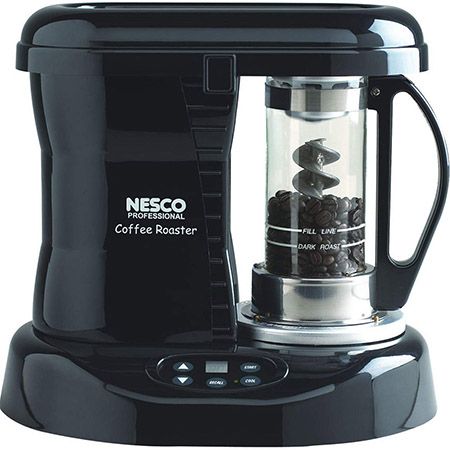 The Nesco CR1010 Professional is a beautifully-equipped allrounder that is ideal for someone who is already dedicated to home roasting. It utilizes convection heating in order to achieve an even roast with the help of an auger screw system to evenly distribute beans.
What's great about the Nesco is that it comes with a built-in catalytic convertor to help reduce the amount of smoke produced during roasting. An entire roast will take about 25 minutes, including a cooling down cycle of around 5 minutes. This little machine is great for light and medium roasts, but suffers with dark roasts as it can't cool the beans quickly enough.
That being said, it's still very effective. The hopper holds up to 5oz or 150g of beans, which means you're not exactly going to be mass producing coffee. But if you're a casual roaster who uses their home coffee roaster several times a week, it works just fine.
Kaldi Home Coffee Roaster – Best High-End Roaster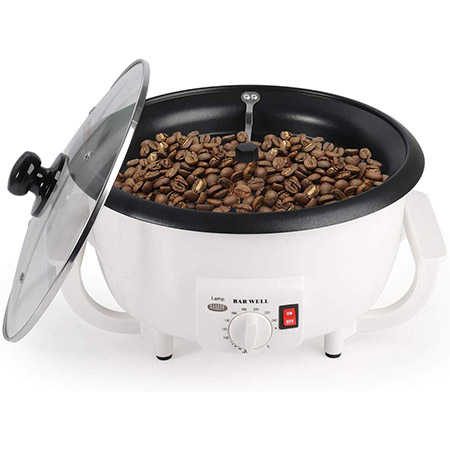 If money is no option and you're serious about perfecting your roasting game, then the Kaldi Home Coffee Roaster is the home roaster for you. This is a veritable roasting powerhouse. It affords you great control of the roasting process without being needlessly complicated.
This roaster, while powerful and functional, lacks superfluous features such as timers and buttons. It does, however, offer you full control over roasting variables such as drum rotation speed, temperature and roasting time. For the experienced roaster this is more than enough to produce excellent roasts every time, but it's not recommended for first-timers.
Functionality aside, the Kaldi Home Coffee Roaster is absolutely beautiful to look at. What it lacks, however, is a smoke suppressor. It's therefore recommended that you keep this machine outside or in a well-ventilated area during use.
MIFXIN Coffee Roasting Machine – Best Countertop Roaster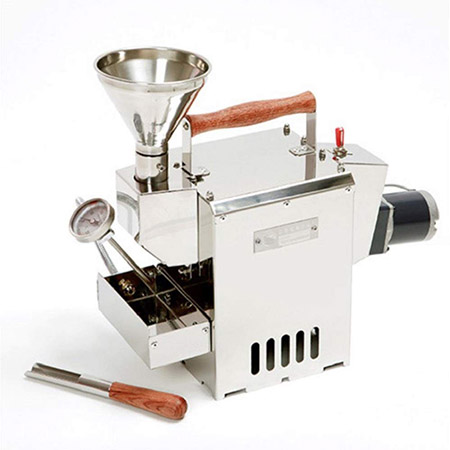 The MIFXIN Coffee Roasting Machine is an example of utilitarianism and simplicity. With a capacity of 26 ounces or 730 grams, it allows for easy bulk roasting directly on your kitchen counter.
Using an automatic temperature setting, the MIFXIN allows you to roast your beans to the desired level with the turn of a dial. An interior rotating arm ensures that the beans roast evenly and don't burn. The MIFXIN is also extremely versatile and can be used to roast goods other than coffee such as nuts and popcorn.
The only downside to the MIFXIN is its lack of timer and smoke suppressor. Because of this, you will want to keep an eye during the roasting process to ensure that your beans don't overcook. You'll also want to keep it in a ventilated area during use.
CAFEMASY Stainless Steel Home Coffee Roaster – Best Travelling Roaster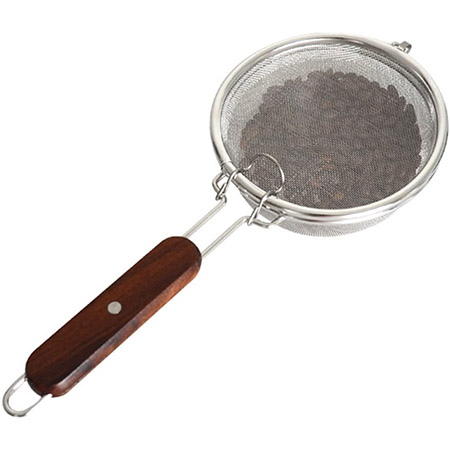 When it comes to simplicity, the CAFEMASY Stainless Steel Home Coffee Roaster takes first place. This is the ultimate design in simple, hands-on and no-frills coffee roasting.
Using it couldn't be easier. Simply place 50-80 grams of coffee beans into the mesh basket, close the top, and place it over a heat source for around 10 minutes. Unfortunately electric stoves won't work, so you'll need an open fire or gas stove.
You'll also need somewhat of an expert ear so you can determine when the first and second cracks take place. Once the beans have been roasted to your desired temperature, simply remove it from the heat source.
This roaster definitely won't break the bank, but you're not getting a complex, groundbreaking piece of equipment either. That being said it is dishwasher friendly, meaning cleaning up is a breeze, which can't be said for many other home coffee roasters.
Fresh Roast SR800 – Most Consistent Roaster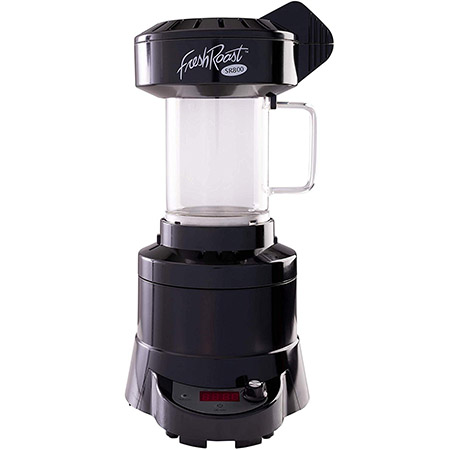 The Fresh Roast SR800 is a great entry-level roaster that lets users adjust key settings like temperature, fan speed, and roast time. With a single adjustment knob and an LED display to alert users, the SR800 is one of the easiest, reliable roasters around – but you pay for it.
The price tag is enough to put a large hole in some people's pockets – but it does deliver consistent results. With 9 temperature settings and fan speeds, the entire roasting process takes somewhere between 10 and 20 minutes. But with a capacity of only 8 ounces or 225 grams, you may have to roast quite frequently.
That being said, the SR800 scores high on nearly every other count, making it an ideal roasting companion for beginners and experts alike.
---

How to Choose the Right Home Coffee Roaster
When shopping for something as niche as a home coffee roaster, it's always good to do your homework. Having a goal in mind and knowing exactly what you want from your roaster is going to help you greatly when it comes to choosing one. With that in mind we've put together this guide to help you navigate through all the various considerations you might have when purchasing a roaster.
Capacity
Different roasters have different capacities, and, depending on your needs, this is going to have a big impact. If you only intend to roast small amounts of beans per week, then you'll probably want an air roaster which has a much smaller hopper. If you're making larger quantities, however, then a drum roaster will be much better suited to the task.
Manual, or Automatic?
Do you want a machine that allows you to simply push a button and come back in a couple of hours when roasting is finished? Or do you prefer a more hands-on approach that allows you full control of all of the variables for a very personable roast?
In general, the more expensive the roaster, the more control you gain over roasting variables. That being said, even some of the cheaper, more basic options will require some oversight so that you don't overcook your beans.
Higher-end roasters with more controllability will also allow you to save your roast profiles for later roasts. This gives you more precision and consistency when making multiple batches of beans, since the roaster will automatically finish the beans according to the profile's specifications.
Smoke Suppression
Roasting can be a smoky business. Depending where you plan to position your roaster, the amount of smoke produced may or may not be an issue. If it is, then you may want to consider buying a roaster with built-in smoke suppression. All this does is ensure that most of the smoke is captured during the roasting process, but it's a very useful feature.
Cooling Features
Heating and roasting the beans is only half of the entire process. Being able to cool the finished beans down is also crucial for achieving an ideal roast. If the beans aren't cooled down fast enough, they'll continue to roast because of the latent heat that has built up in the chamber.
Because of this you will want to consider how to effectively cool your beans. Most roasters come equipped with a fan to blow cool air through the roasting chamber once it's finished roasting. Some, however, have built-in trays which allow the beans to be ejected from the chamber and rapidly cooled externally.
Consider what types of roasts you're likely to be making, and whether or not you would benefit from additional cooling.
---
How to Roast Coffee at Home
Unsure of how long to roast your beans for or how they're meant to look? Follow our color-coded roasting guide and never burn your beans again.
1. Green: The initial color of the beans when you buy them. They'll stay this way during the beginning of the roasting process but quickly begin to change.

2. Yellow: Soon after roasting the green will give way to a more yellow or ochre color.

3. Steam: Don't be alarmed if you start to see steam (it may look like smoke) emanating from the beans. This is due to the evaporation of the moisture inside the beans. If your roaster has a smoke suppressor it will help lessen the amount of steam escaping into your kitchen.

4. First Crack: After the steam starts to issue from the beans you should start to hear a cracking sound. This happens as the beans expand and the sugars within caramelize, and usually occurs at temperatures around 196 °C (385 °F). At this point the color of your beans will expand and darken, and the aroma should start to change from baked bread to caramelized sweetness.

The first crack should let you know that you're nearing the end of your roasting process. Many light to medium roasts end the process somewhere between the end of the first crack and start of the second.

5. Second Crack: At approximately 224 °C (435 °F) the coffee will emit a second crack. At this point the beans will have darkened considerably and will take on an oily surface sheen. This is the territory of dark roasts, and where much of the intense flavors associated with them comes from.
After you've heard the second crack you really shouldn't roast your beans for much longer, or else you risk combustion.

6. Black: If you continue roasting after the second crack you'll notice thicker, more pungent steam start to escape. The surface of the beans will also take on an oily sheen as internal sugars start to burn. At this point continuing roasting becomes a dangerous affair, and your beans will start to vaporize.
---