Do you enjoy a good latte? In recent years it's become somewhat taboo for any coffee connoisseur worth their salt to admit that they indulge in a milky beverage occasionally. But the truth is that many of us still love a latte and want to recreate that experience at home using a latte machine.
We've put together this buyer's guide to help you navigate the often murky waters when deciding which latte machine you should buy. But we're not talking about cheap machines that can just about get the job done. Rather we're going to be analysing and reviewing some of the most powerful and effective latte machines currently available on the market.
Feeling inspired to make your own latte art? Carry on reading below! We've put together a list of some of the best home latte machines on the market in 2020.
---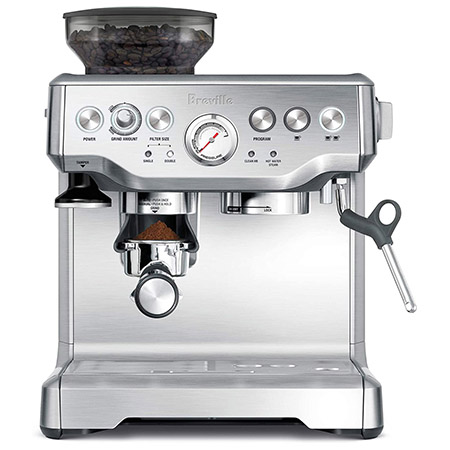 Design 5 / 5
Versatility 4.5 / 4.5
Material quality 4.5 / 4.5
Ease of use 4.5 / 5
The ideal espresso and latte machine for novices and adepts alike. It offers a reasonable amount of control over the brewing variables but is still fairly straightforward to use. It also has excellent temperature control and a built-in conical burr grinder.
---

A Buyer's Guide to Latte Machines: Here's What to Look For When Buying
There are a number of different factors to consider when shopping for a home latte machine.
Purpose
A latte by definition is a shot of espresso with a steamed milky body and top layer of microfoam. Therefore, you want a home latte machine to be able to do two things exceedingly well – brew espresso and froth milk. Judge a machine by its ability to do both of these things when you do your shopping.
Automatic vs Semi-Automatic
Home latte machines generally fall into two broad categories – automatic and semi-automatic.
Semi-automatic machines give you way more control over the brewing variables. Generally they'll only brew espresso, but you'll still have to grind your beans and froth your own milk.
Automatic machines are designed to take care of the entire process for you, often at the touch of a button. They often swap out the steam wand for an automatic milk frother, meaning you won't need to learn how to handle a steam wand to get stuck in. They are extremely convenient and user-friendly but they don't offer much in the way of flavor manipulation.
Size
Home latte machines aren't small. Size is going to be a big determining factor when it comes to choosing the right machine for you.
Consider the space that you're going to be installing it in. Do you have a large kitchen with ample counter space that can handle a brewing behemoth? Or is your living space small and requires a more slight appliance?
Cleaning and Maintenance
Cleaning and servicing your machine regularly is crucial for stretching the longevity of your machine and making sure it produces lattes for years to come. Some machines are easier to clean than others, so consider this when cycling through options.
It's highly recommended that, if possible, you opt for machines with a built-in descaler. The descaler ensures that the latte machine remains free of any mineral build-up and particulates that sometimes accumulate inside. It also helps to clean the reservoir and prevent future contamination affecting the flavor of your brews.
Quality and Design
As with all products, home latte machines come in a variety of different designs and build qualities. If you're someone who values the aesthetic of your kitchen then the design of your machine is something to keep in mind when shopping.
When it comes to quality you're going to want a machine that won't let you down. However, there is a direct correlation between price and quality, so you need to find a happy balance between the two depending on your budget.
---
Now, Let's take a look at the top five latte machines that made the cut as well as their features, at a glance.
5 Top Latte Machines to Buy in 2020: Side-By-Side
Latte Machine Reviews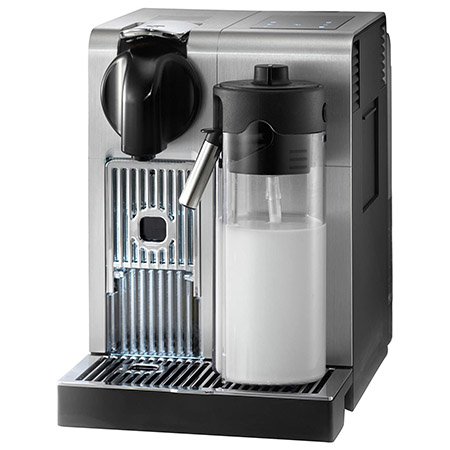 Pros

Cons

+

Heats up quickly


+

Detachable milk reservoir


+

Simple functionality


+

Pre-programmed brewing functions

–

Expensive


–

Difficult to clean


–

Operates with pods
DeLonghi is a brand well-known for its quality products in the coffee world, and the Lattissima Pro Espresso Machine is a perfect proof-of-concept. Not only is it ideal for making a variety of different styles of coffee, but it also creates perfectly light and creamy foam.
The Lattissima comes equipped with the brand's patented Automatic Cappuccino System as well as flexible cup support to support mugs of all different sizes. It's also extremely easy to operate, allowing users to perform multiple functions by simply touching its LED touchscreen.
The machine is designed to be a bit more hands-off than others on this list, and lets users automatically produce coffee with a single touch. It comes with six pre-programmed options for different drinks: espresso, latte, cappuccino, ristretto, lungo, and hot milk.
This ease of use is further extended with the use of pods. A removable pod tank located behind the drip tray can hold up to 16 pods. This might be a problem for some coffee drinkers who prefer using coffee grounds, but if you don't mind pods then this is endlessly convenient.
It also comes with a detachable milk reservoir so you can store leftover milk in the fridge for consumption at a later date.
For all its features, however, there are a few downsides worth mentioning. Chief among them is that the Lattissima requires quite a bit of a breakdown in order to clean it thoroughly. And with its price tag, it's not the most accessible home latte machine for newbies.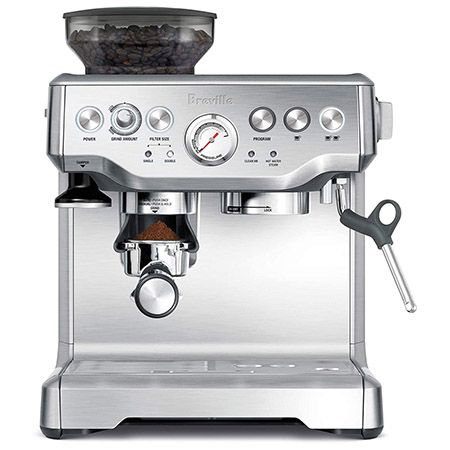 Pros

Cons

+

Beautiful build quality from a reputable brand


+

Swivel-action steam wand creates luxurious foam


+

Gives you control over many brewing variables


+

Built-in conical burr grinder allows you to grind your own beans consistently

–

Expensive


–

Takes up a lot of counter space


–

Requires some learning in order to know how to use it properly
If you're looking for a home latte machine that does everything you've dreamed of and more, then the Barista Express Espresso Machine by Breville should top your list. This home latte machine isn't cheap, but for that price you're getting a whole bucketload of features that lesser, cheaper machines simply can't outperform.
The Barista Express is a semi-automatic home latte machine that straddles the line between gourmet coffee production and user-friendliness. Where the Barista Express really shines is in its ability to grind beans. It comes equipped with a topper and conical burr grinder which can consistently grind up your favorite beans as and when you need it.
The machine also comes equipped with temperature control, grind size control and dose-control grinding for fine-tuning exactly how you would like your brew. On top of that it features a separate hot water dispenser if you want to make Americanos or maybe even a cup of tea. And, of course, for making lattes and cappuccinos, a swivel-action steam wand is on hand for producing the most luxurious foam.
If you've got deep enough pockets then this is definitely the machine you want in your kitchen. Just ensure that your kitchen is big enough, however, as the Barista Express is quite a monster in terms of space required. You also might want to watch one or two YouTube videos beforehand just so you can get the full value out of its operation.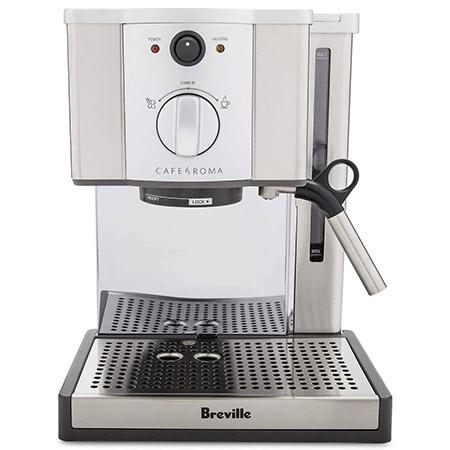 Pros

Cons

+

Affordable


+

Compact


+

Made by a reliable brand

–

Gives you very little control over brewing variables


–

Not as good as higher priced options
If you're unsure if you want to commit to an expensive latte machine, then you might want to consider something like the Breville Cafe Roma Espresso Maker. This compact little machine is ideal for newbies who want to wet their feet, while still slinging out delicious drinks at a moment's notice.
It's also quite affordable. The Breville is kind on the pockets as well as the eyes. It will fit in most kitchens since it's proportions are on the smaller side, and it's so user friendly even a child could figure it out.
The downside is that, while the Breville is easy to use, it's not overly complex. Experienced brewers won't find much to work with here and will likely become frustrated by the machine's inability to create interesting coffee. That being said, if you're new to the game and just looking to tinker with making some foamy drinks, you could do worse.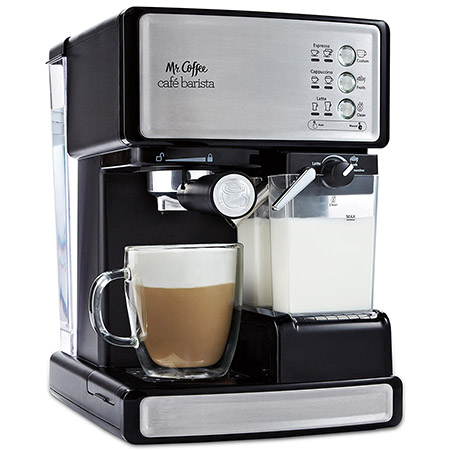 Pros

Cons

+

Affordable


+

Great entry-level latte machine


+

Easy to use

–

Temperature isn't consistent


–

Gets clogged quite easily
The Mr Coffee Cafe Barista Espresso and Cappuccino Maker is as agreeable as it sounds. This no-frills home latte machine will make you a variety of different brews at the touch of a button. For a lighter price tag, you get an automatic machine that can produce 15 bars of pressure for delicious, fragrant espresso.
Like other machines on this list, the Mr Coffee is exceedingly simple to use. The one-touch control panel lets you choose and create your drink of choice at the touch of a button. It also comes equipped with a removable milk jug to help use left-over milk for your next batch of drinks.
It's not all good, however. Like other entry level latte machines, the Mr Coffee has difficulty delivering consistent results. While it can make a solid shot of espresso, it lacks the finesse to tease out finer, more complex flavors from the beans. It also tends to clog if the coffee being used is ground too finely.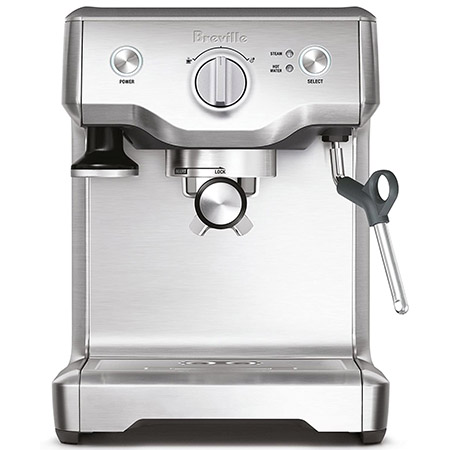 Pros

Cons

+

The perfect machine for both beginners and experts


+

Makes a variety of different coffees effortlessly


+

Affordable especially for the amount of features it is equipped with


+

Fits easily in kitchens of all sizes


+

Powerful steam wand


+

Easy to clean

–

Quite noisy compared to other latte machines on this list


–

Hot water system doesn't heat as quickly as it should
For a middle-of-the-road latte machine that is bursting with features but won't hamstring your finances, you can't go wrong with the Breville Duo Temp Pro. Beginners to adept brewers will be able to get value from its user friendly interface and ability to make smashing lattes with thick, creamy foam toppers.
The Duo Temp Pro gets its name from its admirable ability to create two shots of espresso at once, turning you into a coffee-producing powerhouse. On top of this it also allows you to manually control the size of your espressos as you make them. It does this with 15 bars of pressure that start slow and gradually increase for a full spectrum coffee bean extraction.
For a reasonable price, the Duo Temp Pro also has an incredible steam wand capable of producing dense and delicious foam. If micro-foam is one of the chief reasons for buying one of these machines then you'd be hard pressed to find a better option.
This machine is also pretty low maintenance and a joy to clean. It will even notify you whenever it needs to be cleaned. The entire machine comes apart pretty easily making cleaning specific parts hassle free.
---
How to Make a Creamy Latte with Your New Latte Machine
Once you have your dream machine you're probably going to want to make a latte with it as soon as possible. To do this you're going to need a few things (other than your machine of course):
Your favorite coffee beans
Milk (dairy is preferred but plant-based substitutes can work too)
Latte cup
Frothing pitcher
To start, grind up your coffee beans to your desired consistency. Some machines have their own built-in grinder, if yours doesn't then it's advised that you use a coffee grinder to do the job.
Next, use your machine to pull a double shot of espresso and add it to your latte glass. If you're someone who doesn't take their coffee as strong then a single shot will work just fine.
Now add milk to your frothing pitcher and get your steam wand ready. When using ordinary milk you're going to want to keep the temperature of the milk around 150 degrees or so. Any higher and you may burn the milk, any lower and you won't get the desired froth.
Dip the wand into the milk so that it's about half an inch or so below the surface and then let the steam flow. Keep it going for about 20 seconds or so, or until you start to see a light layer of foam forming on top.
When you're done, carefully pour the steamed milk on top of your espresso shot in the latte glass. Pour slowly so that the milk flows first and ends with the less dense layer of foam on top.
Once you've mastered the above technique, scroll back to the top of this page and see if you can figure out how to make each of the different latte arts!
---