It's fairly easy to find a cup of coffee when you're traveling; however, at the same time, it can be fairly difficult to find a good cup of coffee when you need it. With over a billion cups of coffee being poured each day worldwide, this caffeinated beverage is now more popular than it has ever been. Be that as it may, not all of those are "good" cups of coffee and if you're the type of person that loves your own brew, you probably dislike takeout coffee.
For many of us, takeout coffee is a last resort when we need that extra kick of caffeine to get through a hectic day, especially if we're traveling. However, what if we told you that there was another option? What if we told you that you could still enjoy your favorite coffee when you're traveling or camping? You've read the title, you already know what we're getting at – you need a portable coffee maker.
In addition to battery-operated coffee makers that can be used when camping, on the road, or at the job site, there are many more–even more portable–options for those who want to brew without carrying around a bulky brewing device.
---
Editor's Pick for Best Portable Coffee Maker: The AeroPress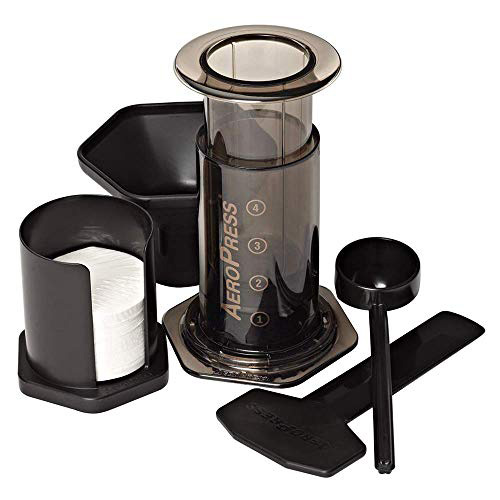 Quality – 5/5
Design – 4/5
Ease Of Use – 4/5
Portability – 4.5/5
The AeroPress is fantastic for traveling but it is such a great coffee maker that countless people have also opted to just use it while at home as well.
---
How to Choose The Best Portable Coffee Maker: A Buyer's Guide
All of the portable coffee makers that we have listed above are great choices; however, like most things in life, there is no one size fits all. Personal preferences and tastes will definitely come into play when choosing your ideal portable coffee maker. That being said, even if some of the questions that you will need to ask yourself are not obvious, they are all fairly straightforward.
How Much Space?
This is, without a doubt, one of the most crucial questions that you will have to answer before you commit to a specific portable coffee maker. For most people, an object's size is directly related to just how portable it will be. However, as well all know, size can be both absolute and relative in some regards. For instance, a portable coffee maker that you consider to be small may actually be too big for someone else.
This is why it is important to scrutinize your personal limitations when it comes to space. How much free space do you have in your suitcase? Do you have a lot of spare room in your camping bag? Some portable coffee makers are small enough that you will just need to sacrifice a shirt or two to make room. While on the other hand, some coffee makers are technically portable but they will take up more space than your laptop.
Last but not least, something else that is tangentially related to available space is the weight of the coffee maker. Having a lightweight portable coffee maker is especially important if you are going to be traveling with it on camping trips or hiking trips where you will need to lug it around in a bag over long distances.
Do I Need Power?
On the surface, this may seem like it is not a big issue; however, there are many people out there that cannot do without the convenience of having a powered coffee maker. Remember, one of the main reasons why a lot of people will opt for a portable coffee maker is so that they won't have to deal with takeout coffee. However, having said that, one of the main draws of takeout coffee is its convenience and so if a portable coffee maker proves to be too inconvenient, many people will simply forgo it altogether.
So, what is the difference between powered portable coffee makers and their powerless counterparts? Well, the most glaring distinction is the fact that powerless coffee makers can be used virtually anywhere. If you're an urban traveler that is just hopping from your home to a hotel, this fact may not be such a big deal. However, if you are a hiker or camper that loves to spend time in the wilderness, having a portable coffee maker that can operate without power is a necessity.
Lastly, many coffee aficionados will tell you, without a doubt, that powerless coffee makers will give you more control over the coffee that you are making.
What Type Of Coffee?
This is the most straightforward question that you will need to ask yourself. Many portable coffee makers have specific types of coffee making that they excel at and some of them can't make certain types of coffee altogether.
Depending on how much of a stickler you are when it comes to the coffee than you drink, this will either be the first or the last question that you need to ask yourself.
---
Our Top 6 Portable Coffee Makers at A Glance
Alright, now that we've covered the basic factors that you should be considering when you're buying a portable coffee maker, let's take a look at our top 6 portable coffee makers. We've tried to cover a lot of bases with this list, so hopefully at least one of these portable coffee makers will match up with your overall preferences.
---
An In-Depth Look At Our Best Portable Coffee Maker Picks
Best Overall – AeroPress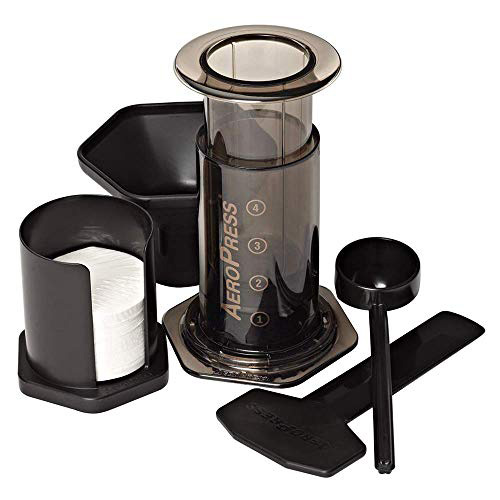 If you're at all familiar with the AeroPress, it should come as no surprise that it is included on this list. The AeroPress was invented fairly recently in 2005 and it rapidly surged in popularity in the years that followed – graduating from being a convenient coffee maker to being a full-blown mainstream phenomenon.
The AeroPress is fantastic in terms of portability, being created from incredibly lightweight materials that are still relatively durable. In addition to this, it also doesn't require any electricity to operate, so it functions the same whether you're in a hotel or out in the wilderness. Another benefit is that the AeroPress has a very short brew time compared to other popular methods. Once you've got your coffee grounds and water in your AeroPress, you can expect to get a cup of coffee in about a minute.
It is however worth noting that the AeroPress works best when it is paired with its special AeroPress microfilters and so this fact may prove to be annoying for some users. Be that as it may, the AeroPress microfilters are inexpensive – with a pack of 350 microfilters going for about $5.
Lastly, we know that the AeroPress isn't going to be winning any awards when it comes to looks. Though frankly, none of the portable coffee makers on our list were chosen with aesthetics in mind because that is never going to be a dealbreaker when your goal is just to get great tasting coffee when you're on the go. That being said, we appreciate the AeroPress' no-nonsense design because that just allows its other great features to get more of the spotlight.
Best For Pour Over – Kalita Wave Pour Over Dripper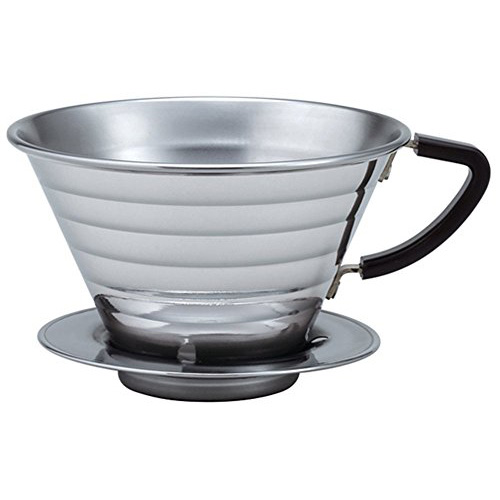 The Kalita Wave Pour Over Dripper easily earned our vote for the best portable pour over coffee maker. It is extremely easy to use and doesn't require any electricity to operate. That being said, you are going to need to pack filters and also have a way to heat your water but that is to be expected.
In the grand scheme of things, none of the portable coffee makers that made it into our top 6 were particularly expensive. However, it is still worth mentioning that the Kalita Wave Pour Over Dripper is technically one of our more expensive choices.
The primary reason why the Kalita Wave is one of the best portable pour over coffee makers is its distinct three-holed, flat-bottomed design. The manufacturer states that this design ultimately leads to a more even rate of flavor extraction and an overall stronger cup of coffee when compared to similar brewers.
Best For French Press – Bodum Travel Press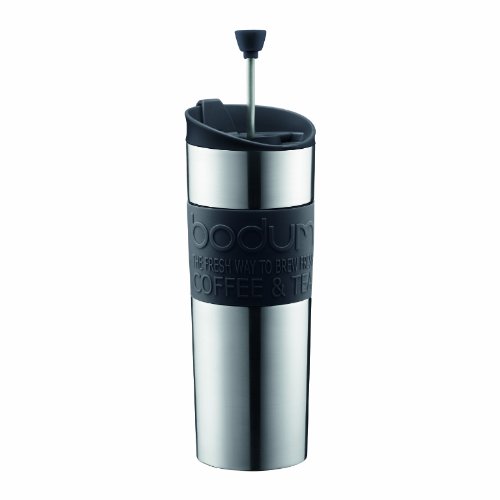 There are two types of French press drinkers – those who drink it on occasion and those who need to have a cup of French press coffee every day – there is no in-between. If you're someone who has French press as your number one choice for coffee brewing, then you also probably dislike that you have to be away from your coffee maker when you travel.
The Bodum Travel Press solves this problem. Truthfully, this portable coffee maker is not going to beat out any high-end French press coffee makers that you may have in your kitchen but it really doesn't have to. The main draw of the Bodum Travel Press is its portability but it is also capable of creating a great-tasting cup of French press coffee as well.
In addition to this, the Bodum Travel Press is perhaps the most durable coffee maker on our list. It is manufactured from insulated, double-walled stainless steel, which means that it can take a beating and also keep the heat in. Lastly, it is also worth mentioning that the Bodum Travel Press is capable of serving as a cold brew coffee maker as well and its effective insulation means that your coffee will stay cold for a while.
Best For K-Cup Lovers – Presto Single Cup Coffee Maker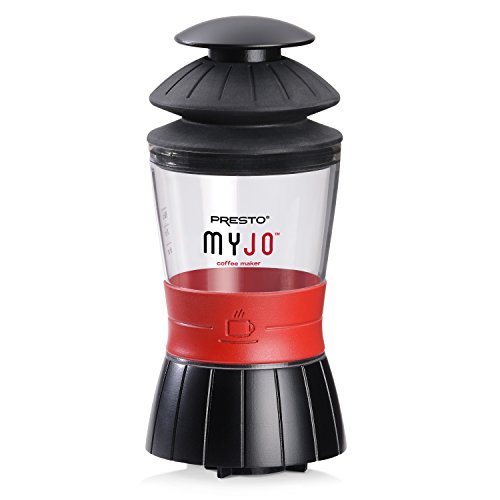 The Presto Single Cup Coffee Maker might be the most controversial option on this list because of one simple fact, it's made with K-Cups in mind. The plain truth is that yes, there are a lot of passionate fans of K-Cups but on the other hand, there also seems to be a comparable amount of passionate haters as well.
Still, if you are someone who frequently uses K-Cups at home, the Presto Single Cup Coffee Maker will most likely be your portable coffee maker of choice. All in all, it is a relatively affordable option and it is also incredibly easy to use.
Lastly, we would be remiss to not mention that technically you can forgo the K-Cups and use the included MyJo cup with your own coffee grounds. However, we honestly recommend that if you're not going to be using K-Cups, you're better off using another one of the portable coffee makers on our list.
Best For Affordability – Primula Single Serve Coffee Brew Buddy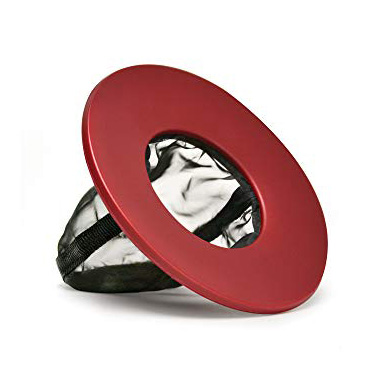 The Primula Single Serve Coffee Brew Buddy has two main things going for it: its price and its portability. The Primula Single Serve Coffee Brew Buddy easily earns the title of being the most affordable portable coffee maker on our list. This is an important factor for people that just want to be able to brew their own coffee on the go but also don't want to spend more money than they have to on something that they may only use once every few months. In addition to this, the Primula is the smallest coffee maker on our list – an important factor if you are strapped for space.
With that being said, when compared to the rest of the coffee makers that we looked at, the Primula is certainly not the best in terms of brew quality. Lastly, it is also somewhat annoying that the disc gets very hot during the brewing process, making it inconvenient to handle at times.
Honorable Mention – AeroPress Go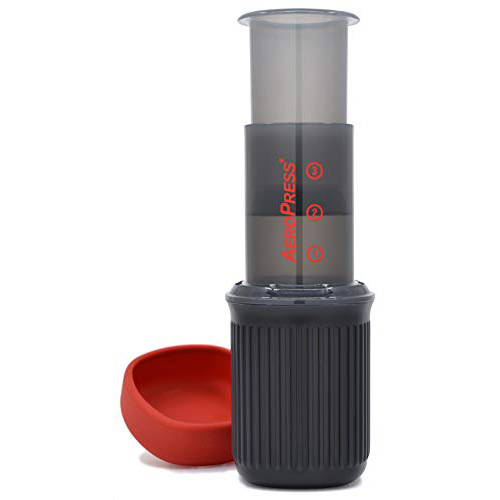 Technically we could have grouped the AeroPress Go with its older brother and call it a day; however, it deserves its separate place on this list. While the original AeroPress was definitely travel-worthy already, the company saw room for improvement in this regard. As a result, 14 years after the birth of the AeroPress, the AeroPress Go was created.
The AeroPress Go is not meant to wholly replace the original AeroPress. Instead, it is meant to cater specifically to frequent travelers and campers that want an all-in-one solution to their coffee-related needs.
---
Things That You'll Need To Pair With Your Portable Coffee Maker
Yes, the main appeal of a portable coffee maker is the fact that it gives you the ability to make a cup of coffee almost anywhere. However, that being said, you will still need to have a few ancillary things so that you can make and enjoy your coffee.
Hot Water
There is an endless supply of portable coffee makers out there that don't require power (electricity) to function; however, you are still going to need to supply hot water to make your cup of coffee. Travel kettles are great for people that are going to be spending their time in hotels or other urban environments. On the other hand, campers and other outdoor types can simply opt to boil water over an open fire in any container that they have available.
A Grinder
You can't pop whole coffee beans into your coffee maker, you have to grind them into dust (or small chunks) so that the hot water can extract the tasty flavors and caffeine. Obviously, hand grinders are superior in terms of portability, since they tend to be smaller than electric grinders and don't need power to operate.
Carrying pre-ground coffee beans is definitely an option; however, grounds are much harder to store than whole beans. In fact, if you don't store your pre-ground beans properly, they can go "stale" quickly.
A Mug
This is the one thing that no one will complain about because it is so obvious – you need to have a way to drink the coffee. Travel mugs are the vessel of choice in this scenario since, as their name suggests, they are built with traveling in mind. One important feature to look for in a travel mug is insulation, both inwards and outwards. You want to get a travel mug that can retain heat so that the coffee stays hot for longer periods but you also want it to not get hot on the outside so that it is uncomfortable to hold.