Updated on 11/25/2019

We all have that one friend – the one who can't open their eyes until a fresh cup of coffee is wafted under their nostrils, who drinks coffee rather than beer with an evening meal and who isn't afraid to have one or two double espressos before bedtime. They're the die-hard coffee fiends who, if given the choice, would probably chug a latte rather than a bottle of water when running a race.

They're also impossible to get gifts for. Not that gift-giving is ever an easy undertaking. Even the most conscientious of us have a hard time deciding what to give a friend when their birthday or Christmas rolls around; it's even harder for a coffee-lover.

Why? Well because they have everything – the grinder, the drip coffee machine, the French press and the specialty roasts from South America. On paper choosing a gift for this person might sound easy – just get more coffee, right? – but in fact it's almost impossible to buy a gift for the person who already has everything.

Which is why we've put together this guide. Below we're going to list some of the best, most novel, most useful and just downright fun coffee gift sets to get for the caffeine fiend in your life.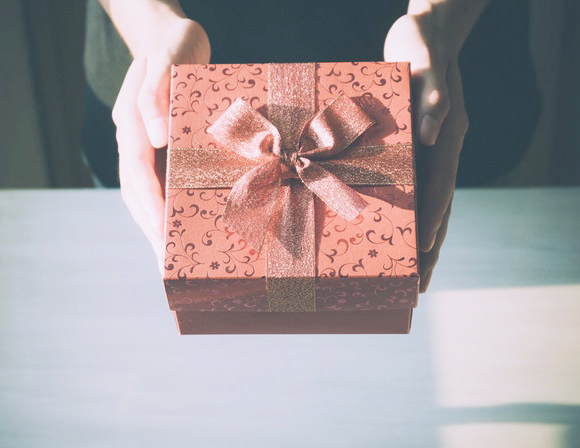 Why Coffee Almost Always Makes The Greatest Gift
Even if the friend you're buying a gift for isn't the biggest coffee fan in the world, coffee is still one of the greatest gifts that you can possibly give. Not only is it an incredibly delicious, aromatic and energy-inducing drink, it's also one that is steeped in history and tradition.

Gifting coffee is more than just buying a bag of beans, it's about purchasing culture, and indoctrinating your giftee into a production process that spans generations and has brought people together for centuries. The beans you buy, the grounds they make and the coffee they eventually produce are small snapshots into the cultures of the nations in which they were produced, and it's this anthropologic vista which you gift.

And even if you decided not to buy actual coffee, there are still countless coffee-related gifts which will delight anyone who receives them. Let's take a look at them below.
---
Our Top Coffee Gift Sets

---
A Coffee Subscription
When it comes to coffee, everyone undoubtedly has their go-to roast or bean which they keep a healthy supply of. It can become pretty easy to get stuck in a rut and stick to what you know rather than take a chance at sampling new, novel roasts. Which is why a coffee subscription might be one of the best things you can possibly get.

Rather than simply another pound of beans, a coffee subscription such as the Bean Box® Gourmet Coffee Sampler, is a great way of being exposed to a number of different roasts you might never come into contact with. This sampler in question includes four different monthly gourmet coffees from a number of small-batch roasters in Seattle.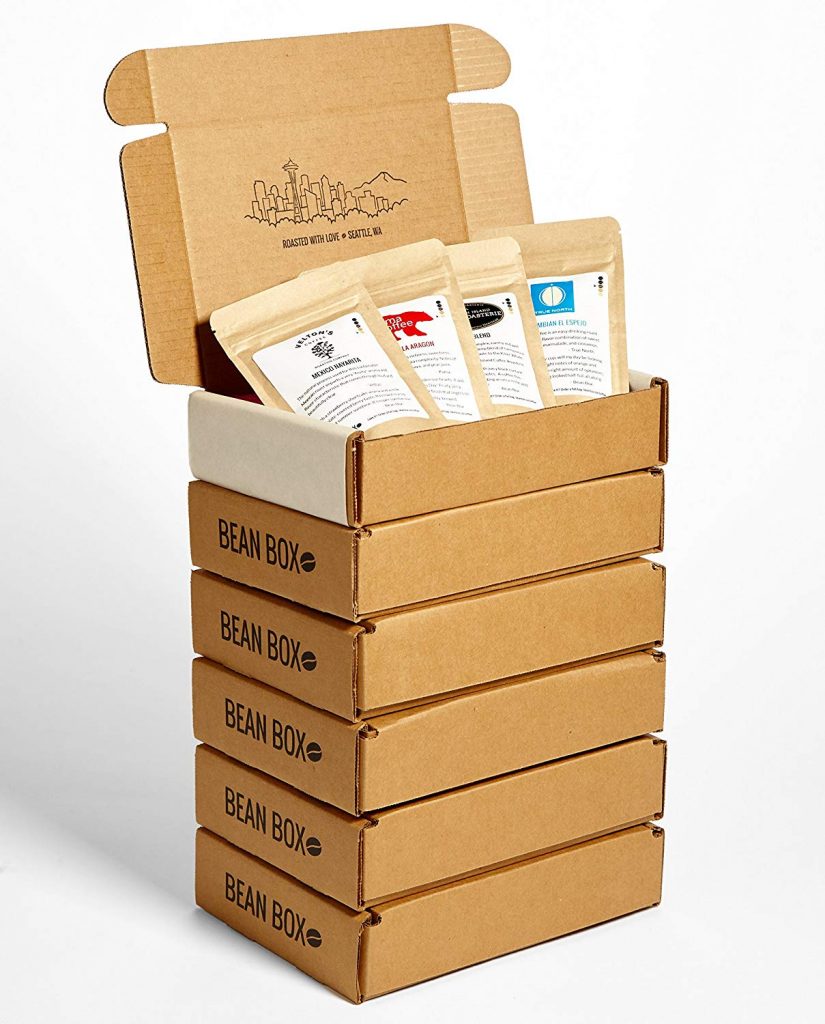 Personalized Ceramic Coffee Travel Mug
If you know someone who is constantly grabbing a take-away coffee from Starbucks or any other coffee shop, then this ceramic travel coffee mug is the ideal coffee accoutrement for them. Never again will they be constrained by what's on the menu at their local Caribou simply because they're on the move. Now, they can prepare their favorite brew using the beans of their choice at home and bring it with them wherever they go.

On top of that, the mug can be personalized to make it even more special. This particular mug includes a dictionary-style definition of the receiver in question, so get as creative as you like describing their personality traits. If the person you're gifting is environmentally conscious then that's an added bonus, as using this mug will prevent them from consuming single-use coffee cups from take-away chains.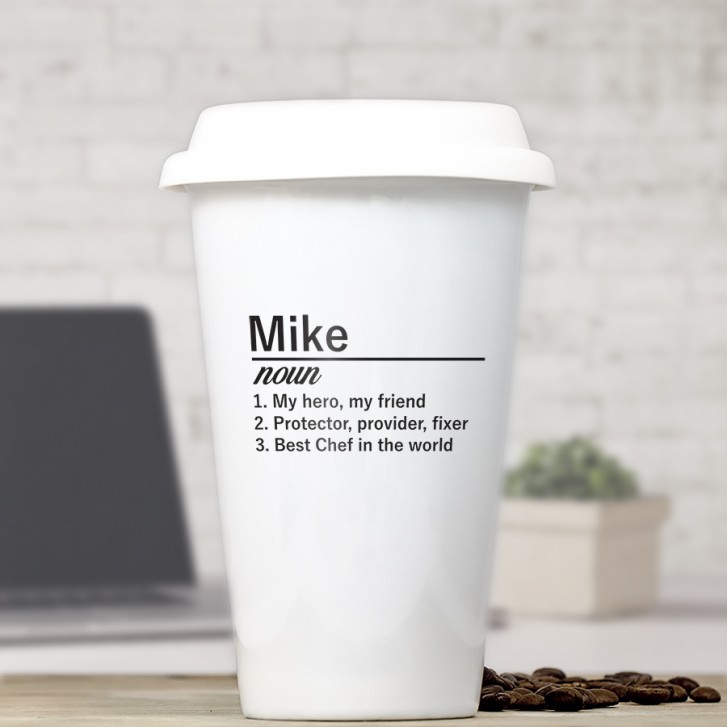 Coffees of the World Gift Set
Any coffee connesuire worth their salt is going to be interested in coffees that have their origins in different parts of the world. The Coffees of the World Gift Set from Whittard is ideal in this regard. With nine bags of ground coffee sourced from different locations all over the world – from South America, to Kenya all the way to Sumatra and Ethiopia – this gift set is an excellent method for sampling a world's worth of coffees and roasts, both dark and light.

What's more, the set itself is a beautiful work of art, featuring idiosyncratic designs by illustrator Persephone Coelho.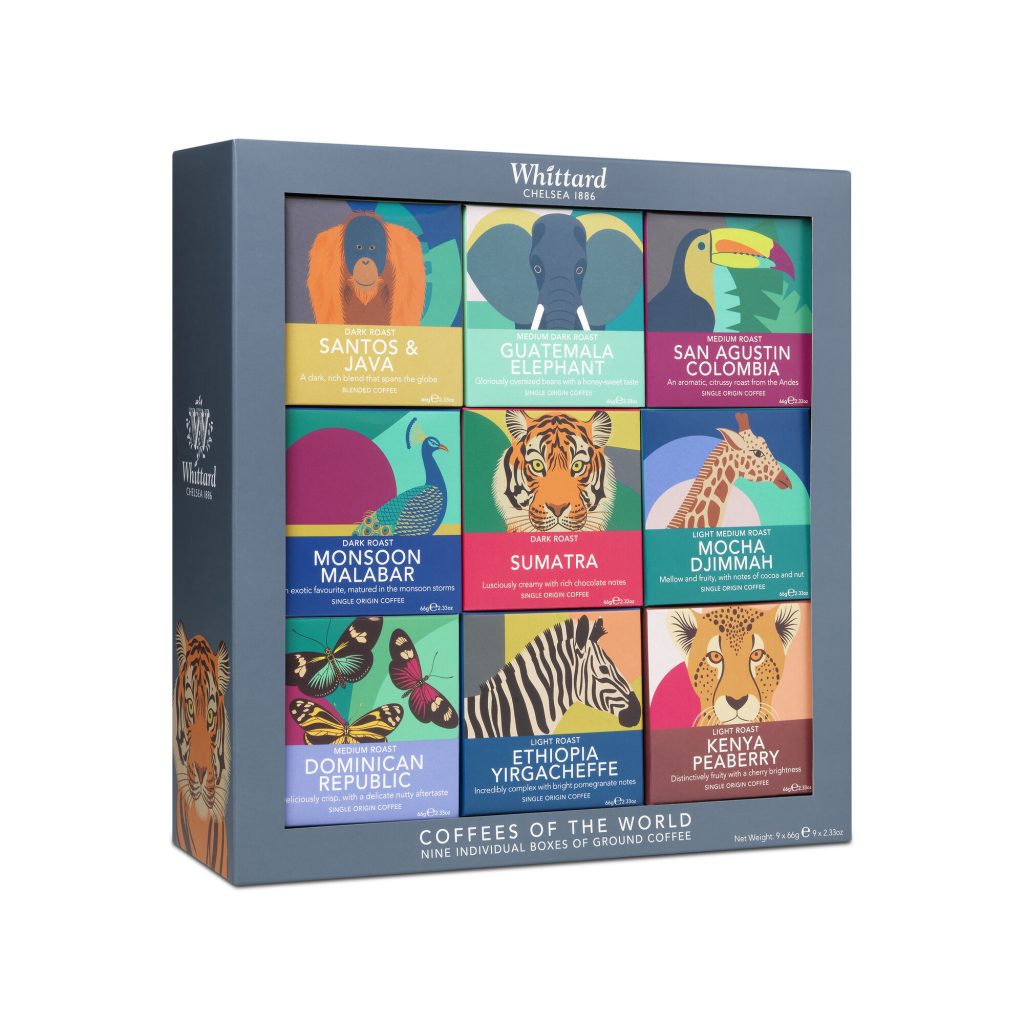 Essential Coffee Guide Poster
No self-respecting coffee lover will ever not know the difference between a cappuccino, latte, macchiato or espresso… but why take the chance? This Essential Coffee Guide Poster by Everlong Print Co is a wonderfully-presented infographic detailing exactly what constitutes each different type of coffee drink, and will ensure that you're always up-to-scratch on your coffee lingo. It'll look great in the kitchen, the hallway or above the coffee bar, and it's certain to add charm and style wherever it's placed.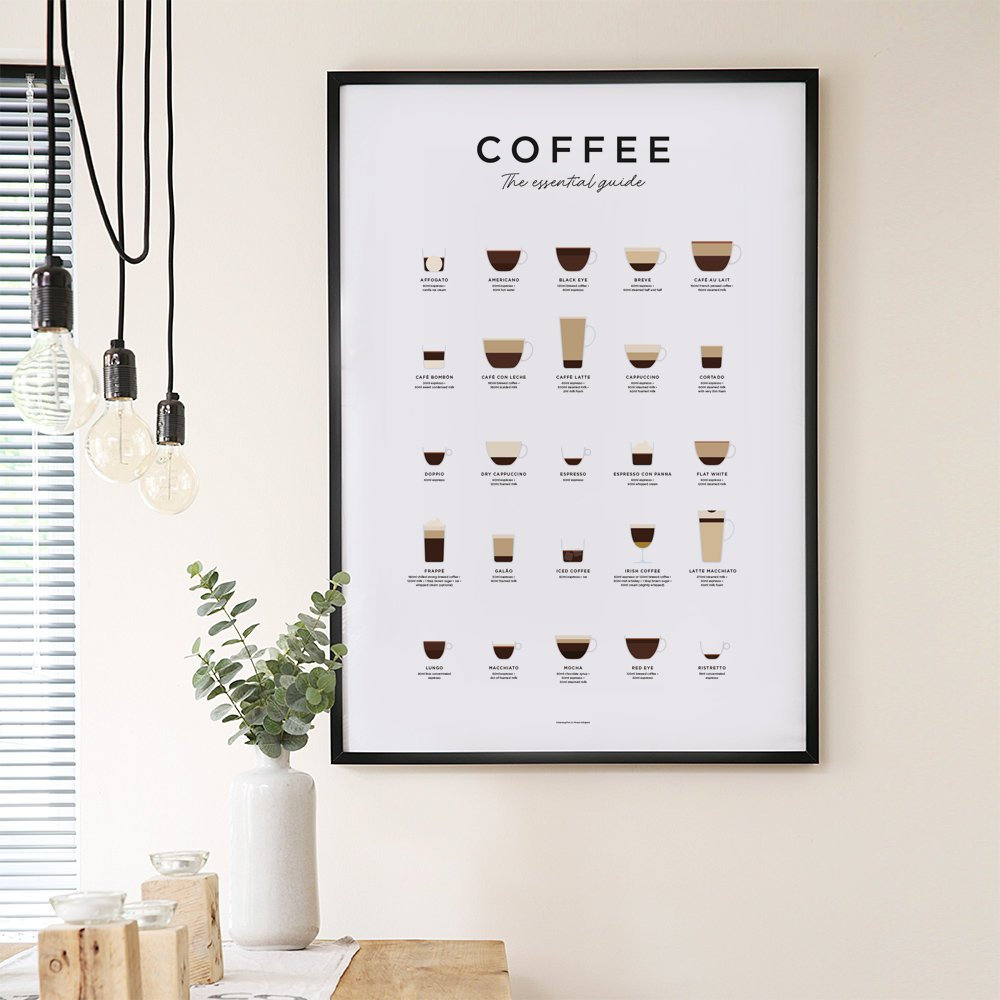 Personalized First Father's Day French Press 
Know a coffee lover who is also a dad? Of course you do – raising children requires enormous amounts of fabricated energy; AKA caffeine. This First Father's Day French Press by Becky Broome is a great gift for those who love a cup of coffee but are also celebrating their first year as a father. Not only is the French press one of the best tools for bringing out the best possible flavors from coffee, but the added personalization means that this coffee apparatus is unforgettable.

And since it's being used to celebrate their first Father's Day, there's no doubt that the gift will be used extensively to cope with the kids getting older.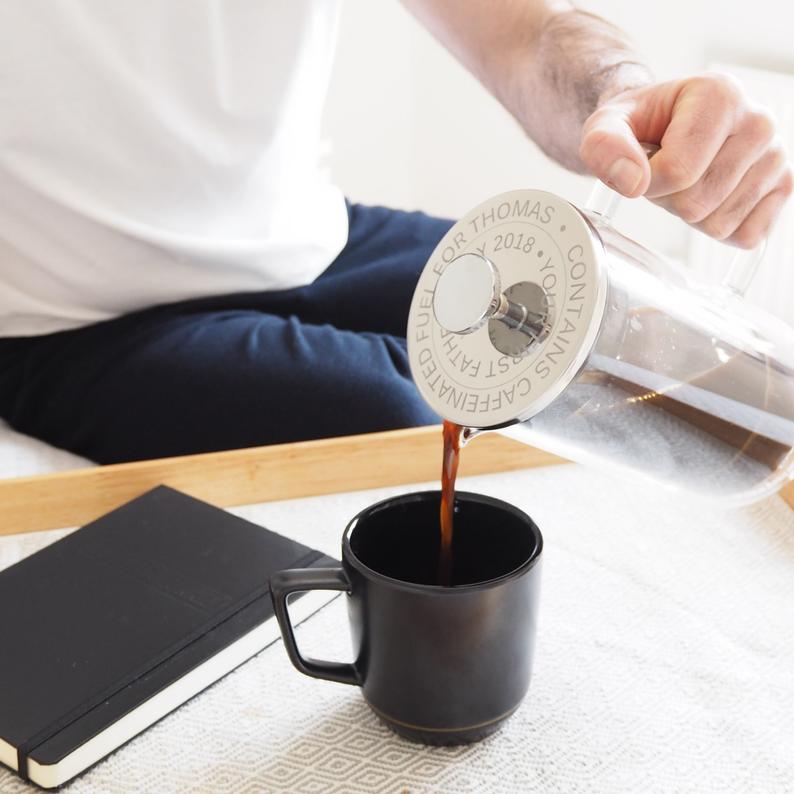 The Strongest Coffee In The World
Everyone claims that they love a strong cup of coffee, but how about the strongest coffee in the world? Produced by the aptly named Death Wish Coffee, the packaging alone of this bag of beans – a grim-looking skull and crossbones on a black background – is enough to put fear in your heart. For the coffee lover who has everything and wants to simulate the effects of cardiac arrest, this is the gift for them.

Packed to the brim with caffeine and emanating with dark, robust flavor, these beans are not for the faint of heart, and will likely keep you charged and ready from morning to night.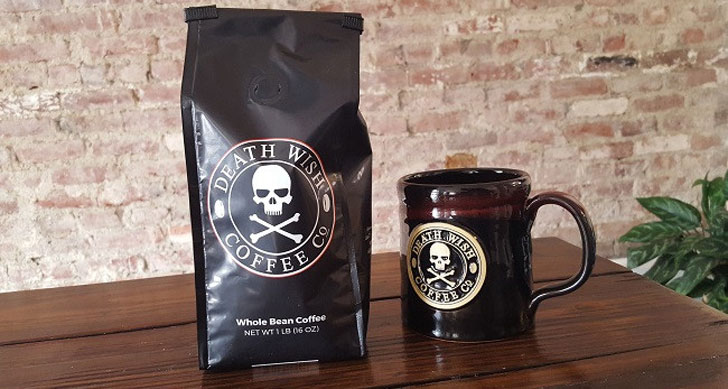 Personalized Coffee Stencil
Coffee art has taken on its own proportions in recent years. Ordering a cappuccino doesn't simply net you a cup of coffee, but also some wonderful latte art consisting of foam, cocoa and chocolate. A personalized coffee stencil from Sophia Victoria Joy allows you to bring that artwork into the home, and is the perfect gift for any coffee lovers who absolutely love adding finishing touches to their drinks. Whether you'd like to create a message or a small logo, or simply include your giftee's name, this coffee stencil is a great tool that can be used again and again.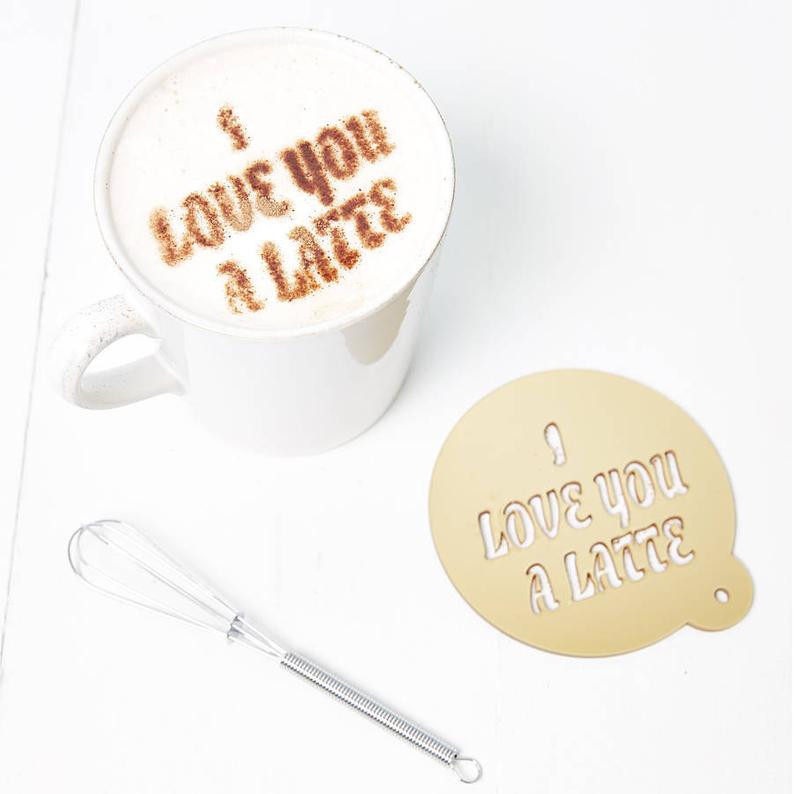 Organic Coffee Lip Balm
For coffee lovers who simply can't get enough of the flavor of coffee, organic coffee lip balm is a wonderful gift that allows you to keep your lips fresh and moisturized. Small enough to fit in a pocket, this balm has a smoky coffee flavor that will have anyone craving their next cup. The balm is made from organic ingredients such as coffee, cocoa butter, coconut oil, honey and beeswax, and is ideal not only for keeping your lips smooth, but contains caffeine and so will give you a slight charge, too.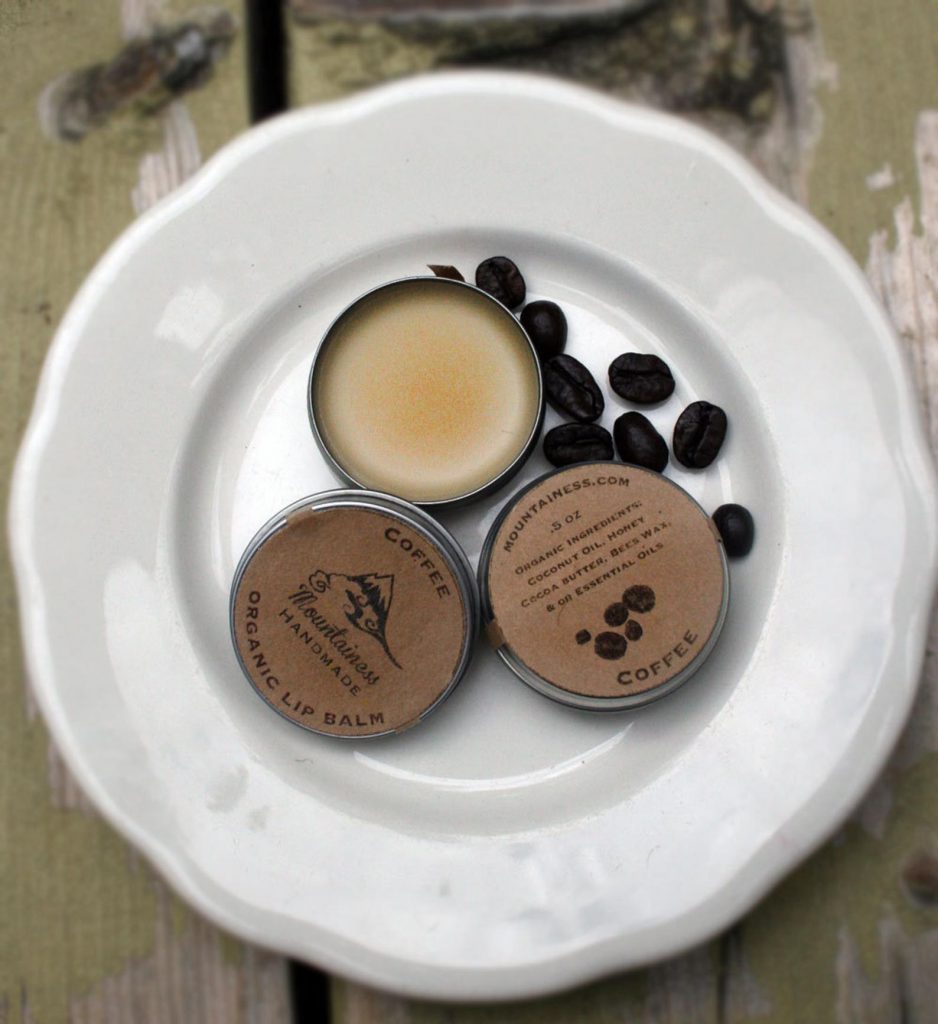 The Handpresso
Short of space but still craving an espresso? Handpresso is the answer. This handheld espresso maker utilizes up to 16 bars of pressure in order to produce a number of gourmet coffees such as cappuccinos, lattes, espressos and macchiatos.

Simply add the ground coffee of your choice along with hot water, pump the Handpresso to the desired pressure, then let the machine do all the work by filtering the water through the grounds. The result? Cafe-style coffee in the palm of your hand – perfect for the coffee aficionado who doesn't have space for a massive machine.
A Coffee Guide Book
For any self-confessed java warrior who wants to know a little more in-depth information and history about coffee, a coffee guide book is the ultimate gift. How to Make Coffee: The Science Behind the Bean by Lani Kingston is a handbook that lays bare the art and science of the coffee bean and how to brew the perfect cup. 

It explores the origins of coffee, what makes it so popular, the anatomy of the bean, the best way to tease flavor out of your grounds and what gear you will need to do so. It's a tour guide through the wonderful world of caffeination, and a must have for those on the eternal quest for the perfect cup of coffee.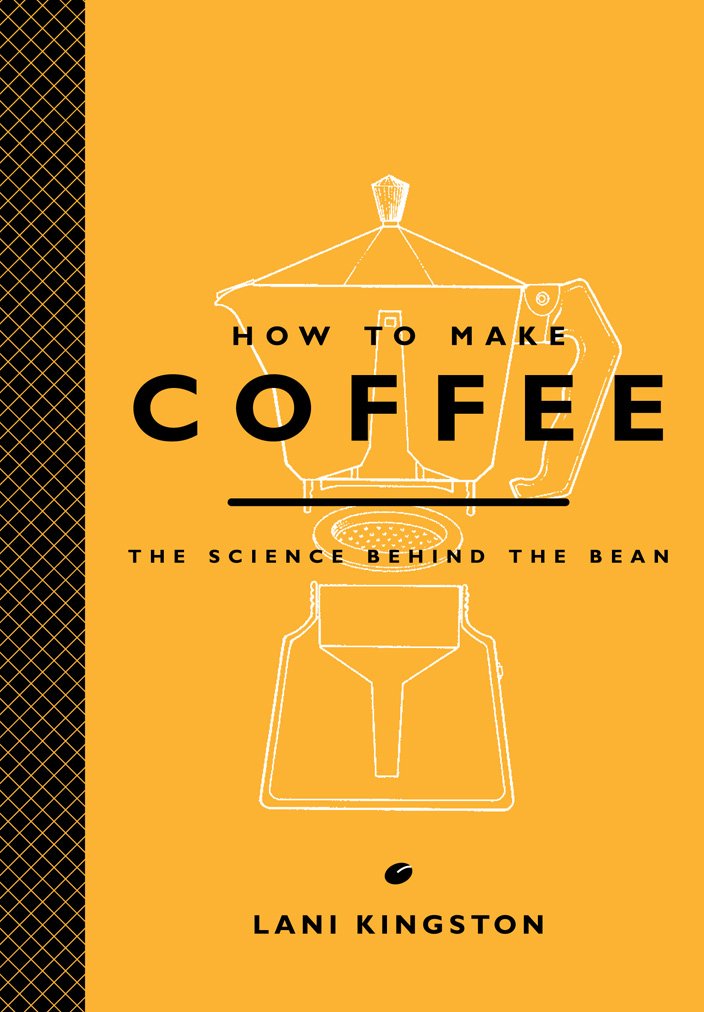 Coffee Gift Sets: Alternative Ideas
Pothead T-Shirt
A gag gift for those who just love a big steaming pot in the morning. Not to be confused with that other substance, this pothead t-shirt is for those who can't get enough of the caffeinated good stuff. Wear it loud and proud and let everyone know that you're a coffee lover!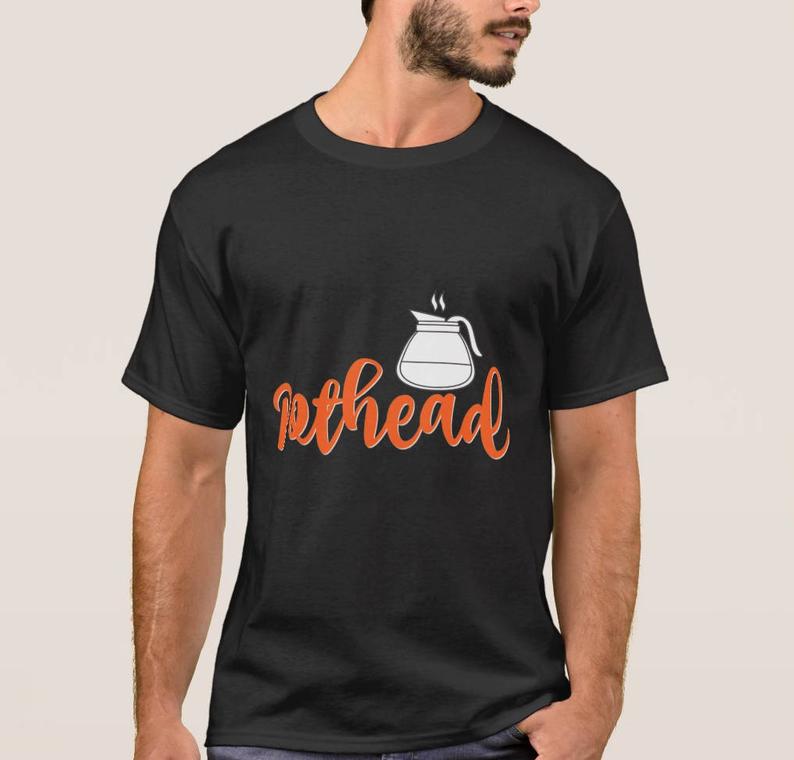 Scientific Caffeine Necklace
For someone who understands coffee on a much more fundamental level than just a delicious, energy-activating nectar of the gods, this scientific caffeine necklace is perfect. Made from an 18 inch silver chain, the necklace displays the chemical formula of caffeine alongside a silver charm that can be personalized with a person's initials.

The necklace also comes with an information card displaying a number of interesting facts about caffeine such as the melting point, molar mass, density and boiling point. Also ideal for the scientist who relies on copious amounts of coffee to help them conduct their research.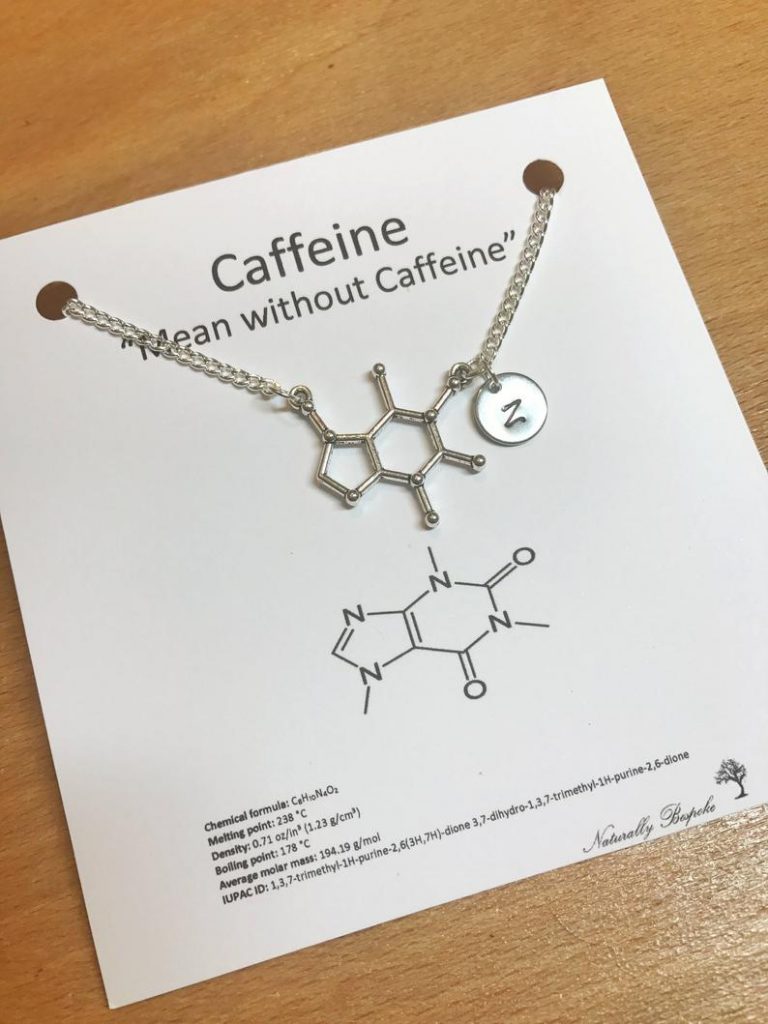 Chewable Coffee Cubes
Do you know someone who is not just a caffeine addict but also loves all forms of candy? Then these GO Cubes chewable coffee will likely be right up their alley. They're essentially small, bite-sized bits of coffee that can be kept in your pocket and popped into your mouth whenever you feel the need for a coffee-tasting pick-me-up.

Perfect for someone who is on-the-go and doesn't always have time to grind their own beans and patiently brew their own cup, these cubes are deliciously creamy and smoky in their flavor profile.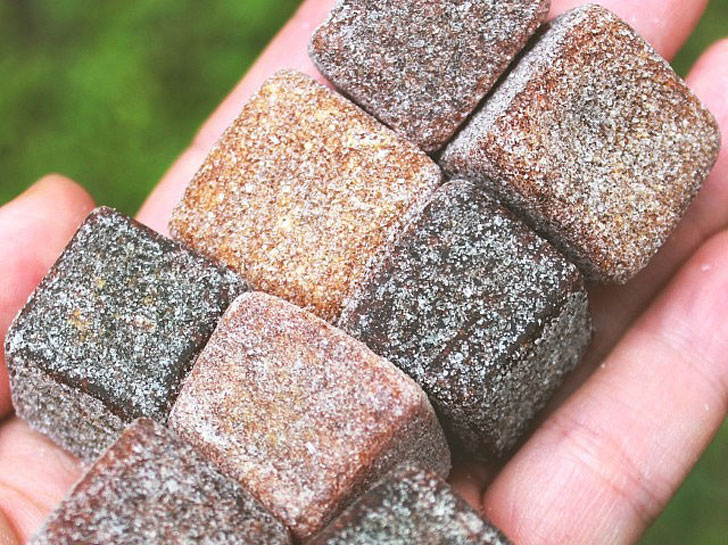 Bourbon Infused Coffee
After a long evening meal, when the food is just starting to settle and everyone at the table is getting comfortable, you're often presented with two choices for a post-dinner digestive: coffee or spirits? Bourbon infused coffee is the gift that puts the final nail in the coffin of that question and offers both at the same time.

Consisting of quality, small batch Arabica beans delicately infused with Kentucky bourbon, these beans contain an incredibly unique flavor profile and aroma, and are perfect for those who love whiskey, rum, bourbon and other strong spirits.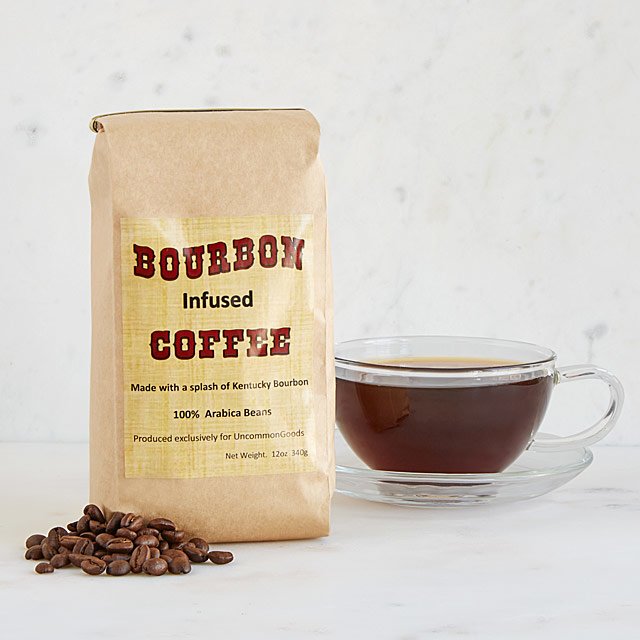 Cold Brew Coffee Gift Set
For those who live in warmer climates, a steaming hot cup of coffee in the morning might just cause them to break a sweat before they even get to work. This cold brew coffee set by CoffeeSock® ensures that you can still enjoy your morning cup of Joe while remaining as cool as a hipster in the snow. While the set is fairly simple and contains just a mason jar and a reusable cloth filter, it still requires a little bit of simple foresight.

Every night before bed, pack the filter with your favorite grounds, fill the jar with cold water, then let both soak overnight. By the time you wake up your fresh and refreshing cold brew coffee will be ready. The best part? Both the filter and the jar are reusable, making this not only a great coffee gift, but a sustainable one too.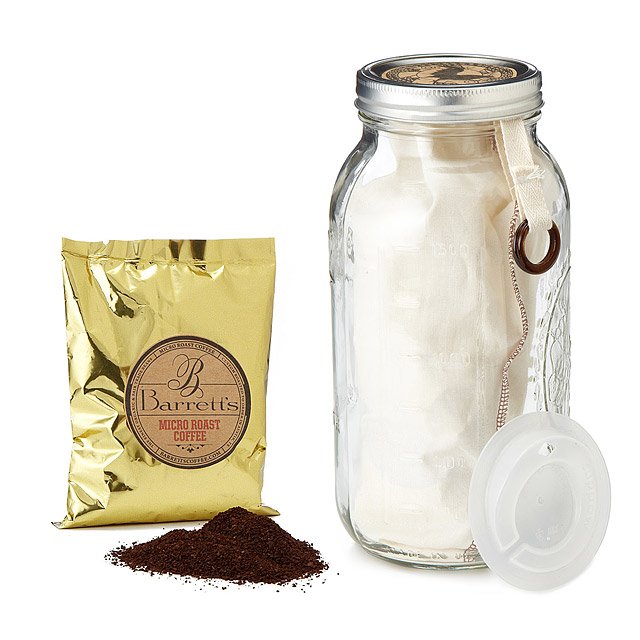 Coffee Alarm Clock
Waking up isn't fun for anyone; it's a disruptive process that makes even the toughest of us want to cry. The dream is to be woken up every morning by a fresh cup of coffee while the smell of ground beans brings you out of your slumber and into waking life. Dream no longer with the Barisieur coffee and tea alarm clock by Joy Resolve.

This sleek, sophisticated and state-of-the-art machinery begins boiling water as it gets close to the designated wake up time. By the time the alarm goes off black gold is already being filtered into a cup, ready to bring you back from the dead in a spectacular, caffeinated fashion.

The alarm clock requires some prepping the night before, but it's a small price to pay for an immediate cup of coffee in the morning, and is a godsend for anyone who needs motivation to get out of bed.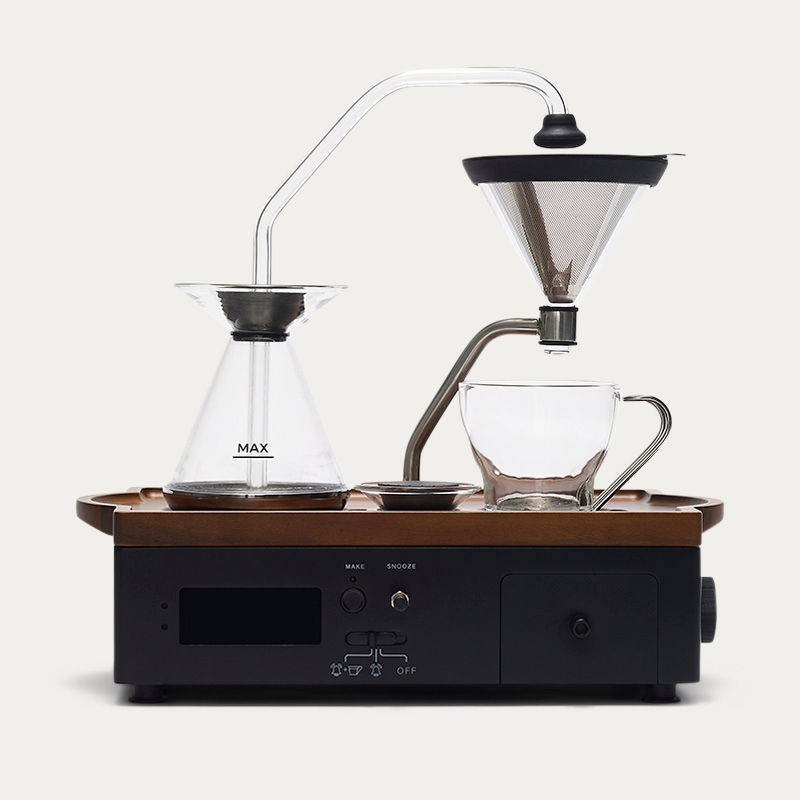 ---