Do you really need a Turkish coffee grinder if you want to make Turkish coffee? Otantik Türk kahvesi istiyorsanız, evet!
Honestly, having a Turkish coffee grinder isn't an absolute necessity when it comes to brewing Turkish coffee. If you're desperate, you could technically crush your beans with a rock, or use a pepper mill, and try to make Turkish coffee – but obviously, a great grinder is going to give you great ground coffee, which in turn will give you a great-tasting cup of Turkish coffee.
So, when the terms "Turkish coffee grinder" or "Turkish grind" are used in coffee-centric conversations, what exactly are they referring to?
---
Editor's Favorite Turkish Coffee Grinder: The Zassenhaus "Santiago" Manual Coffee Mill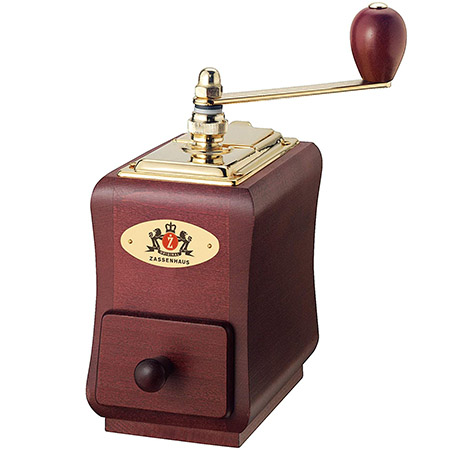 Craftsmanship – 5/5
Grind – 5/5
Size – 4.5/5
Price – 4/5

Zassenhaus may be a German company but their manual coffee mill is definitely capable of producing the perfect Turkish coffee grind.
---
What is Turkish Coffee?
Turkish coffee is a unique brewing method that uses ultra-fine-ground coffee in a special pot called a cezve. It's unique from other brewing methods because the grounds are not removed nor filtered from the final cup of coffee.
If you want to make authentic Turkish coffee, you definitely have to use cezve (or ibrik) to brew it. However, before you even start to brew the coffee, you're going to have to make sure that you have ground your beans properly.
You need a Turkish grind if you're making Turkish coffee.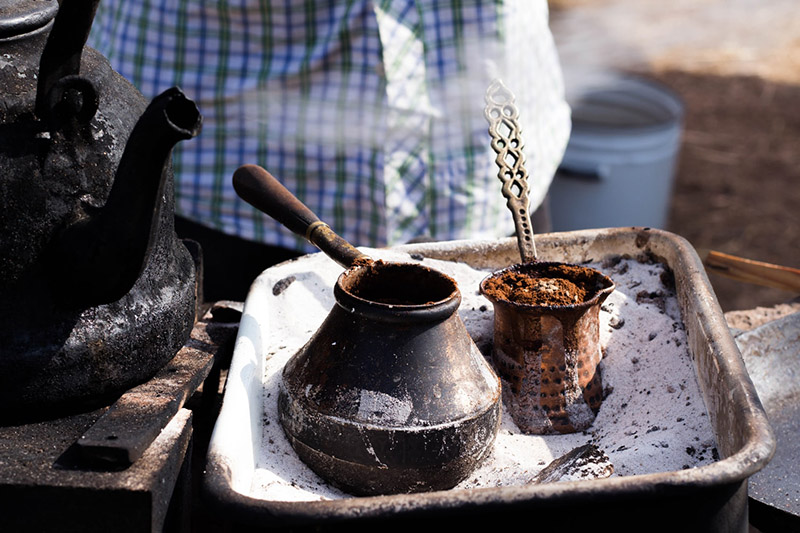 How to Prepare Turkish Coffee
Truth be told, brewing an authentic cup of Turkish coffee is not all that different from cooking up a batch of cowboy coffee.
Here's what you need to get the coffee brewing:
Cold, filtered water
Ultra-fine ground coffee ("Turkish grind")
Cevze (or a small, metal kettle that you can brew directly inside)
Stove or a heat source
Sugar (if desired)
Turkish coffee cups (for the authentic experience)
The brewing process here is actually pretty straightforward.
Here's how to make Turkish coffee in 6 steps:
Start with the sugar. If everyone will be taking sugar, it's usually added first to the pot. (If not, you can add it later).
Measure the needed water into the Cevze. It's best to measure about 1.5x the capacity of each cup you're planning to brew (that's the capacity of the coffee cup, not the unit of measurement).
Add the ultra-fine ground coffee to the Cevze. One heaping tablespoon for each cup (again, the coffee cup, not the unit of measure).
Place the Cevze directly on the heat source and bring to a boil. Now you're cookin'. Should take 3-4 minutes to bring to temperature and you'll notice a dark brown foam begin to form.
Pour. Once the coffee is brewed, you'll pour directly from the Cevze into each of the cups. No need to filter or strain.
Scoop the foam. It's customary to use a spoon to ladle a small amount of the dark-brown foam from the pot into each cup for added flavor.
What's Special About The Turkish Coffee Grind?
If you've been drinking and brewing coffee for some time now, you probably know a thing or two about some of the different grind sizes and what they are used for.
Most coffee lovers and baristas know that the average drip coffee maker works best with a medium grind and if you're making espresso, you're going to want a fine grind size. Most of us have only ever gone for a fine grind size when we're planning to use an espresso machine or an AeroPress – but what if told you that there is a brewing method that calls for an even finer grind?
Yes, if you're making authentic Turkish coffee, you're going to want to have an extra fine grind size. In fact, this extra fine grind size is usually just referred to as the Turkish coffee grind because Turkish brew is the only brewing method that needs such a fine grind.
What Is A Turkish Coffee Grinder?
When most people talk about Turkish coffee grinders, they aren't thinking about a specific model or design. What they are really talking about is a grinder that is capable of creating the extra-fine Turkish grind that we previously mentioned.
There are countless traditional-looking Turkish coffee grinders (that may or may not be made in Turkey) that can create a great Turkish grind. If you're not a fan of that style then don't worry. There are more than a few electric and manual grinders (in a variety of styles) that can produce fine powder and get the job done as well.
How to Use a Turkish Coffee Grinder
While Turkish coffee grinders are technically their own class of device—capable of achieving the needed precise grind size and consistency—the actual use is similar to nearly any coffee grinder you've ever used.
The main consideration here is whether you have a manual or electric grinder.
Of course, that just determines whether you'll need to manually crank the grinder or just toss in the whole beans and press the power button.
In either case, the actual preparation method for ground coffee beans is basically the same:
Adjust the grind setting. Make sure you're dialed in for the ultra-fine Turkish grind.
Add the whole beans to the grinder. If it's a hand grinder, you'll likely pop them into the body. If it's an electric grinder, then you probably have a compartment where you'll add them.
Grind. Either crank the handle or press the button to grind the beans. Keep in mind that you're basically going for a dust-like consistency. So don't be afraid to really crush those beans.
Remove the finished coffee grounds. Once the coffee is ground down to a spice-like consistency (think paprika), it's ready to use to brew an authentic cup of Turkish coffee.
---
Criteria for Selecting the Best Turkish Coffee Grinder
There are a few key factors that we focused on when we were making our list of the best Turkish coffee grinders.
Price – Are you going to have to break thePrice – Are you going to have to break the bank to buy a coffee grinder?
Size – How much space is it going to take up too much space on your kitchen counter?
Capacity – How much beans can it hold?
Construction, Durability, and Quality – What kind of materials are used to make it and is it well crafted? In particular, we're looking at the body of the grinder and then looking for either ceramic or steel burrs.
Grind – Can it consistently produce an extra fine grind?
Design – It's gotta look good.
Warranty – Extra points if the manufacturer stands behind the product.
---
Our Top 5 Turkish Coffee Grinders

Name & Price

Notes/Features


Zassenhaus "Santiago" Manual Coffee Mill



Check Latest Price

+

Beech wood body


+

Carbon steer burr grinders


+

High quality German craftsmanship



*

Relatively expensive



Bazaar Anatolia Manual Hand Grinder Set



Check Latest Price

+

Traditional Turkish coffee grinder appearance


+

Relatively affordable


+

Grinder set; coffee and spices



*

Made of brass



Silva Manual Coffee Grinder



Check Latest Price

+

Utilitarian design


+

Adjustable grind size



*

Ceramic combo burrs



Capresso 565.05 Infinity Conical Burr Grinder



Check Latest Price

+

Adjustable grind size


+

Variable speed controls



*

Electric powered



–

Somewhat expensive



Khaw-Fee HG1B Manual Coffee Grinder



Check Latest Price

+

The safe option


+

Adjustable grinding mechanism


+

Comfortable to hold


+

Relatively affordable
---
Top Pick – Zassenhaus "Santiago" Manual Coffee Mill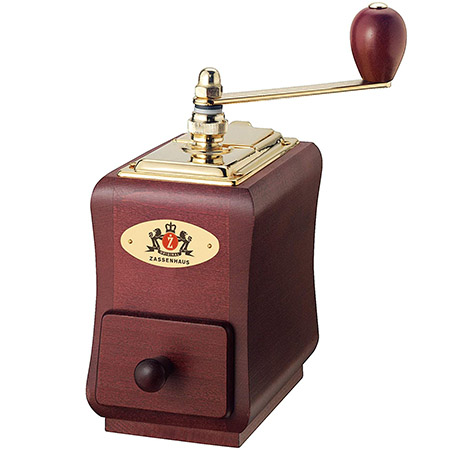 No one ever said that the best Turkish coffee grinder had to be made in Turkey. The Zassenhaus "Santiago" is actually German-made and the masterful craftsmanship is apparent at first glance.
If you want a burr coffee grinder that can produce an extra-fine grind, then look no further than the Zassenhaus "Santiago". The body of the grinder is crafted from durable beech wood and the grinding mechanism (conical burr grinder) is made of high-quality carbon steel.
The Zassenhaus "Santiago" is perfect if you want to get the ideal Turkish coffee grinder or Turkish coffee mill. We could only find two minor faults with it. The most obvious drawback was the cost; its current retail price of $143.99 is more than double the price of many coffee grinders. However, if you compare the quality and the cost of this coffee grinder, it is definitely a case of you getting what you pay for.
Our final nitpick is that it doesn't have that traditional Turkish coffee grinder look. This one is clearly up to personal preference.
If you just want a high-quality grinder for your Turkish coffee then the Zassenhaus "Santiago" is perfect. However, if you really want a Turkish coffee grinder that can complement the aesthetics of your cezve and your kahve finjanı, you will have to consider other options.
Traditional Choice – Bazaar Anatolia Manual Hand Grinder Set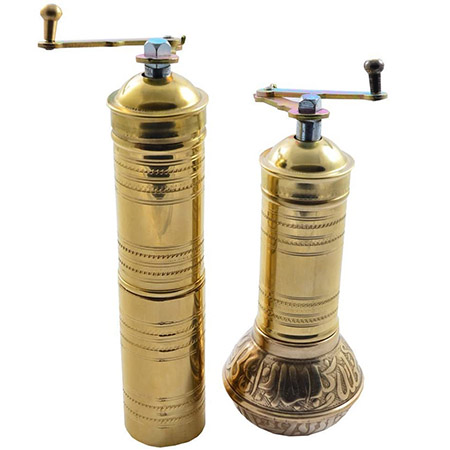 With a name like Bazaar Anatolia, you know that this manufacturer has a deep love for their Turkish coffee world culture. If we use our aforementioned criteria to evaluate the Bazaar Anatolia Manual Hand Grinder Set, it actually gets a lot of things right.
Its price is remarkably reasonable since you're getting two grinders – one for coffee and one for spices. They are made primarily of brass and are crafted with both durability and aesthetics in mind.
You can expect a near-perfect grind when you use this grinder. In fact, you would have to be a perfectionist to find a fault with its grind size and consistency. Lastly, it has that iconic Turkish coffee grinder aesthetic that will pair well with your cezve.
There are only two things that are keeping the Bazaar Anatolia Manual Hand Grinder from being perfect. The most glaring one is its size – if you're brewing a lot of coffee then be prepared to do a lot of grinding.
The second issue is the overall quality of the craftsmanship. The quality and durability are great for the affordable price but you could easily find a Turkish coffee grinder (a more expensive one) that would outlast this one.
Modern Aesthetic – Silva Manual Coffee Grinder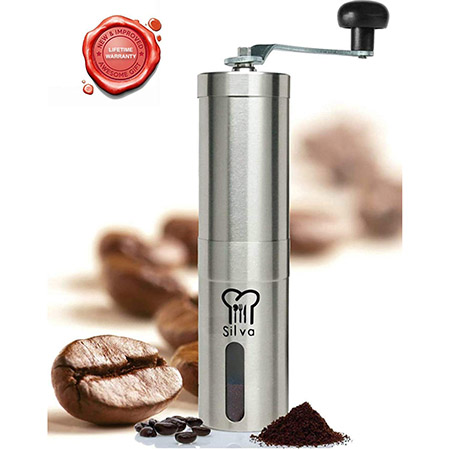 The Silva Manual Coffee Grinder is the perfect no-nonsense, heavy-duty, affordable coffee grinder for modern kitchens.
This sleek stainless steel cylinder contains ceramic combo burrs on the inside, which are bound to make quick work of your coffee beans. The main thing that the Silva Manual Coffee Grinder has going for it is that it is adjustable and has multiple grind settings. This means that not only can it function as your Turkish coffee grinder and create Turkish-style brew, but it also has settings for French press, espresso, cold brew, and so many more types of coffee. It can even work as a spice grinder in a pinch.
There were a few things that kept the Silva Manual Coffee Grinder from the top spot.
First and foremost we found the capacity to be fairly small but that can be expected from a lot of Turkish coffee grinders. Secondly, the crank handle doesn't feel as sturdy as others that we've used – however, it didn't break or cause issues in our limited testing. Lastly, it is definitely not the most attractive coffee grinder in the world; it has a very utilitarian look.
Electric Powered – Capresso 565.05 Infinity Conical Burr Grinder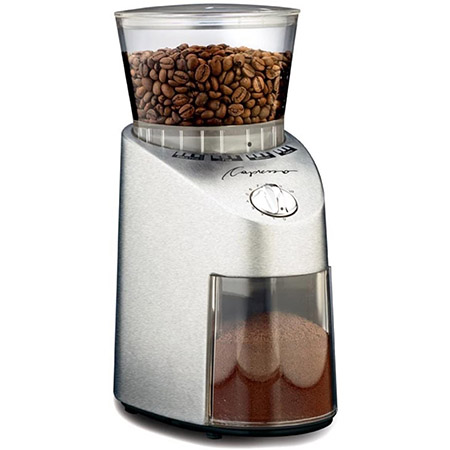 The Capresso 565.05 Infinity Conical Burr Grinder is probably as far away from the "traditional Turkish coffee grinder" as you can get. However, that doesn't mean that it can't give you the perfect grind for your Turkish coffee.
Normally we wouldn't recommend an electric grinder for Turkish coffee but an exception had to be made for Capresso 565.05 Infinity. It is actually a great choice for a general-purpose coffee grinder since it has settings that range from coarse to extra fine. It also notably has a relatively slow grinding speed compared to other electric coffee grinders; which is actually great if you value consistency in your grind.
All in all, if you don't care about the traditional Turkish grinder aesthetic and want the convenience of dumping in your beans and just pressing a button, then this is definitely the grinder for you. Still, we recommend that you use a manual Turkish coffee grinder because it gives you more control over the grind consistency and size.
The Safe Pick – Khaw-Fee HG1B Manual Coffee Grinder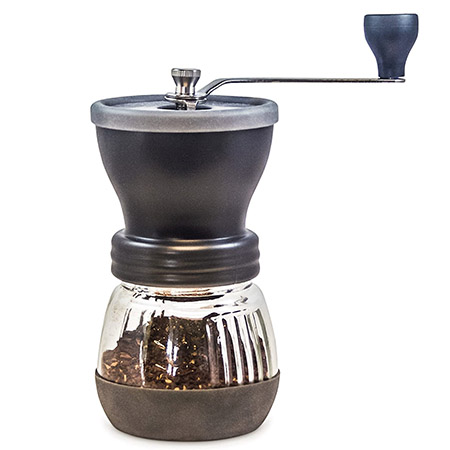 When all of the pros and cons of the other options are too confusing, it's great to have a safe pick to fall back on. The Khaw-Fee HG1B Manual Coffee Grinder has definitely earned that title.
This conical burr-style mill grinder features an adjustable grinding mechanism, which means that you can use it for your cold brew coffee, Turkish coffee, or to make short work out of generally any whole beans. The conical burrs on this device are also ceramic burrs, meaning this coffee bean grinder is extremely effective at what it does. It is also relatively durable and is definitely one of the more affordable options on our list.
The only other title that we could give the Khaw-Fee HG1B Manual Coffee Grinder is "most comfortable". Surprisingly enough, the wide hourglass design actually makes it easy to grip and hold during the grinding process.
---

Buyer's Guide – Choose The Best Turkish Coffee Grinder For Your Needs
As we said before, the ideal Turkish coffee grinder is going to vary depending on your needs.
Are you looking for a conversation piece, an elaborately designed grinder that can pair perfectly with your cezve? Are you looking for a no-nonsense grinder that is quick and easy to use?
If you're going to be shopping around on your own we definitely recommend that you follow these guidelines:
Never choose a blade grinder. Generally speaking, blade grinders only have one benefit, they are noticeably cheaper than burr grinders. However, this cheaper price does not make up for the inconsistent grind that you're going to get from a blade grinder.
Go with manual over electric. Any coffee aficionado or coffee drinker worth their salt will tell you that a manual Turkish coffee grinder will give you a consistent and faultless grind. The only benefit of an electric grinder is the convenience.
Pay close attention to the materials. We recommend that you go for burr grinders that have ceramic or stainless steel blades. Ceramic blades won't dull as quickly as steel blades; however, they also aren't as durable as steel blades.
---
FAQs About Turkish Coffee Grinders
What is the best coffee grinder for Turkish coffee?
See above for specific selections. But, in general: Conical burr, manual grinders, and Turkish (or ultra-fine) grind-capable grinders will serve you best.
How do you grind coffee enough for Turkish coffee?
You need a special grinder. Not all coffee grinders are capable of producing the fine powder coffee you need to brew Turkish coffee.
Is Turkish coffee better than coffee from other countries?
Turkish coffee is generally strong, rich, and smoky. Compared to other coffee brewing methods, it's often considered more authentic.
What kind of beans are used to make Turkish coffee?
Arabica, traditionally. But you can still brew Turkish coffee with robusta or a blend of different beans.