There's a lot to be said about the versatility of a thermos. Whether you want to enjoy hot coffee while traveling or take it on a camping trip with friends, a thermos can facilitate both. We're big fans of a thermos' functionality, and with that in mind we're going to take a look at the best coffee thermoses of 2020.
While we've done quite a few of these product guides, it's difficult to define something as the "best". After all, there are a lot of different variables and categories which might affect the final decision. That's as true with coffee thermoses as anything else, and so we've spared no detail in investigating what distinguishes a top-shelf thermos from its bottom tier counterpart.
---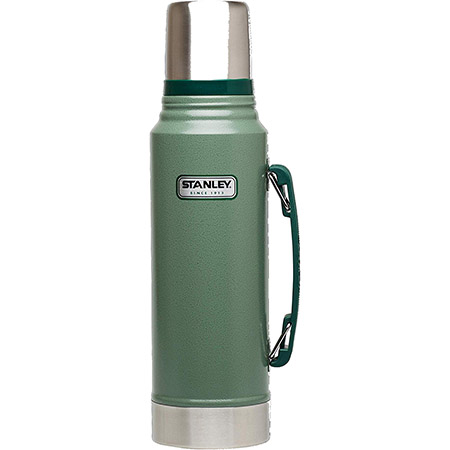 With the ability to keep coffee hot for up to 20 hours, it's difficult to find a better quality coffee thermos than the Classic Legendary Bottle from Stanley.
Quality

4.5/5

Pricing

4/5

Details

4/5

Insulation

5/5
---
---
Coffee Thermos Guide
How Does a Coffee Thermos Work?
But before we delve into the complex details of what makes or breaks a great thermos, let's take a look at how they work first.
A good thermos is going to do one thing exceedingly well: it's going to keep its contents piping hot for as long as possible. On the flip side, it's going to be able to keep its contents ice cold for an equally long time. All of this is just a lengthy way of saying that thermoses insulate whatever is poured into them.
Most thermoses are able to insulate so well because of vacuum-sealed double-walled insulation. This means that the thermos is actually constructed of two seperate layers and the air in between those layers has been removed.
This vacuum makes it very difficult for heat to escape since it has no air molecules to transfer too, and so it greatly slows down the cooling process. If a thermos isn't constructed according to these principles, it's no good.
Why Should I Get One?
Now you might be asking yourself – why would I need the best coffee thermos and when would I ever use it?
For starters, if you find yourself spending $4 on a latte every morning on the way to work, then a thermos is for you. It will allow you to bring enough coffee with you to get you through the morning and well into the afternoon. This means you don't ever have to go to Starbucks.
But the versatility doesn't stop there. Thermoses are great for camping and hiking, especially in cold weather where a hot drink will save your life. In fact they're great for any outdoor activities, even if it's just a walk in the park with a friend.
A thermos is also ideal for a busy worker who doesn't have time to enjoy a cup of coffee at home before work. With a thermos you can simply decant your pour over and savour your brew during your commute.
---
Key Features to Take Note of when Buying for the Best Coffee Thermos
When it comes to finding the best coffee thermos, there are a number of key features which we looked at while compiling this list.
Insulation
This might be the most important feature when it comes to choosing a thermos. After all, if a thermos doesn't insulate well and can't keep your coffee hot, what use does it have?
The insulation of a thermos is determined by the material its made of as well as the method used to create it. The best thermoses are made from double-walled stainless steel and use vacuum insulation to ensure that heat transfer is as slow as possible.
If you're just looking for something that keeps your coffee warm for an hour or two during your commute, then a plastic thermos will do you just fine. However, they won't be any use outside of this time frame. So even if it costs a bit more, it's always better to opt for a thermos made from better materials and that has superior insulation.
We gauged every thermos on our list and made sure that they all had adequate insulation and the ability to keep your brew hot for ages.
Propensity to Leak
Thermoses are made to travel either in your bag or in your hand, and that means they have to be completely watertight. There's nothing worse than spilling scalding hot coffee down the front of your clean clothes, or worse, destroying your work notes because your thermos wasn't sealed properly.
When buying a thermos always ensure that the lid can fasten securely and is easy to open and close.
Size Matters
When buying a thermos think about how many servings you expect it to store. Will you be using it for yourself or sharing it with others? The answer to this question will help you determine the size of the thermos you should be purchasing.
The tradeoff, however, is that as you go bigger, your thermos is going to get heavier and more cumbersome. Instead of a svelte little number that you can toss in your rucksack and go, you might need an overnight back to accomodate a group thermos.
Design
Size, insulation and waterproofness aside, the design of the thermos is also going to play a large role in your purchasing decisions. Of course, this is a completely subjective factor, and your preferences are going to flavor what design features you want you thermos to have.
In general you should consider questions such as: do you want it to have a strap, or be completely featureless? Do you prefer a thermos with a serving cup or one that allows you to drink directly from the flask? Do you want one that's easy to clean?
The Best Coffee Thermos of 2020 – 8 Products Ranked and Reviewed
---
The Best Coffee Thermos – a Detailed Breakdown of each product
Let's take a look at each thermos in greater detail.
Wide Mouth Thermos from Mira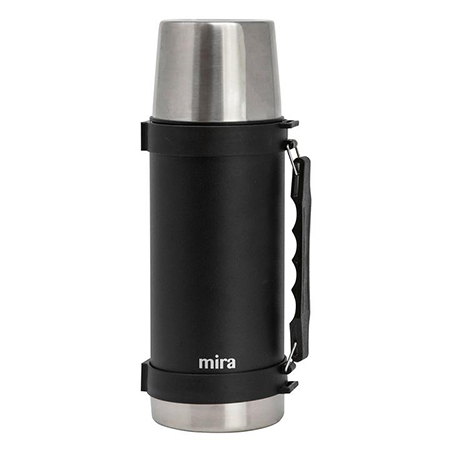 | Pros | Cons |
| --- | --- |
| Constructed of 18/8 food-grade stainless steel | Quite bulky and not always ideal for fast, on-the-go travel |
| Large volume (34oz) | Can be difficult to clean |
| Keeps coffee hot for 12 hours | |
Mira are somewhat of an underdog in the thermos game. They don't have the same reputation as a giant like Stanley, but they are still known for making quality products. Their wide mouth thermos is a perfect example of this.
Constructed of high grade 18/8 food-grade stainless steel, this flask is built to last and take a beating. It's the perfect hiking or camping companion, but can also be used during your morning commute in a pinch. The wide mouth means you can pour quickly and easily and the lid doubles as a cup for easy drinking.
It'll won't set you back much when you compare it to similarly-sized (34oz) flasks. On top of that it will also keep your drinks hot for up to 12 hours, and perfectly chilled for a full day.
Classic Legendary Bottle from Stanley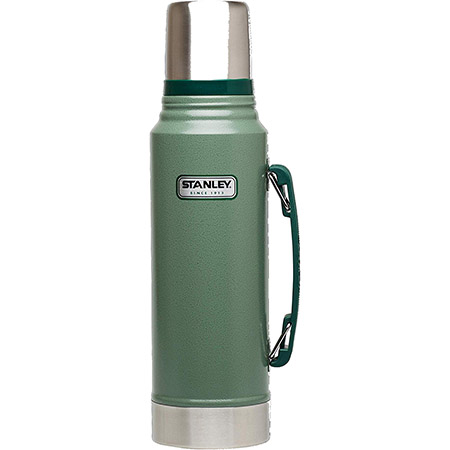 | Pros | Cons |
| --- | --- |
| Beautiful and classic design | Larger models tend to be quite cumbersome |
| High quality stainless steel construction | Design might not be modern enough for some tastes |
| Dishwasher safe and a lifetime guarantee | |
It's difficult to go wrong with anything produced by Stanley. As the OGs of high quality insulated bottles, this company has been selling thermoses to the world for over a century. The Classic Legendary Bottle is all the proof you need that Stanley has still got it.
Built to last, this 20z thermos is constructed from stainless steel and can withstand a ton of damage if you're a clumsy thermos operator. It features a double-wall vacuum-insulated design (which Stanley pioneered and proliferated) and will keep your coffee hot for up to 20 hours. On top of that it can keep drinks cool for a full day, and iced drinks iced for up to four.
For such a classic and high-calibre piece of kit, the price tag is very justified.
Stainless King Stainless Steel Beverage Bottle from Thermos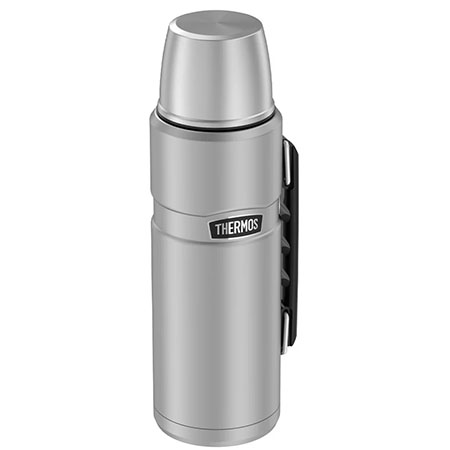 | Pros | Cons |
| --- | --- |
| Massive volume | Quite expensive |
| Keeps drinks hot or cold for a full day | Bulky and can be difficult to carry |
| Twist and pour stopper feature makes pouring very easy | |
If you need to pull out the big guns when it comes to beverage insulation then you'd be hard-pressed to do better than Thermos. This is a levithan of a thermos that can hold up to 2l of your favorite beverage. The Stainless King is able to keep its contents at your desired temperature for 24 hours whether you need it piping hot or perfectly chilled.
Constructed from double-walled and vacuum-insulated stainless steel, the Stainless King stays cool to the touch regardless of how hot your beverage is. It features a convenient carrying handle and a lid that doubles as a cup for easy drinking. On top of that it also includes a twist and pour stopper feature for easy pouring, and a tight seal to stop leaks from happening.
Contigo Auto-Seal Thermos West Loop Vacuum-Insulated Stainless Steel Travel Mug
| Pros | Cons |
| --- | --- |
| Ideal for a morning commute. | Small volume & expensive |
| Features state-of-the-art thermos technology for effortless drinking | Doesn't keep drinks hot for long periods of time |
| Easy to transport and handle | Not ideal for longer trips such as camping or hiking |
Contigo is a company who have dedicated themselves to making quality thermoses for those who live a fast-paced lifestyle. They use high-tech problem solving when creating their products to ensure the highest levels of efficiency and productivity. The Auto-Seal West Loop Thermos demonstrates this perfectly.
This little travel mug isn't made for camping or the great outdoors, but rather it's designed to solve the problem of having hot coffee during a morning commute. Utilizing AUTOSEAL technology to prevent leaks and spills, this 20oz thermos can be operated using only one hand. It'll keep your coffee hot for up to five hours thanks to its vacuum-insulation and stainless steel construction.
Stainless Steel Mug by Laxinis (Set of 2)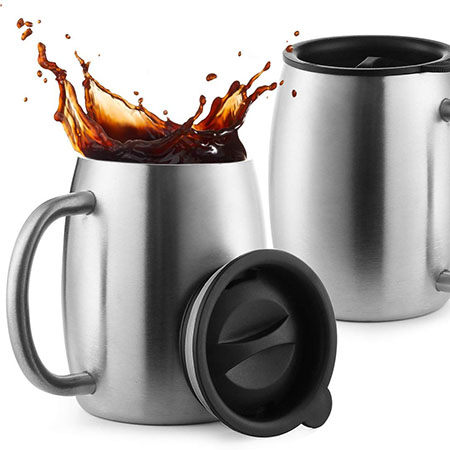 | Pros | Cons |
| --- | --- |
| Ideal for a commute | Small volume means they're not much use for longer trips |
| Solid, 18/8 food-grade stainless steel construction | Won't keep your coffee warm for an extremely long duration |
| Beautiful design | |
The Stainless Steel Mug from Laxinis World is another great thermos for those who want to enjoy a hot cup of Joe on their way to work in the morning. At 14oz, each mug can comfortably fit a full latte or Americano, but won't be any use if you have to provide for more than one person. However, considering that you get two mugs for cheap, there's still the possibility to share.
Like other thermoses on this list, the mugs are constructed of 18/8 food-grade stainless steel and are BPA-free. Their solid construction means they can take a fall or two and are still likely to last for years. However, they're small enough that they'll fit your hands snugly and likely never take a tumble.
Stainless Steel Snapseal Byron by Contigo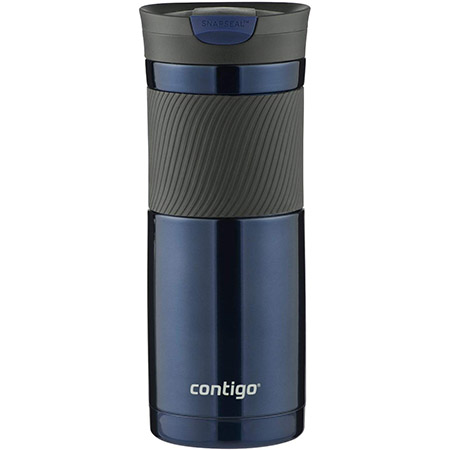 | Pros | Cons |
| --- | --- |
| Fits perfectly in one hand | Not ideal for long trips |
| High quality build, especially for the price | Body of the thermos has to be washed by hand |
| Uses snapseal technology and leak-proof lid for easy drinking | Can only keep your coffee warm for 6 hours |
Another product by Contigo – the Stainless Steel Snapseal Byron is the perfect thermos for a worker with no time to stop for a coffee. Available in a number of different sizes, this thermos is affordable, effective and will keep your coffee hot for up to six hours.
This thermos is a steal for its price considering that it's constructed from stainless steel. It employs vacuum-insulation technology and is designed for one-handed drinking. When you're finished, simply snap the lid shut without having to worry about leaks.
Hydro Flask 24oz Standard Mouth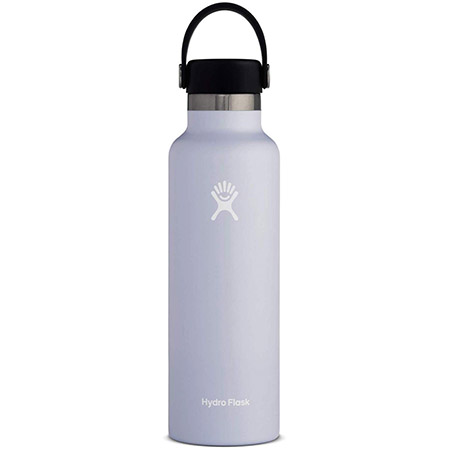 | Pros | Cons |
| --- | --- |
| Functional and attractive design | Doesn't come with a cup |
| Durable and solid construction | Can be difficult to clean |
| Keeps drinks hot and cold for long durations | Expensive compared to other thermoses on the list |
There's something undeniably cool about the Hydro Flask brand. They've managed to take humble flasks and water bottles and transform them into something that you want to show your friends. The 24oz Standard Mouth Hydro Flask is absolutely no different.
Beautifully constructed from 18/8 stainless steel, the Hydro Flask will keep your drink hot for up to 12 hours and cold for up to 24. It's designed to be used in conjunction with an active lifestyle, featuring an exterior powder coat to maintain a solid grip. For its price, you're getting an incredibly effective thermos (and quite possibly the coolest one on the market).
20oz Perk Insulated Travel Thermos by EcoVessel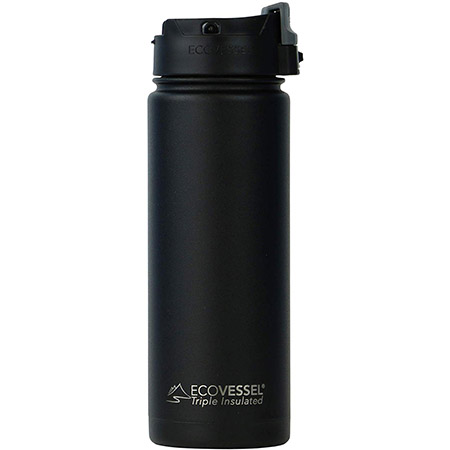 | Pros | Cons |
| --- | --- |
| Solid construction | Can only keep drinks warm for 8 hours |
| Ideal for one-handed use | Not dishwasher friendly |
| Can brew tea and create infused drinks | |
The Perk Insulated Travel Thermos by EcoVessel does more than simply keep drinks hot or cold – it brews them too. With a dedicated strainer, this nifty little device is able to brew tea or infuse fruit into your water. It includes a one-touch button and integrated lock that makes one-handed operation effortless.
The Perk is able to keep drinks hot for up to 8 hours and cold for a whopping 36! With a solid construction of 18/8 stainless steel and 20oz capacity, the Perk is as functional as any thermos on this list.
If you're planning on getting lost in a desert for an extended period of time, then this is probably the thermos for you.
---
Helpful Coffee Thermos Tips and Tricks
Now that we've hopefully found the best coffee thermos of your dreams, we're going to arm you with some knowledge to help you make the most of it.
Cleaning your thermos
Unless otherwise stated, it's always advisable to wash your thermos by hand. If your thermos is dishwasher friendly then by all means throw it in. However, if you're somewhat of a more cautious user, some elbow grease and soapy water is always a safer option.
Over time and with many uses your thermos may develop a stale smell. Don't panic if this is the case; your thermos isn't ruined.
You'll simply have to clean it out with some vinegar and hot water. Pour the mixture into your thermos, give it a good shake and let it rest for about half an hour. Once that's done, empty it and let it air dry before you use it again.
Whatever you do, do NOT use bleach to clean your thermos. You'll do nothing but ruin it and be unable to drink anything from it ever again.
The optimal temperature for drinking coffee
The answer to this question isn't as black and white as you might think. Experts believe that the ideal temperature to drink coffee is between 180 – 185 degrees Fahrenheit. However, others claim that this is actually just too hot, and takes away from the full spectrum of flavors available at lower temperatures.
---