It's safe to say that pour over coffee has taken the world by storm. Whereas this method of brewing used to be relegated solely to the realms of third wave coffee shops, it's now made its way into the home. Now more than ever people are looking to buy the best pour over coffee maker for use in their own kitchen.
Buying a pour over coffee maker isn't as simple as it might first appear, however. The problem is choice, or rather, an abundance of choice. The market has been flooded with reliable brands and there are just too many options to choose from.
A single search on Amazon is enough to make anyone feel overwhelmed.
That's where we come in. At Caffeine Fiend we really want you to have the best possible coffee drinking experience. To do so we've put together this guide to equip with all you need to know about sourcing the best pour over coffee maker for your needs.
---
The Caffeine Fiend Podium for Best Pour Over Coffee Makers
In-depth reviews of every product further down below!
---
Things to Keep In Mind Before You Buy: It's All About Grind
It's easy to get online and start spending money. We get it, shopping is a lot of fun. But before you whip out that credit card there are a few things you should know about the pour over method.
Baristas make it look easy – and really it's not too difficult – but making great pour over does require some skill, technique and forethought.
The actual raw materials required are relatively simple and straightforward. You'll need a good quality bean, a kettle that lets you regulate temperature, and a grinder.
The final mention is worth expanding on. When it comes to making good pour over, the grind is of the utmost importance. Therefore getting your hands on a grinder that can deliver consistent results is imperative for a smooth and even coffee extraction.
You can always buy pre-ground coffee, but it will always lack for quality and freshness. Having the ability to grind your own beans as and when you need them is a gamechanger. And so if you're seriously committed to making great pour over coffee, we recommend grabbing one of the best manual grinders currently on the market.
Additional Pour Over Equipment
Great pour over is about more than just the ingredients; it's also about technique. Even the best pour over coffee maker is useless without a human hand to manipulate it.
When it comes to pour over, a solid pouring technique is going to go a long way toward helping you achieve an even extraction.
To facilitate this there's one piece of kit above all others which will make your life a lot easier. You've likely seen a gooseneck kettle in any decent coffee shop, and for good reason – baristas swear by them. And while it's not essential to make a good brew, it will help you elevate your pour over game significantly.
If you've got the funds you can pick up a good-quality gooseneck kettle on Amazon. Again, you can get by without one, but if you're serious about your coffee, it's really worth the investment.
The same can be said for a scale. Of course you can always eyeball it, use approximate measurements and still end up with a great final product. But using a scale is just going to give you added specificity and great control over all the brewing variables.
A couple of our favorite coffee scales are the Hario VST-2000B, the Brewista Smart Scale, and the ERAVSOW Digital Hand Drip Coffee Scale.
Mastering the Pour Over Technique
---
Below we'll guide you through the process of making the finest pour over step by step.
Measure out 25g of your favorite roast and then grind it to the desired consistency. A medium-fine to medium-coarse grind (about the consistency of table salt) is ideal.
Prep your filter. If you're using a paper filter, fold it down the seam and then place it into your pour over funnel. Saturate the filter with hot water (and then discard it) to prevent a papery taste from getting into your final product.
Heat 400g of water (two cups of water for every two tablespoons of coffee) to 205 degrees Fahrenheit. If you only have an ordinary kettle without temperature control, simply water to the boil and let it rest for 30 seconds.
Set up your pour over device. If you have a scale, now's the time to use it. Place the carafe on the scale and add your grounds to the filter.
Once everything is ready, you're going to want to bloom the grounds. This requires wetting the grounds evenly just to the point of saturation. This allows excess gas to escape before the actual brewing process begins.
After your wet grounds have bloomed for 30 seconds, it's time to pour. Using a gooseneck kettle, pour slowly from the outside edge to the center. Allow time for the water to filter through entirely.
Remove the filter from the carafe and your pour over is now ready to drink.
---
The Best Pour Over Coffee Makers on the Market: A Definitive Analysis
---
Hario V60 Ceramic Pour Over Coffee Maker Review – The Industry Favorite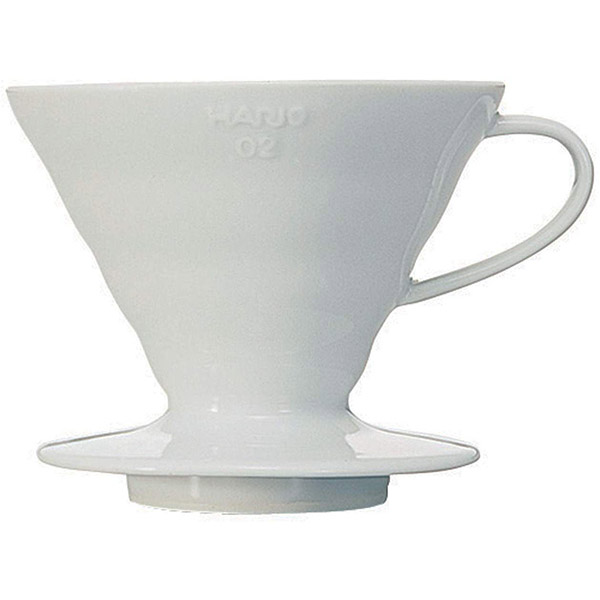 The Hario V60 might look like a coffee mug, but it's actually an ingenious pour over coffee maker that fits neatly over any mug or carafe. It's a no-frills, easy to use dripper that works with paper filters to deliver a great cup of pour over.
For its price it's hard to find much wrong with the V60. It's light, portable and extremely versatile. It's solid ceramic construction also excludes a feeling of quality and robustness other plastic drippers lack. Its shape helps maintain a constant temperature during brewing and a handle on the side means you won't burn yourself while handling it.
The only downside might be the fact that it relies on disposable paper filters. The V60 alone will never be enough to produce a decent cup of Joe. You'll always be beholden to those pesky filters.
Chemex Review – The Classiest Design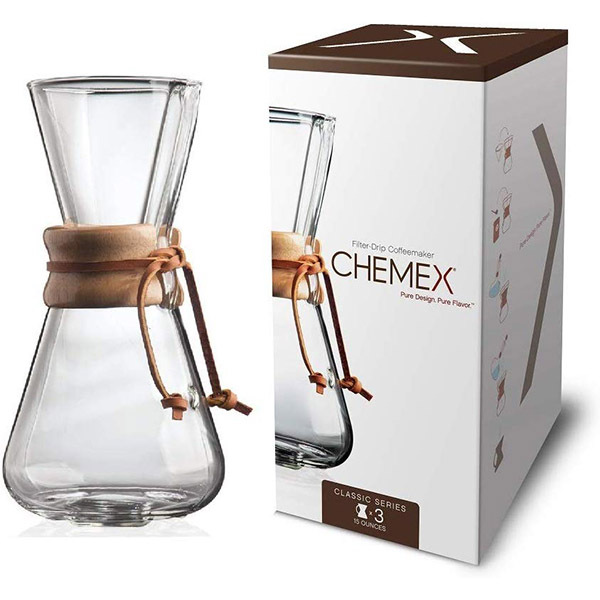 The Chemex is a classic yet design that has taken the coffee world by storm. It's not simply a marvel in functionality and utilitarianism, it's also strikingly beautiful. The Chemex isn't cheap, but it does double as both a coffee maker and a work of art.
The hour-glass shape isn't an accident either; it's a well thought out design that allows brewers to produce large batches of coffee – 8 cups! The glass flask won't stain or absorb odors, and the wooden handle makes handling the Chemex fuss-free.
Like an Apple product, the Chemex is designed to work best with products of the same brand. As a result, you have to fork out quite a bit for Chemex coffee filters everytime you want to make coffee. Expect to pay around $12.50 per 100.
Clever Dripper Coffee Maker Review – Least Fuss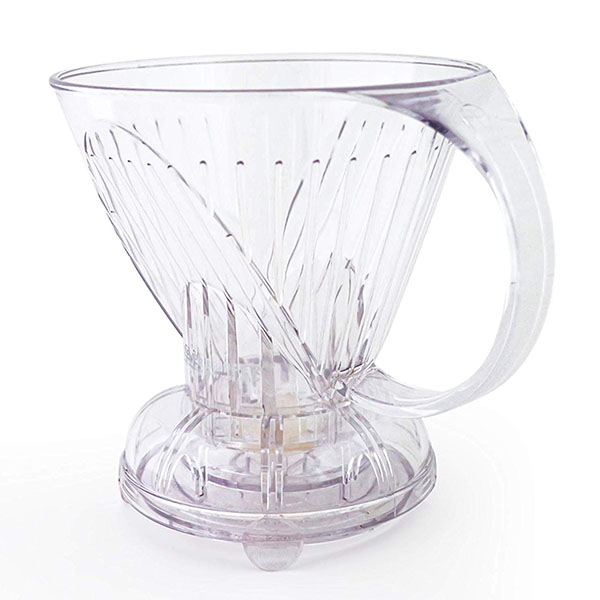 Like the V60, the Clever Dripper Coffee Maker is designed to fit easily on a mug or carafe. What separates it from drippers on this list is a small mechanism that stops the coffee flow. Essentially this allows you to steep the coffee instead of relying solely on pouring for extraction.
The Clever Dripper is also made entirely of plastic. This shouldn't be a dealbreaker, however. The plastic is entirely BPA-free, meaning you're not going to get any harmful chemicals leaking into your coffee after repeated usage.
It's also extremely sturdy and durable, making it ideal for travelling or outside use.
The design gives you control of all the brewing variables and generally produces a pretty good cup of coffee. It's also extremely easy to store and clean. Like other pour over coffee makers, however, the Clever Dripper requires paper filters for operation.
YAMA Pour Over Coffee Maker Review – Best for Big Batches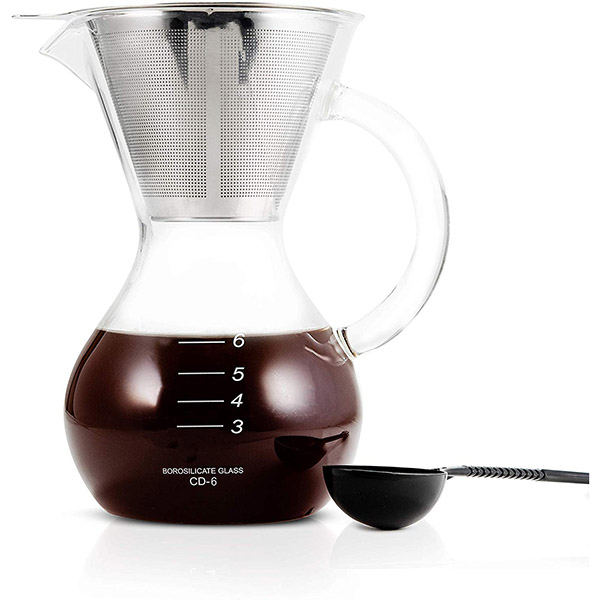 The YAMA is a thing of beauty. Constructed of borosilicate glass and hand-blown by master glass blowers, its quality and craftsmanship is evident upon first glance. It's designed not only to be used in the home, but also by professional baristas and coffee shop employees.
The YAMA pour over coffee maker is a really good deal. Like the Chemex, it's all curves and glass, designed to not retain any odors or stains. Unlike the Chemex, however, the YAMA comes with a reusable filter, which means it can be used time and again without worrying about additional accessories.
If I had to find any flaws in the YAMA, it would be its glass construction. While it might be beautiful to look at, it is exceedingly fragile. One bump, drop or misstep and it's all over.
JavaPresse Pour Over Coffee Maker Review – Most Eco Friendly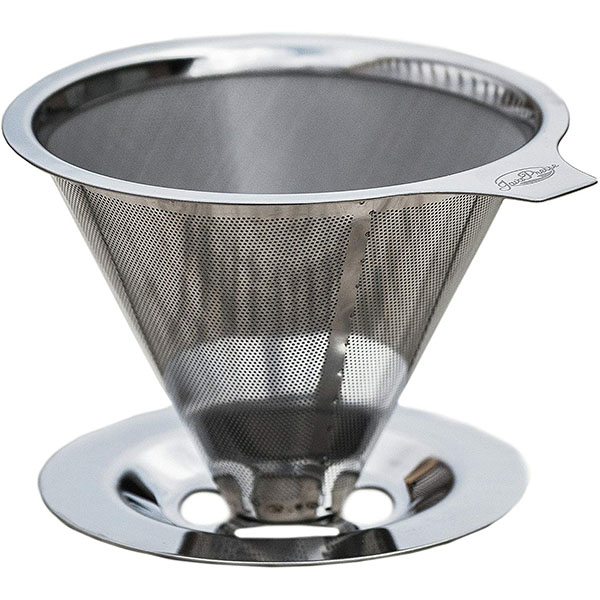 Made with a double-walled, 28-micron stainless steel mesh, the JavaPresse Pour Over Coffee Maker is the ultimate gatekeeper of unwanted coffee grinds. It's designed to remove the need for paper filters completely and prevents 99.9% of grinds from finding their way into your mug.
It's a simple and attractive design that fits comfortably on most sized mugs, carafes, pitchers and small pots. It's also really affordable considering that you won't ever need to buy paper filters again.
JavaPresse also claim that their dripper is shatterproof. This makes it an ideal travel companion for business as well as camping trips.
While the JavaPresse Pour Over Coffee Maker is impressive on all fronts, it could be easier to clean. For such a robust piece of equipment, it's unfortunately not dishwasher safe, meaning you have to clean it meticulously by hand.
Melitta Pour Over Brewer Review – Best Budget Option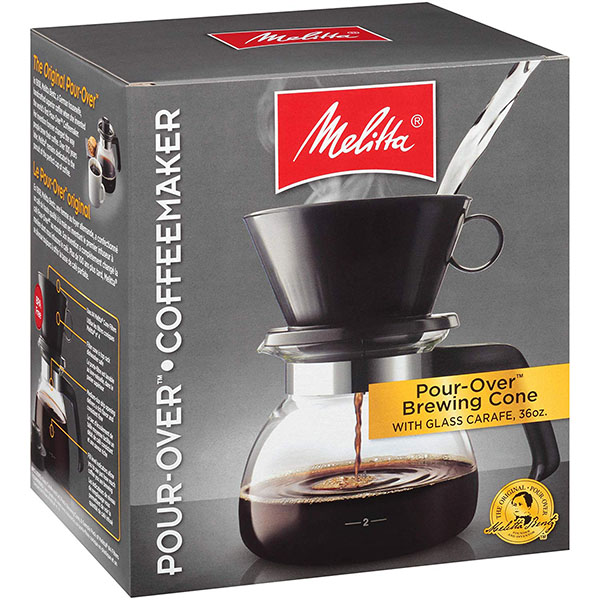 If you're looking for something no-frills and stripped-back then you'll be hard pressed to find a better option than the Pour Over Brewer from Melitta. It comes with a plastic, BPA-free cone and glass carafe that makes brewing for yourself or for guests a really straightforward experience.
Best for brewers on a budget, this brewer makes up to six cups of coffee at a time and it's relatively cheap. But just because it's cheap doesn't mean it's poor quality. Quite the opposite, Melitta's brewer is built to last.
For the price it's hard to fault this little guy. It's also dishwasher safe, which makes cleaning it up after use a delight. That being said the simple plastic design might be off putting to coffee aficionados who are looking for something a bit more upmarket.
Kone Filter Review – Best Disposable Filter Replacement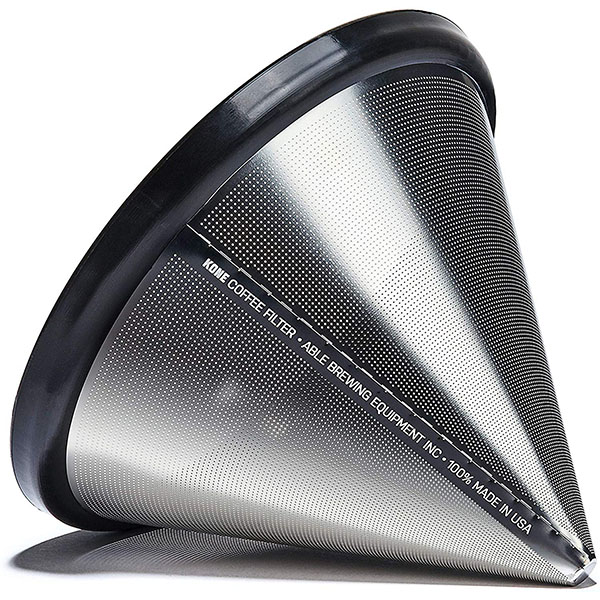 And speaking of upmarket, the Kone Filter might be exactly what you're looking for. While this isn't a pour over maker in its own right, it does deserve a mention. Constructed of stainless steel, the Kone Filter is a reusable filter designed to fit in standard 6, 8 and 10 cup Chemex coffee makers.
This is quite expensive, but if you're an avid Chemex user it will save you money in the long run. Using the Kone also means you'll be doing the environment a big favor, as you'll eliminate the need to constantly use disposable paper filters.
The Kone Filter also allows for more oils to pass into your brew during extraction. This means it's going to produce a more robust, full-bodied cup of coffee than its disposable counterparts.
The only drawback is that you need additional equipment to get the best use out of this thing. If you don't have a Chemex or appropriately-sized pour over cone then you're going to find the Kone Filter a little difficult to use.
Hario Woodneck Drip Pot Review – Most Functional Design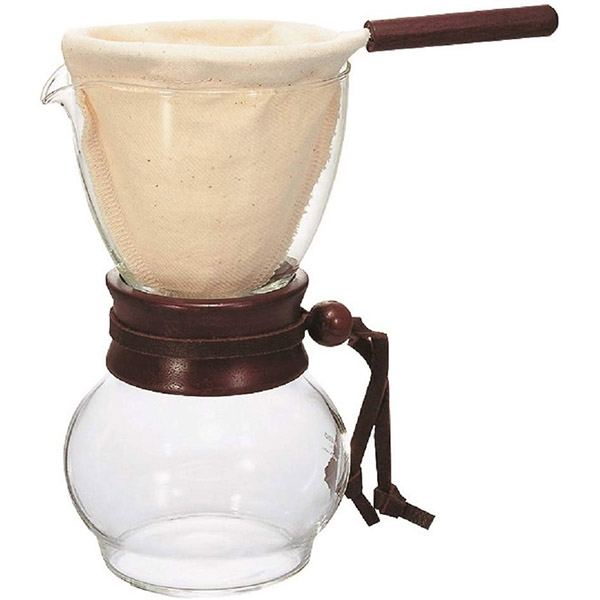 In what feels like direct competition to the Chemex, Hario's Woodneck Drip Pot is a beautiful dripper and carafe that looks great on any countertop. Looks aside, it's also a super functional little piece of kit. Its accompanying thick cotton filter gives it the ability to make French-press style coffee without the need for the French press itself.
The downside here is that, while it excels at producing dark, heavy, aromatic coffee, it suffers when it comes to lighter roasts. Still, if you're into intense coffee, then the Hario Woodneck is definitely not a bad choice. It easily retains many of the oils during extraction and produces, flavorful, complex brews every time.
Another downside is that the filter requires some special care to clean. But in the same breath, it's quite reasonably priced, especially if you're not sold by a Chemex.
Beehouse Coffee Dripper Review – Best for Small Kitchens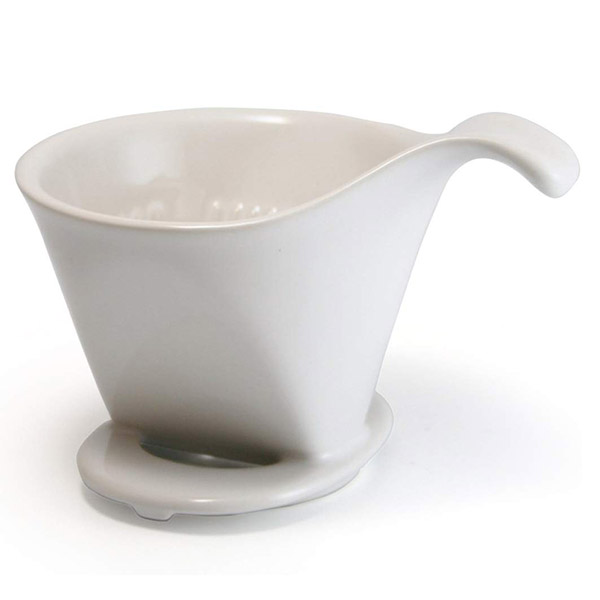 The Beehouse Coffee Dripper is a Japanese import that is as uncomplicated as it is adorable. This tiny little ceramic dripper comes in two sizes, both of which are quite miniscule, making this the perfect pour over solution for tiny kitchens.
The Beehouse is designed in a wedge-like shape with steep walls and a flat bottom. This design helps it retain heat and allow water to flow evenly, allowing you some leeway if your pouring technique still leaves something to be desired.
For its price you're getting a well-designed, straightforward coffee maker suitable for all brewing levels. The only downsides are that it still relies on paper filters to get the job done, and it might not be big enough for some brewers' needs.
---
The Takeaway
And there we have it – a definitive analysis of the best pour over coffee makers currently on the market. Have we piqued your interest? Will you be overflowing with joy (and lovely dark brew) when your purchase your first pour over?
Or are you already a pour-over master? If so, let us know what you consider the best pour over coffee maker, as well as your favorite pour over techniques in the comments below.
---