The secret ingredient to a good cup of coffee isn't just the bean, the roast, the grind or the water – it's also consistency and precision. And there's no better way to achieve exactitude than with a coffee scale. But knowing which one to choose can be tough, which is why we've put together this guide of the best coffee scales of 2020.
---
Acia Pearl Brewing Coffee Scale — Editor's Pick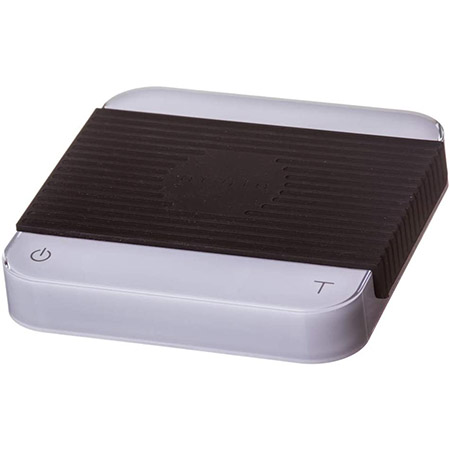 Quality: 5/5
Pricing: 4/5
Features: 5/5
Consistency: 5/5
If you're serious about craft coffee and having the most precise measurements possible, then the Acia Pearl takes first place on the scale podium. Not only is this smart scale overflowing with cool gadgets and tech, it's also a pleasure to look at and a wonder to use.
---
The Best Coffee Scale: Features at a Glance
Coffee Gator Digital Scale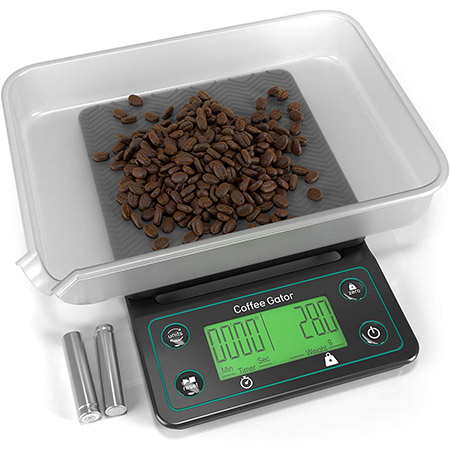 +

Easy to clean


+

Easy readable


+

Fairly sensitive



Check Latest Price
Brewista Smart Scale II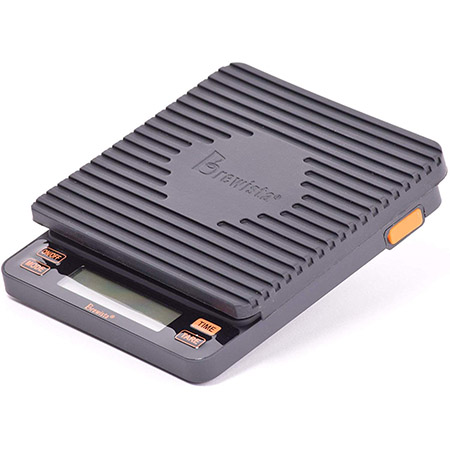 +

Feature heavy


+

Comes equipped with different pre-programmed modes


+

Measures up to 2000g



Check Latest Price
HARIO Drip Scale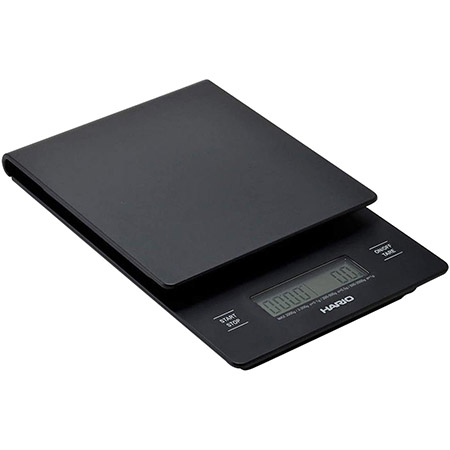 +

Extremely accurate Built-in timer


+

Attractive design



Check Latest Price
Acia Pearl Brewing Scale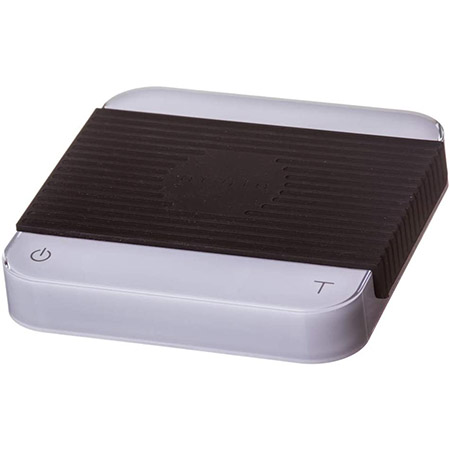 +

Extremely precise Built-in timer


+

No automatic shutoff for minimal disruption


+

Connects to smartphone via Bluetooth


+

Smart-scale with related app for tracking brewing metrics



Check Latest Price
Ozeri ZK14-S Pronto Digital Multifunction Kitchen and Food Scale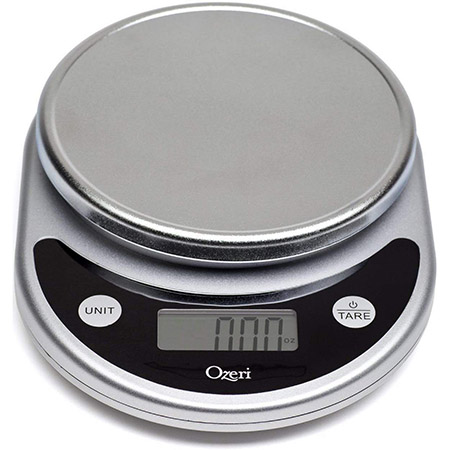 +

Customizable scale


+

Robust design


+

Can handle weights up to 5000g



Check Latest Price
Etekcity Digital Stainless Kitchen Scale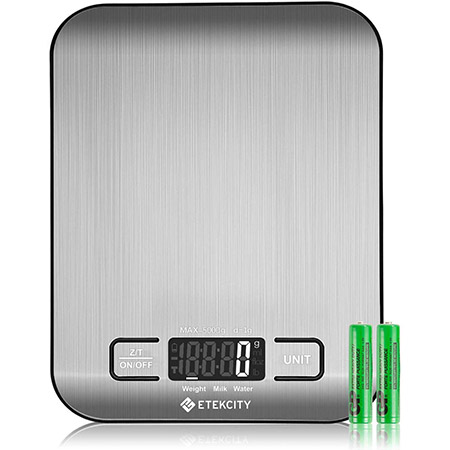 +

Stainless steel construction


+

Inexpensive yet powerful


+

Uses AAA batteries



Check Latest Price
CoastLine Digital Pro Pocket Scale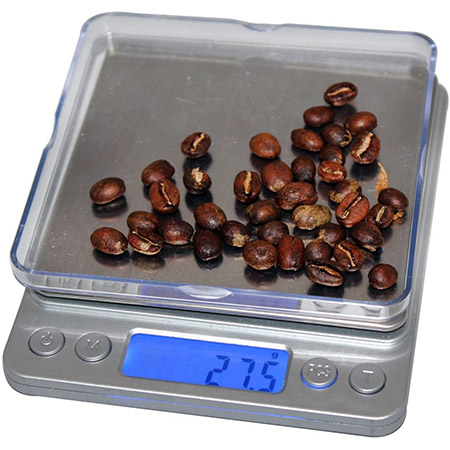 +

Tiny and easy to travel with


+

Made out of stainless steel


+

Inexpensive



Check Latest Price
Ozeri Touch Digital Scale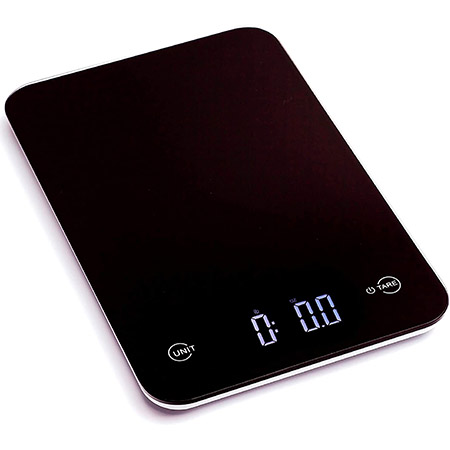 +

Svelte design


+

Affordable


+

Easy to clean



Check Latest Price
Why Do You Need a Coffee Scale?
Inconsistency can mean the difference between an ethereal, revitalizing cup of coffee and an over-extracted, bitter waste of money. Putting your faith in spoons and scoops means that you're leaving the fate of your coffee up to the gods of uncertainty. It probably won't end in failure, but you're definitely not going to get the best results either.
A coffee scale takes all of the ifs, ands or buts out of the equation. It puts uncertainty to bed, and lets you sleep soundly knowing that your brewing variables are precise. It puts you in the driver's seat of your coffee destiny, giving you full control of the brewing process to develop the exact brew you want.
It means that once you've discovered and fine-tuned your coffee tastes and sensibilities, you can achieve those same results time and time again. It's a god-like tool in the world of craft coffee, one that is often overlooked and underappreciated.
What we're trying to say is, don't leave your coffee measuring up to chance. Invest in a scale.
---
What to Look for in a Decent Coffee Scale?
Now that you know you want to buy a coffee scale, you need to know what factors are worth considering before you make the purchase. Let's take a look in detail at a few of the vital characteristics that you should keep in mind when shopping for a coffee scale.
Size
Coffee scales come in all shapes and sizes, so you need to think about where you're going to place it to find out what size is good for you.
Do you have a dedicated piece of kitchen counter real estate? Then a larger, more robust scale is going to suit you just fine.
Are you low on space or plan to travel, and you need something smaller and more economical that you can stow away? Then go for one of the more slight options.
The frequency with which you plan to use your scale is also going to play a role. If you're a one-in-a-while coffee type of guy, then a smaller scale that you can store is likely a better choice. If you use it everyday, however, you're going to want one that is always available and ready to go on your countertop.
Style
If you are the type of person who uses their scale all the time then it's likely going to be out in the open where everyone can see it. If appearances are something you consider important then you're going to want to take the scale's style and design into account. There are plenty of svelte, good-looking scales on the market, so keep an eye out for one that matches your kitchen aesthetic.
Accuracy
If you're buying a scale then precision and accuracy is probably the most important factor to consider. Afterall, if a scale can't measure accurately, then it's not doing its job well. Most scales will be able to accurately measure up to a gram, but if you want more exactitude, make sure you buy a more sensitive scale.
Battery Life
Do you plan to use your scale often? If so then it's worth investing in one that has a hefty battery life. Consider whether or not you want a scale that has a built-in lithium ion rechargeable battery, or one that works on disposables.
Many conventional scales have an automatic shutoff feature to save power, but this can be infuriating if it powers down during the brewing process. However, if you're only an occasional brewer then this is something you won't have to worry about too much.
---
A Balanced Approach: Best Use Cases for a Coffee Scale
The type of brew that you plan to make is going to have a marked impact on the ways in which you use your scale. Different brewing methods are going to require different measuring techniques and approaches.
Chemex
If you're using a Chemex then life couldn't be simpler. Simply place the Chemex on the scale and zero it. Add ground coffee until you reach the desired amount, and you're good to go!
Espresso
If you're lucky enough to have an espresso machine at home, unsnap the portafilter and place it on the scale. Zero the scale, then add coffee until you reach your desired weight. After that simply tamp it down and snap it back into the machine.
Ordinary coffee
If you're making ordinary, run of the mill filter coffee, simply remove the filter, zero the scale and place the filter on the scale. Fill it up with the desired amount of coffee, then place the whole filter back into your coffee machine.
---
Detailed Reviews Of The 8 Coffee Scales We've Listed
Now that we've seen all the scales at a glance and taken a look at their various use cases, let's take a closer look. Below we go into further detail about our favourite coffee scales currently on the market.
Coffee Gator Digital Scale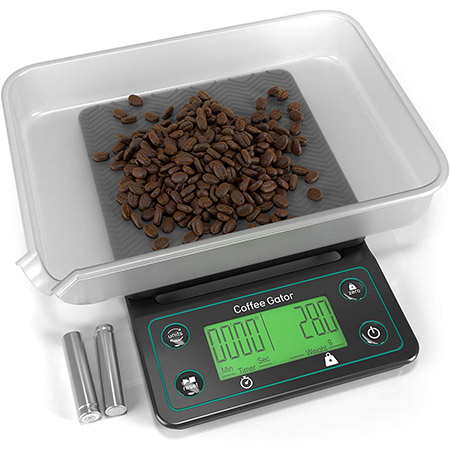 Picking up any sort of product from Coffee Gator is usually a safe bet. The guys who run it know a thing or two about anything coffee related, and that extends to their coffee scales. Point in case in the Coffee Gator's Digital Scale, which is able to measure weight but also volume.
With the ability to accurately measure weights from as little as .003 oz to as heavy as 6lbs, this scale is suited for a large range of different functions. The measuring tray has sloped sides so that the scale can also be used to measure the volume or weight or liquids too.
Rubber feet keep this scale steady, but it can also be easily moved if you need to take it with you on the road. At $22.99 it's quite affordable compared to other scales on the market, especially considering the quality you're getting from such a reputable brand.
Brewista Smart Scale II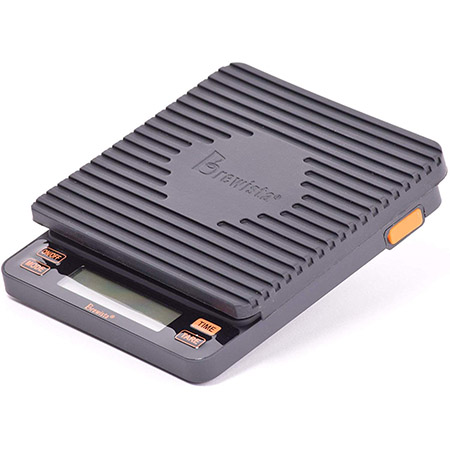 The Brewista Smart Scale is the ideal tool for both amateurs as well as professional, established baristas. It's a fully functional scale that is accurate to within 0.1g and up to 2000g, making it a great tool for a wide range of brewing-related functions.
The Smart Scale II comes equipped with a number of pre-programmed modes and automatic features, designed to help measure coffee accurately for various brewing methods. It has a programmable automatic-off function as well as a USB rechargeable battery.
You do pay for the functionality, however. The Brewista will set you back a scorching $89.95, which is a huge price tag if you're just getting into the measuring game. For someone who has been in the craft coffee game for a while, however, this may be an acceptable fee.
HARIO Drip Scale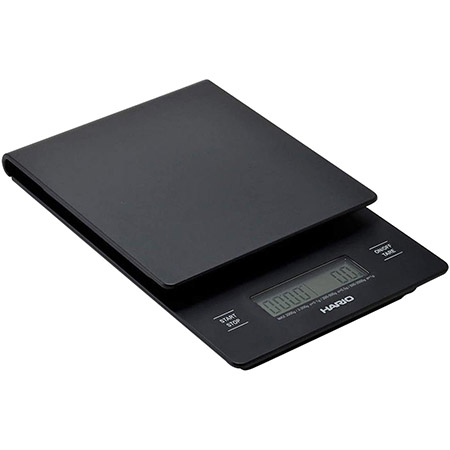 The HARIO Drip Scale is a mid-range crowd pleaser that performs beyond expectations. At $48.55 this won't break the bank, but it's unlikely to be picked up by complete newbies to the craft coffee game. Let's take a look at what you're getting for that price point.
It goes without saying that the HARIO is stylish – everything that HARIO makes or does comes with a certain expected flair. However, looks aside, it's also extremely functional, measuring accurately down to 0.1g. The scale comes equipped with a built-in timer for brewing and an auto-off function so you don't wear out the batteries.
The HARIO is also beautifully compact, meaning you can leave it out on display in your kitchen without it taking up too much essential counter space. It also means you can pop it in your pocket on the way out the door during your next business trip. Whatever your needs, the HARIO Drip Scale can comfortably handle all of them.
Acia Pearl Brewing Scale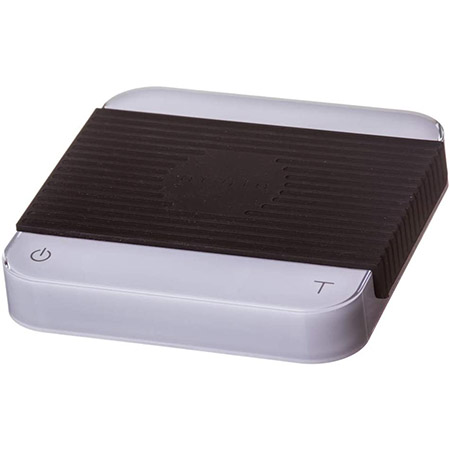 If you're looking for the creme de la creme of measuring equipment then the Acia Pearl Brewing Scale should definitely be on your radar. Priced at $140, this is definitely a top-tier high-end piece of measuring equipment, and certainly not aimed at entry-level brewers. Rather this for the established barista who wants a scale that goes beyond mere measuring and comes equipped with additional high tech features.
The Acia Pearl features laboratory-grade technology such as adjustable zero tracking and creeping compensation. It's definitely one of the most precise scales on the market with the ability to measure weight changes resulting from evaporation. The built-in timer shows both time and weight in a dual display, and it comes equipped with a USB rechargeable battery.
Where the Acia Pearl really takes shines is in its interactive smart-technology. Connect to the accompanying app to see metrics such as flow rate, current weight, and countdowns in real time. It also has six different pre-programmed modes to choose from – Weighing, Timer, Auto Tare, Auto Start, Espresso and Beverage mode.
To top it all off, the Acia Pearl is a wonder in minimalist, svelte design. It would make a great addition to any cafe or kitchen, and can't be recommended enough.
Ozeri ZK14-S Pronto Digital Multifunction Kitchen and Food Scale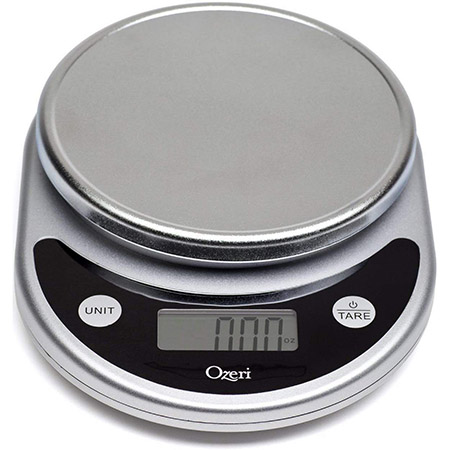 If you're looking for a budget-friendly scale that doesn't sacrifice quality, looks or accuracy, then you'll want the Ozeri ZK14-S. Priced at $14.95, this nifty little kitchen scale won't burn your wallet but still performs as well as similar scales on the market.
The ZK14-S weighs up to 11.24 lbs (5100 grams) and all the way down to 0.05 oz (1 gram). It also features an LCD screen and can switch between five different units of measurement. It has a dedicated tare button to easily remove the weight of any bowls or containers initially placed on the scale.
While the SK14-S does have a beautiful chrome finish, it's slightly bulkier than other scales on the market. This means it's not ideal for travel or business trips, but excels as a home-scale.
Etekcity Digital Stainless Kitchen Scale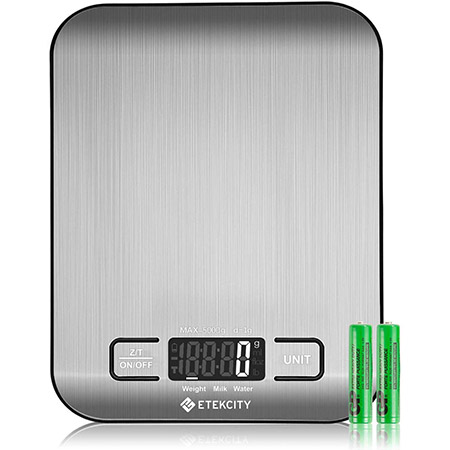 The Etekcity Digital Stainless Kitchen Scale features an eye-catching design and a stainless steel construction. It's pretty to say the least. Selling for $18.99, it's also one the number one home kitchen scale currently selling on Amazon – but is it worth the hype?
If you want a beautiful piece of equipment to uplift your kitchen aesthetic, then definitely. If you want an extremely precise measuring tool, then maybe. The Etekcity scale does the job and can weigh sizable amounts of beans without too much trouble.
The problems start when you want to measure a tiny amount as the Etekcity scale only measures down to about 2 grams or so. Anything below this and you won't be able to precise know what weight you're dealing with.
On the plus size the scale is battery-operated and small enough to take on the road with you. So if you need a travelling scale for your next business trip, it more than meets the requirements. Just don't expect measuring miracles.
CoastLine Digital Pro Pocket Scale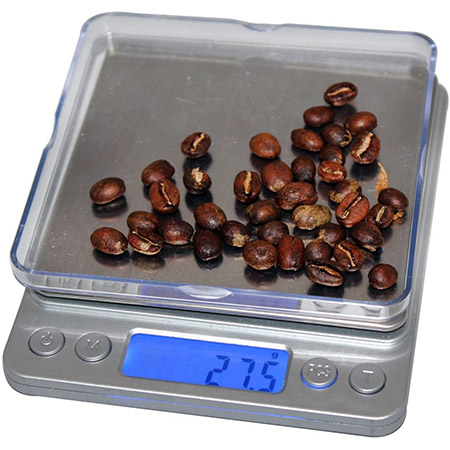 If portability is a big factor in your choice of scale then consider the CoastLine Digital Pro Pocket Scale. Measuring just 4 x 5 x 3/4″ this scale is smaller than a conventional smartphone and can fit easily in any pocket.
It's also very functional. Constructed of stainless steel, the CoastLine is durable and easy to clean. It can measure in 0.1g increments and has a bright backlit display for easy reading.
While functional, this isn't exactly the most beautiful scale on the market. It also can't handle massive amounts of beans. So if you're looking for something that you can throw in your bag on a business trip for measuring single cups of brew, this is your guy.
Ozeri Touch Digital Scale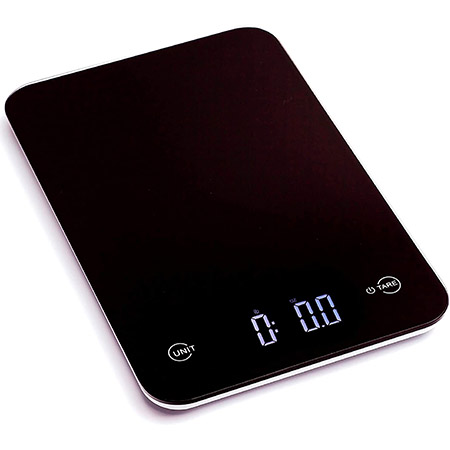 If sexy could be used to describe a scale then the Ozeri Touch Digital Scale deserves the accolade. One look at this beauty and you might have thought that it came from the future. With a smooth, polished finish, it's hard not to fall in love at first sight.
It's also surprisingly cheap. For just $12.89 you get not only a good looking scale, but one that's sensitive enough to measure from 1g all the way to 5750g. It features an advanced touch screen for easy operation, and a large LCD screen that displays numerous different units of measurement.
Like other scales on this list it also has a dedicated tare button which makes zeroing in different weights an effortless affair.
---