If you've ever wanted to get a home coffee roaster to try and roast your own coffee beans at home, then your first thoughts would probably turn towards air roasting – the process of heating the air within a chamber which in turn roasts the beans. But thanks to the proliferation of roasting technology and growing interest in artisan coffee in recent years, there's another home roasting method which is becoming ever more popular – drum roasting.
Drum roasters are used both by home roasters and small- and medium-sized roasters for roasting smaller, more artisan batches of beans. The name refers to the drum which rotates constantly above a heat source with the beans contained within, which helps to ensure that it achieves an even, consistent roast and flavor profile throughout. Drum roasters take more time than conventional roasters, with roasts taking anywhere from between14 to 20 minutes to complete. This allows for more precise control over the time, temperature and roasting profiles of the beans, and helps beans to develop a brighter, fuller-bodied taste.
With that in mind, we've done a deep dive on some of the best drum coffee roasters currently on the market for amateur roasters. Below, we will examine each in turn, highlight what we like and what we don't, and guide you to making the best possible purchase.
---
Best Drum Coffee Roaster at a Glance
Editor's Pick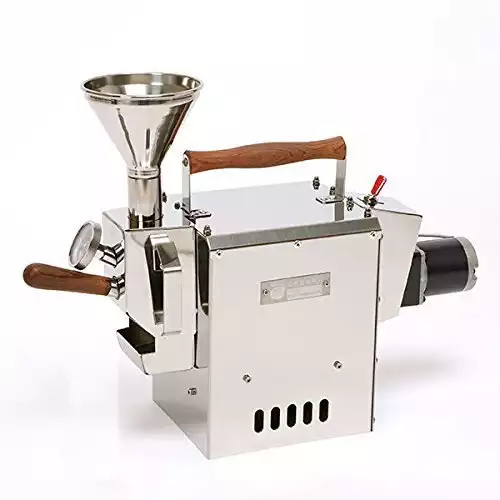 The Kaldi Wide Coffee Roaster clocks the number one spot for best drum coffee roaster. Beautifully designed from stainless steel and with a capacity for up to 300 grams of beans, the Kaldi is the best investment you can make if you want delicious and consistent roasts all the time.
Features at a glance
300–gram capacity
Beautiful stainless steel design
Built-in thermometer
Probe rod
Chaff collector
---
The Five Best Drum Coffee Roasters: Side-By-Side Comparison
---
Factors and Criteria We Looked At When Choosing The Best Drum Coffee Roaster
Size
The best drum coffee roasters come in a number of different shapes and sizes, so when putting together this guide we wanted to make sure that we included a variety of capacities for differently-sized kitchens. However, we were also cognizant of the fact that each roaster had to actually be able to fit in the kitchen, so we ensured that each model has a fairly conservative footprint.
Ease of use
Roasting your beans shouldn't be hard, and using a drum coffee roaster should be equally as inconvenient. For that reason, we vetted each model on this list to ensure that they are simple to set up and easy to use. In most cases, you will require an external heat source (gas stoves or burners tend to be the most effective choice), but other than that, it really is as simple as adding beans, rotating the drum and keeping an eye to ensure that nothing burns.
Build quality
No one wants to spend money on a product just to have it fall apart within a year. To ensure longevity, we made sure that each roaster was built of the sturdiest materials and made to last. All of the roasters on this list are at least partly built from stainless steel. We went for these type of drum roasters not only because they have to withstand high temperatures without buckling or discoloration, but also because they're pretty to look at.
Cleaning
The last thing you want to do after a long day of roasting is engage in a long period of cleanup. When compiling this list we wanted to make sure that our roasters were easy to clean whenever possible. The problem is that roasting coffee beans produces a lot of chaff, and not all roasters come with a built-in chaff collector. That being said, we did our best to include at least one roaster that did include one, and ensured that the others are not a chore to clean up.
---
A Closer Look At The Best Drum Coffee Roasters
---
The Best Overall Drum Coffee Roaster: Kaldi Wide Coffee Roaster – 5/5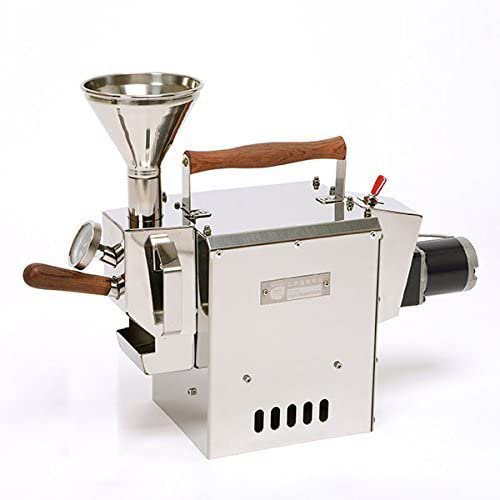 The Kaldi Wide Coffee Roaster is the undisputed king of home drum coffee roasters. It works with an external flame source – we found that a gas stove or burner works best – and produces great roasting results every time. Constructed of robust and elegant stainless steel (the interior drum uses 2mm stainless steel for excellent heat conduction) and with wood finishings, the Kaldi Wide is designed to spruce up any kitchen that it calls home.
It's also quite advanced in terms of features. It comes with a built-in flame arrest plate that distributes heat evenly to ensure that the beans all roast at the same temperature. Beans are fed in through the hopper which allows you to quickly and cleanly load them into the interior drum. During operation, you can keep an eye on the temperature of your beans with the built-in thermometer, and you can check their readiness by using the included probe rod. There's also a chaff collector which will make the clean-up once your roast is finished that much easier.
When it comes to the actual roasting process, the Kaldi Wide uses a DC24 6W motor to ensure that the drum turns at a consistent speed. Because of this, you'll have to make sure that you position the Kaldi near to a plug point so that you can power the motor throughout its operation. What's really nice about the design of the Kaldi is its simplicity and modular nature. Every part of this roaster can be replaced if it breaks, which means you won't have to fork out a fortune to buy a new roaster. Although don't expect anything to fail anytime soon; the Kaldi Wide is built to last.
All of this doesn't come cheap, and the Kaldi Wide is definitely the most expensive roaster on this list. While this is definitely a more manual, hands-on piece of equipment, we wish it had a few extra features such as a smoke suppressor or cooling capabilities. For the former issue, we suggest roasting on a gas stove with an extractor hood, and for the latter simply taking your beans out as soon as they're ready and spreading them over a tray to cool.
But we're splitting hairs here. The Kaldi Wide is still an incredible home roaster, especially if you're looking for a device that gives you complete control over all roasting variables.
Pros
Robust and beautiful stainless steel design
Included thermometer, probe rod, and chaff collector
Works well with any gas burner or stove
300 gram capacity
Cons
Expensive
No included smoke suppressor or cooling capabilities
---
The Best Smart Drum Coffee Roaster: Sandbox Smart Home Coffee Roaster – 4/5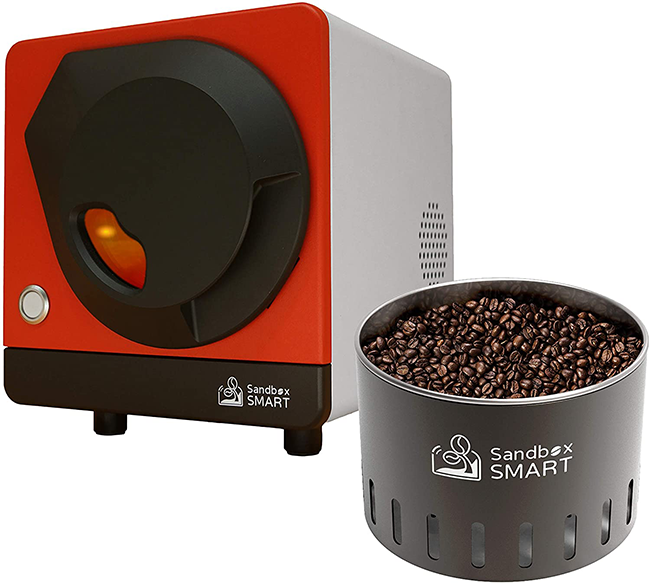 If you want to roast coffee at home but don't necessarily want to learn every last minutia of the coffee roasting process, then the Sandbox Smart Home Coffee Roaster is a must-have. The Sandbox is a small-batch drum roaster that can handle about up to 100 grams per roast. Unlike other roasters which rely on manual operation in order to fine-tune the roasting process, the Sandbox is smart and allows you to control everything from an app on your phone. The device takes information such as temperature, fan power, and drum speed and displays it to you in real-time so that you have really accurate information about what's happening to your beans as they roast.
The Sandbox and app come with a number of preset roasting profiles for added simplicity. All you do is pop your beans in, select the profile you want and the Sandbox will take care of the rest. The whole contraption is quite intuitive. For example, once the beans start cracking, you can hit a "First Crack" button on the app, and it will begin a countdown that predicts when the beans will be ready. For darker roasts, there is also a "Second Crack" button which has the same function.
In terms of design, the Sandbox is simple itself. Its svelte, cubic finish makes it an attractive kitchen appliance, and thanks to its small footprint it's one that can fit anywhere without any trouble. Since everything is controlled within the app, there is no reason to have bulky buttons and kitsch LED displays; everything is paired down and has no-frills.
What we don't like about the Sandbox is that after the original purchase, you have the option to subscribe in order to unlock more roasting profiles. Given that the Sandbox is already quite pricey, it's a little cheeky to ask for more money in order to use the product to its fullest extent.

Pros
Minimal design with a small footprint
Intuitive and easy to use
The entire roasting process is controlled on an app
Cons
Expensive
More roasting profiles can only be unlocked through a subscription
---
The Best Minimal Drum Coffee Roaster: Mochiglory Rotisserie Basket Coffee Roaster – 3/5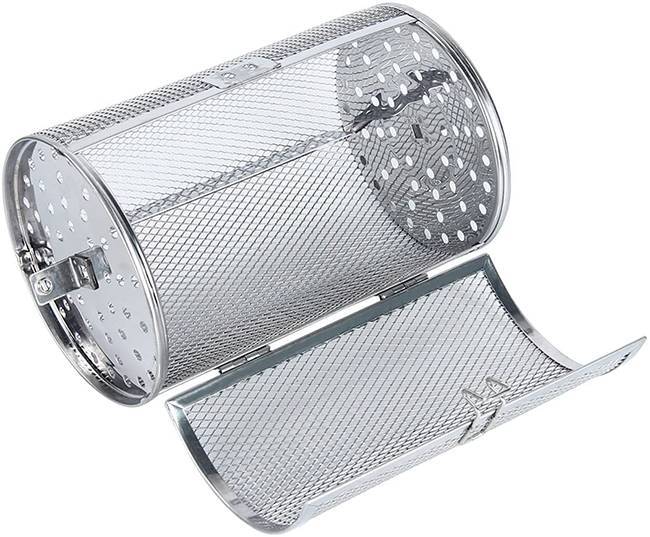 If you're looking for a no-frills, pared-back roasting solution, then look no further than the Mochiglory Rotisserie Baskey Coffee Roaster. Constructed from stainless steel, the Mochiglory works with most rotisserie setups either in a conventional oven or over a fire in order to produce a decent roasting profile. Unlike the Kaldi Wide or the Sandbox, the Mochiglory is really minimal when it comes to features, and so you'll have to take care of many of the variables such as temperature control and duration tracking yourself.
In terms of capacity, you can roast up to between 500 – 700 grams of beans each time, making it perfect for weekly or biweekly roasts. Keep in mind that this product doesn't come with any sort of motor to spin the drum; you'll have to buy that separately. The skewers it connects with are quite universal, however, so you won't have to worry too much about finding something that fits.
Pros
Simple to use
Minimal design
Cons
Lacks features
Very hands-on
Requires additional parts for operation
---
The Best Versatile Drum Coffee Roaster: ZHFEISY Household Coffee Roaster – 4/5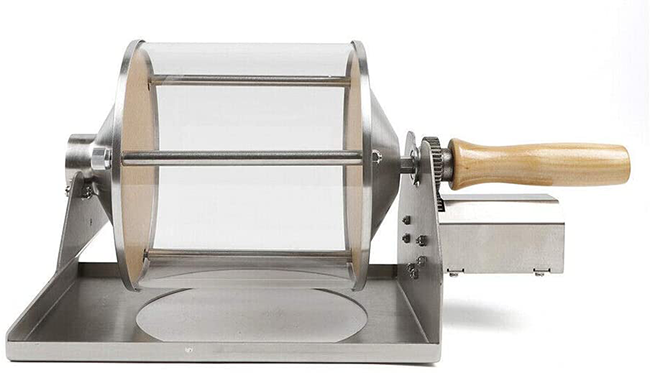 If you like the sound of the Kaldi Wide, but don't have a gas stovetop in your home, then you might want to consider the ZHFEISY Household Coffee Roaster. With a roasting capacity of 400 grams and a 12V motor to ensure that the drum turns consistently, the ZHFEISY works with induction, gas, and electric stovetops to produce a variety of different roasting profiles. Like the Kaldi, it's also chock full of features including a thermometer, exhaust vent, and heat-resistant wooden handle that prevents you from burning yourself while you move the beans to and from the stove.
A cool feature about the ZHFEISY is its transparent roasting drum. This helps eliminate a lot of the guesswork when it comes to determining at what stage of roasting the beans are at. Instead of simply listening for the first and second cracks, you can actually observe the color of the beans changing in real-time, allowing you to make a more informed decision about when to take them off the heat. This roaster also breaks down really easily after use, making it a dream to clean up.
The only downside to the ZHFEISY is its lack of a chaff collector. Other than that, this is definitely a great investment that will yield great roasts for years to come.
Pros
400-gram capacity
Transparent roasting drum
Works will all different stovetops
Easy to clean
Cons
Doesn't have a chaff collector
---
The Best Automatic Drum Coffee Roaster: Atyhao Automatic Coffee Roaster – 4/5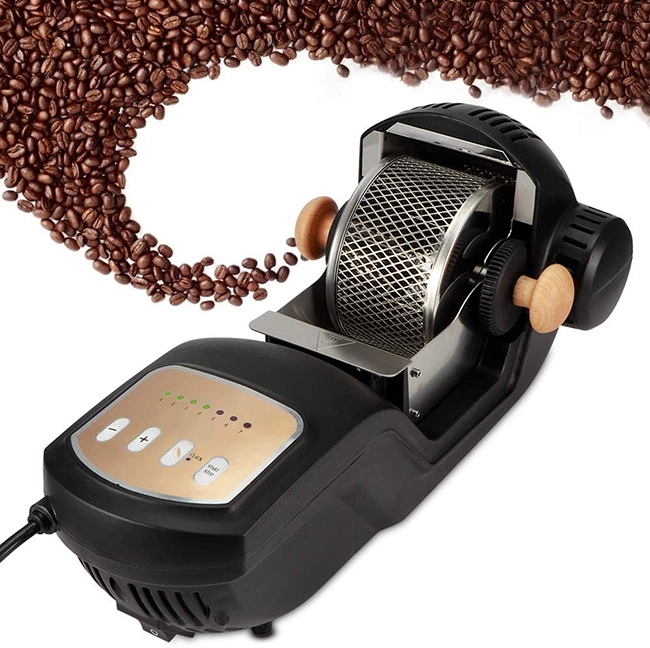 Are you new to coffee roasting and just want a machine that can roast you a delicious batch at the push of a button? Then look no further than the Atyhao Automatic Coffee Roaster. Designed to work without the need for an external heat source, the Atyhao uses a small drum and hot air in order to roast beans to perfection. It has a total of seven different roasting options, giving you a lot of leg room to decide what profile you want to give your beans. Using the machine is simple and everything is controlled using the control panel on the front. The drum itself is detachable which makes cleaning up once the roasting is finished effortless.
Pros
Automatic
Easy to use
Small footprint
Cons
Some roasters may want more control over the process
Small capacity
---
The Best Drum Coffee Roaster Buyer's Guide
To help you make the best possible purchasing decision, we've put together this helpful buyer's guide which will guide you through the criteria you should be considering when looking for the best drum coffee roaster.
Cost
Perhaps the first thing to consider is how much you can afford to spend on a coffee roaster and how much it will reasonably set you back. Since the best drum coffee roasters exist on a spectrum of different prices, you'll be able to find something to suit your budget without too much trouble. In general, the more expensive the coffee roaster is, the more bells and whistles it will come with, so if you're looking for the creme de la creme, expect to fork out a pretty penny.
Size
Most home roasters are going to be able to roast up to about 300 grams of beans, but some may roast less than that. Think about how often you intend to roast and how much coffee you intend to roast per batch. This should give you a good idea of the size of roaster that you need.
Features
Do you need a thermometer, probe rod, chaff collector, smoke suppressor, and cooling capabilities? Or do you simply need a drum that can turn above an open fire at a consistent speed? Since the best drum coffee roasters are configured in a variety of different ways, they're going to come with a variety of different features. Think about what features you need for the roasting you intend to do, and make sure that the models you browse include them.