If there's one thing that all coffee lovers the world over agree on – it's that fresh coffee is better coffee. And what's the absolute best way to ensure that your coffee is as fresh as it can possibly be? The answer is to roast it yourself. Since roasted coffee beans begin to oxidize almost immediately after they've been roasted, they will lose their flavor and strength over time. You can slow this process down by storing your beans properly, but the only way to achieve optimum freshness is to grind up your beans as soon as they're finished roasting and cooling down.
In order to achieve this legendary freshness, you're going to need a home coffee roaster that can do the job. However, if you're an amateur roaster you likely won't need to roast kilograms of beans per session – you'll want smaller batches that you won't need to store for all that long.
With that in mind, we've put together a detailed list of some of the best micro coffee roasters currently on the market. In the interests of putting together the most comprehensive guide possible, we put each one to the test in order to determine which is the best of the best, and what to look for in other models.
---
The Best Micro Coffee Roaster at a Glance
Editor's Pick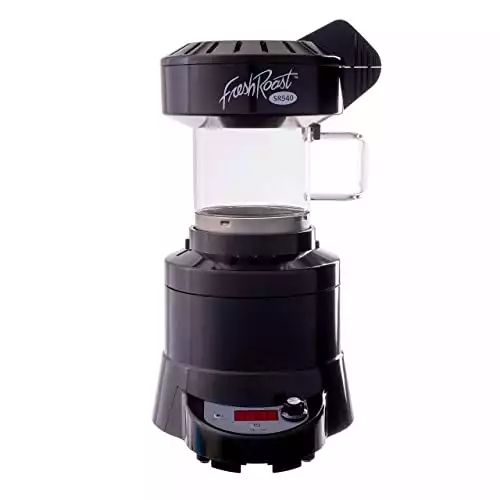 Fresh Roast SR540
If you can only have one then you can do worse than the Fresh Roast SR540. With a capacity of 120 grams and nine different levels of heat and fan settings, the SR540 is the perfect introduction to micro-home roasting while still allowing you the space to experiment with different roasts.
Check Price
Caffeinefiend is reader-supported. We may earn a commission if you make a purchase, at no additional cost to you. We research and test the best products for our readers, and we only continue to run thanks to your support.
Features at a glance
120-gram capacity
Nine heat and fan settings
Integrated chaff basket
Cost-effective
---
The 5 Best Micro Coffee Roasters: Side-By-Side Comparison
---
Factors and Criteria We Looked At When Compiling This List:
Size
Since this article is about the best micro coffee roasters, we obviously had to make sure that the roasters of this list were not larger than a certain size. Not that we have anything against larger roasters, but for the purposes of this review we made sure that each roaster would fit comfortably in a kitchen without taking up massive amounts of space.
Ease of use
Since these micro-roasters are being used for home use and not some industrial-scale roasting operation, we wanted to make sure that they weren't too complicated to use. Each micro-roaster on this list passed the ease of use test, meaning that you don't need any intricate or sophisticated training (maybe just a little bit of practice) in order to achieve a decent roast.
Cooling capabilities
Cooling is incredibly important for the overall roasting process. Once the beans have reached the desired roasting level, it's important to be able to cool them quickly so that they don't carry on roasting and ruin the flavor. While not all of the micro-roasters on this list have rapid cooling capabilities, we made sure to detail in each review how each roaster can be used to cool the beans after the process is finished.
Cleaning
No one likes a massive clean-up, so we made sure all of the best micro coffee roasters on this list are not only great to roast with, but also easy to clean. While these roasters are not exactly dishwasher friendly, they also won't take much more than some warm water, liquid soap, and a few minutes of elbow grease in order to be ready for the next roasting session.
How to Cool Your Beans Once They're Finished Roasting
If your micro-roaster doesn't have a cooling function then you're going to need to know how to cool your beans down as soon as they're done roasting. If not, the latent heat is going to continue roasting your beans and there's a chance you'll end up with something ultra-dark and undrinkable.
The process is quite simple. Get two colanders ready (bowls would also work). Once your beans are finished roasting, transfer them into one of the colanders. From there, transfer the beans between colanders over and over. This will not only cool the beans down but also remove any excess chaff leftover from the roast. Once they've cooled down sufficiently, pour the beans on to a baking tray and let them rest for a few more minutes.
---
A Closer Look At The Best Micro Coffee Roasters
---
The Best Overall Micro Coffee Roaster: Fresh Roast SR540 – 5/5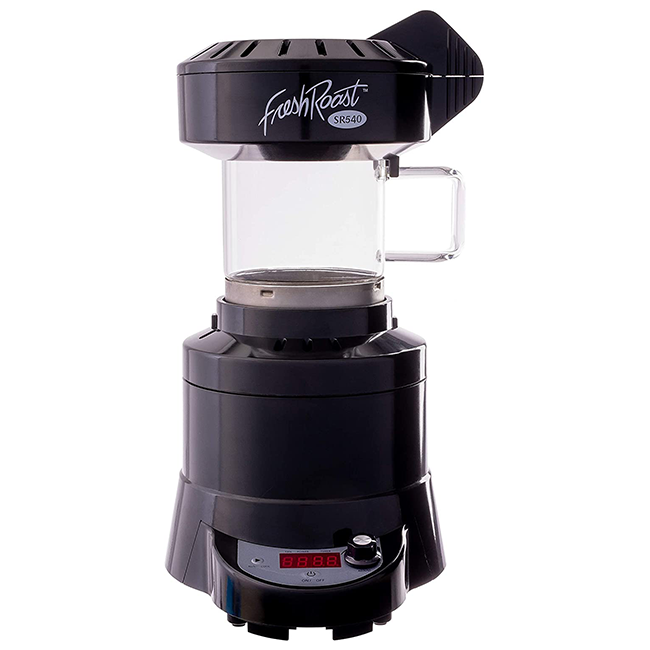 While the SR540 comes with a variety of settings, we found that using the fan on anything less than 6 won't move the beans sufficiently to achieve a consistent roast. You'll also struggle to roast the beans on a heat setting of less than 8. After trying out a few different settings, we found that in order to achieve a good medium roast, the best settings were: heat – 9, fan – 8, and time – 9.
Another slight criticism of the SR540 is that the chaff collector doesn't work as well as it should. We found that after a few uses there was still some chaff leftover in the roasting chamber. Although the worked well to move the beans around and remove the chaff during operation, the chaff collector didn't gather all of it as well as it should have. That being said, this is still by far the best micro coffee roaster on the list in terms of value, price, and efficacy.
Pros
120-gram capacity
Wide range of settings for roasting variable control
Great value for money
Cons
Chaff collector doesn't work as well as it should
Fan doesn't move the beans on any setting less than 6
---
The Best Large Capacity Micro Coffee Roaster: JIAWANSHUN Electric Coffee Roaster – 4/5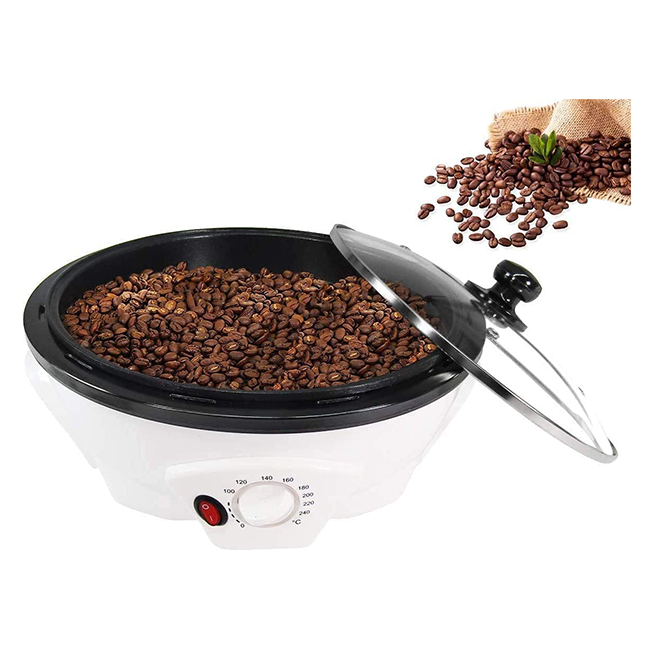 If you're looking for the best micro-roaster with a slightly larger capacity then you can't go wrong with the JIAWANSHUN Electric Coffee Roaster. With a capacity of between 300g – 500g grams of beans, this roaster is large enough to roast weekly batches of beans while still not taking up that much space on your kitchen counter. It uses a full-spectrum dial that goes from 0°C – 240°C in order to give you complete control over the temperature of the roasting chamber. It also comes with a stirring rod, which rotates on the bottom of the roasting chamber in order to ensure that the beans are continuously agitated in order to achieve a consistent roast.
This roaster doesn't have an integrated timer, so you'll have to time the roasts yourself or keep an ear out for the first or second crack. What it does have, however, is a transparent lid with four ventilation holes which allows you to keep an eye on your beans the entire time that they're roasting. A cool little bonus is that the coffee bean roaster is multi-purpose, meaning it can be used to also roast popcorn, peanuts, and other beans in addition to coffee.
After a few uses, we discovered that the best way to roast your beans while the roaster is at full capacity is simply to turn the heat dial to the highest temperature and keep it going for about 20 minutes. This takes a bit longer than other roasters on this list, so it might not be suited for everyone's purposes, but if you're willing to wait, it's a good investment.
Pros
Offers full control of temperature
Enough capacity to roast weekly amount of beans
Electric stirrer ensures beans are roasted consistently
Cons
No timer
Roasting takes at least 20 minutes
---
The Best Handheld Micro Coffee Roaster: Nuvo Eco Ceramic Handy Coffee Bean Roaster – 4/5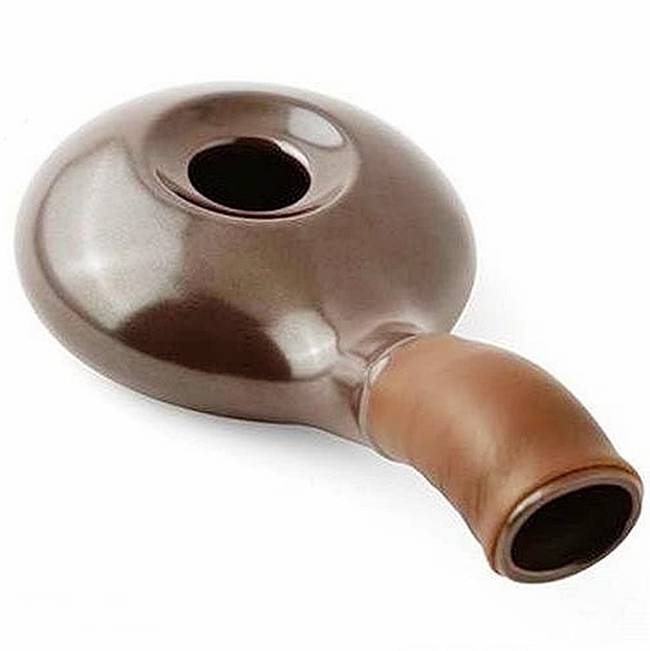 While most other roasters on this list work with electricity, the Nuvo requires a bit more of a manual approach. Once you've lit your fire (gas stoves work too) and filled it with capacity, simply hold it over your heat source, agitating it periodically to ensure that the beans heat consistently. You should start to hear the first crack around 5 – 8 minutes and the second crack soon after that. Once you're done roasting, make sure you remove the beans immediately to stop them from continuing to roast. We recommend using the cooling method detailed above.
What's great about this roaster is its simplicity. If you're using a gas stove you can actually get quite experimental with different temperatures but if you're using a fire you'll still be able to get a good medium to dark roast. It's a roaster that won't break the bank, is easy to clean, and all in all just a lot of fun to use.
Pros
Inexpensive
70-gram capacity
Simple to use
Ideal for camping or traveling
Cons
Requires a gas stove or open fire
Requires a lot of attention
No cooling or chaff removing functionality
---
The Best Premium Micro Coffee Roaster: Fresh Roast SR800 – 4/5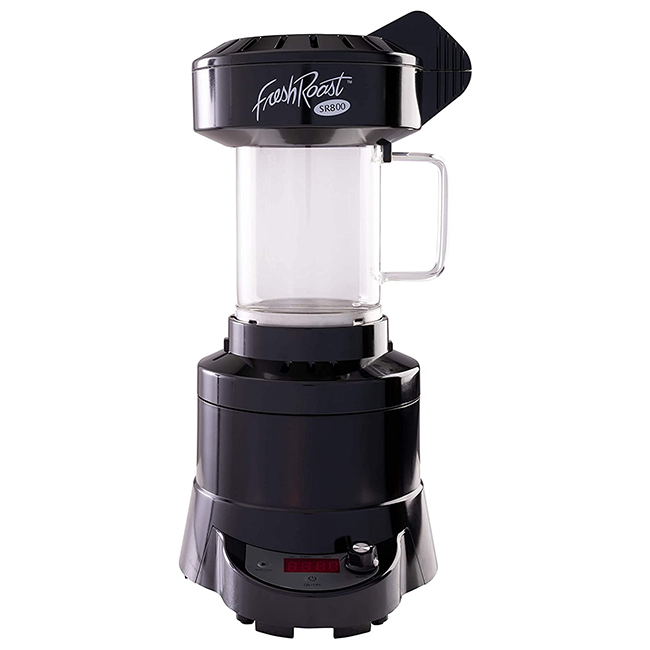 If you liked the SR540, but want something with a bit more functionality, then we present to you the SR800. As the big brother of the SR540, the SR800 does all the same things, just a little bit better. It has a larger roasting capacity of 226 grams, a real-time temperature display, and a new control knob that is used to adjust the fan speed, heat, and roast duration.
The SR800 suffers from the same chaff collection problem as the SR540, so don't expect miracles on that front. And while we find that the SR800 does a good job of producing decent roasts, we feel that the jump in price isn't justified for the little bit of added functionality.
Pros
Good control over roasting variables
Control knob for greater ease of use
Larger capacity than the SR540
Cons
Isn't a massive upgrade over the SR540
Expensive
---
The Best Handheld Micro Coffee Roaster: CAFEMASY Handheld Coffee Roaster – 3.5/5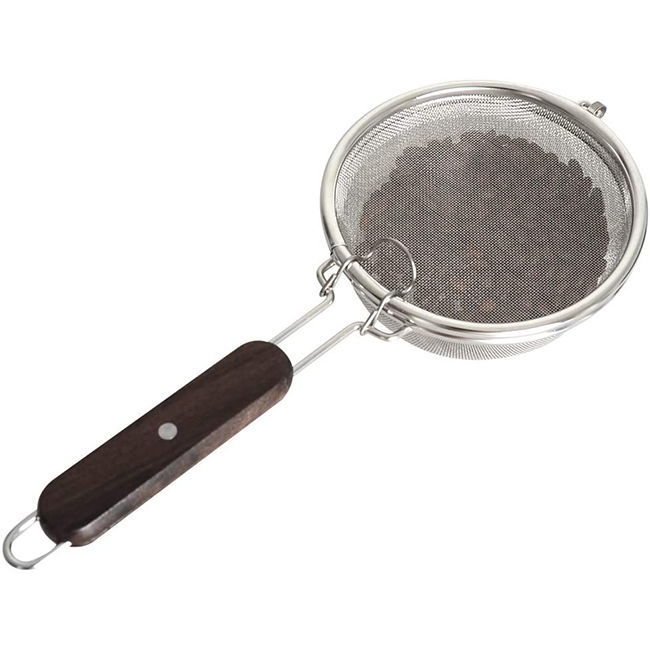 Just like the Nuvo, the CAFEMASY is another handheld coffee roaster for those who prefer a more hands-on and low-tech approach. This pared-back, no-frills roasting is ideal for those who want to roast small batches of beans without breaking the bank. Essentially a stainless sieve with a handle and lid, the CAFEMASY works with a gas stove or open fire and can roast beans to a medium or medium-dark roast in around 10 minutes. Since it's lightweight and easy to transport, it's a great little tool if you'd like to go camping or traveling. However, if you're a bit more serious about learning about roasting, there are definitely more sophisticated tools that you can turn to.
Pros
Budget-friendly
Easy to use
Lightweight and portable
Cons
Not the greatest quality
Lacks many of the features of other roasters
---
The Best Micro Coffee Roaster Buyer's Guide
Capacity
Is coffee roasting going to be an occasional hobby or a new passion? Most home roasters are designed to roast small amounts of coffee, but it's a good idea to consider how often you want to roast and the volume of beans you plan to roast at a time.
Manual or Automatic
From fully manual to fully automatic, you can find a coffee roaster that fits your needs. Fully automatic machines make roasting easier but are more expensive, while manual machines are more budget-friendly but require constant attention during roasting time.
Smoke Suppression
Coffee roasting produces quite a bit of smoke, no matter what method you use. If you're going to be using your roaster outdoors, the smoke shouldn't be a problem, but if you prefer to do the roasting in your kitchen, it might be wise to pick one with a smoke suppression system. You should also consider whether you can position your roaster near a window or under a vent fan.