It goes without saying that Bialetti is one of the most iconic brands when it comes to coffee-making contraptions. The brand's Moka Express, defined by the emblematic mustached Italian man, is itself a symbol of Italian coffee culture. In fact, it's estimated that three out of four Italian households own one. But Bialetti has plenty more on offer than its stove-top percolator: one of the best french presses. As you'd expect from one of the best-known coffee brands in the world, the company's product range is marked by quality and style. And the Bialetti French press is no exception.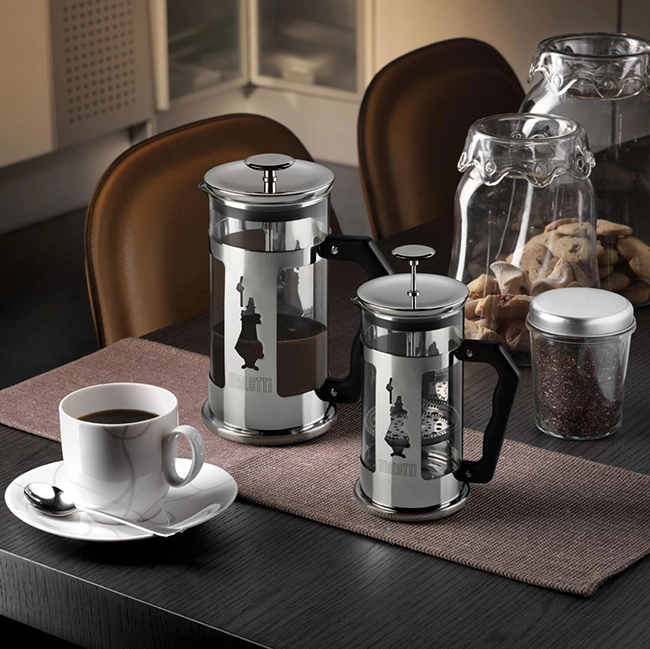 ---
Bialetti French Press at a Glance
Overall rating
4.7/5
If you're looking for an easy, convenient way to brew a rich cup of coffee, then the Bialetti French press is a great option for you. French presses, also known as coffee plungers, provide a simple, affordable means to making cafe-quality cups of coffee. In this regard, the Bialetti French Press certainly does its job. But before we break down why the Bialetti has quickly become our plunger of choice, let's take a look at some basic facts about the device:
Size: There are three size options: 3 cups (11.8 ounce), 6 cups (20.3 ounce) and 8 cups (33.8 ounce)
Material: High-quality 18/10 stainless steel casing, borosilicate glass carafe and heat-resistant plastic handle
Cleaning: Easy to clean and dishwasher-safe
Function: Brews coffee, brews loose leaf tea, makes a cold brew and froths milk
Coffee type: Medium-coarse to coarse grounds
Brew time: 4 minutes
While the above stats are impressive, they could just as easily apply to many other French presses out there. So why opt for the Bialetti? Keep reading as we examine the answer below in relation to a number of other coffee makers that we tried, tested and compared.
---
Bialetti French Press: A Detailed Review
Design
5/5
Aesthetics
One stand-out reason to choose Bialetti is the design. Truthfully, cosmetics don't really contribute to the quality of your beverage (although the Bialetti delivers in this department too – but more on that later). However, if you're going to be pouring from this plunger daily, why not choose something beautiful to look at?
The stainless steel casing features a cutout silhouette of l'Omino, or the Little Man. It's a charming nod to the character synonymous with the Italian brand.
Function
Aesthetics isn't the only reason we've awarded the Bialetti French press a five-star rating for design. In this case, beauty goes hand in hand with quality.
The defining factor that separates a poor-quality French press from a sturdier one is the integrity of the mesh filter. A great filter in any plunger should:
Be fine enough to keep the coffee grounds from filtering through
Fit snuggly along the wall of the carafe while still gliding smoothly up and down
The filter in the Bialetti fulfills both criteria. The double-layered filter and coiled rim ensure a snug fit, and one that will prevent any grounds from seeping through – provided you use the correct grounds (we recommend using medium-coarse).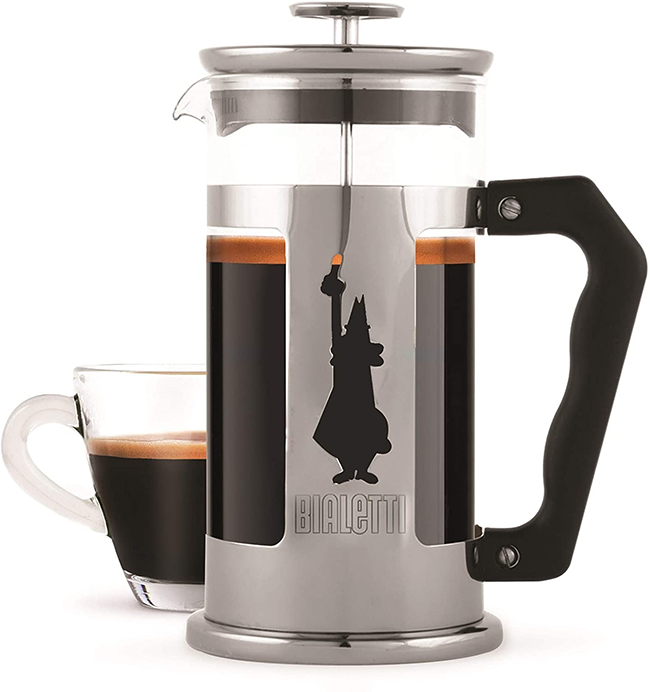 Durability
4/5
Fragility
The Bialetti French press is made of glass, and glass, when handled improperly, breaks. So to stop your coffee press dreams from being quite literally shattered, handle it with care. Be especially careful when washing by hand. The glass carafe can be detached from the steel case, which makes cleaning a lot easier. However, it also means it can slip out and shatter while you wash it, so use extra caution when taking the French press apart and putting it back together.
Heat-resistance
The good news is that the carafe is made of heat-resistant borosilicate glass, so you can fill it with boiling water without it cracking. That being said, we don't recommend brewing at boiling temperature as this will burn the coffee and cause your final brew to have a bitter taste. For best results use a thermometer to measure the temperature of the water before filling the carafe. The optimal temperature for hot water is between 195 and 205 degrees Fahrenheit.
Ease of Use
5/5
There are a plethora of ways to brew a great cup of coffee, but few are as simple as a French Press. We just can't fault Bialetti in this regard, although this has less to do with the brand and more to do with the fact that a French press is exceptionally easy to use. That being said, the Bialetti stands out in certain regards:
The handle is heat-resistant and ergonomic, making it easy to pour without spilling. Fun fact – it's the exact same handle as the Bialetti Moka Express.
It comes in three different sizes, meaning you can always make the perfect quantity for your needs. We recommend opting for a larger press. If you only want a cup or two, just fill it halfway. But when you're brewing for guests (or feeding your own coffee addition) having a bigger carafe comes in handy.
It's easy to clean and dishwasher-safe.
---
How to use the Bialetti French Press
The Bialetti French press is pretty versatile. Not only does it make an impeccable cup of coffee, but it can also be used to make tea from loose tea leaves, froth warm or cold milk, or even prepare a delicious cold brew. Still, what it does best is make a rich, intense, steaming caffeinated beverage.
How intense, you ask? Well, that's the beauty of brewing with a French press – it's totally up to you. Have a look at our post, How to Use a French Press. We've included a handy table to help you figure out exactly how much coffee is needed for your preferred strength.
Making Coffee with the Bialetti French Press: Step-by-step Instructions
Once you've decided how much coffee you'll need, grab your Bialetti French press and start brewing. Here's how:
Place the press on a flat surface, hold the handle and carefully remove the plunger.
Heat the water so that it's hot, but not boiling (remember, between 195 and 205 degrees Fahrenheit is ideal).
In the meantime, grind your coffee beans to medium-coarse. Of course, you could always opt for pre-ground coffee, but, honestly, freshly ground is always better.
Spoon the coffee into the carafe. Make sure you add the correct quantity for your desired strength.
Once the water is warm enough, pour it over the coffee grounds. Always leave at least 1-inch space at the top, or the coffee will overflow when you insert the plunger.
Gently stir the brew with a spoon. This is an important step to ensure all the coffee grounds are totally submerged, allowing the flavors to be fully extracted. Note: do not stir again. It's important to let the coffee rest so that the grounds can settle to the bottom.
Place the plunger on top of the carafe but do not press it down yet! At this point the goal is to retain the heat, not filter the coffee.
Set a timer for 3½-4 minutes. Do not allow the coffee to steep any longer than that or you run the risk of altering the flavor profile for the worst.
When the timer is up, hold the handle with one hand and very gently press the plunger down to the bottom of the carafe. There should be some resistance here, although too much resistance likely means the grounds are too fine.
Pour and enjoy!
Decant any remaining coffee into another jar so that the coffee doesn't steep any longer. Failing to do so will change the flavor profile of the next cup (and possibly render it too bitter to drink).
---
How Much Does the Bialetti French Press Cost?
For one of the most widely-recognized Italian coffee brands, the Bialetti French press is surprisingly affordable. Compared to some other brands that venture into the triple-figure price range, the Bialetti delivers great quality at a low price.
---
Bialetti French Press Variations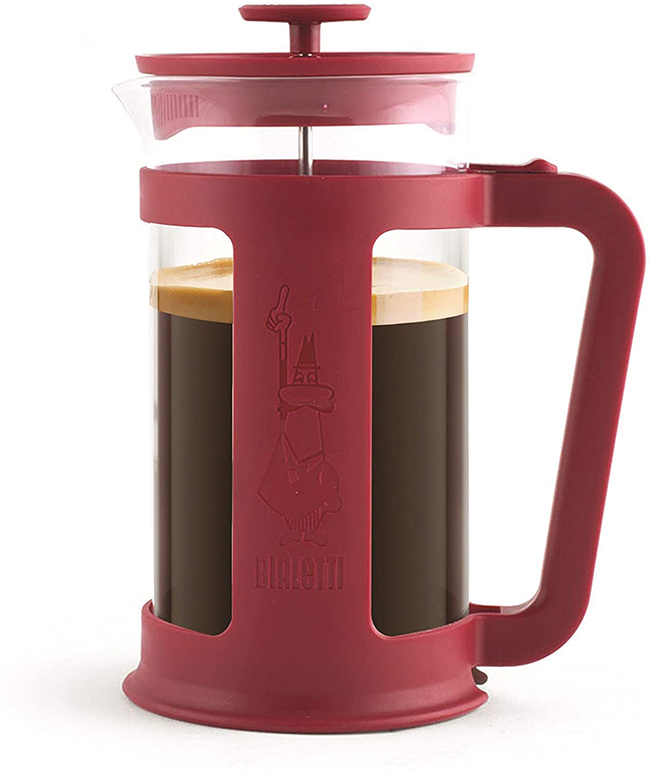 This review has focused on the classic stainless steel press. This make comes in 3 sizes: 3, 6 and 8 cups. However, also available is the Bialetti French Press Smart.
Instead of a stainless steel frame, the Bialetti French Press Smart case is made entirely of plastic and silicon. This is great for three reasons:
It provides better insulation, keeping the coffee at a steady temperature.
It provides better protection for the glass carafe.
Being heat resistant, there's less chance of burning yourself on the hot pot.
On the downside, the Smart is not nearly as beautiful as the classic. Nevertheless, they both function in the exact same way. So when deciding which is the best Bialetti French press for you, ask yourself whether you value practicality or aesthetics.
---
Is the Bialetti French Press Right for You?
The first question to ask yourself is whether a coffee press is the best machine for your coffee needs. Maybe you prefer a slightly less intense brew, in which case you might consider an Aeropress. Or maybe you're someone who prefers a zero-effort, lighter cup of coffee, in which case a drip coffee maker might be better suited.
To know whether a French Press is the right tool for you, ask yourself the following questions:
Do you want control over the strength of your coffee?
Do you enjoy intense, richer brews?
Will you eed a portable coffee maker?
Is sustainability a factor for you (considering a French press doesn't require any disposable filters)?
Are you on a limited budget?
If you answered "yes" to most of these questions, then we'd recommend investing in a French press.
In relation to other French presses on the market, the Bialetti is a worthy contender if you:
Value aesthetics
Value great quality at an affordable price
Want easy cleanup
Want to use your plunger for purposes other than coffee (ie. to froth milk or brew tea)
On the flip side, you might consider a different brand or build if:
You want to take your coffee maker into the outdoors (remember, the Bialetti is relatively fragile)
You are on an extremely tight budget (while the Bialetti is affordable, there are certainly cheaper options out there)
---
Bialetti French Press: The Final Verdict
We've tested many coffee makers here at Caffeine Fiend, but when it comes to value, this is undoubtedly one of the superior options. The Bialetti French press is incredibly easy to use, it's versatile and it makes a delicious cup of coffee. And, being a reputable brand, Bialetti is marked by great quality, yet is still pretty affordable.
Sure, it may be a little fragile, and there are certainly cheaper options out there. But if you're willing to pay a fraction more for great design, convenience and a reliable brand name to match, then we recommend trying out the Bialetti French press.
---
Bialetti French Press Alternatives
While we loved the Bialetti French Press, we know it's not for everyone. Whether you prefer a different type of coffee, or perhaps a different brand, here are some suggestions based on products we've tried and approved.
---
Bialetti Moka Express – Best for Espresso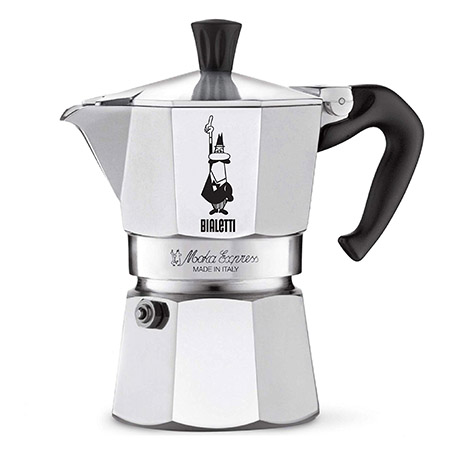 If intense French press coffee just isn't your thing, perhaps an espresso is. And if that's the case, we recommend the original Moka Pot – the Bialetti Moka Express. Much like the brand's French press, the Moka Express provides excellent quality at an affordable price. It's a little more finicky, and since it's made from aluminum the shelf life is slightly less than the French press. But, with proper care and regular replacement of the rubber seal, it should last years nonetheless.
---
Frieling Double Wall Stainless Steel French Press – Best Premium (and Most Durable) French Press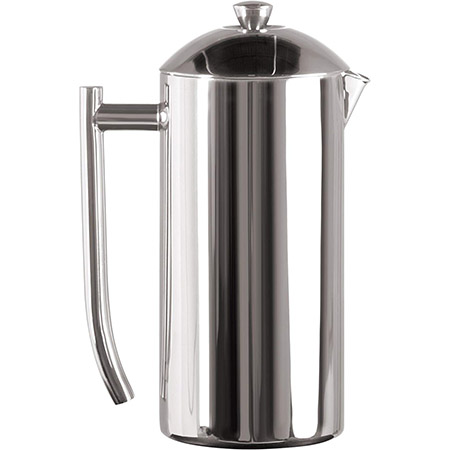 As much as we like the Bialetti French Press, if you're a clumsy coffee drinker then the delicate glass jug may not last very long. The Frieling, on the other hand, is made entirely of 18/10 stainless steel. This makes for an incredibly robust build – not to mention a sleek, modern appearance. It comes in 4 sizes and two different finishes – brushed and polished. It's also double-walled, which means your coffee will be well insulated and stay warmer for longer. However, being a premium product, the price may just make your eyes water, especially compared to the Bialetti.
---
Bodum Brazil French Press – Best for your Budget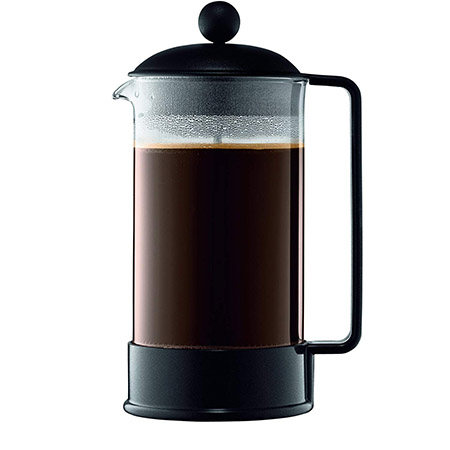 If Bialetti is the hallmark of Italian Moka pots, then Bodum is the equivalent of French presses. And while the Brazil French Press isn't the brand's flagship product, it still retains the quality Bodum is known for – just at a cheaper price. But while it does the job, it simply isn't as beautiful as the other options on this list. Also, without the protective casing found in other models, the Bodum Brazil is more likely to get damaged. But as long as you handle it with care, it's a great option for anyone on a budget.