Do you love coffee? Do you have a lover that loves coffee? With Valentine's Day just around the corner these are vital questions, which is why we've put together this Best Coffee Gifts for Valentine's Day guide.
We've done our research, checked it twice and are quite sure that we've compiled the definitive list of coffee gifts for Valentine's Day. If you love coffee as much as we do, then we can (almost) guarantee that any of the lovely gifts below will make your lover's day.
Disclaimer: as you may have noticed, we're going to use the word "love" a lot in this guide.
With that lovely thought in mind, we at Caffeine Fiend want to help you demonstrate your love for your lover with a coffee gift of love.
We firmly believe in killing two birds with one stone whenever possible – and now's your chance.
Put a smile on your lover's dial and make sure that you're never in trouble for not doing laundry again all in one fell swoop. Buy a coffee gift for Valentine's Day and make someone eternally happy.
Read on below to find out exactly how.
Roasted Gourmet Love Coffee Sampler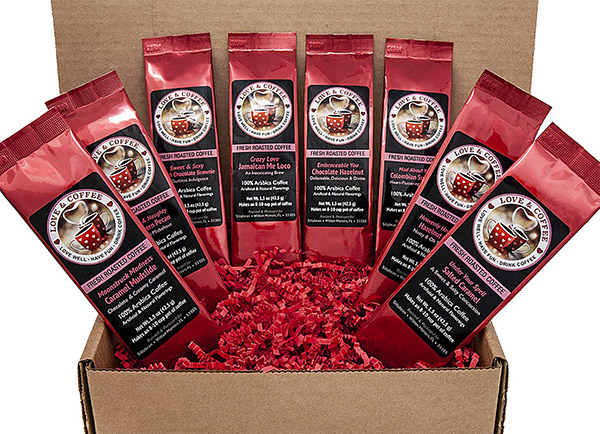 Nothing says "I Love You" like a cup of coffee in bed on Valentine's Day morning. And nothing makes a better cup of coffee than incredible coffee from the Roasted Gourmet Love Coffee Sampler.
Featuring eight delicious coffee samples that make around ten cups of coffee each, this set is ideal for the partner that loves to try new things. Not only does each sample contain 100% Arabica coffee, but it's wrapped up in insanely cute packaging.
With names such as "Sweet & Sexy", "Crazy Love" and "Mad About You", each package doubles as both a container and a message to your loved one.
They say that money can't buy happiness, but for $32.95 it can probably buy you a morning's worth of love from your partner.
Let's Have Coffee Together Forever Mug
Let your loved one know that you'd love to have coffee with them until the end of time with this Let's Have Coffee Together Forever Mug. Not only is it a wonderfully sweet gift bound to impress anyone who receives it, but it's practical and aesthetically pleasing too.
What's more, this gift is ideal for both male and female partners. Finished in a vibrant red and holding up to 16oz of coffee, this mug is sure to become your partner's favorite coffee gift for Valentine's Day.
The mug will set you back $15.99. A small price to pay for a gift which won't only make your loved one smile, but undoubtedly bring the two of you closer together.
Soulmate Mug Set by BoldLoft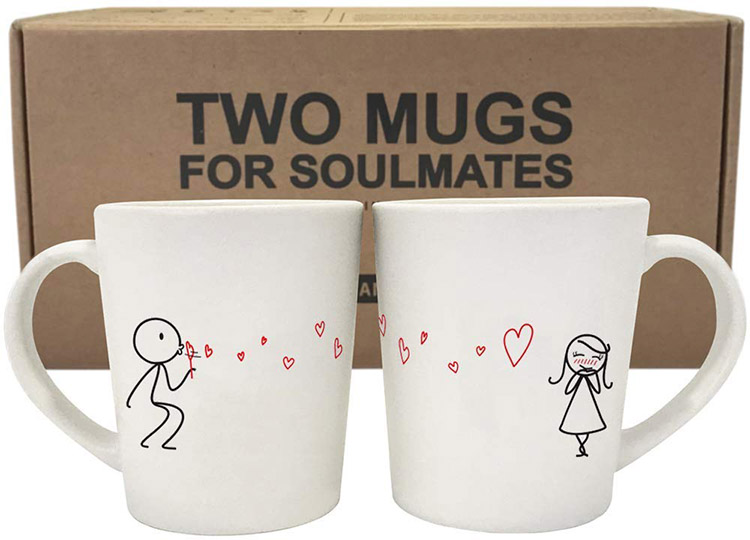 And while we're on the topic of mugs, let's talk about the Soulmate Mug Set by BoldLoft. These mugs are as beautiful as they are sentimental, and, as the packaging states, are two mugs made for soulmates. They're the ideal gift for demonstrating the bond you share with your partner and letting them know that you'll be with them forever.
Each mug features one half of a cute design that can be seen in its entirety when the mugs are brought together. In the case of the set above, it's a man blowing kisses a woman. However there are also other designs such as this one, and this one.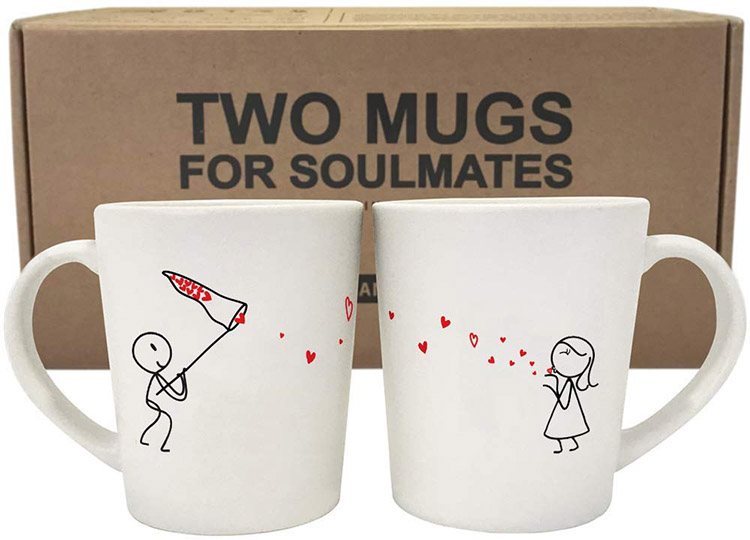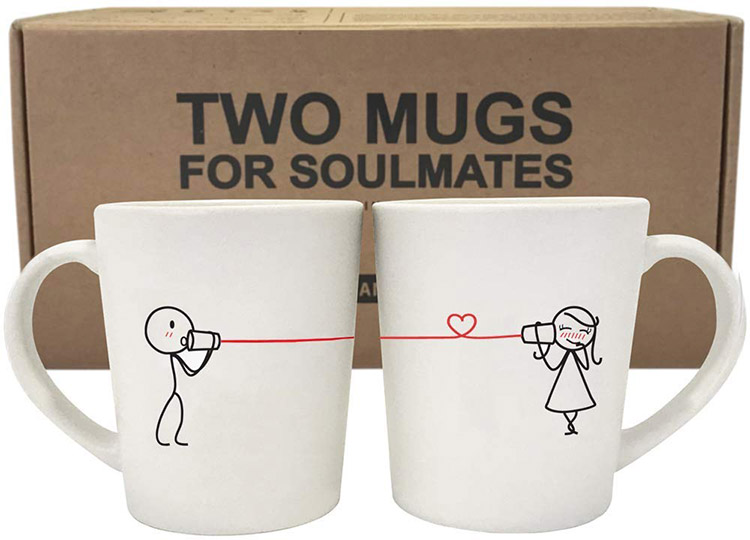 For $26.99 this gift is a steal considering you're getting not only one mug but two. On top of that, you're essentially gifting yourself while demonstrating how much you love your partner.
Love You A Latte Sweatshirt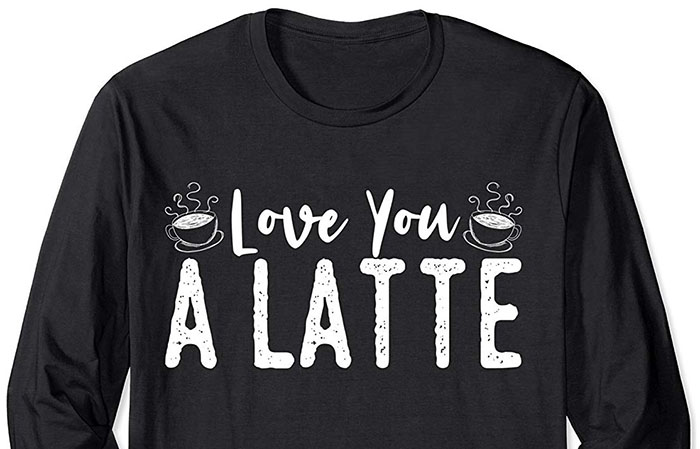 Do you love someone a lot? Maybe you love them a latte? If you answered yes to either of those statements then a Love You A Latte Sweatshirt is the ideal coffee gift for Valentine's Day.
This gift is part gag but also quite practical. Available in a range of different colors from black to blue, this is the perfect gift for her on Valentine's Day. It's pretty tongue in cheek, which means you'll definitely get a laugh from your partner on the morning you exchange gifts.
It costs $23.95, which isn't bad when you consider that your partner will be cosy and everyone will know how much you both love coffee.
Cold Brew Maker by Ovalware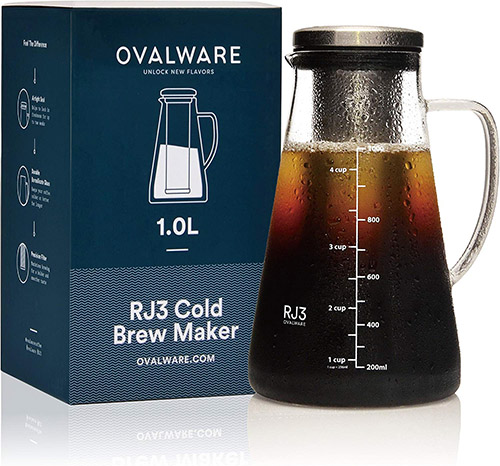 Is your date that's too hot to handle this Valentine's Day? Then this Cold Brew Maker by Ovalware might be the perfect gift to cool them down.
Featuring a stainless steel filter and cap and a large, glass carafe, this iced brew coffee maker is exceedingly easy to use. Simply grind your favorite coffee, add it to the filter, and let it sit in room temperature water for up to 16 hours.
The result? A concentrate of some of the smoothest and sweetest cold brew coffee. Mix the concentrate with some water or milk and you've got yourself one of the most satisfying cold drinks for a hot day.
For $29.99 this is an incredibly practical gift that can be used by both you and your partner. This way you get to spoil each other with some cold brew on Valentine's Day and every day after that!
Arabica Coffee Scrub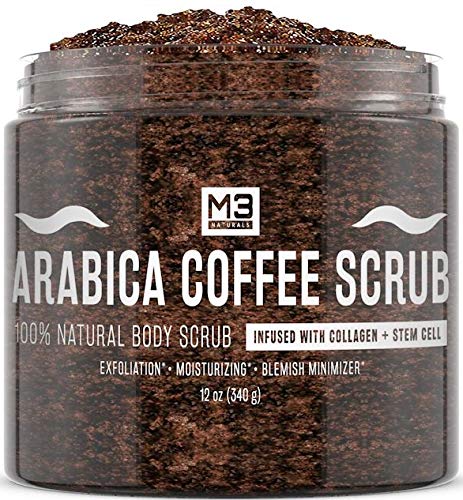 Valentine's Day is about getting intimate, right? Well this Arabica Coffee Scrub from M3 Naturals lets your partner know exactly what you'd like to get up to on V-day.
Made from all natural Arabica coffee, the scrub is a premium product designed for both the face and body. It's primary purpose is to soften, moisturize and scrub away dirt and dead skin cells. But we think it's actually just a great excuse to get up close and personal with your partner.
As well as being a great way to absorb coffee instead of just drinking it, it's also infused with collagen. This makes the Arabica scrub an incredible anti-aging product that will help increase skin cell longevity.
The scrub will set you back $19.99. Which, when you think about it, is a really good price for the fun that it will allow you both to have.
Best Catch Ever 30oz Coffee Tumbler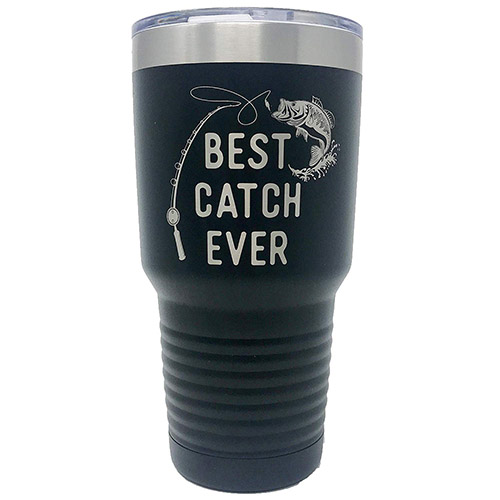 Does your loved one indulge in coffee and love a good fishing pun? Well let them know how much you appreciate them with the Best Catch Ever 30oz Coffee Tumbler.
Laser-engraved with a cute decal of a fish being caught, as well as the titular slogan, this tumbler is the ideal gift for someone on the go. It can hold up to 30oz of coffee, which means whoever has it won't need to visit a Starbucks anytime soon.
It costs $24.95 and features a lid that will keep hot coffee from spilling while you're walking or driving. It's constructed from double-walled stainless steel, which means that it'll keep your coffee hot for hours. If you prefer something colder, it'll insulate that too, meaning you can enjoy that chilled cup of cold brew at any time during the day.
Coffee Slippers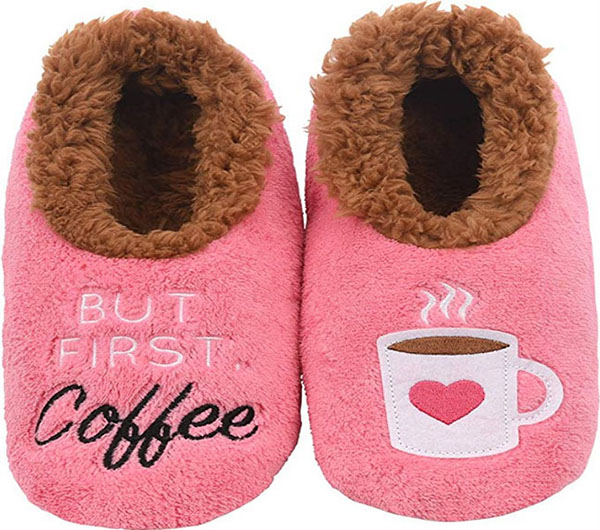 Slippers are one of those gifts that will always be a staple of Valentine's Day. They're cosy, practical, and really just a lot of fun. These Coffee Slippers epitomize all of those qualities, and are ideal for the woman in your life who loves coffee dearly.
Pink, furry, and featuring "But First Coffee" on one foot and a steaming, hot mug of coffee on the other, let your lover know that you understand their love. Their love of coffee, that is. They cost $15.99, and your loved one is sure to get a ton of use out of them both sipping coffee and not.
Taboo Creations Coffee Lovers Gift Basket Box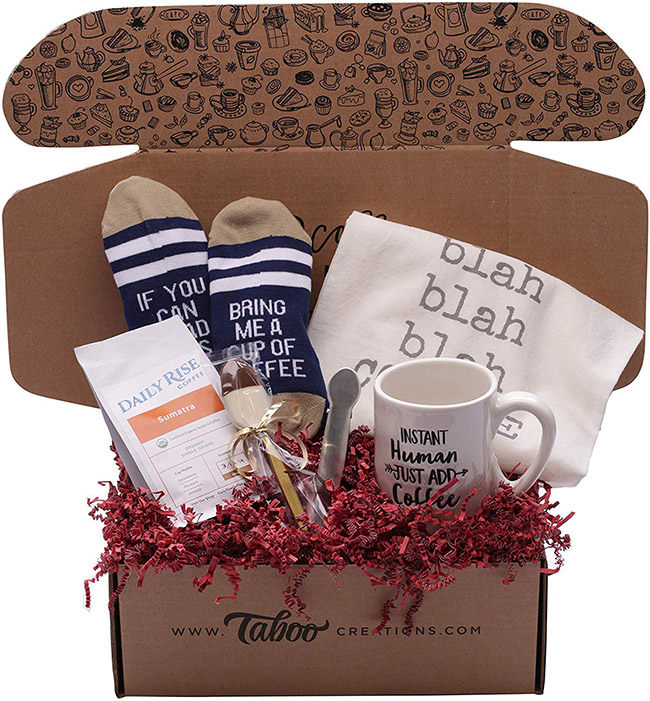 A gift box made with lovers in mind, this coffee gift for Valentine's Day is perfect for anyone regardless of their gender. Containing six fun and unique gifts, this Coffee Lovers Gift Basket Box from Taboo Creations can't miss.
For $49.95 you're getting not just one gift but six. The first is a beautifully-crafted ceramic gag mug with the words, "Instant Human, Just Add Coffee" emblazoned on the front. That comes perfectly paired with the Daily Rise Coffee Beans – a 3oz Sumatra Blend of hand-packaged beans.
Next there is a hilarious pair of socks reading "If you can read this" on the bottom of one sock and "Bring me a cup of coffee" on the other. Next, a cute dish towel with the words "blah blah blah coffee" is great for stating your lover's priorities. And finally the accompanying Coffee Clip and Coffee Spoon are invaluable tools for precise coffee measurement in the morning.
This really is a box designed to please a coffee lover, and if that's your partner then we're confident that they'll be overjoyed.
Monin Gourmet Flavoring Coffee Collection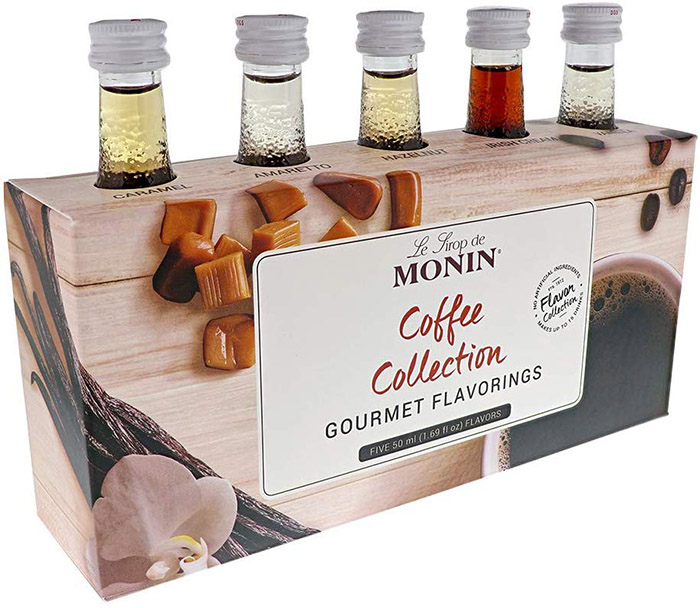 Do you know someone who loves to add a little something extra to their coffee? Well then consider sweetening up their day with this 5 Gourmet Flavoring Coffee Collection from Monin.
The collection includes five small bottles containing Hazelnut, amaretto, caramel, irish cream, and vanilla flavor, and is ideal not only for coffee, but all hot drinks. They're even an ideal addition to cold drinks such as milkshakes as well as desserts, making it a versatile coffee gift for Valentine's Day.
If the person you're buying a gift for is environmentally conscious then this is another reason to purchase this collection. When you buy these Monin flavors you're supporting their syrup recycling initiative which has been helping feed bees and preventing Colony Collapse Disorder since 2008. For $17.99 you're not only showing your love, but helping to save the environment too.
On top of that these products are all vegan, and gluten- and GMO-free, making them perfect for all diet types.
---