You've been shopping around for a pour over coffee maker and you finally found the perfect one. Now all you need is the perfect gooseneck kettle to go with it.
Online shopping may be convenient – especially when it comes to all things coffee related – however, many times there is an oversaturation of products and this means that making a choice is oftentimes difficult.
---
Editor's Pick for Best Gooseneck Kettle: The Coffee Gator Pour Over Kettle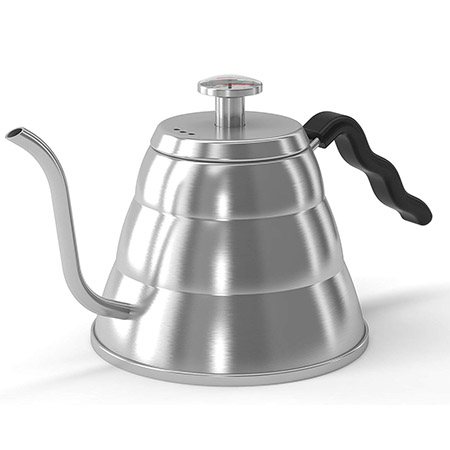 Pricing – 4.5/5
Quality – 4/5
Design – 4.5/5
Features – 4.5/5
The main appeal of the Coffee Gator Pour Over Kettle is the fact that it manages to deliver high quality at a relatively affordable price.
---
There are countless gooseneck kettles out there, but the last thing that you want to do is buy a gooseneck kettle that can't give you an efficient pour or one that starts to corrode after a few months of use.
We've sifted through all of the trash and shoddy craftsmanship so that you don't have to. Here's what we consider to be the best pour over kettles out there.
---
Our Top 4 Gooseneck Kettles

Gooseneck Kettle & Price

Caffeine Fiend Award

Coffee Gator Pour Over Kettle



Check Latest Price

Best All-Rounder

Bonavita Variable Temperature Electric Gooseneck Kettle



Check Latest Price

Best Features & Specs

Ovalware RJ3 Stainless Steel Drip Kettle



Check Latest Price

Most Capable Budget Option

Kalita 52073 Wave Stainless Steel Drip Kettle



Check Latest Price

Favorite Design
---
Detailed Reviews For Our Top Gooseneck Kettle Picks
Coffee Gator Pour Over Kettle Review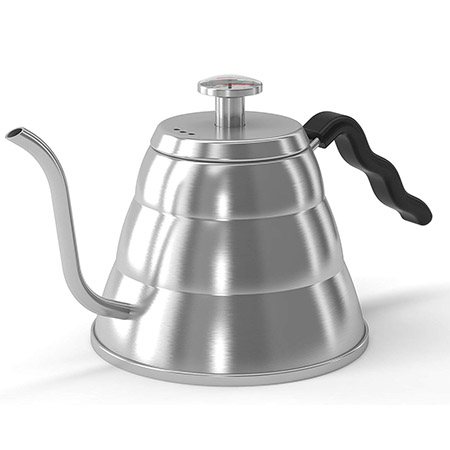 Design
Whether you're talking about kitchen appliances or people, it is always important to remember that looks aren't everything. Still, that being said, we can't deny that it is great to have a kitchen appliance that operates both efficiently and effectively and also looks great doing its job. In our opinion, the Coffee Gator Pour Over Kettle is definitely one of the best-looking gooseneck kettles that we're reviewing. The brushed metal finish on its stainless steel body gives this gooseneck kettle the appearance of a high-end appliance, even though it is relatively affordable.
Features
This is definitely the area in which the Coffee Gator Pour Over Kettle truly shines. Starting at the bottom, the first that you will notice is that this gooseneck kettle has a triple-layered base that manages to be incredibly durable without having to sacrifice its heating ability.
The built-in thermometer is also another one of the main selling points of this gooseneck kettle. This thermometer is easy to read and even has a "green zone" which denotes the ideal temperature range for brewing. The only feature that could make this thermometer any better is if it was partnered with some sort of temperature control. However, we really can't hold that against the Coffee Gator Pour Over Kettle because temperature control is a feature that is often reserved for pricier (or more complex) kettles.
Last but not least, we have to talk about the control and quality of the pour — we can all definitely agree that this is the most vital aspect of a gooseneck kettle. The Coffee Gator Pour Over Kettle is extremely precise when pouring water. We found that we were able to easily and consistently able to slow down and speed up the rate of our pour; and we didn't experience any dribbling or random spurts. All of this is primarily due to the tapered tip of the spout and its carefully configured angular design.
Bonavita Variable Temperature Electric Gooseneck Kettle Review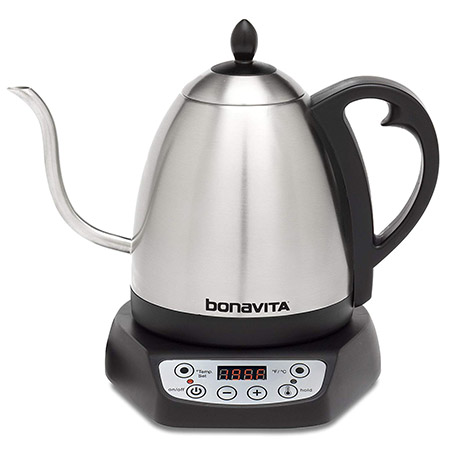 Design
It's a good thing that looks aren't everything because the Bonavita Variable Temperature Electric Gooseneck Kettle (also known as the Bonavita BV382510V) isn't going to be winning any awards for appearance any time soon. Be that as it may, we will also humbly concede that there are some aesthetics that the Bonavita BV382510V will look more natural in. For example, if you're going for a classy or posh look in your kitchen then the Bonavita BV382510V most likely won't fit in. However, the Bonavita BV382510V would not look out of place if you're going for a more modern or contemporary look in your kitchen. Its brushed stainless steel body gives it a sleek look but we're honestly not fans of the black plastic handle, even if it is made from BPA-free plastic.
Features
It's there in the name, the main draw of this gooseneck kettle is the fact that it has variable temperature capabilities. This means that the Bonavita BV382510V gives you the ability to be as precise as you want when you're deciding on the temperature of the water that you're going to use for your coffee brewing. Specifically, you can choose anywhere between 140 ̊F and 212 ̊F (60 ̊C – 100 ̊C) and you have the precision of using one-degree increments. It is also worth mentioning that the Bonavita BV382510V also has a display that allows you to easily keep an eye on the temperature.
Another great thing about the Bonavita BV382510V is its cordless 360° swivel base. This is great mostly for convenience sake because it allows you to easily grab the kettle and then put it back when you're done.
Finally, we have to talk about the pour – is there sputtering or is it consistent? The Bonavita BV382510V gives users a significant amount of control over the speed of their pour and even us coffee lovers with shaky hands can still get a good flow going. The only issue (minor as it may be) was that there is a relatively minor amount of dribbling when a slower pour is attempted but that should only be an issue for staunch perfectionists.
Ovalware RJ3 Stainless Steel Drip Kettle Review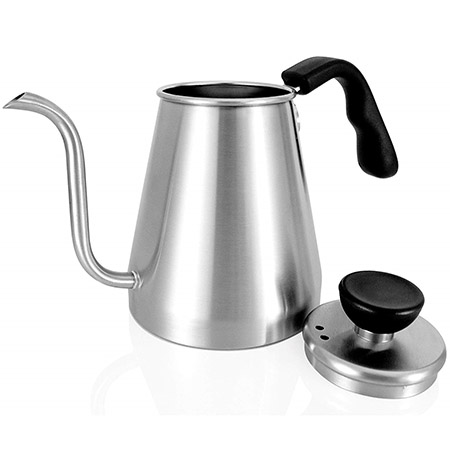 Design
As we've said before, when it comes to design, there are always going to be some factors that are up to personal preference. In regards to aesthetics, we simply don't think that the Ovalware RJ3 can match up to the other gooseneck kettles that we're reviewing. However that being said, if appearance is a factor that isn't of great importance to you, the straightforward design of the Ovalware RJ3 may be just what you're looking for. The Ovalware RJ3 isn't ugly, it just has an unassuming and fairly plain design.
Features
One of the primary ways that you can easily tell if a gooseneck kettle is good or bad is if you observe its flow rate. With that being said, we would be lying if we called the Ovalware RJ3 anything less than great. The tapered spout has been designed in such a way that it creates a perfect pour, no matter how fast or slow you want to go (within reason of course).
This is somewhat surprising, given that the Ovalware RJ3 could best be classified as a budget option due to its pricing. However, as it is the budget option, it is also understandable that it is the one with the least ancillary features as well. There is no temperature control or above-average durability here – it lets you heat the water and then lets you pour it steadily and evenly; honestly, that's all you really need.
Kalita 52073 Wave Stainless Steel Drip Kettle Review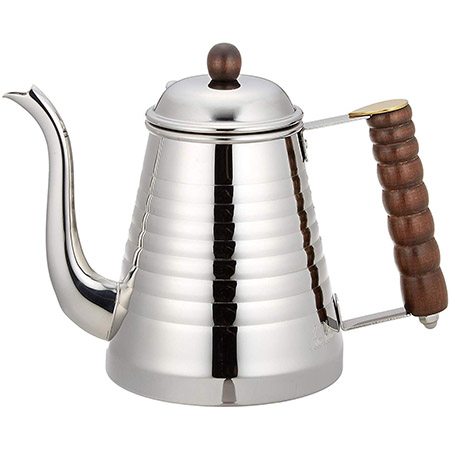 Design
Yes, we've already said (several times) that looks aren't everything; however, that doesn't mean that we can't appreciate a gorgeous design when we see one. The lovely stainless steel design of the Kalita 52073 seems to seamlessly blend the best of both worlds.
It manages to overall be a relatively simple design but it is further accented by intricate trimmings. We particularly appreciate the elegantly carved wooden handle, especially since a lot of contemporary gooseneck kettles have opted to simply use plastic handles. All in all, we have to assume that it's the stylish design that has largely contributed to the price tag of the Kalita 52073 because it is relatively expensive for a non-electric kettle.
Features
The Kalita 52073 doesn't have the bells and whistles that a lot of other gooseneck kettles have nowadays. Instead, its primary selling points are its design and the pour that it delivers. So, how does the pour of the Kalita 52073 stack up to its competitors?
The very first thing that we noticed about the Kalita 52073 is the size of its neck. Comparatively speaking, this gooseneck kettle has a significantly stouter neck that most of its competitors. In terms of pouring, this means that the Kalita 52073 can easily achieve and maintain stronger flow rates but it can be challenging to get slower pours. Don't let this deter you too much because if you have a fairly steady hand, then maintaining a slower pour is definitely possible.
---

How to Choose the Best Gooseneck Kettle: A Definitive Buying Guide
If you haven't figured it out by now, gooseneck kettles get their name because of their long and narrow neck.
You don't need to buy the one with the most gooselike neck; however, there are certain factors that you should consider if you're going to be purchasing one of these kettles
Materials That Are Used
This may seem like a no-brainer but it still needs to be mentioned. Some materials are just better than other when it comes to making a pour over kettle (and other types of cookware).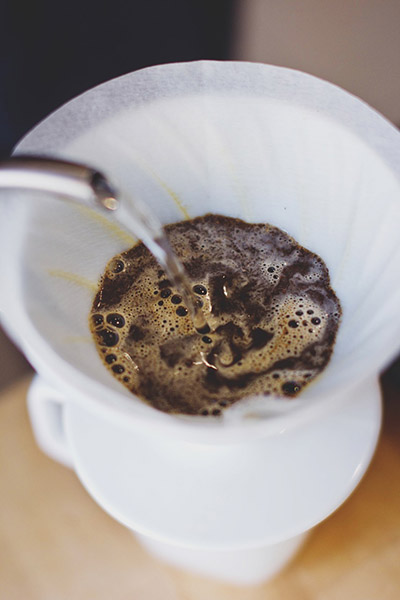 With metal cookware (like pour over kettles) the two main thing to keep in mind are a materials durability and it susceptibility to rust. If you're buying metallic cookware, it is usually safe to just go with stainless steel. It has a relatively high level of durability and rust resistance.
How Much Can You Fill It Up?
Compared to a lot of other factors, this isn't really a deal breaker. This is because you'd be hard pressed to find a gooseneck kettle that holds less than 25 oz. (usually capacity is somewhere in the 30s).
There are larger 40 oz. or more options out there if you're brewing for family or friends.
What's That Flow Like?
When you're using a pour over coffee maker, the consistency and speed of your flow are two factors that spell the difference between having a perfect cup or an average cup. Some pour over kettles will give you a slower pour, some will give you a more even pour, and some will be more responsive to how you change your pouring angle.
Ideally, you'll want a pour over kettle that pours evenly and also has a relatively slow pour rate. This obviously isn't a try before you buy scenario and that's why we've provided you with a selection of gooseneck kettles that will pour nicely.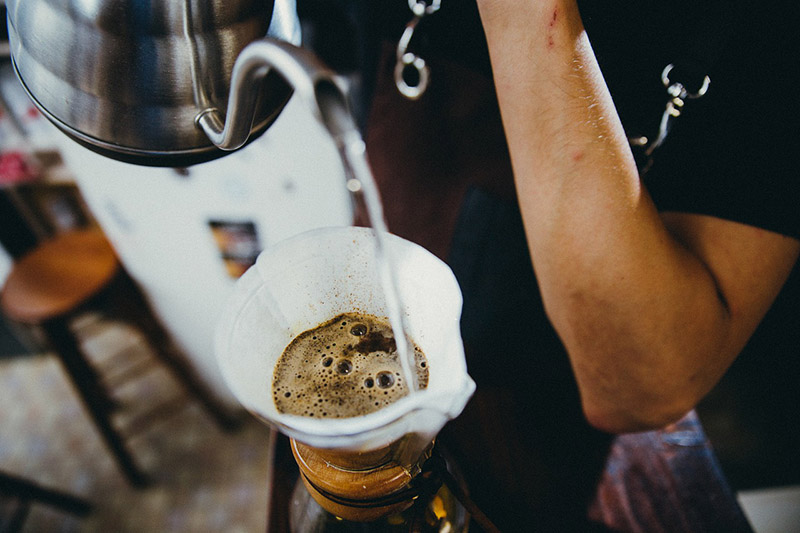 Is The Kettle's Handle Comfortable to Handle?
Using a pour over coffee maker and a gooseneck kettle requires patience. However, it is understandably hard to be patient and have a consistent pour if the kettle that you're holding is causing you a considerable amount of discomfort.
Don't be surprised if you find a gooseneck kettle that has the perfect spout but also an atrocious handle that was just slapped onto the design as an afterthought. Thankfully, a lot of manufacturers nowadays are including ergonomic handles on their gooseneck kettles.
If it has an insulated handle that is also a bonus. No one wants to be holding a piping hot kettle handle for an extended period of time, especially while they are trying to maintain a consistent pour.
Do You Need a Feature Heavy Gooseneck Kettle, or Something Simple?
A final thought — What are the most basic functions that a pour over kettle needs to be able to carry out? It needs to hold liquid, facilitate the heating of that liquid, and then ultimately allow it to be poured in a consistent manner.
For many coffee lovers, that's all that they need from their pour over kettle. However, in an effort to stand out from their competitors, many manufacturers have included additional features in their products. Ultimately, it is up to you to decide if you're willing to pay extra for these features.
For example, the Coffee Gator Pour Over Kettle isn't the flashiest but can get the job done. On the other hand, the Bonavita Variable Temperature Electric Gooseneck Kettle has more precise temperature control, electric heating, and a digital interface. Obviously, you're going to have to pay more to have all of those features.
---