When it comes to French presses there are two main companies with significant amounts of skin in the game – they are Bialetti and Bodum. We already wrote a detailed review of Bialetti French presses examining their strengths, weaknesses and best use cases — so this article is going to focus on Bodum. Founded in Copenhagen in 1944 by Peter Bodum, the company has been designing and creating quality kitchenware for almost eighty years. It has become particularly renowned for its coffee making devices and even more particularly renowned for its French presses.
So with that in mind, we're to do a deep dive into the best French presses in Bodum's catalogue, see where they thrive and where they lack, and help you decide which French press is right for you.
---
Editor's Pick: The Bodum Chambord – 5/5
Editor's Pick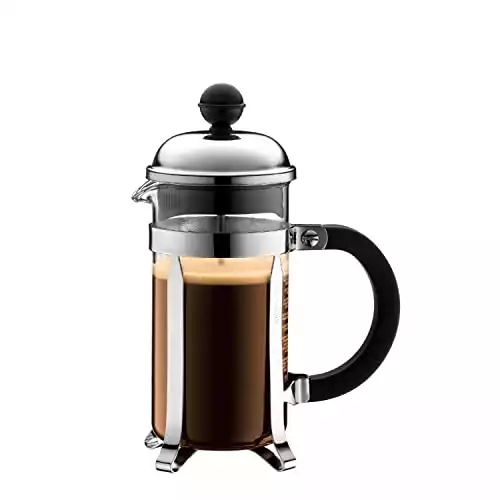 If there can only be one let it be the Bodum Chambord. As the flagship model in the Bodum range, this French press is iconic in terms of its design and flawless in terms of its functionality. If you want a Bodum French press that looks great and creates amazing coffee, then the Chambord should be your go-to.
---
The Best Bodum French Presses: Side-By-Side Comparison
---
How to Use a Bodum French Press
Before we go into further details about the French presses themselves, it's a good idea to look at how to use them. While this article is strictly about Bodum French presses, this method can be used on any other brand. It looks something like this…
Step-by-step Instructions on Using the Bodum French Press
Preheat your French press by pouring some hot or boiling water into the beaker, swirling it around until it's hot to the touch, and then discarding it. This will prevent your brew temperature from fluctuating when you add hot water to cool coffee grounds and equipment.
Next, measure out your coffee grounds. The amount of grounds you use is directly depending on the size of the French press you're using and the amount of coffee you want to brew. A good rule of thumb is to use 1 gram of coffee for every 15 grams of water, so a ratio of 1:15. Also make sure your coffee is ground medium-coarse for the most efficient extraction.
Once your grounds are ready, heat your water. You can use an ordinary kettle for this, but if you want to be really precise then we recommend getting a gooseneck kettle that will allow you to heat your water to the precise temperature you need. For French press, you want the temperature of your water to be between 195 and 205 Fahrenheit.
Add the ground coffee and water to the preheated beaker, then take a spoon and give the coffee a brisk stir to ensure that all of the components are properly immersed.
Place the lid on top of the beaker. This will help insulate the coffee and keep it hot. Once that's done, start a timer and let the coffee steep for 4 minutes. Once you're a bit more comfortable with using a French press, you can play with steeping times to achieve the desired taste, but 4 minutes is a good window to aim for.
After 4 minutes have elapsed, slowly press the plunger down, making sure to push it all the way to the bottom to prevent the extraction from continuing. Don't rush this step or else you risk hot coffee spouting all over your arms and countertop.
Finally, decant the brew to prevent it from becoming over-extracted, serve, and enjoy.
---
In-Depth Product Reviews
The Bodum Chambord – The Best Bodum French Press for All Rounders: The Bodum Chambord – 5/5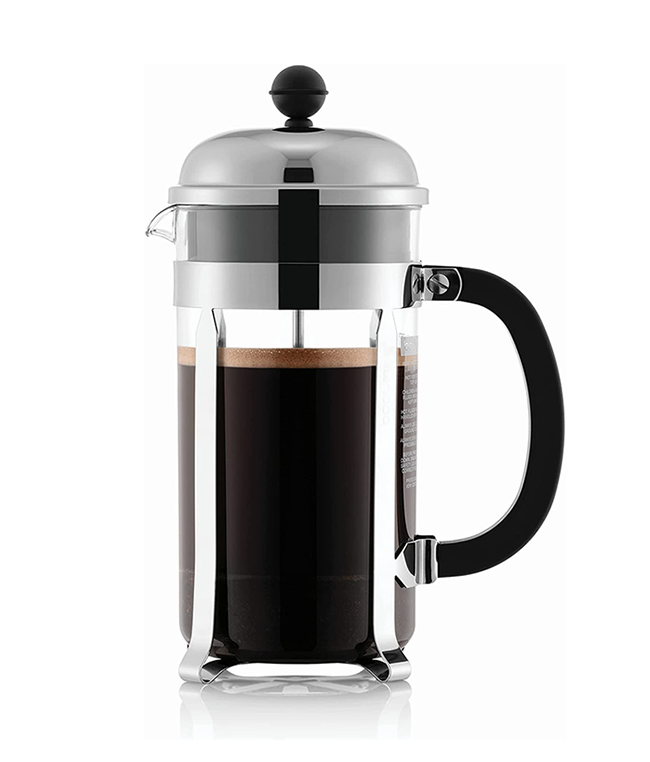 Bodum is one of the oldest companies still producing French presses, and their reputation as a giant in the coffee game all started with their flagship model, the Chambord. Alongside Bialetti, Bodum have earned the right to tout their products as the best in the business because, well, they kind of are.
The Chambord is the flagship model in Bodum's range, the classic French press that is renowned for its ease of use and cleaning, and reliability. Since its inception, not much has changed, and the model you see here is pretty much the model that was used years ago.
The borosilicate glass used as the main material for the beaker is tough and heat resistant, and the steel casing that holds it altogether is pretty sturdy. Likewise, the plastic handle gives you a firm grip when pouring, and will prevent your knuckles rapping on the hot glass while serving. The combination of these three materials gives you a French press that will stand the test of time, and continue to produce delicious brew even years after purchase.
The only downside to the Chambord is the fit of the plunger. While snug, it doesn't press all the way to the bottom, which leaves a fine sediment at the bottom of the beaker. Still, for us this isn't the biggest deal breaker, considering what a fine device the Chambord is overall. That being said, if you're looking for something that doesn't leave a crumb of sediment, then try a steel-walled press like the Columbia (more on that below).
Pros
Extremely reliable.
Steel casing, borosilicate glass and plastic handle have great longevity.
Cons
The mesh filter sometimes misses some sediment.
The filter doesn't press all the way to the bottom which sometimes leaves some sediment.
---
The Bodum Brazil – The Best Budget Bodum French Press: The Bodum Brazil – 3.7/5
The Bodum Brazil is a firm favorite of many, and for good reason. As Bodum's first and oldest model in their French press range, the Brazil continues to deliver spectacular results, but at a lower price point than the Chambord. Bodum was able to shave a few dollars off the final price by changing the design and materials of the Brazil slightly. While this French press still uses heat-resistant borosilicate glass, the casing is constructed entirely from BPA-free plastic. This gives the Brazil a slightly less-premium feel, which is okay because it's slightly less premium.
The handle of the Brazil is worth noting. Unlike the Chambord which has a curved and relatively small handle, the Brazil's is large and more angular, giving you more support while pouring and reducing the chance of burning yourself on the hot glass.
Other than the materials, the Brazil is just as easy to use as any other French press and functions exactly the same. It's dishwasher friendly so you don't have to worry about scrubbing it by hand if you don't want to. In terms of durability, you're probably not going to get as long of a run as the Chambord or any other French press constructed from more durable materials, but for the price we think it's a good press nonetheless.
Pros
Affordable.
Easy to clean.
Easy to use.
Cons
Not built from the best materials.
Doesn't last as long as other models.
---
The Bodum Caffettiera – The Best Bodum French Press for X: The Bodum Caffettiera – 4/5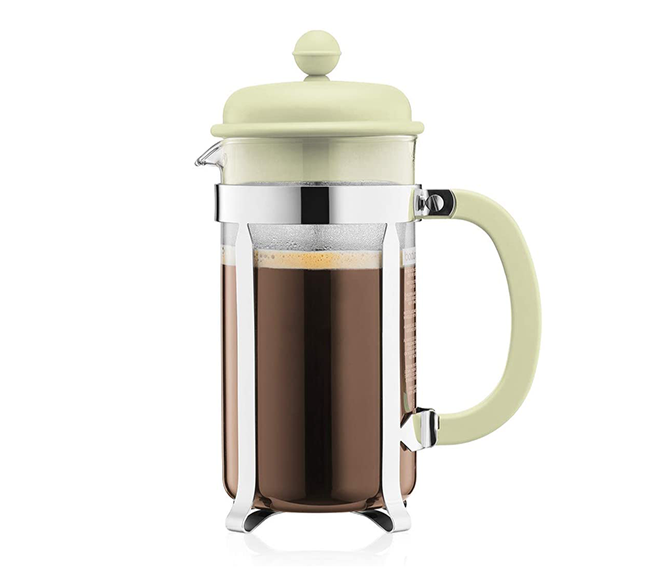 You might be mistaken for thinking that the Caffettiera is the Chambord. But don't be fooled, although these two French presses by Bodum have very similar designs, they're also different in a few ways. While both presses use the same steel casing and borosilicate glass for the beaker, the biggest difference is that the Caffettiera has a plastic top rather than a steel one. Because of this, Bodum were able to significantly lower the price point, making this a much cheaper alternative to the Chambord.
But for all sacrifices in quality of materials, nothing was lost when it comes to the taste of the coffee. The Caffettiera is still able to produce delicious brew, and using it is a breeze. The only issue is, like the Chambord, the plunger does not press all the way to the bottom, which means small particles of sediment make their way into the brew.
Pros
Affordable.
Easy to use.
Makes delicious coffee.
Cons
Plunger and filter let in some sediment into the final brew.
---
The Bodum Columbia – The Best Bodum French Press for Longevity: The Bodum Columbia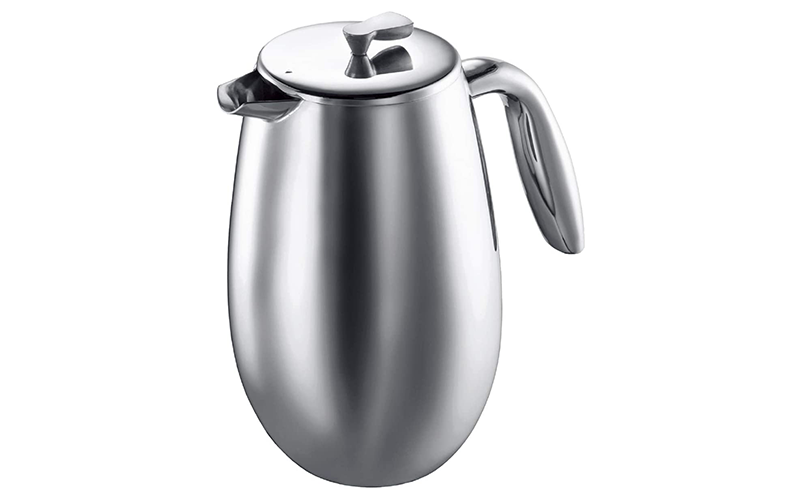 If having all of that glass on your kitchen counter makes you nervous, then the Bodum Columbia is definitely a better choice for you. Constructed from double-walled stainless steel, the Columbia not only makes delicious brew, but it's built to stand the test of time. The stainless steel also serves another function, and that is to keep your coffee hot even after its been brewed. According to Bodum, your coffee should stay hot for up to two hours after the brewing process is finished.
The plunger is likewise constructed from stainless steel, and features a 3-part fine mesh filter which does a great job of keeping sediment out of the final brew. Cleaning the Columbia is a simple task as all components can be popped in the dishwasher without any issues.
All-in-all, the Columbia is a great French press if you want something that not only looks great, but will outlast all other models.
Pros
Great build quality.
Stainless steel construction.
Keeps coffee hot for up to two hours.
Cons
---
The Best Bodum French Press for Traveling: The Bodum Travel Press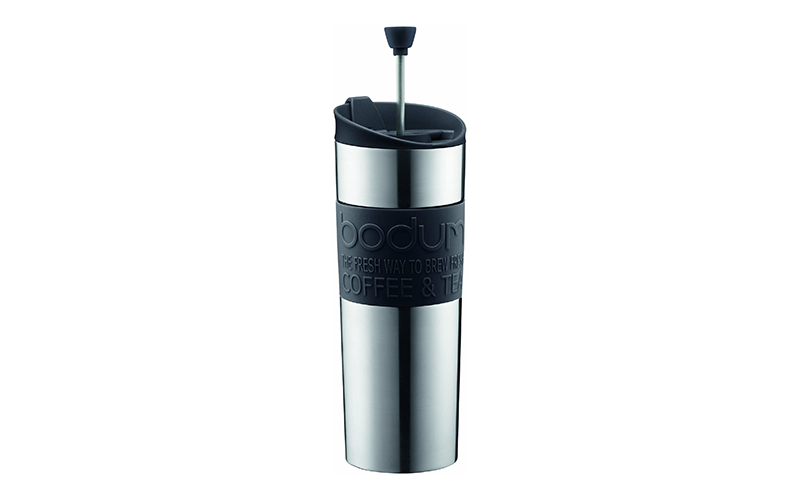 If you're someone who needs their coffee with them when they run out the door in the morning, but also want the luxury of a French press, then we have some good news for you; you can have both with the Bodum Travel Press. This device is a French press and travel mug all rolled into one. It's largely constructed of double-walled stainless steel and silicone, which allows you to keep your coffee hot and prevent you from burning your hands simultaneously.
It's really easy to use. Simply add your coffee and hot water, then insert the plunger and silicone lid and you're ready to go. After a few minutes, press the plunger down and your coffee is ready to drink. The only con to this little device is that, once you've pressed the plunger, you can only add milk or sugar through the drinking spout. But if you drink your coffee black this won't bother you at all.
The lid of the press isn't air tight but it will prevent most spills. If you expect to be dashing through an airport or be in any other sort of situation in which your coffee is going to be jolted around, consider investing in the Bodum Travel Press Coffee Set. It costs a little bit more, but it comes with a plain, sealable lid which will ensure that not a drop of coffee leaves your mug during transit.
Pros
Extremely portable.
Eye-catching design.
Great built quality and materials.
Cons
Difficult to add in milk or sugar.
Isn't completely spill proof.
---
The Best Bodum French Press Buyer's Guide: How to Choose the Best Bodum French Press For You
Size
The capacity of cafetieres is normally measured in small demitasse cups, which equate to approximately 120ml. That means a 3 cup French press will make 360ml of coffee, which is enough to fill two normal-sized mugs. Use the below table to help which French press to pick based on the amount of coffee you think you'll be consuming.
| | | |
| --- | --- | --- |
| Size | Capacity | Number of normal-sized mugs |
| 3 Cup | 350ml | 2 |
| 8 Cup | 1000ml | 5 |
| 12 Cup | 1500ml | 8 |
Build Quality
Not all French presses are made equal, and the same goes for Bodum's products. While all of the French presses on offer from Bodum are constructed of quality materials, some are definitely more fragile than others. The Chambord, Brazil and Caffettiera, for example, all use borosilicate glass as the main material in the beaker. While this glass is heat resistant, it's still fragile, so if you're prone to accidents you might not want this on the edge of your kitchen counter.
The Columbia and the Travel press, however, are built from stainless steel, making them much more durable and insulated. If you're on the road or just want something that's not prone to breakage, then this is something you should take into consideration.