An iced coffee maker is never going to be the first coffee appliance that you buy for your kitchen but it is sure to be one of the most convenient. When those hot and humid summer days roll around, you'll be grateful that you can enjoy your daily dose of caffeine while still managing to keep cool.
Sure, you could go down to your favorite coffeehouse and pick up an iced coffee there. However, if you're a frequent coffee drinker, getting an iced coffee maker is undoubtedly a sound investment.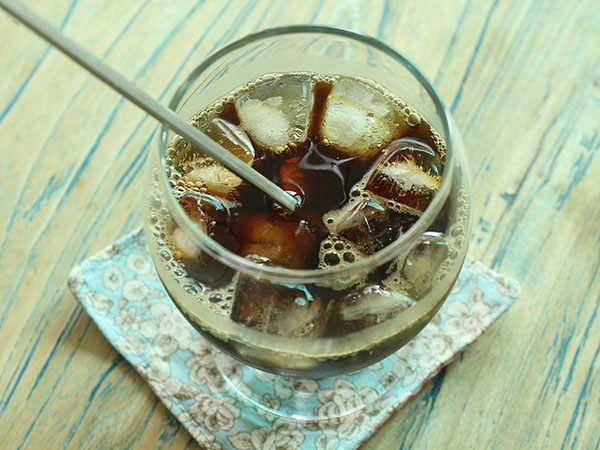 Deciding which coffee maker you should buy can be relatively confusing at times; even when it comes to something as simple as iced coffee. This confusion is made even worse when many brands and retailers use the terms "iced coffee" and "cold brew coffee" interchangeably – no they aren't the same thing.
Don't worry, we're going to teach you how to make smart purchases with our one-of-a-kind buyer's guide and also give you the inside scoop on our choices for best iced coffee makers
---
TOP PICK – The Cuisinart DCC-3400P1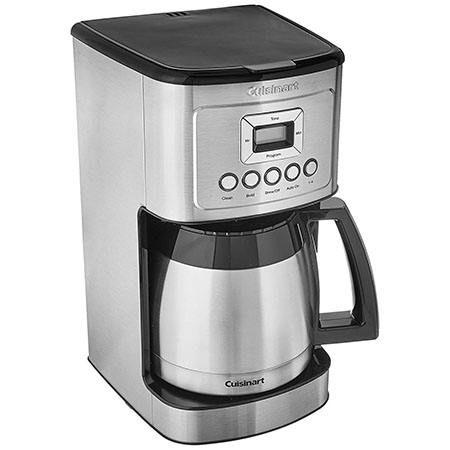 We love the Cuisinart DCC-3400P1 because it's good at its job – it can consistently brew you a great cup of coffee. It is also packed with a whole slew of useful features, such as:
Brew strength control.
Auto shutoff timer.
Programmable auto brew feature.
---
Iced Coffee vs Cold Brew Coffee: What's The Difference?
As we said before, iced coffee and cold brew coffee are not the same thing. However, that still hasn't prevented countless manufacturers and retailers from using these two terms interchangeably.
We won't hold it against them too much. After all; both beverages can cool you down, they can give you that caffeine boost, and they have similar names. So, what's the difference between these two beverages?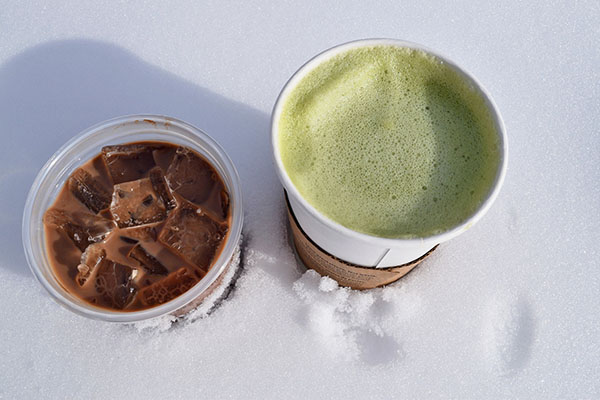 Ice + Coffee = Iced Coffee
It is harder to trace the origins of iced coffee but so far the earliest recorded iced coffee beverage is the Mazagran, which originated in Algeria.
Again, the definition is in the name – it is coffee that has been brewed hot and then cooled before drinking (using ice or ice cold milk).
This is the quick and easy way to use coffee to cool off, no waiting an entire day for coffee to steep. Just brew your hot coffee and add ice.
Cold Brew Coffee Requires Patience
Cold brew coffee can trace its origins back to Japan and it has been one of the most popular brewing methods there for centuries. The actual definition of cold brew coffee is all in its name – it is coffee that has been brewed cold, no heat has been used at all. A coarse grind is often preferred and it is usually left to steep in cool water for anywhere between 12 and 24 hours.
As you would expect, the flavor extraction process in this brewing method is relatively slow. However, the end result is richer and more concentrated – this is why many cold brew drinkers will use words like "smooth" and "chocolaty" to describe their drink.
Don't forget about nitro cold brew! It's a relatively new type of coffee that has been charged with nitrogen; coffee with the mouthfeel of draft beer.
If You're Really In The Mood For Cold Brew Coffee
Yes, we're helping you shop for the perfect iced coffee maker but keep in mind that you can also easily DIY cold brew coffee as well. Check out our guide on how to make your very own cold brew coffee at home!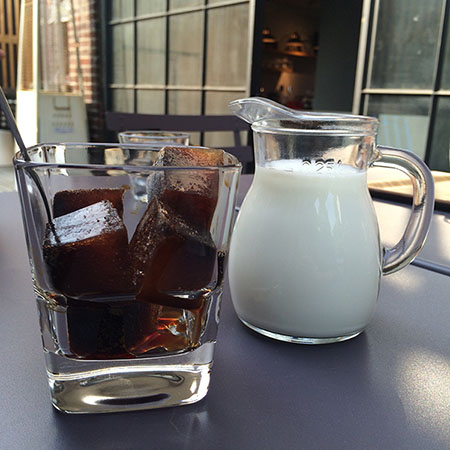 ---
Iced Coffee Makers: Buyer's Guide
One would think that just any old coffee maker is capable of making a cup of iced coffee and for the most part you would be correct. However, there are certain things that you should keep in mind if you truly want to make an exceptional cup of iced coffee.
Brew Strength Actually Matters
Brew strength is one of those factors that is often overlooked when people are shopping for a coffee maker. However, if you truly want to purchase a machine that can double as an outstanding iced coffee maker, then this is something that you should seriously consider.
Why? Well because essentially you're going to be diluting your coffee once you pour it over ice. Effectively you're sacrificing strength for that refreshing coolness. One way that you can easily mitigate this is by increasing your brew strength.
This is the reason why coffee makers that have an easy way to toggle brew strength are perfect.
Some Materials Are "Cooler" Than Others
No, we're not talking about if stainless steel is colder than glass. What you really need to keep in mind is that not all materials are created equal when it comes to how they react to temperature. Some materials are better conductors; i.e. they get hotter (or colder) faster; while others are simply better when it comes to retaining heat.
Coffee makers (and a lot of common cookware) are made primarily of either metal or glass. So, how do these materials stack up to each other?
Stainless steel is a great conductor of heat (compared to glass) so it is going to get hot relatively fast. Aluminum is better than stainless steel at conducting heat but it is not great at retaining it.
A lot of the so called "glass" cookware that is used in kitchens is actually Pyrex. This is a special type of glass that is thicker and better at retaining heat. Comparatively, regular glassware is going to cool quicker than Pyrex.
So, to break it down:
Go with glass (Pyrex) if you want to maintain temperatures longer.
Go with stainless steel or aluminum if you want things to cool faster.
Since you are going to be brewing hot coffee and then cooling it down over ice anyway, your best bet would probably be to get a stainless steel iced coffee maker. It will stay hot for a while but cool down in a reasonable amount of time if you let it stand.
---
The Top 5 – Who's Fighting For The Title Of Best Iced Coffee Maker
Ice Coffee Maker
Price
Features
Cuisinart DCC-3400P1

$89.99
– 24-hour programmable auto brew feature.
– Regular or bold brew strength control.
– 2 hour auto shutoff timer.
– Self cleaning functionality.
– 12 Cup thermal carafe.
– GoldTone filter basket.
Keurig C K-Elite

$156.71
– Uses K-Cups.
– 75oz. water reservoir
– Features an "iced setting"
– 4, 6, 8, 10, & 12 oz. brew sizes.
– Brew strength toggle.
Black+Decker CM1160B

$29.99
– 2 hour auto shutoff timer.
– 24-hour programmable auto brew feature.
– Straightforward and easy-to-use controls.
Cuisinart SS-10P1

$95.99
– K-Cup compatible.
– 72 oz. water reservoir.
– 4, 6, 8, 10, & 12 oz. brew sizes.
– 30 minute auto shutoff timer.
– Includes a reusable filter cup.
– Quick clean rinse feature.
BUNN GRB Velocity Brew

$90.81
– Brews a full pot of coffee in about 3 minutes.
– Maximum brewing capacity of 50 oz.
– Multi-stream spray head.
---
In-depth Reviews of the 5 Best Iced Coffe Makers
---
Cuisinart DCC-3400P1 Review –
The Best Overall Choice
The Cuisinart DCC-3400P1 is the best overall choice and our top pick for several reasons. First and foremost (as we said before) it is just good at its job. Unless you've been using it as a makeshift hammer or you somehow got a defective model, it is going to consistently be giving you a great pot of coffee each and every day.
One of the key features that makes the Cuisinart DCC-3400P1 a great iced coffee maker is the fact that it has an easy toggle brew strength control. As we mentioned in our buyer's guide, you're going to be diluting your coffee once you pour it over ice.
The brew strength control on the Cuisinart DCC-3400P1 has two distinct settings, "regular" and "bold". So it might be a good idea to go with "bold" if you're going to be using it as an iced coffee maker.
Another notable detail is the 24 hour programmable auto brew feature. This is just a convenient feature that you can use to set a custom brewing time so that you have freshly made coffee when you need it the most.
The Cuisinart DCC-3400P1 has a mid-range price tag of $89.99. A reasonable retail price for solid craftsmanship, useful features, and consistency.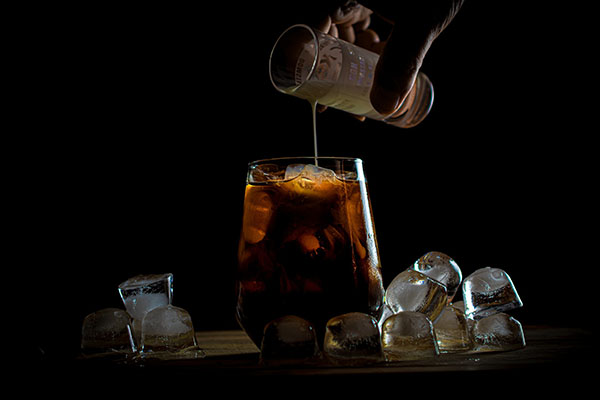 Keurig C K-Elite Review –
The Best Features For An Iced Coffee Maker
In recent years, Keurig coffee makers have had coffee lovers falling into two distinct camps of opinion – they either love it or hate it, the middle ground is virtually nonexistent. Why such a stark variation in opinion? The answer is simple, K-Cups.
To some people, K-Cups are great; they are a convenient way to brew a single serving of coffee. Other people find K-Cups terrible; citing reasons like subpar coffee quality and that they are bad for the environment. There is now the reusable My K-Cup as an alternative, so that is at least somewhat of a counterargument to the criticism.
As an iced coffee maker the Keurig C K-Elite is great. The only real negative (apart from the need for K-Cups) is that its largest brew size is 12 oz., so you won't be getting multiple cups in one go. It does however have a 75oz. water reservoir, so you can get at least half a dozen cups out of it before you have to refill it.
Like the Cuisinart DCC-3400P1, the Keurig C K-Elite does have a brew strength feature, which is useful for iced coffee making. However, one of the most convenient features of the Keurig C K-Elite is its "iced setting". This calibrates the machine to allow it to effectively brew hot coffee right over ice – a convenient feature to say the least.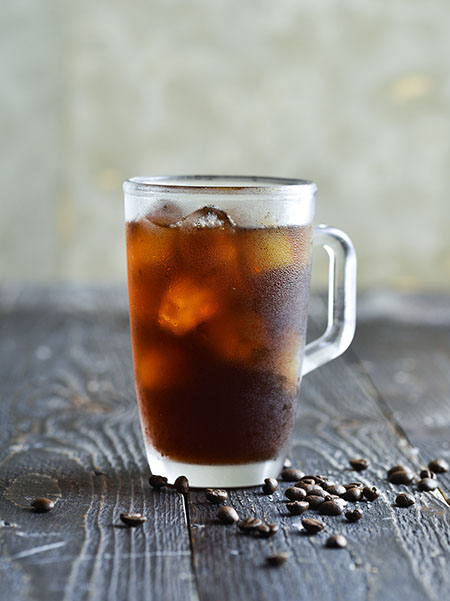 Black+Decker CM1160B Review –
The Best Bang For Your Buck
If making a cup of iced coffee is not something that you want to spend more than a few bucks on, the Black+Decker CM1160B is the iced coffee maker for you.
Even with its low priced tag of $29.99, the Black+Decker CM1160B is still reasonably well made and serviceable. The pot itself is made from durable glass that heats up relatively quickly and also retains that heat for a long period of time.
The Black+Decker CM1160B also has some features that one would expect from pricier coffee maker models. It notably has an auto brew feature that is almost as robust as the one that the Cuisinart DCC-3400P1 has and it also has an auto shutoff timer as well.
The Black+Decker CM1160B is an all-around easy-to-use coffee maker that is easy on your pocket as well.
Cuisinart SS-10P1 Review –
The Best Single Serving Iced Coffee Maker
The Cuisinart SS-10P1 is a single serve coffee maker like the aforementioned Keurig C K-Elite. However, it just narrowly takes first place as the "best single serving iced coffee maker".
Like the Cuisinart SS-10P1 has a water reservoir that is comparable to the one that the Keurig C K-Elite has – 72 oz. versus 75 oz. respectively. In addition to this, both coffee makers have an equally diverse selection of brew sizes – 4, 6, 8, 10, & 12 oz.
The most notable thing about the Cuisinart SS-10P1 that sets it apart from the competition is the fact that it is compatible with K-Cups… and virtually any other brand of single cup pod. This means that your favorite coffee pod is good to go, no matter what brand it may belong to.
The Cuisinart SS-10P1 also has a convenient adjustable temperature control feature, perfect if you don't want your coffee too hot, especially if you're going to be pouring it over ice anyway.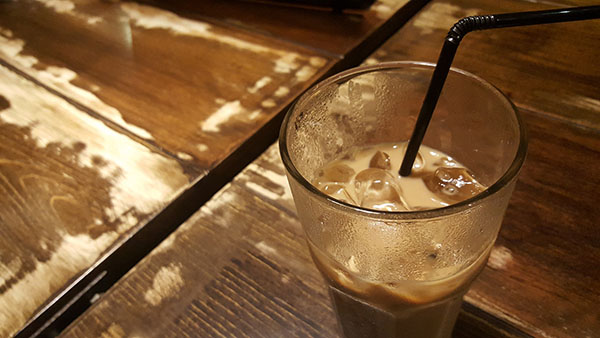 BUNN GBR Velocity Brew Review –
The Best Choice For Speed
We don't know about you but having to sit and wait before enjoying a cool and refreshing drink is not what we would consider to be a fun summertime activity.
Brewing a pot of coffee may not truly seem like a time intensive task in the grand scheme of things. However, when your air conditioning is broken on a hot summer day, having a cup of iced tea ready to go could spell the difference between surviving the scorching sun or swimming in a sea of sweat. If like Dominic Toretto or Sonic the Hedgehog, speed is the most important thing to you, then the BUNN GBR Velocity Brew is the coffee maker that you're looking for.
The BUNN GBR Velocity Brew lives up to its name, having the ability to brew a full (10-cup) pot of coffee in an average of 3 minutes. Remember, a single serve coffee maker – like the Keurig C K-Elite or the Cuisinart SS-10P1 – is going to brew a single cup of coffee in 1 – 3 minutes. Likewise, the brew time for the average drip coffee maker is between 6 and 12 minutes.
One of the reasons why the BUNN GBR Velocity Brew is so fast and efficient is because it has a multi-stream spray head. This consistently disperses hot water over the coffee grounds in a quick and even manner.
The BUNN GBR Velocity Brew also has a flat bottom filter that has a relatively large surface area. This means leads to a greater level of interaction between the coffee and the hot water, exponentially speeding up the overall brewing process.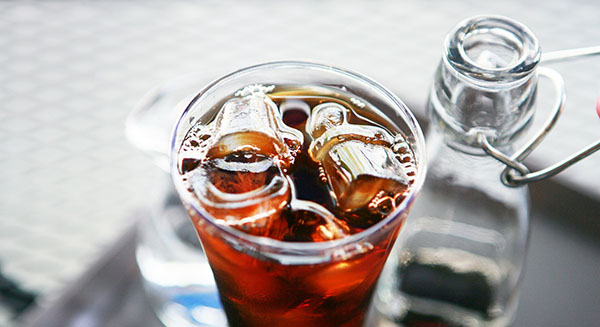 ---
Our Final Thoughts On Iced Coffee Makers
All in all, it's like we said before. Any old coffee maker can be used to make a cup of iced coffee but some of them are obviously going to be better at the task than others. A lot of manufacturers are slowly realizing this and over time they have been designing their devices with iced coffee (or general temperature in mind) in mind.
A passive example of this is dynamic temperature regulation features, which can adjust how hot or cold a brew is on the fly. A more direct example of a feature for coffee lovers would be the iced setting that the Keurig C K-Elite has.
Remember, It's Not Cold Brew
Remember, iced coffee and cold brew are not the same thing. They both may be refreshing and perfect for those hot lazy days but they are different on the inside. Just remember that cold brew is "stronger", to put it simply. It is a more concentrated beverage that is smoother and has a richer flavor.
Also, if caffeine content is what is most important to you, then you're better off going with cold brew. This is because the extended seeping time allows cold brew coffee to easily surpass drip coffee in the caffeine department.
What We Recommend
Like we said before, you can't go wrong with the Cuisinart DCC-3400P1. It's just an all-around great coffee maker that has some features that can help you make a good cup of iced coffee.
If you're shopping around for an iced coffee maker on a strict budget, then the Black+Decker CM1160B is more than enough to get the job done
Lastly, if you're just going to be making regular single cups of iced coffee, then the Cuisinart SS-10P1 is the coffee maker that we recommend.
---