The Bottom Line
The Chemex is timeless—iconic design, simple functionality, and brews a damn-fine cup of coffee. It's a great level up from automatic drip coffee machines, affordable, and sophisticated.
It's slightly more complex than automatic drippers or Keurig, but provides incredible control and precision.
---
Today, we're going to get hands on with one of the most iconic pour-over coffee makers on the planet.
The Chemex Pour-over glass coffee maker is used by homebrew coffee nerds, baristas, and grandmas alike.
Known for it's beautiful design, it's all a one-piece borosilicate glass carafe shaped like an hourglass. It's so iconic that it's part of the MoMA's permanent art collection in New York.
But it's not just beautiful.
With this drip pour-over coffee brewer, you'll be able to really dial in your coffee skills and achieve the perfect cup of coffee every morning.
I've used a Chemex for years and it was one of my first devices after using an automatic drip coffee brewer for most of my life. It taught me a lot about the art and the science of brewing great coffee. I'm excited to really share my full thoughts and feelings here as well as my personal experience learning to brew with this device and mastering coffee at home.
Let's dive in.
A Quick Glance: The Chemex Pour-over Glass Coffee Maker
Whenever we review coffee gear on Caffeine Fiend, we evaluate it based on 8 factors.
After using the Chemex for ~2 years as a daily home coffee maker, I can pretty confidently share my notes on what's been great—and some of the small drawbacks and limitations.
We're going to get into all of the specific, nitty-gritty details down below.
But for now, here's how it scored on the 8 key factors we evaluated: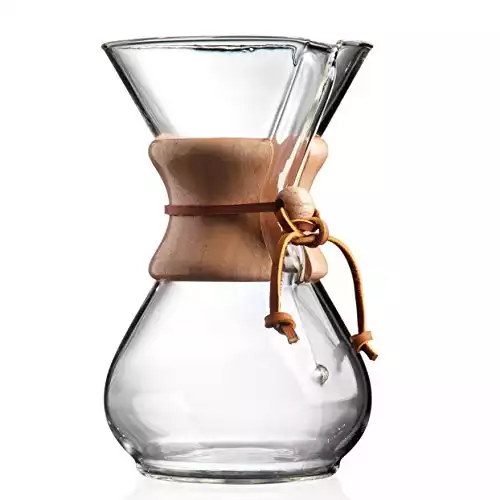 ❤️ You'll Love It If…
– You're a tinkerer

– You're interested in perfecting the art of brewing and don't mind testing new things

– Enjoy clear, clean drip coffee

– Don't mind spending a little extra time for a superior cup

– Looking for something classic—that will last a lifetime

– Aren't afraid to be sucked into the world of coffee with ferocity
😒 You Won't Love It If…
– You're looking to make espresso (obvious but necessary caveat)

– Interested mostly in hot coffee, fast, and simple

– In a big rush every morning to get your caffeine fix

– Hardcore coffee snob who complains about every brewing method anyway
History & Origins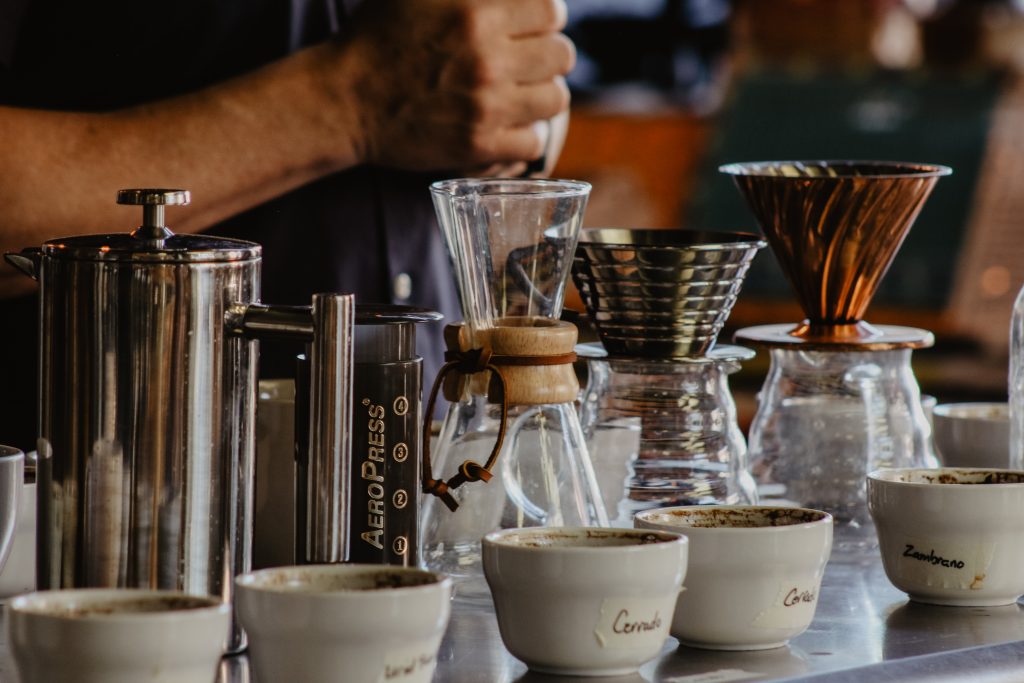 Let's take a quick detour to talk about the origins and history of the Chemex. Because it's pretty cool—and because we're nerds.
One of the reasons this coffee maker has become so popular is longevity.
Originally invented in 1941 by Peter Schlumbohm, it's truly withstood the test of time. Practically unchanged, the iconic hourglass design has been in production now for over 80 years and sold all over the world.
It was awarded as one of the best-designed modern products by the Illinois Institute of Technology.
Although most manual coffee makers and drippers fell in popularity during the middle of the 20th century as automatic coffee machines became more common, it's since seen a resurgence.
The simple design and brewing method puts the emphasis on the brewing process and each ingredient—the coffee filter, the coffee beans, the coffee grounds, and the water.
Stand-Out Features
After using the Chemex for several months, one thing is clear.
There are no bells and whistles to really speak of. This isn't a gadget or a contraption that will sync with your Apple Watch or connect to your smart speaker.
It's just a good, old-fashioned manual drip coffee maker. And that's really all it needs to be.
We've used many coffee gadgets of the years. But sometimes simple just feels right.
This is one of those times.
Even so, there are some specific "features"—or benefits, really—that I noted when sitting down to write this review.
#1 – Bonded Paper Filters Reduce Oils and Cholesterol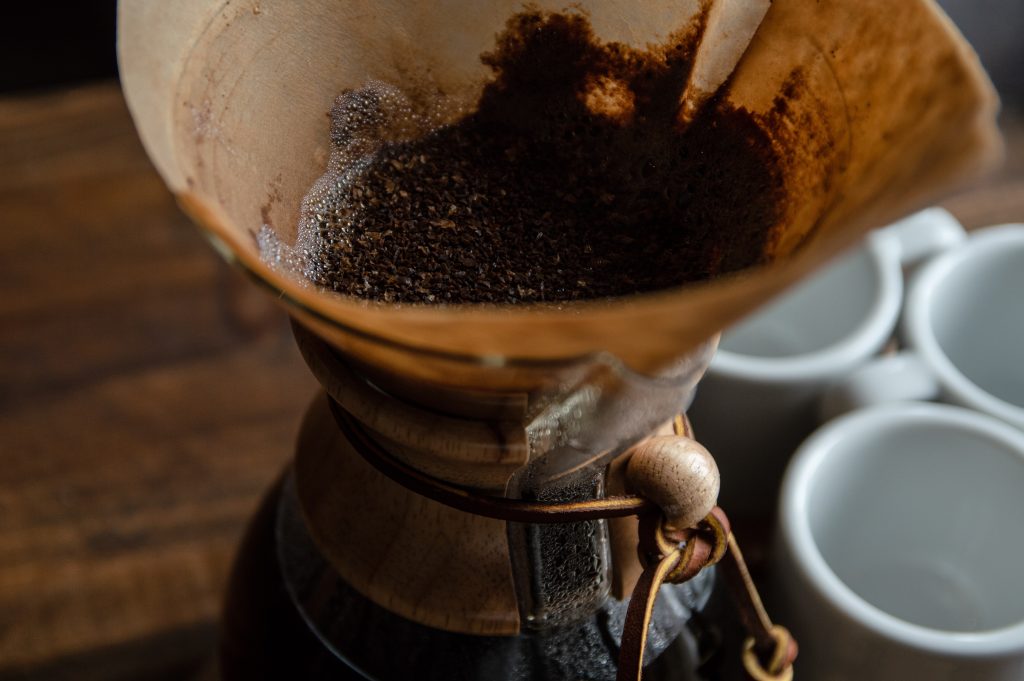 This one's for the health nuts.
You've probably read the studies—or at least seen the click-bait headlines—out there debating whether coffee is good or bad for your health.
Of course, it depends.
Accordingly to studies, filtered coffee removes most of the oils and cafestol in your cup, both of which can elevate cholesterol. In other words, it's better for your health than unfiltered coffee.
Standard brewing procedure for the Chemex uses their special bonded paper filters, which are actually thicker and more absorbent than standard paper coffee filters.
This means that the brewed coffee comes out even cleaner—less oils, sediment, and cafestol in your cup. This makes it among the best brewing methods for the cholesterol conscious.
The downside is that you lose some of the "body" that you would get from, say, making french press coffee—the coffee a little lighter and don't have the oily, frothy mouthfeel. (More on this down below.)
#2 – BPA and Contaminant Free Glass Construction
The borosilicate glass carafe is one of the other major draws.
In a world of cheap, plastic coffee makers and devices, this is clean and pristine glass.
From a health and environmental standpoint, it's better all around—no BPA concerns, etc.
But glass is also the ultimate "neutral" material. As long as you keep it clean, it won't impart any oils, chemicals, or flavors in the coffee you brew.
#3 – Timeless Design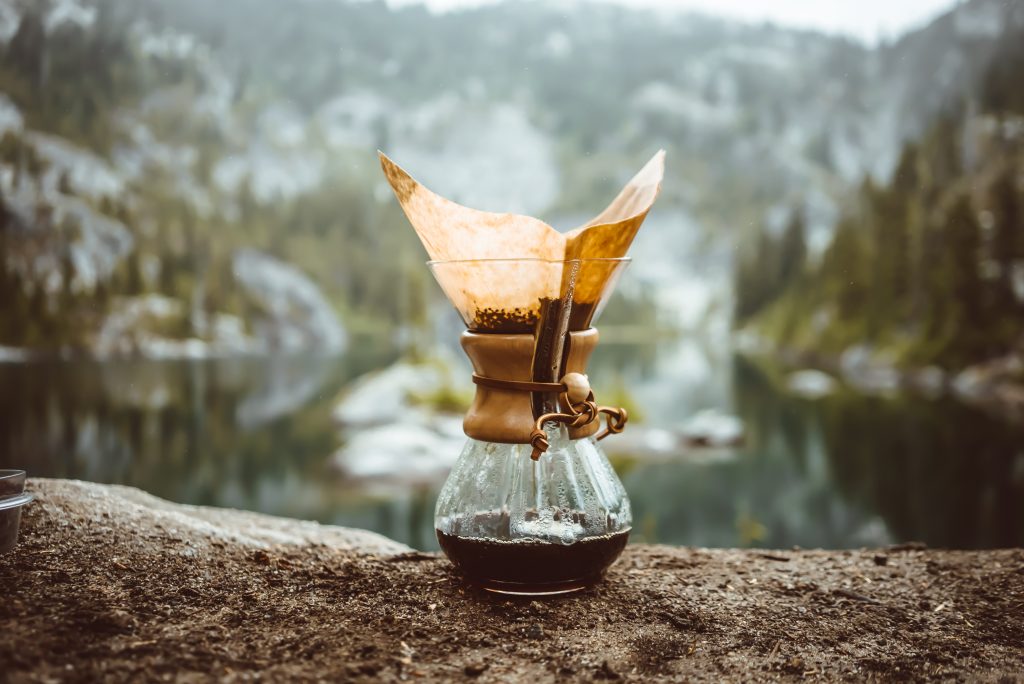 Look, there's no other way to say it. The thing is sexy.
While looking good isn't necessarily going to change the flavor or quality of the cup of coffee, you're going to look good—and feel good—brewing with it.
Hell, you could even set this on your mantle as a display piece.
But I'd advise just using it to brew great coffee.
Detailed Review: The Chemex Pour Over Glass Coffee Maker
Here's where we're going to go deep.
Let's zoom in on each part of this device and really unpack what makes it great—and what leaves a little to be desired.
For this review, I've compiled notes on my own usage and I'll actually be documenting my specific experience.
In we go.
Coffee Quality – 5/5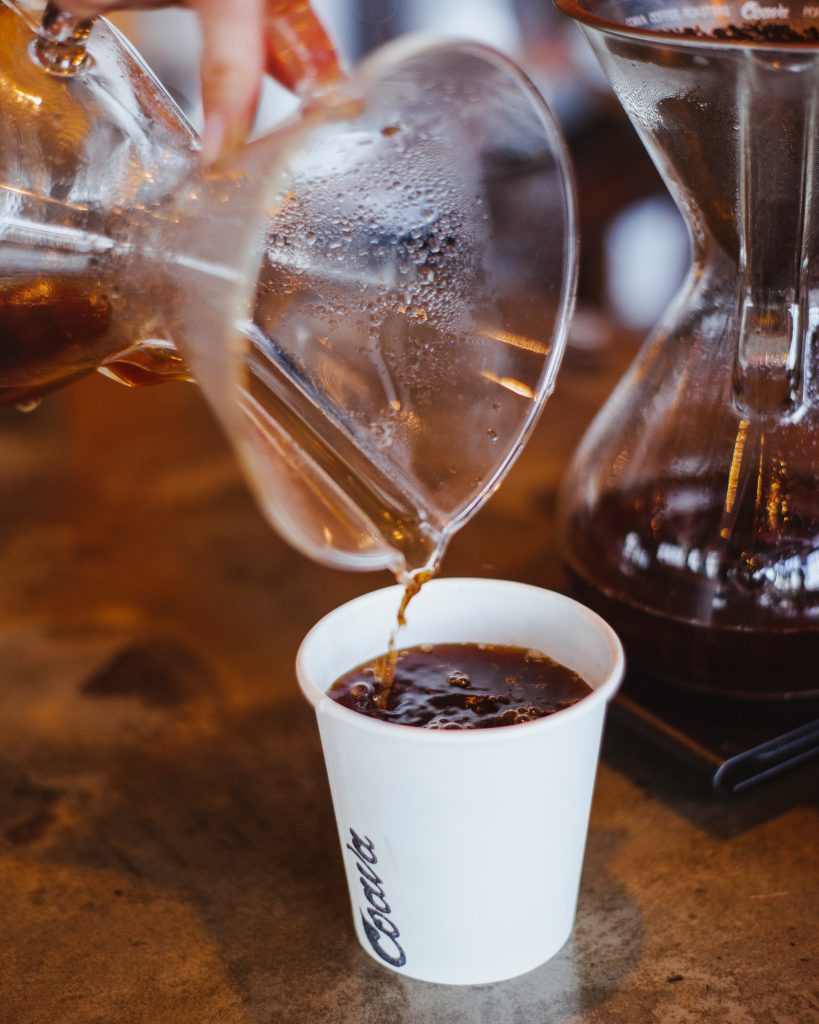 When we think about quality coffee, we're looking for a balanced cup that tastes good, highlights the flavors of the coffee beans, and has few or no off-flavors from the equipment or other sources.
The Chemex can brew the perfect cup of coffee.
It hits all the right notes for most coffee drinkers and really delivers on flavor:
Filtered, drip coffee with no sediment
Clean, crisp, and bright
There's only one "but": Perfecting the brewing process with a Chemex takes practice.
Your first time probably won't be ideal. It might be a little burnt, a bit too acidic, or a little watery.
That's because there are a lot of variables that you control:
Filter type
Filter placement
Water temperature
Pouring method
Grind size
Water to grounds ratio
All of these factors play a role in time and temp of the extraction process. Meaning if you change one of those variables, it could lead to the coffee over- or under-extracting and not coming out how you want or expect.
This is one of the most common criticisms of this device. It's difficult to be brew consistently because there are so many details that you have to get right each time.
Many people cite the filters as a particular source of frustration. The double-fold filters create an unbalanced filter setup (3 layers on one side and 1 fold on the other).
They can also clog up the chute, blocking airflow and temporarily stopping the coffee drip.
These are real and fair concerns. But, honestly, after using the Chemex for just a couple of days, I was able to figure out all of the variables and start to tinker with them to find the perfect brew process for my tastes.
And that, in my opinion, was the fun part.
(Plus, you can always experiment with cone filters or even reusable, stainless steel or mesh filters to remove the problem altogether.)
Brewing Process – 5/5
This isn't a wham, bam, thank you ma'am kind of brewing method.
It's a bit slow. It's a bit tedious. It's methodical.
My take: It's fun. I have fun brewing my morning coffee and have a precise regimen.
It's like a hobby where you're focusing and paying close attention—working through something and trying different solutions. In this case, of course, it's all about brewing the perfect cup of coffee. You're hands-on. You're at eye level. And you really can perfect the process through trial and error, controlling for the coffee grounds, coffee beans, filter type and setup, amount of coffee, and all of the other factors.
Some things that I noted from my own learning curve about the Chemex brew process.
You'll want a coffee grinder. Preferably, a burr grinder. We all know that fresh-ground coffee tastes better. And you'll want to be able to dial in the exact grind size for your tastes.
You want medium-fine to medium-coarse ground coffee because the filter is going to slow the flow of hot water. So having fine-ground coffee will just end up clogging the filter and/or extend the brew time, leading to an over-extracted, bitter, and acidic cup.
Stick with the bonded paper filters. There are other options and you're welcome to explore, but I really liked the simplicity and the output of the Chemex filters.
A great gooseneck kettle is a must. You'll want precise control over the placement as you're pouring hot water.
Heat the water to about 205-210 degrees. You don't want boiling water.
Pour in a circular motion. Start in the middle and pour in concentric circles. Go the first time to achieve the bloom. Wait 30-45 seconds and then pour again. ~3-4 total pours.
This is how most coffee nerds get turned into coffee nerds.
Design – 5/5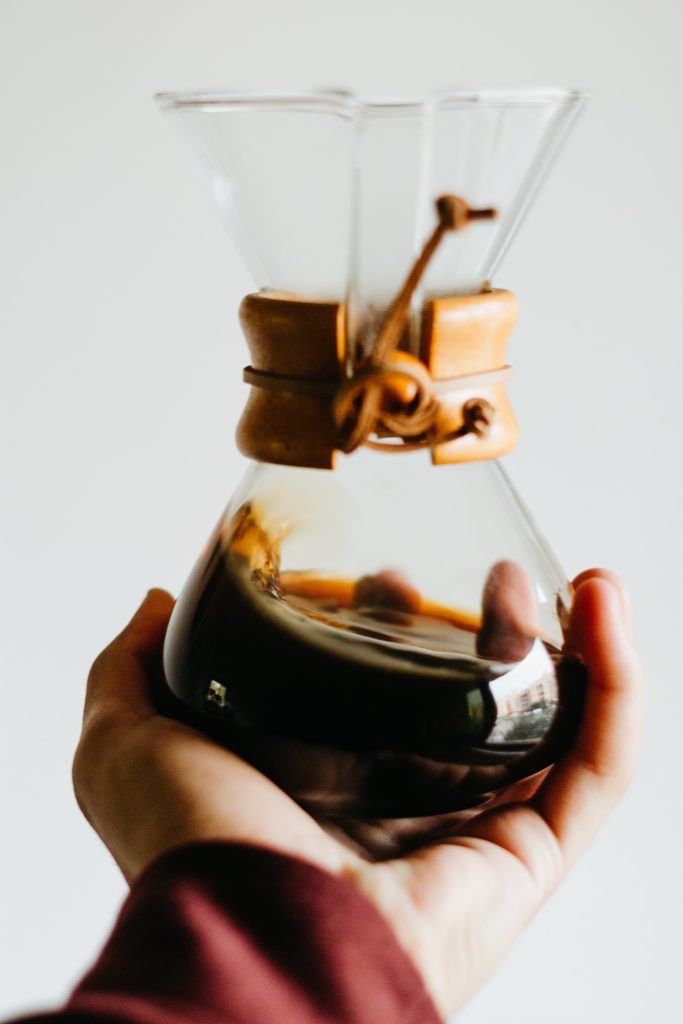 Is there any doubt as to how we'd score this thing on design?
Honestly there isn't much more to say.
The iconic hourglass shape looks like a work of art. The wood collar and leather tie add warmth and sophistication. It looks sturdy and delicate at the same time.
One of my favorite things is how well formed it is to your hand. You can feel the detail on the collar as you grip the carafe and pour into your coffee mug. It's soft but not squishy.
The spout is perfectly formed and easy to pour without spilling a drop.
It's honestly a pretty magical experience.
Durability – 4/5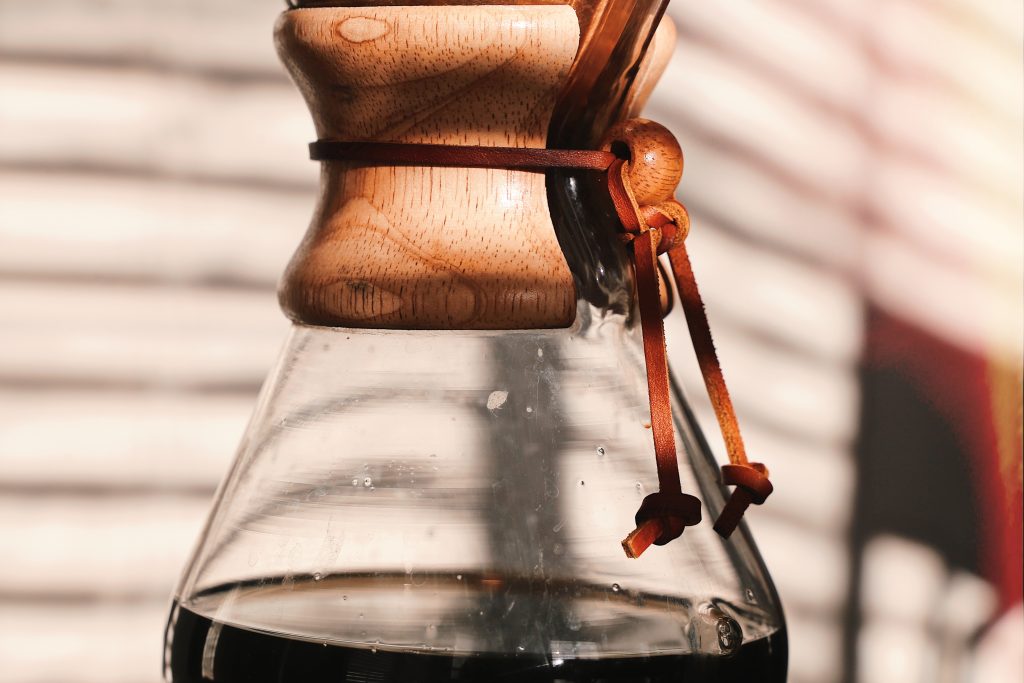 It's glass. So is it the absolute most durable thing on the market?
Of course not.
But this isn't delicate. As soon as you hold a Chemex in your hand, you can feel that it isn't a piece of china that you'll be scared to break. It's a high-quality appliance. The borosilicate glass is heavy-duty enough to probably take a fall or two (wouldn't advise; haven't tested!) but still lightweight.
The carafe itself is dishwasher safe.
Truth be told, you might just hand wash it. You'll need a bottle brush because of the design, but a quick rinse with soap and water should keep it pristine.
But you definitely shouldn't wash the wood collar or leather tie.
You'll want to remove them for cleaning and then reattach once it's clean and dry. In my experience, the sleeve and tie can get a little brittle over time—especially if they do get wet. So just be a little mindful of that.
But if all else fails, you can grab a replacement on Amazon or even look for an aftermarket option to really soup it up.
Lastly, since this is a one-piece device, there are no mechanical components or electronics to break. It basically lasts forever unless you drop or break it. I'd consider that to be pretty durable—certainly more so than some of the fancy machines I've owned over time that had pumps go out or heating elements break down.
Portability – 4/5
Portability is another minor concern.
It's certainly durable but not indestructible. And it's small enough and light enough to toss into your backpack—but would you really want to do that?
You need a kettle and a mug and a heat source to brew coffee.
So, while it's technically pretty portable, realistically you're probably not going to bring this thing with you to make coffee while camping or on any other kind of rugged excursion.
It's most suitable for brewing at home—and maybe taking over to a friend's place.
But you can easily move it around your home if you have a mansion with several kitchens.
Brew Capacity – 5/5
One really nice thing is the Chemex line comes in a bunch of different sizes.
So whether you're brewing a single-serve cup for one, or you're making coffee for a house full of in-laws, you can probably take care of it:
The only thing you can't do—I guess—is really make coffee in bulk. You'll have to settle for 10 cups (or buy a couple of them!)
Brew Time – 4/5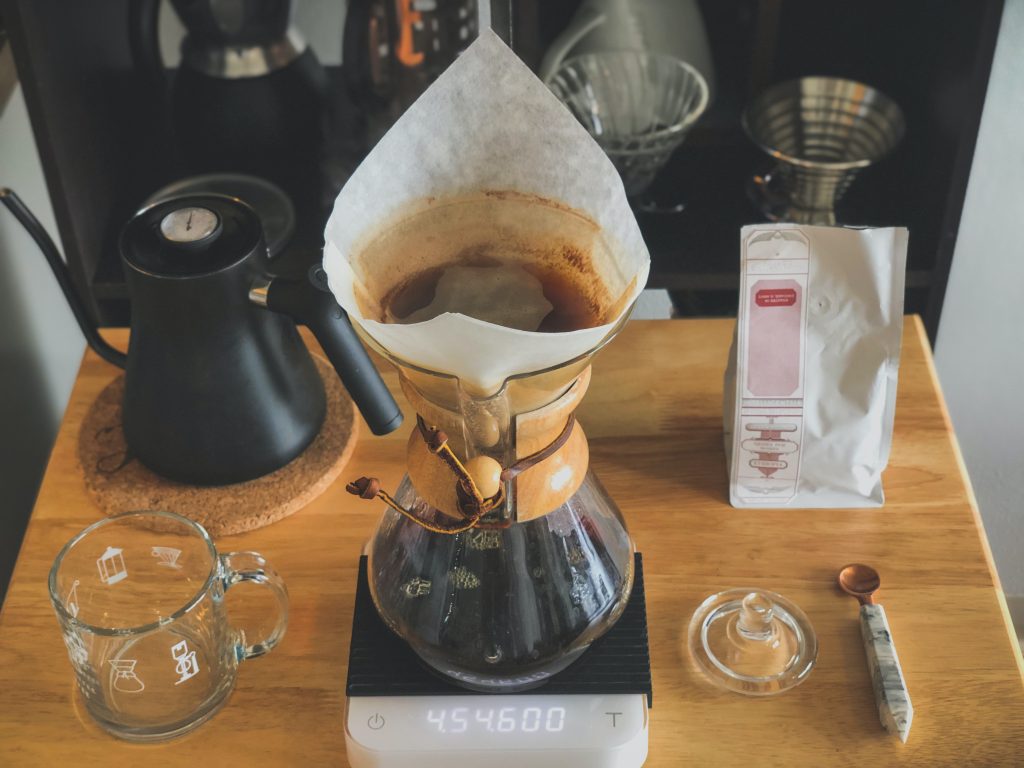 No surprise: This takes a bit more time and attention than other brewing methods.
But, from start to finish, you're talking about 15-20 minutes (depending on your hot water source) to brew a full pot.
In my experience, I came to love the extra time spent dialing in the perfect cup.
It was sort of meditative for me.
But, understandably, that's not for everyone. And it's definitely not something you can rush.
Value – 5/5
Depending on which size and model you buy, Amazon has these listed for about $40-60.
Again, compared to other devices that I've owned over the years, I would definitely consider this to be a great value. While there are cheaper options, very few of them will live up the brewing ability. And the ongoing costs are relatively low—mostly filters if you don't opt for a reusable option—and certainly cheaper than, say, buying K Cups.
Other than that, there are no real maintenance or upkeep costs. There's no need for repairs or replacement parts (except, perhaps, the collar).
Costs: Low.
Brewing a lifetime of great coffee: Priceless.
Overall Score – 4.5/5
Great overall coffee maker—simple yet capable.
Classic yet modern.
Sleek yet sophisticated.
And, more importantly, it brews A++ coffee (with a little practice).
Chemex Model Comparison
A lot of people think when you say "Chemex" it just means one thing.
And you'd be generally right.
But there are actually a few different models you might consider—and each of them come in different sizes so you can choose the right amount of coffee for you.
The Classic Series
The Classic Series is the quintessential Chemex coffee maker—hourglass body with the wood collar and leather tie.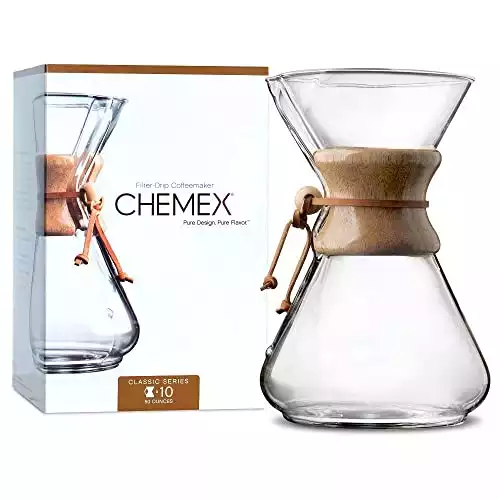 But it also comes in various sizes:
The Glass Handle Series
There is also a Glass Handle Series that looks more like a pitcher. Rather than carrying and pouring the coffee by holding it around the middle, there's a molded handle built into the carafe.
Pretty handy, right?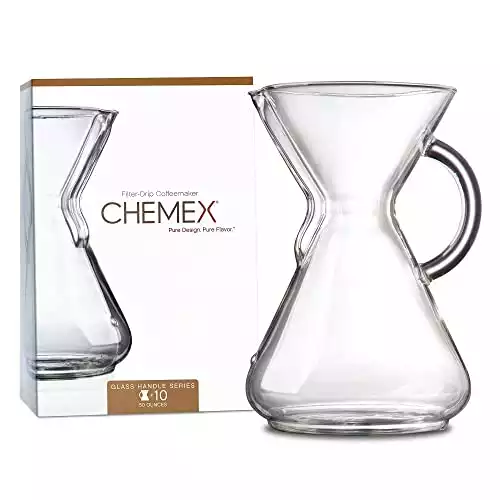 The handle is actually a single, solid piece that's attached to the carafe. It might get warm when brewing, but shouldn't conduct enough heat to get hot. And, of course, it's plenty sturdy—I certainly wouldn't worry about it breaking or disconnecting.
There are a few reasons I would consider the handle version.
For one, when you're using the largest size models—10-cup and 8-cup specifically, the regular Chemex Classic Series can feel a bit unwieldy. Specifically if you have smaller hands. The full carafe of coffee could easily weigh ~10 pounds so some people will need to use two hands when grabbing and pouring.
Enter: The handle.
Aesthetically, I personally find this model a bit less appealing. It looks kind if plain and loses the warmth of the wood and leather grip. But that's just one person's opinion.
Functionally—same, same.
This one also comes in many sizes:
Older Models of the Chemex
There isn't really an "older model" here to cover. The device has been essentially the same since it was invested 80 years ago.
I'm sure there have been some small changes in manufacturing.
But, by and large, I've never heard of any major change in quality or functionality over the years.
So, while scoring a vintage model might be cool (and a testament to their longevity), I wouldn't go hunting for a certain model year of this device.
Chemex vs Other Pour Overs
Alright so you're totally bought in to brewing a great cup of pourover, but you're not sold on this specific brand?
No problem—you have options.
There are 3 alternatives to the Chemex to consider:
Hario V60 – Simple ceramic (or plastic) dripper.
Kalita Wave – Dripper with a hande
Bodum pourover – Imitation is the best form of flattery, right? (It's basically a Chemex but made by Bodum)
Pour-Over Coffee vs French Press
Many people like to compare pour-over coffee and french press coffee.
They're honestly pretty different brewing methods but they're both great forays into the complex world of at-home coffee making.
If you're curious check out our comparison: Pourover vs French press.
Equipment & Accessories
Don't forget the accessories! You'll need (or want) a few things to really punch up your coffee experience.