The Bottom Line
The Hario V60 pour over drip coffee maker is a proven classic. It's timeless design, simplicity, and portability make it a no-frills upgrade from an automatic drip coffee maker.
Perfect for aspiring at-home baristas looking for a coffee-shop quality cup of coffee and interested in testing and learning. 
---
The Hario V60 pour over is perhaps the most popular coffee dripper among at-home coffee enthusiasts and coffee shops alike.
I remember the first time stepping into a local coffee shop and ordering a drip coffee, watching them prep the grounds and brew my cup on a long, standing tray—a row of beautiful, ceramic coffee drippers.
And there's a good reason this is one of the most popular brewing devices in the world.
The V60 dripper strips brewed coffee down to its most basic—water, coffee, and filter.
There are no cords, no automatic timers, and no machines to do the work for you.
All you need is hot water and freshly ground coffee, and you're good to go.
This means that it's capable of producing coffee for just any and every drinker's tastes. But it also means that it takes a bit of practice—and patience—to get it just how you like it.
So if you're looking to level up your at-home coffee game and you like the idea of starting at the ground floor and really exploring the art of making great pour-over coffee, then this could be the perfect place to start.
If you're looking for time savings or convenience, you might be looking for something a bit different. Pour-over coffee, in general, is a bit more involved and time-consuming than other brewing methods.
So is the V60 manual pour over coffee maker for you?
Let's find out together!
A Quick Glance: What Is the Hario V60 Dripper?
The Hario V60 is a cone-shaped coffee dripper with a single large hole in the center and ridges spiraling down the sides.
The classic model is a single piece made of white ceramic.
The V60 dripper also comes in heat-resistant plastic and metal models. There's even a two-piece model that includes a glass cone and olive wood collar.
There are also many different colors to choose from.
The coffee dripper rests on top of your coffee mug or carafe, and you place a V60 filter inside.
It comes in three different sizes:
01 (1-2 cups)
02 (2-4 cups)
03 (4-6 cups)
As with all of our reviews, we scored the Hario V60 on 8 factors.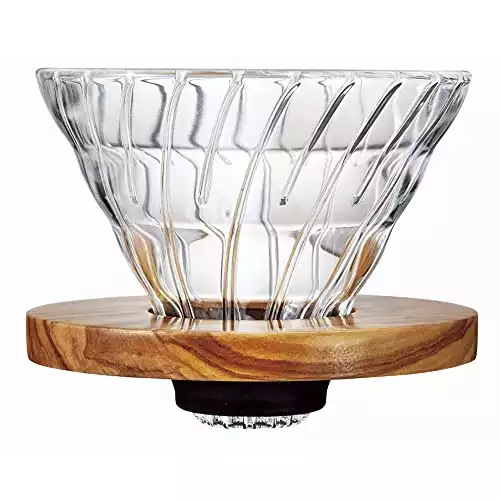 ❤️ You'll Love It If…
– You want to make great coffee at home without any bells and whistles

– You're interested in trying new brewing methods and experimenting with different grinds, doses, and brew times

– You like the idea of pour-over Coffee but want something a bit more forgiving than the Chemex

– You want a dripper that's portable and easy to travel with

– You don't mind taking a little extra time to brew your morning cup
😒 You Won't Love It If…
– You're looking for a quick and easy brewing method

– You want an automated coffee maker that does all the work for you

– You prefer strong, dark coffees and don't like to experiment with different brews

– You prefer the mouthfeel and flavor of unfiltered coffee like french press
History & Origins of the Hario V60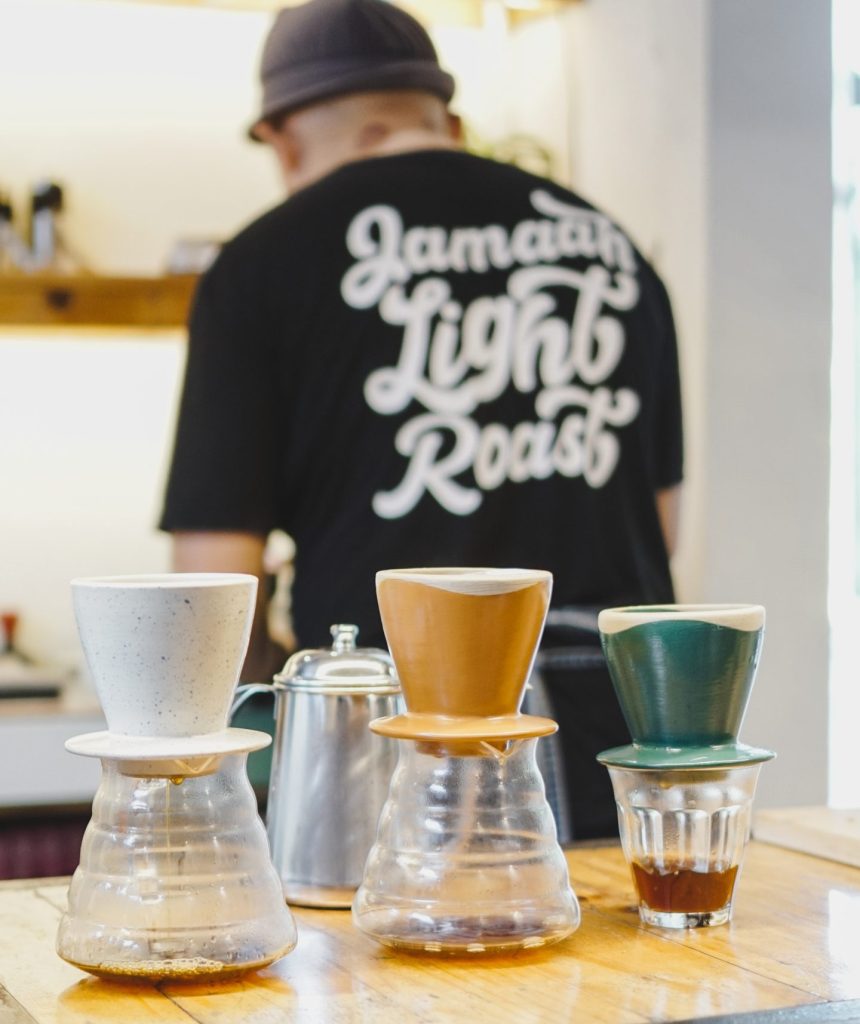 Hario is a Japanese company that's been around since 1921.
The name "Hario" means "King of Glass."
And they live up to their name—they're known for their high-quality, heat-resistant glassware.
The company got its start making laboratory supplies and lightbulbs. But in the 1940s, they switched gears and started making coffee and tea products.
They introduced their first manual coffee dripper in 1964.
It was called the "Paper Drip Pot Type 01." And it looked a lot like the V60 we know today.
In 2002, Hario released the VD-01—the predecessor to the V60.
The main difference between the two is the size of the hole in the center of the cone.
The VD-01 had a small hole, and the coffee came out in a thin stream.
The V60 has a much larger hole, and the coffee comes out in a thick column.
This change was made to improve extraction and flavor. And it's one of the things that makes the V60 so unique.
Standout Features
The Hario V60 is a great coffee dripper, and several things make it stand out from other pour-over brewers.
#1 – The Ridges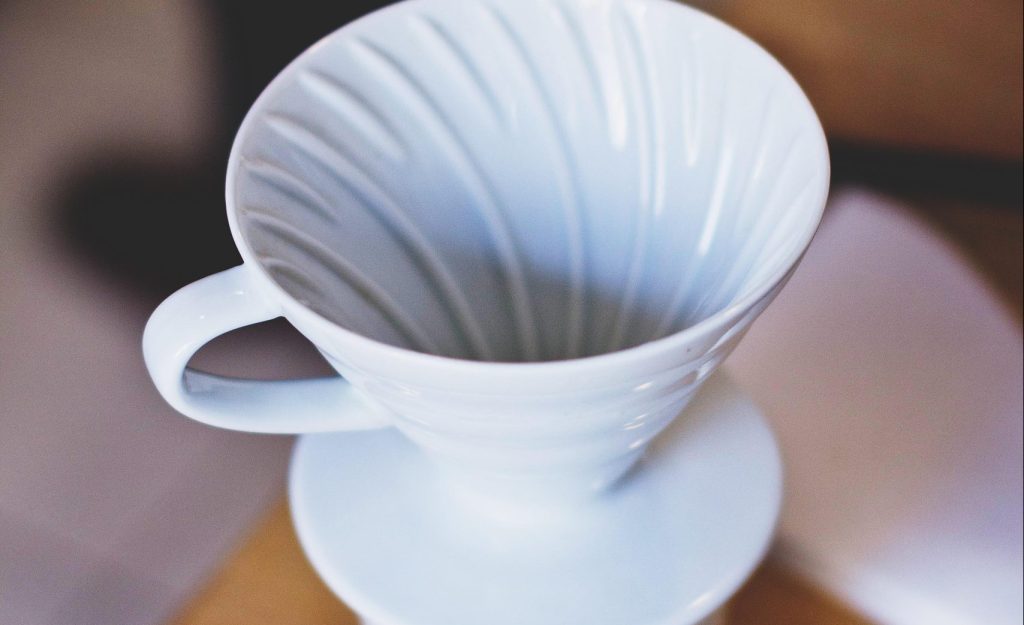 Ridges on the sides of the cone help to keep the filter in place and prevent it from moving around.
They also help to create turbulence as the water flows through the coffee grounds.
This turbulence helps to release more flavors and aromatics from the coffee.
#2 – The Large Hole
The large hole in the center of the cone allows water to flow through more quickly.
This means that you don't have to wait as long for all the water to drip through, and it also cuts down on the chance of over-extraction.
This design is distinct from other pour over drippers, which sometimes use multiple small holes or other configurations to control for water flow, temperature, and coffee extraction.
#3 – The Spiral Design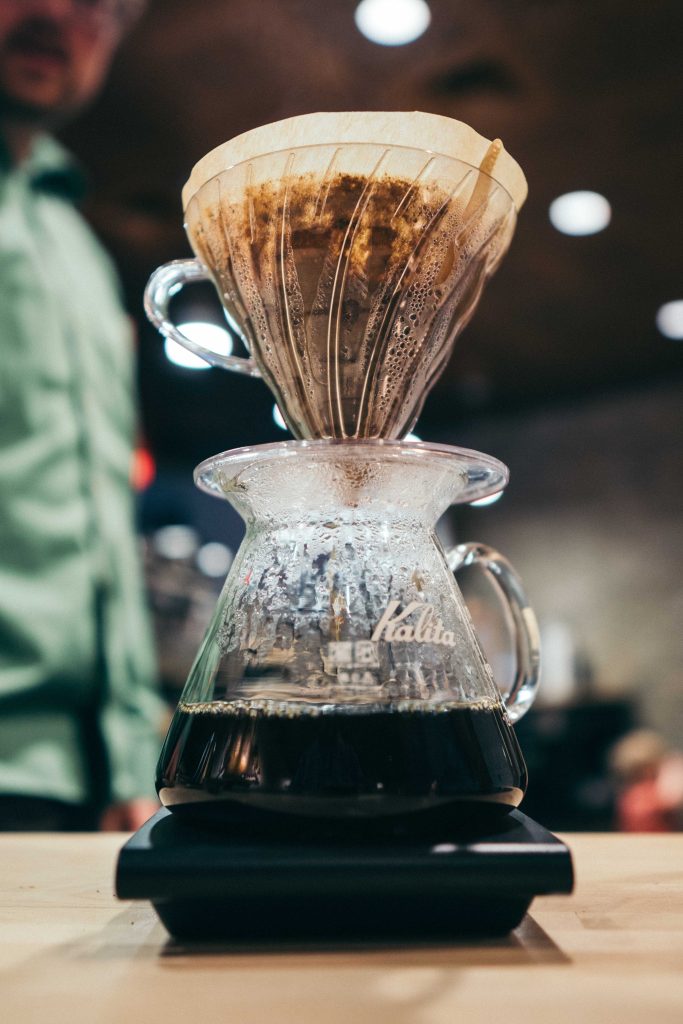 The spiral design of the ridges helps to evenly distribute the water as it flows down the cone shape.
This ensures that all of the coffee grounds are evenly saturated and that there's no dry spot in the filter where coffee isn't flowing through.
Detailed Breakdown: The Hario V60 Review
Now that we've covered the basics, let's take a more in-depth look at the Hario V60 and the product details.
We'll go over each of the eight factors we mentioned earlier and see how the V60 stacks up.
#1 – Coffee Quality — 5/5
The coffee from the Hario V60 is excellent.
The large hole in the center of the cone allows water to flow through quickly, which prevents over-extraction.
And the spiral design of the ridges ensures that all of the coffee grounds are evenly saturated.
This results in a cup of great coffee that's well balanced and has plenty of flavor.
Whether you're brewing for a (small) crew or a single cup at home, you can get barista-quality coffee with a little practice and patience.
#2 – Brewing Process – 5/5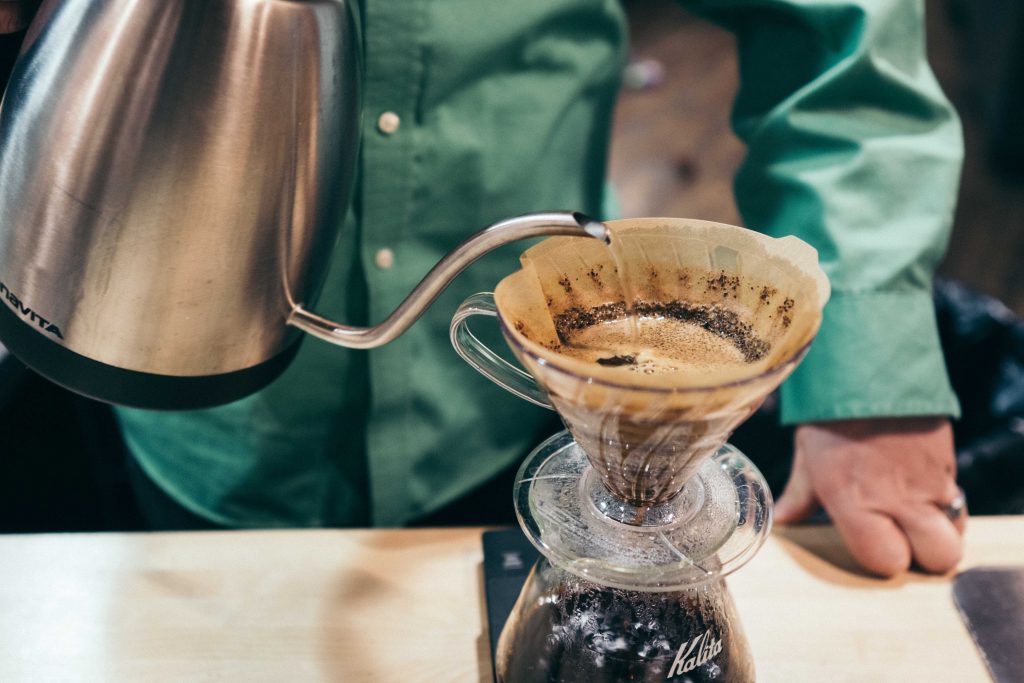 The brewing process is simple, and it's easy to get great results with the V60.
To get the best coffee, follow this simple brew guide:
Place the cone on top of a cup, mug, carafe, or another vessel.
Place your paper filter in the cone.
Preheat your V60 and rinse the filter with hot water. This will help to warm up the cone and prevent your coffee from cooling too quickly. It will also help to get rid of any paper flavor from the coffee filter.
Add your coffee grounds (fresh-ground coffee beans preferred!) to the filter and give them a gentle shake to create a level coffee bed.
Start with an initial pour–the bloom. Pour from the center in a circular motion until you reach the outside of the grounds. Ideally, use a gooseneck kettle to ensure that control over the water and avoid pouring directly onto the filter.
Wait 30-60 seconds for the grounds to release trapped CO2 from the roasting process.
Begin the next pour. Slowly pour hot water over the coffee grounds, starting in the center and spiraling outwards. Once you reach the edge of the grounds, pause to allow the water to filter through the grounds
Begin pouring again, repeating the process until you've added the desired amount of water
Allow the coffee to drip through
Serve and enjoy!
This classic pour-over brew method is a bit more time and attention intensive than an automated coffeemaker. But it's simple–and a bit therapeutic in my personal opinion.
#3 – Design – 4/5
The design of the V60 is mostly a matter of form over function.
Is it a work of art like, say, the Chemex? Not in my opinion.
(Although, I am personally quite partial to the glass and olive wood model.)
But it looks good and it works well. It's a foolproof design that's easy to use and easy to clean.
It has some thoughtful design considerations like the handle, the spiral ribs, and other touches.
#4 – Durability – 4/5
The Hario V60 is made of durable materials that will withstand years of regular use.
The upshot is that it doesn't have any mechanical or electrical components that you'll have to worry about over time. But, of course, if you drop the ceramic cone on a hard floor, it may not survive.
The same goes for the heatproof glass model of the Hario.
But if you've got a house full of children (or clumsy adults) and you're looking for something a bit more accident-friendly, then you might want to look at either the plastic or stainless steel models. They function in the same general way as the ceramic cone, but they're a bit more durable.
#5 – Portability – 5/5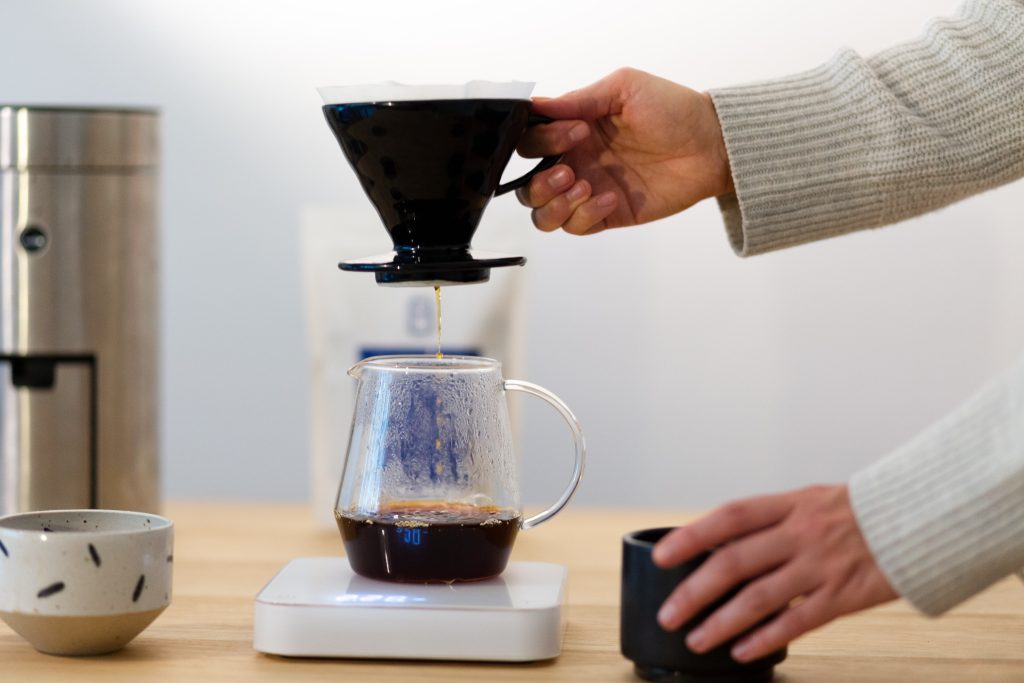 The Hario V60 is extremely portable.
It's small, lightweight, and easy to pack.
It's a great option for coffee lovers who travel frequently or enjoy camping and hiking.
The only potential drawback is that it's made of ceramic, which means it's more fragile than some other materials. But as long as you're careful with it, the V60 should hold up well.
#6 – Brew Capacity – 3/5
The brew capacity of the Hario V60 ranges from about 1-6 cups (200ml to 600ml), depending on which model and size you order.
The smaller size is great for single servings or small groups, while the larger size is better for brewing a whole pot of coffee.
Either way, this is probably enough for most individual at-home coffee situations. But if you're a prolific coffee drinker or brewing for several people, you may need to brew in batches to keep up with demand.
#7 – Brew Time – 4/5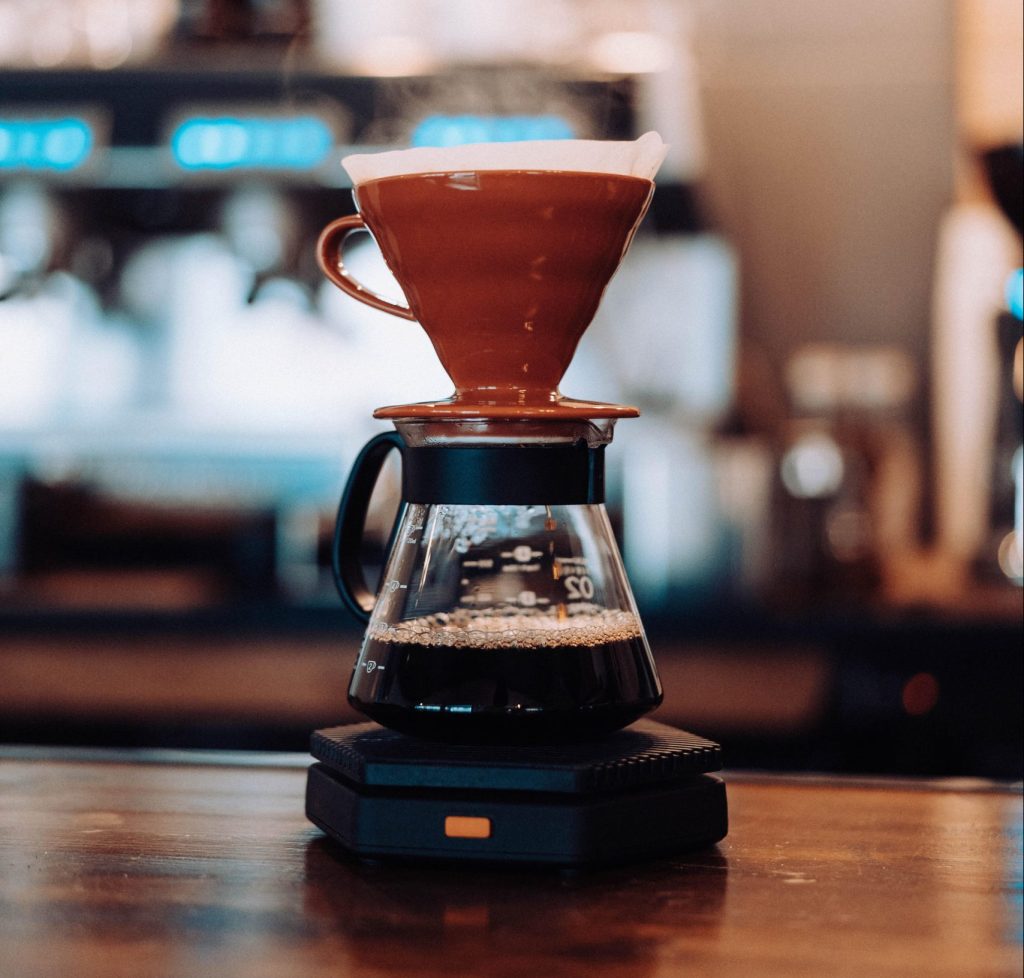 Brew time with the Hario V60 takes 3 minutes regardless of the size or amount of coffee.
Overall, V60 drip coffee is a fairly speedy option.
It does require your attention throughout the brewing process, so it technically takes more time than dumping some water and grounds into an automatic dripper and pressing "start". But if you can't wait 3 minutes, you might be in trouble anyway.
#8 – Value – 5/5
The Hario V60 is a great value. It's an affordable option that delivers excellent results.
You can find the V60 on Amazon for less than $30.
For the price, you get a high-quality coffee maker that will last for years with proper care.
The only other real pricing or value consideration is that you'll need to buy paper filters (technically you can invest in a mesh or metal reusable filter option, but it will definitely change the coffee you end up drinking).
Overall Score – 4.5/5
The Hario V60 is a great pour-over coffee maker that produces high-quality coffee.
It's easy to use, and cleanup is fairly simple.
The only potential drawback is that the most popular models are made of ceramic or glass, which means it's more fragile than some other materials. But as long as you're careful with it, the V60 should hold up well.
It's also portable and affordable, making it a great option for coffee lovers who travel frequently or enjoy camping and hiking.
Hario V60 Models: A Side-by-Side Comparison
Now that we've gone over the basics of the Hario V60, let's take a more in-depth look at the different models that are available. There are three main types of Hario V60: ceramic, plastic, and stainless steel. Each has its own benefits and drawbacks that you'll want to consider before making a purchase.
Ceramic Models
Glass Models
Plastic Models
Stainless Steel Models
Other Pour-Over Devices to Consider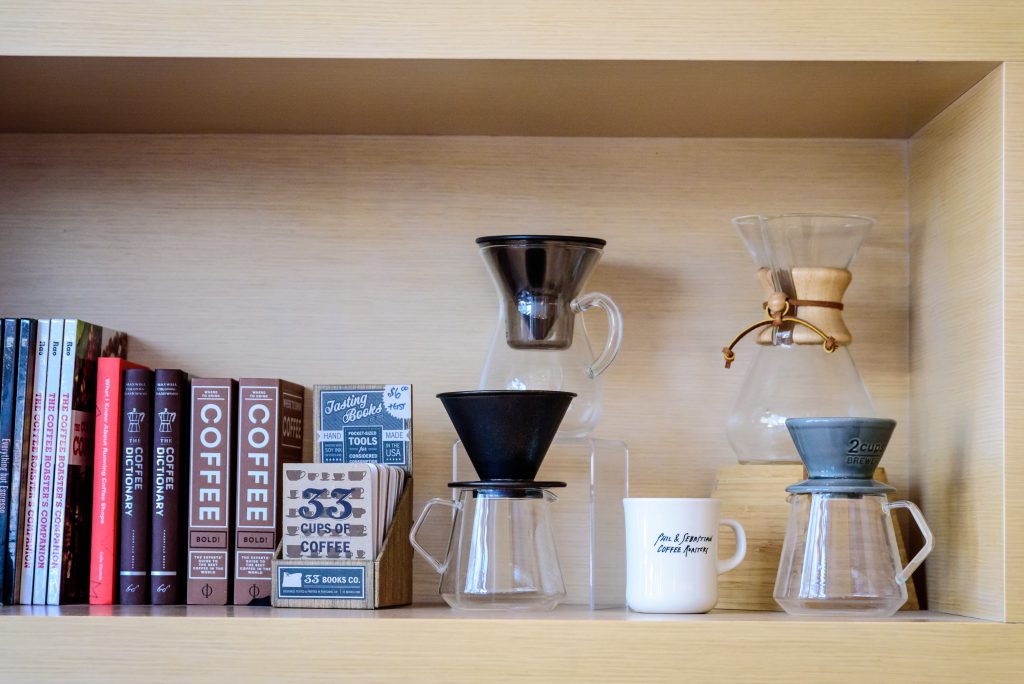 Hario V60 Drippers aren't the only pour-over devices on the market. If you're interested in exploring your options, here are a few other pour-over coffee makers that you might want to consider:
The Chemex Coffeemaker
The Chemex is a classic pour-over device that has been around since 1941. It's made of glass with a wood collar and tie, and it's designed to brew coffee without imparting any flavors of its own.
Kalita Wave
The Kalita Wave is a popular pour-over coffee maker that is similar in design to the V60. It has a flat bottom and three small holes for water to drain through versus the single large hole, which some people believe leads to a more evenly brewed cup of coffee.
Melitta
Melitta makes a variety of pour-over coffee drippers, including ceramic and plastic models.
They're worth checking out as well.
Equipment & Accessories Needed
In addition to the coffee maker itself, you'll need a few other items in order to make pour-over coffee.
Pour-over kettle
A gooseneck kettle is ideal for pour-over coffee because it allows you to control the water flow and prevent scalding.
Hario's own Buono kettle is an ideal companion to the V60 dripper.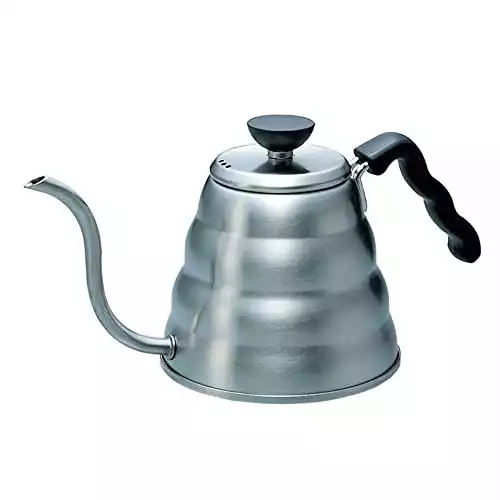 Or, check out the full list of our favorite gooseneck kettles.
Hario Glass Range (Server)
If you're brewing coffee for more than one person, the Hario Glass Range server is a great option. It's designed to fit directly on top of the V60 and can hold up to four cups of coffee.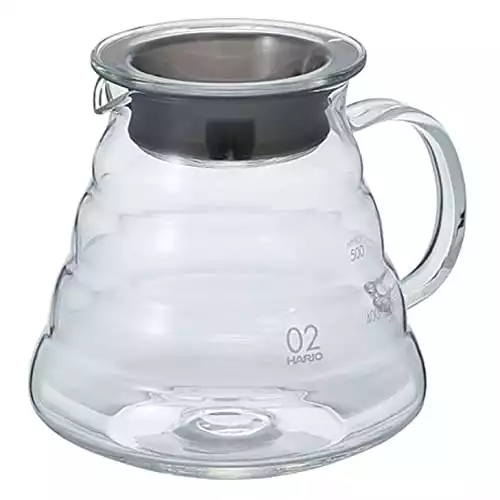 Burr grinder
You'll need a good burr grinder to grind your coffee beans to the right consistency. Blade grinders will work in a pinch, but they don't produce as consistent results.
Check out our review of the best burr grinders.
Coffee scale
A coffee scale is essential for making the perfect cup of coffee. This way, you can measure out the exact amount of coffee and water that you need.
Check out our review of the best coffee scales.
Paper filters
Hario V60 filters are specially designed for use with the Hario V60, but you can also use other brands of paper filters.
Measuring spoon
A measuring spoon is helpful for scooping out the right amount of coffee.
Final Thoughts on the Hario V60
The Hario V60 is a great pour-over coffee maker that is perfect for both beginners and experienced coffee drinkers alike. With its simple design and easy-to-use instructions, it's easy to make a great cup of coffee with the V60.
There are a few things to keep in mind when using the V60, such as the importance of using a good burr grinder and freshly roasted coffee beans. But, as long as you pay attention to these details, you'll be well on your way to making the perfect cup of coffee.
So, what do you think? Is the Hario V60 the perfect pour-over coffee maker for you?
Let us know in the comments below!